The concept of rehabbing is rather simple: you buy a property, fix it up, and try to sell it for more than the amount you invested. That said, actually flipping a property is nowhere near as easy as reality TV makes it out to be. The devil is in the details. There is a lot that goes into flipping a home successfully, and you had better be prepared for what is to come. Do not go into any property without a plan and systems to back it up. It is the execution that really separates the winners from the losers.
When rehabbing a home, regardless of the area it is in, it is important to make the right upgrades. Think about it; there is no reason to add a $30,000 kitchen remodel to the to-do list if comparable homes in the area have kitchens worth less than half that amount. In other words, do not make any improvements without thinking them through. There are actually "improvements" that can subtract from your asking price in certain neighborhoods. Subsequently, some improvements are better than others. In fact, some are a lot better than others. When it comes down to it, you want to make upgrades that have the highest rate of return. In doing so, you can simultaneously increase profit margins and the interest generated by the property.
While there are countless upgrades you can make to a property, there are a select few that warrant your attention. The following graphic highlights the most popular remodeling projects that recoup the most money, meaning they have the highest return on investment (ROI):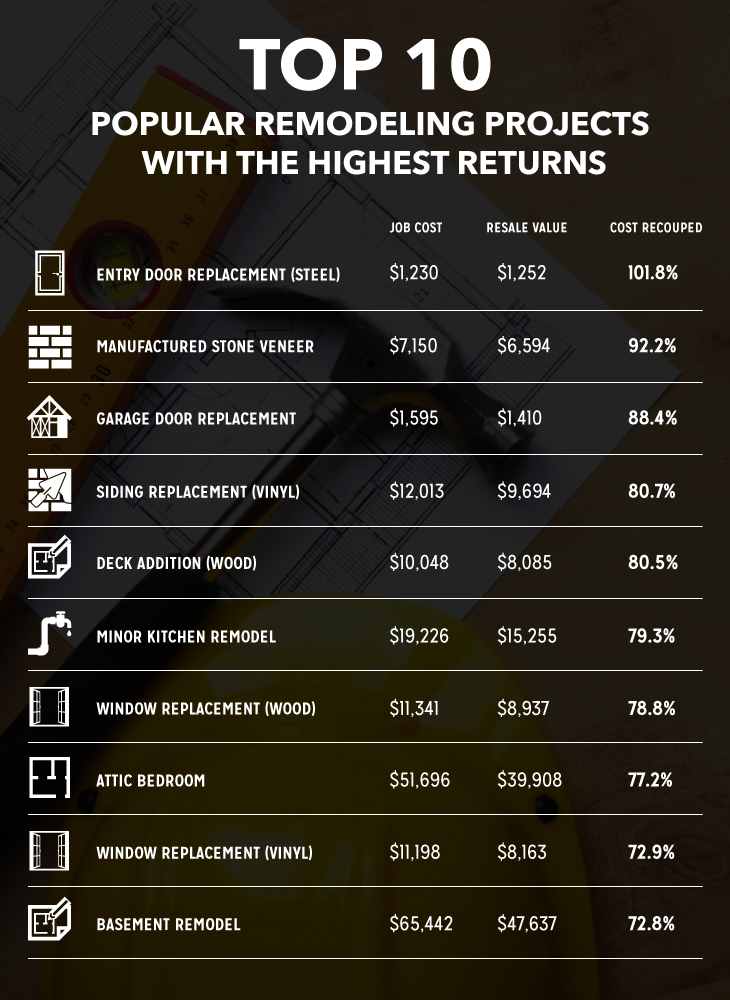 🔒 Your information is secure and never shared. By subscribing, you agree to receive blog updates and relevant offers by email. You can unsubscribe at any time.