by Than Merrill | @ThanMerrill
One of the greatest assets a residential redeveloper can own is a well-maintained real estate portfolio. This will not only act as an anthology of current and past real estate deals, but serve as your marketing arsenal when it comes to finding and acquiring funding for potential deals. In essence, a real estate portfolio is a compilation of different investment assets based on a combination of factors like your risk tolerance, time horizon, and objective for the primary purpose of achieving your goal. (Key for an first time real estate investor.)
Along with showcasing your personal investment goals and strategies, a real estate investment portfolio will reveal the inner workings of deals you've completed and currently own. For those unfamiliar, a real estate portfolio template will include your main objective, a breakdown of the numbers pertaining to your real estate transactions, asset allocation, and management. That said, the importance of your real estate portfolio as a residential redeveloper is vital. Not only is it essential to growing long-term wealth, but it's a critical component to obtaining financing for future projects.
The Perfect Real Estate Portfolio Template
Although not every investment portfolio will look the same, the following breaks down the perfect real estate portfolio template for residential redevelopers to get started: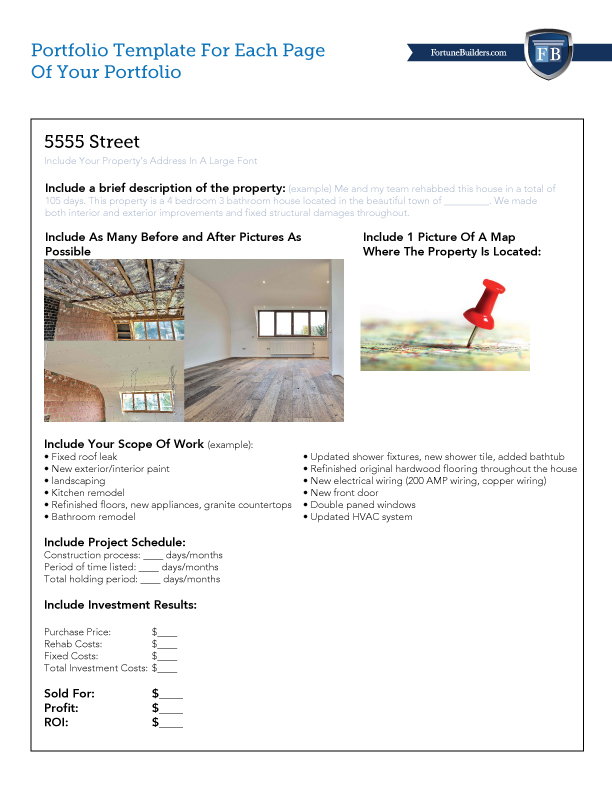 real-estate-portfolio-template
🔒 Your information is secure and never shared. By subscribing, you agree to receive blog updates and relevant offers by email. You can unsubscribe at any time.