Key Takeaways
Buying an apartment complex can be a great investment for a multitude of reasons.
Even beginners can buy an apartment complex, especially if they follow this 10-step guide.
Pay attention to seven common mistakes newbie investors make, and learn how to avoid them.
---
Apartment investing may seem like a goliath of an undertaking, especially for those who are relatively new to the investing space. Although buying an apartment complex is a process not to be taken lightly, it offers a myriad of benefits which simply cannot be ignored.
Is Buying An Apartment Complex A Good Investment?
You may be asking yourself, "is buying an apartment complex a good investment." Buying an apartment complex can certainly seem like a big venture to take on, and can be extremely challenging for those who are unprepared. Just like any type of investing decision, there are pros and cons associated with buying an apartment that should be given careful consideration.
Investing in apartment buildings provides a multitude of benefits that are unique when compared to investing in single-family units. Recurring rental income each month across multiple units helps increase income potential, while splitting maintenance costs lowers the cost per unit. In addition, investors are able to spread the risk across more units. For example, when a tenant moves out from a single-family property, the vacancy rate is one hundred percent. In comparison, when one tenant moves out from a ten-unit property, the vacancy rate is just ten percent. Furthermore, owners have the option to bolster the property's income potential by adding amenities that are paid for by tenants, such as laundry or vending machines, to name a few.
Investing in apartment complexes, however, are not without potential downsides. Owning a property with several units is synonymous with intensive management, such as dealing with tenant turnover or dealing with maintenance requests and repairs. Individuals interested in apartment building investing should ask themselves if they are truly prepared to become a landlord. If the answer is "no," perhaps hiring a property manager or working with a property management company is the best solution. Finally, some may discount buying an apartment building due to what can be perceived as a prohibitive purchase price. However, it should be noted that when it comes to apartment investing, banks tend to look more at the property's financial potential, rather than the apartment investor's personal financial circumstances. In the case of apartment complexes, the building value is a function of both market value and income potential. Because of this, financing an apartment complex in some cases may be more accessible than obtain a loan for a single-family property.
---
[ It pays to know your numbers! Download this FREE Cashflow & ROI Calculator for rental property investments ]
---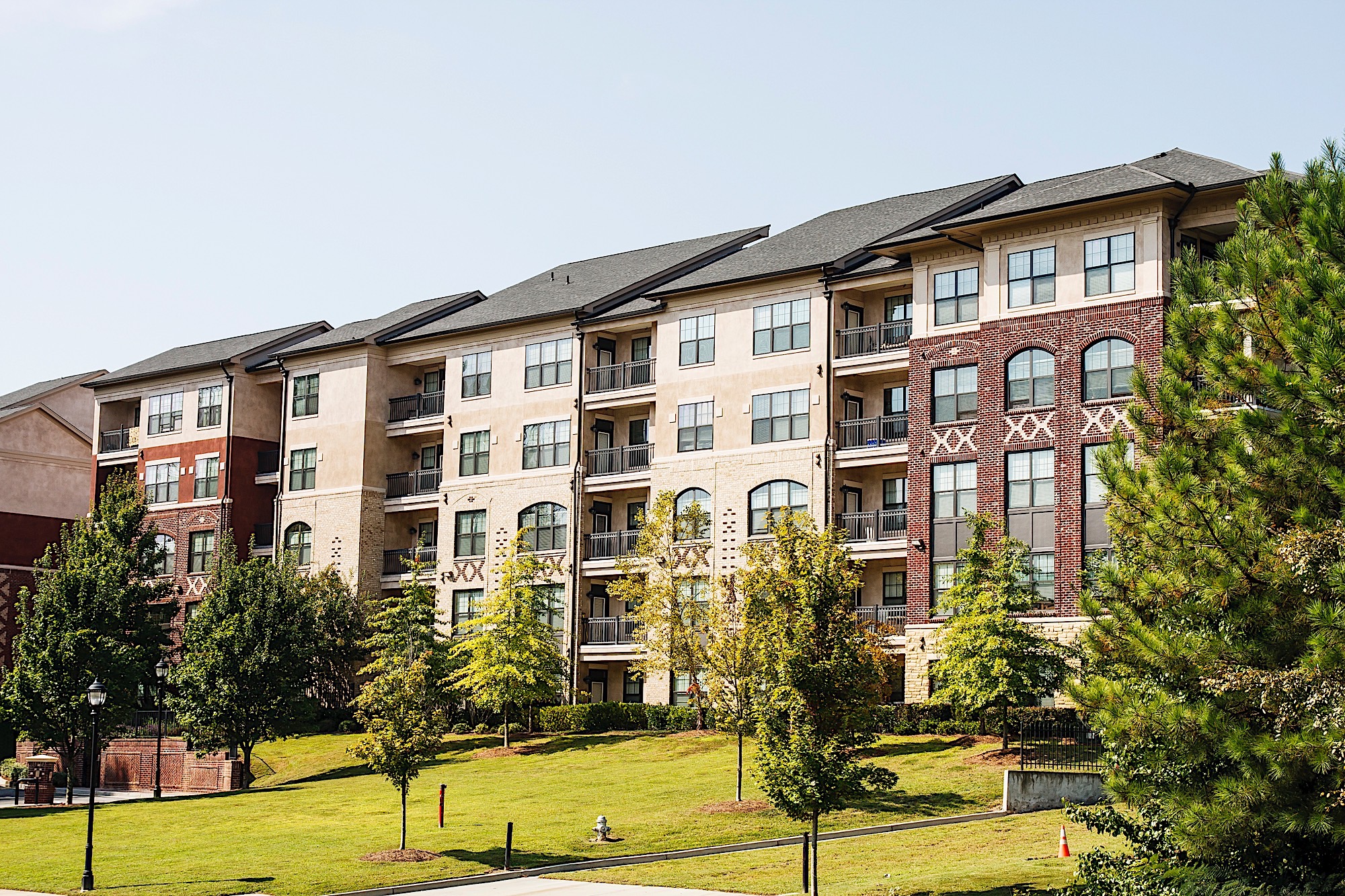 Apartment Building Rentals Vs. Commercial Retail Space
It only makes sense for those considering taking the plunge into apartment real estate investing to also wonder about commercial retail spaces as well. Both options can have a perception of requiring a significant expenditure for acquisition, while others may believe that a commercial building will bring in more profit. It is important to carefully weigh the positives and negatives of both investing options before choosing one and moving forward.
First, some may assume that it is easier to find and maintain tenants in the commercial space. However, due to today's economic landscape, more and more small retailers are being squeezed out by big box and internet retailers. Although a business may occupy a retail space for longer stretches of time, vacancies tend to be much harder to fill. In comparison, the demand for residential rental units is increasing in demand. This is especially the case in concentrated markets where it makes more financial sense to rent rather than buy, or where home purchase prices are unattainable. Finally, investors should consider that managing turnover between tenants in the retail realm can be significantly more expensive. When a business moves in, they often have to configure the space to their specifications. Because of this, the cost of reconfiguring a space after a tenant has moved out can fall onto the owner. As with any situation, investors should carefully examine potential pitfalls associated with any type of investing niche.
Buying A Condo Vs. Apartment
Many people think that owning a condo and an apartment are one in the same, but are actually very different for both investors and homeowners. When it comes to condos, the buyer owns the interior space of the unit itself, while the exterior spaces, including communal spaces, parking lots, grounds and amenities, are shared in ownership by an association of owners. Those who choose to invest in condos should expect to pay condo association fees, and face strict rules that might make renting out, remodeling, or reselling the unit quite challenging. In contrast, investors who own an apartment unit will typically own the entire building, making them free to rent out and modify units as they please.
Buying An Apartment Building For Beginners: 10 Step Guide
Make sure that apartment investing is the right fit for you.
Determine your ideal apartment building size and class.
Filter through apartment buildings for sale by using a quick financial test.
Once you find a property of interest, request a walk-through appointment.
Gather the information you need to perform a deep financial analysis.
Dot your i's and cross your t's by minding your due diligence.
Once you are confident of the investment potential, make an offer and negotiate terms.
Make sure to schedule and conduct a professional property inspection.
Secure your source of financing in time for closing.
Sign all the final paperwork in order to close the deal.
The above steps outline the foundational steps to buying an apartment, which can be quite daunting. It cannot be emphasized enough that buying apartment complexes for sale, and then managing them, is quite a different breed from owning and renting out single-family properties. However, investors armed with plenty of research, an apartment investing business plan, as well as a rolodex of apartment investing mentors, are sure to create their own success. Below you will find a complete guide on buying an apartment building for beginners:

7 Mistakes Newbie Apartment Investors Make (And How You Can Avoid Them)
Picking the wrong neighborhood: Investing in an apartment is no small task, and it is only expected for investors to make some mistakes along the way. Those who plan to buy an apartment for the very first time, however, have the opportunity to learn important lessons from their predecessors. Apartment investing mentors will all agree that picking the right location is paramount when it comes to buying an apartment complex. The worst thing you can do for your financial health is picking a building in a declining market where there are a lot of vacancies, thus forcing down rent prices.

Rushing into a deal without researching: It is very easy to get overly excited when you find an apartment building that seems like a great deal, whether it be by location or price. However, investors should always perform a preliminary financial check, followed by a more in-depth analysis. Investors who rush into deals without performing their research might end up hurting themselves financially in the long-run.

Failing to mind their due diligence: Similar to the step above, investors who are considering the purchase of a particular property should always request copies of financial records and documents from the current owners. Taking a look at the current rent roll, expense and income reports, to name a few, can help you get a better idea of the current financial health of the property. In addition, this information can help you calculate your own projections.

Not having enough cash available: Smart investors learn to expect the unexpected by building up a healthy cash reserve. Let us say that you found and acquired the perfect apartment complex with a healthy financial status.

Investing in a property with poor cash flow: Investors will sometimes be tempted to invest in properties that have great potential, especially after renovations, but do not offer cash flow right from the start. However, this is a grave mistake. Having sufficient cash flow is not only necessary to help cover expenses, mortgage and insurance, it will also help to cover unexpected expenses. Not planning for enough of a buffer margin will almost certainly eat into any profit margin.

Not making the right property management decision: It goes without saying that an apartment building requires a property manager, whether you choose to fill that role or not. Some investors are naive when they feel that they can serve as their own landlord without having the proper experience, and end up creating their own nightmare. Hiring a great property manager can help ease an investor's role in managing their property, thus helping free up time for them to pursue other investing opportunities and further build their wealth.

Putting off taking the leap: Finally, beginner investors make the mistake of putting apartment investing into the "unattainable" category, and never take the leap of faith. Although apartment investing is complex and should be approached with some caution, there is no reason to sit on the sidelines. Even newbie investors are well-qualified to invest in apartments, as long as they put in the proper research and preparation.
Unique Ways To Add Value To Your Apartment Rental Property
Washers and dryers
Vending machines
Covered parking
Premium parking spaces
Trash pick-up service
Pet rent
Additional storage
Renovations
LED lighting
When it comes to apartment investing, there are various exit strategies to consider. One of these strategies involves buying an apartment building at a great price, and then allocating funds to add value to it, thus helping raise the rent price and building value. When electing this strategy, it is helpful to put yourself in a tenant's shoes and brainstorm what type of services and amenities would help justify a higher rent price. When consumers hunt for apartments, many have a wishlist of amenities, some of which are listed above. For example, some might prefer in-unit laundry over a shared laundry room. Perhaps they would be willing to pay extra for a reserved parking space in a convenient location, or have access to additional storage areas. In addition, owners can find additions that not only add value, but help cut down on costs long-term. For example, they can add LED lighting which can help brighten up common areas and exteriors, while helping cut down on electricity. Finally, general renovations around the complex, as well as within individual units, can help boost the overall value of the complex.
Apartment investing offers a viable option for investors who are interested in diversifying their portfolios, are looking to enter a unique investing niche, or even both. As with any type of investing activity, there are a plethora of mistakes to be made when buying an apartment building. However, these potential pitfalls can be met with plenty of preparation and research, as well as consulting with seasoned mentors. Investing in apartment buildings offers a myriad of unique benefits that are waiting to be discovered.
If you have never felt an interest in apartment investing, did this guide pique your interest in any way? Or perhaps you were already interested and were in the beginning phase of your research. What did you find most interesting or helpful? Feel free to let us know in the comments below: