The Atlantic City real estate market was hit hard by the pandemic, and local unemployment appears to have been less insulated from volatility than most of the country. As a result, consumer confidence in the housing sector has been shaken and now serves as a primary obstacle on the road to recovery. Nonetheless, real estate in Atlantic City has made up a lot of ground in recent history.
Near-term prospects for the Atlantic City housing market aren't as bright as they may have been at the beginning of the pandemic. However, the disruption brought about by COVID-19 has created a window of opportunity for long-term investors. In particular, emerging fundamentals suggest well-positioned entrepreneurs can take advantage of an attractive rental market. Several indicators are working heavily in favor of prospective landlords in the Atlantic City real estate market.
Atlantic City Real Estate Market 2022 Overview
Median Home Value: $163,401

Median List Price: $169,000

1-Year Appreciation Rate: +19.0%

Median Home Value (1-Year Forecast): +22.5%

Weeks Of Supply: 19.4 (+0.1 year over year)

New Listings: 120.7 (-12.5% year over year)

Active Listings: 1,487 (-23.3% year over year)

Homes Sold: 92 (-10.7% year over year)

Median Days On Market: 68.1 (-22.6% year over year)

Median Rent: $1,742

Price-To-Rent Ratio: 7.81

Unemployment Rate: 7.4% (latest estimate by the Bureau Of Labor Statistics)

Population: 38,497 (latest estimate by the U.S. Census Bureau)

Median Household Income: $29,526 (latest estimate by the U.S. Census Bureau)
---
[ Thinking about investing in real estate?
Register to attend a FREE online real estate class
and learn how to get started investing in real estate. ]
---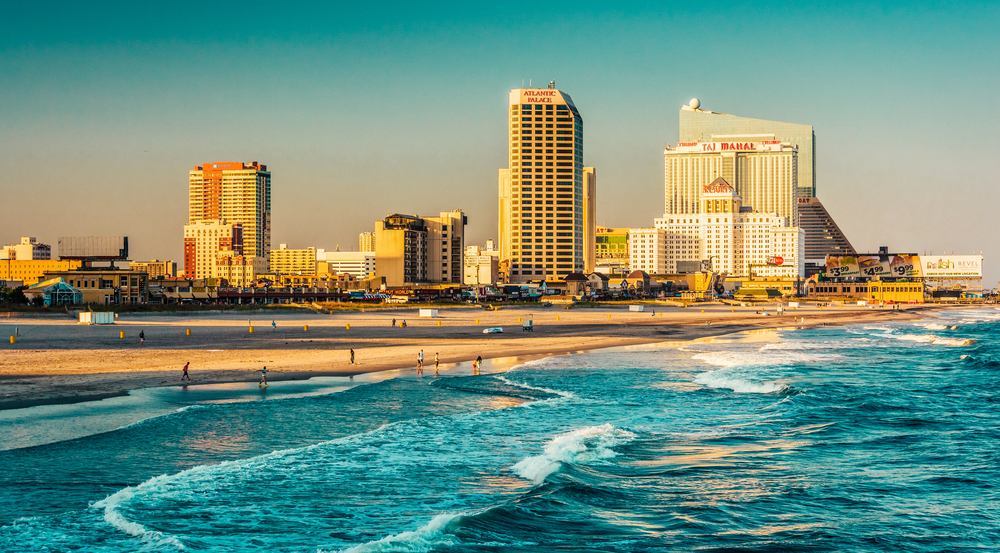 Atlantic City Real Estate Market Trends 2022
Atlantic City real estate market trends are directly correlated to the pandemic and its lasting impact on the housing sector. That isn't to say there aren't additional variables contributing to the state of today's Atlantic City real estate market, but rather that the impact of COVID-19 on the local real estate market has largely influenced its direction. Most notably, indicators brought about by the pandemic have simultaneously increased demand and decreased supply.
Demand, for example, has increased for the better part of two years. When the Federal Reserve lowered benchmark interest rates to bolster the economy during the pandemic, borrowing costs made houses more affordable in Atlantic City than they had been in years. The average commitment rate on 30-year fixed-rate loans dropped as low as 2.68% as recently as December 2020. Historically low interest rates persuaded many buyers to actively participate in the market; that, in addition to increased savings from government stimuli.
Today, interest rates are up following the Fed's attempt to combat inflation. The first increase took place in March, but several more are expected throughout 2022. The looming increases are adding more buyers to the market which is weighing heavily on supply. Active listings are down more than twenty-three percent year over year, falling well short of where they need to be.
The unique convergence of activity and a lack of inventory have increased home prices by 19.5% in as few as 12 months. With competition hotter than ever, owners have been able to increase their prices accordingly. In many cases, however, owners don't even need to increase their asking prices; offers come in higher just to beat out the competition.
With prices rising almost exponentially, Atlantic City real estate investors have added long-term rental properties to their priorities. Rehabbing remains a viable exit strategy in AC because of the relatively affordable home values, but recent appreciation has made rentals more attractive from an investment standpoint.
Atlantic City Real Estate Market Forecast
The Atlantic City housing market is somewhat unique, relative to national trends. Atlantic City has taken a slightly different trajectory than many of its counterparts over the last five years. However, no city was immune to the impact of COVID-19, and the resulting imbalance of supply and demand has shaped what investors can expect from the market in the coming year. With that in mind, here is an Atlantic City housing market forecast that is likely to play out in 2022:
Home Values Will Increase: The median home value in the AC housing market is $163,401, representing an increase of19.0% over the last 12 months. The increase is largely the result of supply and demand constraints. Moving forward, the same seller's market is expected to continue. Too many buyers will be competing over too few homes in 2022, causing the median home value to increase, perhaps as much as 22.5%.

Rents Will Increase: Rent prices in the Atlantic City housing market have shot higher on the heels of home value appreciation. Since homes are expected to continue appreciating, it only makes sense that rents will, too.

Interest Rates Will Increase: In order to combat inflation, the Federal Reserve will increase interest rates; it's not a question of if, but rather when. The only real question is how high rates will go. Some forecasts call for more than five increases, but even if there are fewer, higher rates will impact home prices.

Rental Properties Will Be More Popular: Higher acquisition costs, lower profit margins, and a lack of availability are turning more Atlantic City real estate investors to the rental market. Long-term rental properties look to be the better play in today's market, where monthly rents can help offset higher prices. Additionally, the lack of inventory in the housing market will drive more tenants to rental units, effectively reducing the risk of vacancies.
Atlantic City Foreclosures In 2022
According to ATTOM Data Solutions' February 2022 U.S. Foreclosure Market Report, a total of 25,833 U.S. properties received a foreclosure filing (default notices, scheduled auctions, or bank repossessions) throughout February. The same report acknowledges that foreclosures are up 1.0% from the previous month and 129.0% yearly.
"February foreclosure activity looks a lot like what we can expect to see for at least the next six months – double digit month-over-month growth, and triple digit year-over-year increases," said Rick Sharga, executive vice president at RealtyTrac, an ATTOM company. "This isn't an indication of economic turmoil, or of weakness in the housing market; it's simply the gradual return to normal levels of foreclosure activity after two years of artificially low numbers due to government and industry efforts to protect financially impacted homeowners from defaulting."
Foreclosures are starting to increase across the country. With moratoriums and government assistance expiring, more banks and lenders will be able to take action on delinquencies. With that in mind, it is safe to assume the Atlantic City real estate market will see an increase in foreclosures. That's not to say the market is any worse off than it has been in recent history, but rather that foreclosures were suppressed last year, and there's only one way for the numbers to go.
Of course, it is too soon to tell how many foreclosures filings Atlantic City will see in 2022, but there is a non-zero chance delinquencies will rise. Investors should heed the Atlantic City housing market forecast and prepare for what is in store, lining up financing for future acquisitions. Those with financing in place could simultaneously help distressed homeowners avoid foreclosure and secure a deal of their own.
Atlantic City Median Home Prices In 2022
The Atlantic City real estate market has boasted unique price movements in recent history. Whereas most of the country has seen steady gains since the market bottomed out in 2012, Atlantic City saw its median home value take a different trajectory. It wasn't until January 2017 that real estate in Atlantic City reached its lowest point of the last decade.
In the first quarter of 2017, Atlantic City's median home value dropped as low as $85,200. Today, the median home value in Atlantic City is $163,401; that means home values have increased 91.8% in just five years. Since the beginning of the pandemic, now more than two years ago, the median home value in the Atlantic City real estate market has increased 40.9%. In that same time, national home values have increased 32.1%.
Local unemployment woes have caused a lot of uncertainty in Atlantic City in the past, but improvements have added to homeownership levels. According to the Bureau of Labor Statistics, Atlantic City's unemployment rate is 7.4%. While still high, unemployment in the Atlantic City housing market has improved since peaking in 2020 at 36.0%.
Fewer people with stable incomes will hurt home values until improvements are made. Unemployment is headed in the right direction, but confidence will remain low until the numbers correct themselves. Therefore, the Atlantic City real estate investing community may view today's home prices as an opportunity. Home prices have increased for five consecutive years, and 2022 will look to continue the trend, which begs the question: Is Atlantic City real estate a good investment?
Despite five consecutive years of appreciation, real estate in Atlantic City is still very investable. Prices remain low, relative to national prices, and the return of employment to the tourism-reliant city will only help. Demand will likely increase, causing home values to increase as much as 22.5% over the next 12 months.
2022 Atlantic City Real Estate Investing
The Atlantic City real estate market has set the bar for real estate investing over the last decade. Few cities have successfully combined affordability and high foreclosure rates with unique demand in the way AC has. Despite the relatively low cost of entry for local investors, demand has remained consistent. The thriving gaming industry continues to draw people in from around the country, and investors should benefit.
For years, investors have been able to flip real estate with attractive profit margins. Even today, when most cities across the country have appreciated too much for the likes of rehabbers, Atlantic City still awards patient investors with plenty of flipping opportunities. That said, new fundamentals brought about by the pandemic have shifted many investors' exit strategies.
Atlantic City real estate investors may still enjoy attractive profit margins on flips. However, many investors appear to be trading in the short-term prospects of flips for long-term rentals. Several emerging trends are tilting the scales in favor of landlords, and it's all because of the new landscape created in the wake of the Coronavirus.
The Atlantic City real estate investing community should consider looking into long-term rental properties for three reasons:
Home prices have increased by about 40.9% in as little as two years. The ratios rehabbers prefer are getting harder to come by.

Interest rates are historically low. At 4.25%, interest rates on 30-year fixed-rate mortgages are incredibly affordable and can significantly reduce borrowing costs. That said, rates are up year to date, and are expected to increase several more times in 2022. Increasing acquisition costs will drive demand and home prices up over the short term.

With a price-to-rent ratio of 7.81, it is considerably more affordable to buy a home in the Atlantic City real estate market than it is to rent one. Investors who do so intending to rent their property to tenants will find the price-to-rent ratio working in their favor. While it is considerably more affordable to own, the area's low inventory will force many people to rent, driving up both competition and rental asking prices.
Investors are lucky to have several viable exit strategies at their disposal. Still, none appear more attractive than building a proper rental property portfolio in the wake of the pandemic. Too many important market indicators are pointing towards becoming a buy-and-hold investor to ignore.
Summary
The Atlantic City real estate market wasn't able to enjoy a fast-paced recovery over the last eight years. Whereas most markets across the country saw nearly eight consecutive years of price growth and demand drive healthy fundamentals, real estate in Atlantic City lagged behind the national average. That said, the Atlantic City housing market is very affordable, and the hotel scene still drives plenty of demand. The latest setback initiated by the Coronavirus may represent an opportunity for local investors. The long-term prospects look particularly attractive at the moment, and buying a home today could turn out to be a great move.
---
Ready to start taking advantage of the current opportunities in the real estate market?
Click the banner below to take a 90-minute online training class and get started learning how to invest in today's real estate market!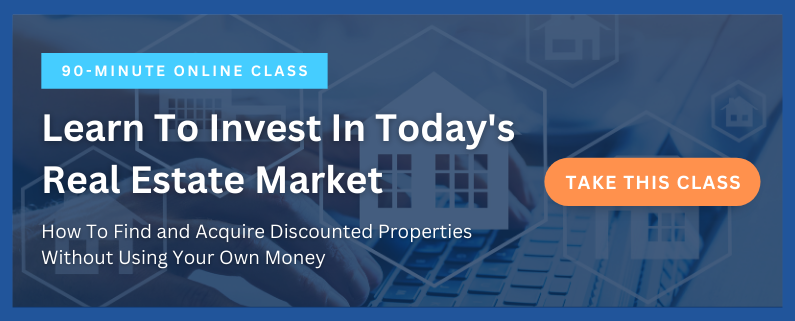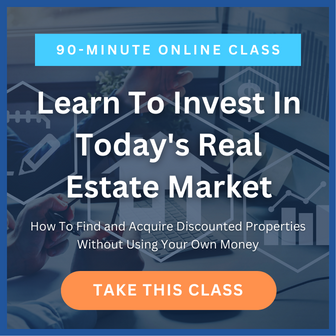 Sources
https://www.zillow.com/atlantic-city-nj/home-values/
https://www.zillow.com/home-values/
https://www.zillow.com/research/data/
https://www.freddiemac.com/pmms/pmms30
https://www.redfin.com/news/data-center/
https://www.realtor.com/realestateandhomes-search/Atlantic-City_NJ/overview
https://www.zumper.com/rent-research/atlantic-city-nj
https://www.census.gov/quickfacts/atlanticcitycitynewjersey
https://www.bls.gov/regions/new-york-new-jersey/nj_atlanticcity_msa.htm
https://data.bls.gov/timeseries/LAUMT341210000000003?amp%253bdata_tool=XGtable&output_view=data&include_graphs=true
https://www.attomdata.com/news/market-trends/foreclosures/attom-february-2022-u-s-foreclosure-market-report/
*The information contained herein was pulled from third party sites. Although this information was found from sources believed to be reliable, FortuneBuilders Inc. makes no representations, warranties, or guarantees, either express or implied, as to whether the information presented is accurate, reliable, or current. Any reliance on this information is at your own risk. All information presented should be independently verified. FortuneBuilders Inc. assumes no liability for any damages whatsoever, including any direct, indirect, punitive, exemplary, incidental, special, or consequential damages arising out of or in any way connected with your use of the information presented.