If your backyard is looking overrun or outdated, you may feel called to give it an overhaul. Perhaps spending all that time at home during the pandemic was what finally sent you over the edge. A backyard makeover can be a major undertaking, but it is an investment that will pay dividends. Not only will it increase your yard's functionality and thus your enjoyment, but any updates and upgrades you make can increase your property value. Use this guide to create your ultimate backyard makeover plan.
How To Plan A Backyard Makeover
Giving your backyard a makeover can get complicated quickly, especially if you are tackling multiple projects at once. Putting together a game plan in advance can prevent you from feeling overwhelmed. It will also help you put together a budget, schedule, and a list of needed materials. If you're wondering how to plan a backyard makeover, first take a step back and ask yourself some questions to get in better touch with your goals:
What is my purpose behind my backyard makeover?

What kind of materials do I like?

How much work am I willing to put in?
Next, perform a walkthrough of your exterior property and make a list of what you like and don't like. Write down areas that need to be replaced, improved, or things that can be salvaged. This can range anywhere from foliage and shrubbery, to your deck, to structures such as a shed or garage.
Once you have a better idea of what kind of projects you would like to take on, you can start sketching out a plan for your project. Drawing a plan to scale can help you get a better idea of how spaces should flow with each other. Unless you are planning for a completely DIY backyard makeover, consider hiring a professional to help you with the planning phase of your project.
---
[ Thinking about investing in real estate?
Register to attend a FREE online real estate class
and learn how to get started investing in real estate. ]
---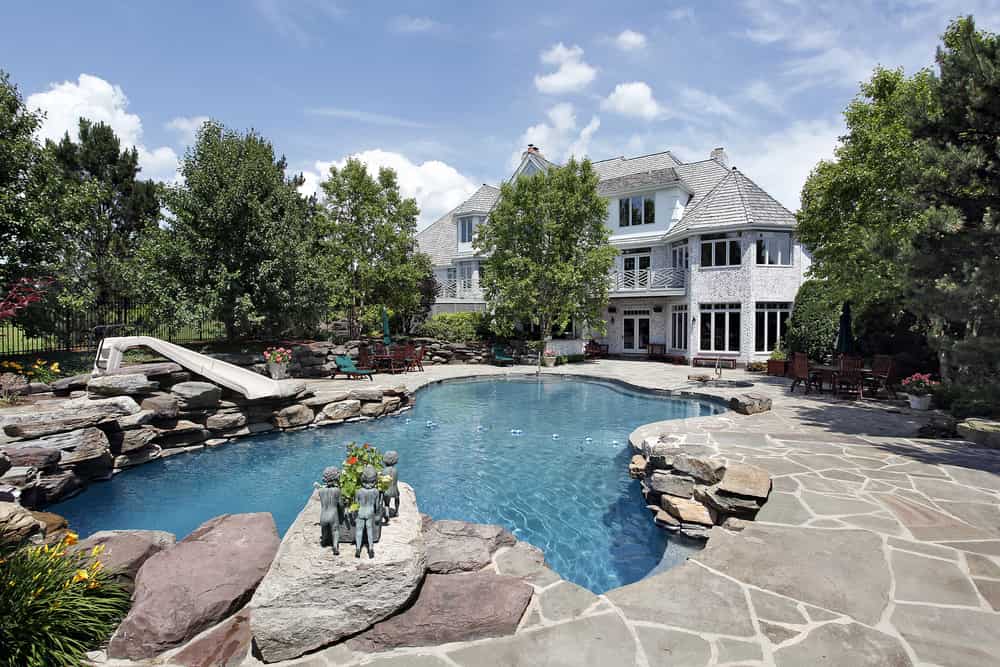 When Should You Consider A Backyard Makeover?
Not all seasons are created equal, especially when it comes to home projects. For most Americans, the best time to launch your backyard makeover is during the spring, with completion by early fall. That's because it's easier to do your outdoor projects when it's relatively warm and dry.
Alternatively, maybe you live in a place like Palm Springs, California, where the summer desert heat is unbearable and your winter months are favorable instead.
However, be sure to take your individual projects and location into account. For instance, according to the Spruce, concrete needs to be laid when it is above 50 degrees Fahrenheit. Such specific requirements will dictate when your projects need to happen.
At the end of the day, pick a time that works best for you. Your decision can be based on location, weather, project type, and desired completion date.
10 Best Backyard Makeover Ideas
If you think about your backyard and longingly wish that you spent more time outside, feel that the exterior spaces look worn out, or even have a sense of distaste, perhaps it is time for a backyard makeover. Giving your exterior spaces a facelift will not only maximize utility for you and your family, but can add significant value to your property. However, there are so many backyard makeover ideas to choose from, it can feel overwhelming to figure out what type of projects will work best for you. The first place to start is to identify the type of space you desire. Having this in mind will help you narrow down what kind of projects to prioritize within your budget. Here are some ideas to get you thinking:
Update old materials: If the property was built in 1970, then chances are, your exterior spaces are stuck in that era as well. Consider replacing old brick, concrete, or stucco with modern materials such as flagstone or patterned concrete.

Extend patio space: In some cases, the patio area of a backyard is too small. Extend the square footage of your patio to allow more space for moving around, placing outdoor furniture, or even installing a kitchen.

Redo paving: Redoing old, boring paving can give your outdoor space an instant facelift. You can either completely replace paving, or you can save some money by dressing up what already exists with staining or engraving.

Rejuvenate landscaping: If your greenery looks dilapidated or taking care of your landscaping has become a major headache, then perhaps your most desired project would be giving your landscaping a major change. Some effective projects can be getting rid of your lawn altogether by replacing it with paving and selecting plants that are best adapted to your local climate, or even plants that require little care or water altogether.

Maximize use of small spaces: Most backyards are not without small or awkwardly-shaped spaces that can feel limiting. If this is the case, you might consider splurging and working with a professional to help design a unique layout that will help maximize the use of your oddly-shaped space.

Build a deck: Adding a spacious deck can add to the aesthetic appeal of your backyard. It also creates a dedicated space for your outdoor dining area so that you can host summer BBQs. Most decks are situated right at the backyard entrance to the home, but you can also build an elevated deck in other areas of your yard, such as in the back.

Increase the functionality: Does your backyard really serve your needs or reflect your personality? One way to pick out a worthy project is to dream up how your backyard could be more functional for you and your family. Maybe this means ripping out a meaningless side yard and turning it into a grassy area for Fido. Perhaps you could add a concrete area in the middle of your garden for yoga and meditation. All it takes is one or two creative ideas to turn your backyard into a personalized haven.

Add a pergola and new furniture: If you don't feel like ripping out shrubbery or laying down new concrete, there are some cosmetic changes you can make that can still give your yard a major facelift. For instance, why not add a pergola over your brand new patio dining set to add some shade against the hot summer sun?

Build a firepit: Adding sources of heat to your yard will invite your family and friends to stay longer into the night, even when it gets cold out. You can purchase a pre-assembled fire pit. You can also build your own by creating a circle of retaining wall blocks.

Add some lighting: Last but not least, why not make your yard twinkle like a nighttime haven? Whether you decide to add fairy lights, tiki torches, or simple sconces, lighting makes it easier to see when it gets dark. Not only will this make it possible to spend time in the backyard at night, but it also increases safety. You won't have to worry about guests tripping on a paver because they can't see at night!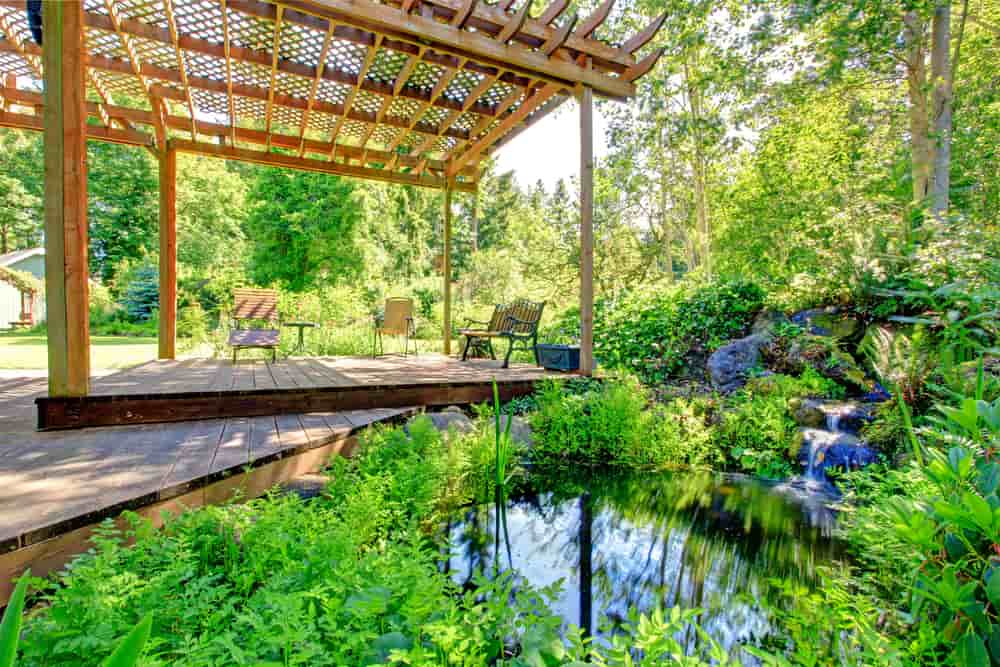 Average Costs For A Backyard Makeover
While it's easy to dream up our best backyard makeover fantasies, the price tag can quickly bring us down to reality. Most of us have to create a budget and stick to it, so it's helpful to know the general price range for most backyard makeover projects. That way, you can pick out projects that you like and can afford at the same time. Below we discuss the average costs for popular backyard makeover projects:
Outdoor deck costs: An outdoor deck can help add a sense of space and different levels to your exterior space. As with any makeover project, the variation in cost mostly depends on the type of materials you choose, the size of the project, and any unique designs you would like to incorporate. In addition, unless you opt for a DIY option, you will also need to factor in the cost of labor. Deck materials can range from pressure-treated wood to capped composite, while the high-end decks can be constructed with tropical hardwoods or composite materials. Professionally-installed decks typically range between $16 per square foot on the low end to $30 per square foot on the premium end.

Fire pit costs: A fire pit can be a great feature to add to your property exterior at a relatively low cost, and can invite residents to gather outdoors, even at night. This inherently extends the usability of the outdoor space and can help increase value and attractiveness. The cheapest options for fire pits are portable ones that can range between $80 to $600, depending on the material used. Prefabricated models range between $1,200 to $4,000 while high-end custom builds can cost in the high thousands.

Swimming pool costs: Swimming pools are highly desired in high-temperature markets and can range from basic pools to luxury pools featuring unique design features. The cost can vary depending on the material and installation type, as well as any special features that are added. According to www.landscapingnetwork.com, the nationwide average for installing a swimming pool is about $50 per square foot. Vinyl-lined pools can range between $1,500 to $5,000; fiberglass pools range between $15,000 to $25,000; concrete, granite and custom pools can range anywhere between $20,000 and $55,000. Some special features that can ramp up your pool budget include water features, spas, rocks, and slides.

Outdoor kitchen costs: Outdoor kitchens are a popular backyard addition, as it allows families to enjoy more time outdoors and share meals. The main item desired in an outdoor kitchen is the grill, which is available at low-end to high-end costs. While a grill can cost anywhere from $200 to $4,000, the budget of your kitchen will increase based on what type of features you wish to add. This could include countertops, sinks, and refrigerators, which will require the cost of labor for construction and installation. The most luxury outdoor kitchens can cost upwards of $100,000, but can also be done cheaply for $2,000.

Patio costs: Paving your patio can become expensive quickly, but the cost varies greatly depending on the material that you pick, as well as the size of the area you'd like to pave. For example, concrete ranges from $6 to $17 per square foot, while flagstone ranges from $15 to $30 per square foot. An average-sized patio of 144 square feet can cost roughly $860 to $2,500 based on concrete, or up to roughly $4,000 when using flagstone.
Backyard Makeover On A Budget
Executing a backyard makeover on a budget is entirely possible. It's all about prioritizing the projects that will have the most impact for your space. The section above outlined several common examples of backyard makeover ideas, as well as their average costs. The key factors that contribute to cost are the materials used, the square footage of the project, as well as paid labor. Some ways to save money include selecting lower-cost materials and tackling as many D-I-Y projects as you can.
Summary
A backyard makeover can serve as a major value-add for your property. While certain projects can be costly, it's entirely possible to execute your vision on a budget. The first step is to brainstorm freely and pinpoint how you could change your yard to serve your lifestyle needs. Then, come up with projects that fit within your budget range. Don't forget that you can opt for cheaper materials and put in your own elbow grease to lower the overall costs. With a bit of creativity and planning ahead, you can surely find creative projects that will turn your backyard from sad to rad!
---
Ready to start taking advantage of the current opportunities in the real estate market?
Click the banner below to take a 90-minute online training class and get started learning how to invest in today's real estate market!