Key Takeaways
The Baltimore real estate market isn't only the largest in the state of Maryland, but also one of the hottest in the entire country.
Real estate in Baltimore has become the beneficiary of strong, slow and steady growth throughout 2018.
The Baltimore real estate investing scene has been firing on all cylinders for the better part of 2018, and there are no signs of it slowing down in the near future.
---
The Baltimore real estate market has been in a class of its own for the better part of 2018. In what started off as slow and steady growth for the largest city in Maryland, real estate in Baltimore has found itself at the forefront of the national housing market. The city's appreciation rates have more than quadrupled the national average in the last 12 months, and the latest forecasts suggest Baltimore home values will continue to increase at a faster clip than the rest of the country for the foreseeable future. Perhaps even more importantly, demand persists in face of increasing prices, which has positioned the Baltimore real estate market towards the top of investors' wish lists. For all intents and purposes, real estate in Baltimore is healthier than it has been in quite some time.
Baltimore Real Estate Market Overview
Median Home Value: $116,200
1-Year Appreciation Rate: 28.3%
Median Home Value (1-Year Forecast): 8.4%
Median Rent Price: $1,375
Number Of Foreclosures: 2,053
Homes For Sale: 3,372
---
[ What's the best investment strategy for YOU? Take "The 10-Minute Real Estate Investor Personality Test" and find out ]
---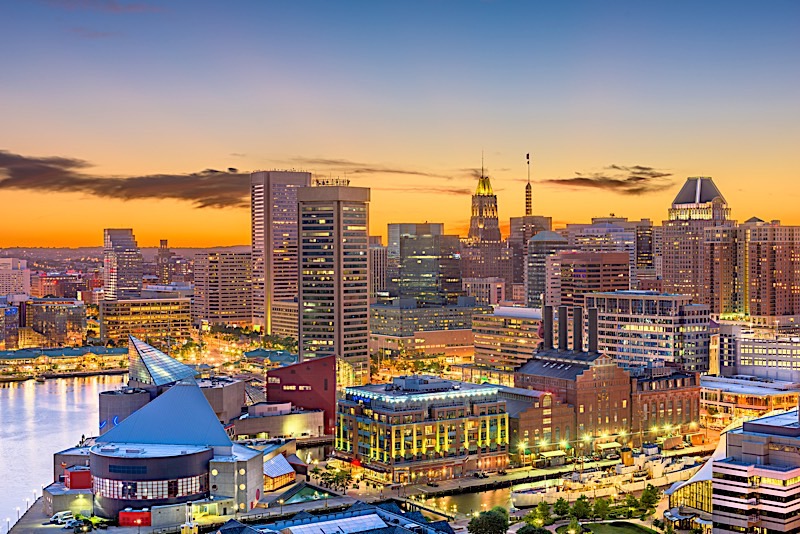 Median Home Price Baltimore
The median home value in Baltimore currently rests somewhere in the neighborhood of $116,200, according to Zillow. At the current price point, it is evident that home values have come a long way since the second half of 2017. As recently as August of last year, the median home value was $90,600, or nearly thirty percent less than today's current valuation. Comparatively, the national median home value only managed to increase 6.5% in the same time. What's more, Baltimore real estate appears set to continue the trend and outpace the national average for the foreseeable future. Whereas forecasts expect home values across the country to increase 6.4% in the coming year, Baltimore may increase as much as 8.4%.
Baltimore Foreclosure Statistics
According to RealtyTrac, Baltimore is home to at least 2,053 foreclosures. That number is in constant flux, but is nonetheless representative of the state of distressed properties in the Baltimore real estate market. It should be noted, however, that the distribution of distressed properties is split heavily between three distinct categories: default, auction or bank-owned. The majority, in fact, are actually in pre-foreclosure, meaning the homeowners are at risk of facing foreclosure.
Some zip codes in the Baltimore real estate market have demonstrated an increased propensity for higher foreclosure ratios. Fortunately, RealtyTrac has already identified the neighborhoods in which foreclosures are more likely to occur. According to the online real estate database, foreclosures are more prevalent in the following neighborhoods:
21214: 1 in every 306 homes is currently distressed
21216: 1 in every 395 homes is currently distressed
21206: 1 in every 445 homes is currently distressed
21229: 1 in every 482 homes is currently distressed
21224: 1 in every 509 homes is currently distressed
Baltimore real estate investors hoping to acquire a distressed property may want to focus their attention on these neighborhoods first.
Baltimore Real Estate Investing
Foreclosure distribution data suggests the majority of distressed properties in the Baltimore real estate market are pre-foreclosures. Approximately 43.8% of the homes are only at risk of falling into foreclosure, but that shouldn't stop Baltimore real estate investors from testing the waters. Despite being labeled pre-foreclosures, the records of each and every one of these homes is made available to the public. With a quick trip to the local courthouse, savvy investors may be able to identify the homes that have neglected to keep up with their mortgage obligations and gather the contact information of otherwise motivated sellers.
The distribution of foreclosures in the Baltimore real estate market has contributed to what may only be described as an investing boom. If for nothing else, Baltimore had one of the highest flipping rates in the country in the first quarter of this year, according to Attom Data Solutions. With a flipping rate of 9.7%, real estate in Baltimore had the ninth highest flipping rate amongst qualified cities, with Memphis, Tennessee's 15.1% leading the pack.
If that wasn't enough, real estate investing in Baltimore proved a fruitful endeavor for those that did so successfully. In addition to exercising one of the highest flipping rates in the country, Baltimore also had one of the highest flipping ROIs (return on investment). According to Attom Data Solutions, the average gross flipping ROI in Baltimore was 102.9% in the first quarter of 2018.
Baltimore Real Estate Market Summary
The Baltimore real estate market stands out in a year that has been particularly generous to the housing industry. More importantly, however, nearly every major indicator is better off today than it has been in recent history. Demand remains intact despite exponential increases in home values, and investors should still able to find deals with attractive profit margins. As things stand, few cities across the country are more attractive to buyers, sellers and real estate investors.
Have you thought about investing in the Baltimore real estate market? If so, what are you waiting for? We would love to know your thoughts on real estate in Baltimore in the comments below.
*The information contained herein was pulled from third party sites. Although this information was found from sources believed to be reliable, FortuneBuilders Inc. makes no representations, warranties, or guarantees, either express or implied, as to whether the information presented is accurate, reliable, or current. Any reliance on this information is at your own risk. All information presented should be independently verified. FortuneBuilders Inc. assumes no liability for any damages whatsoever, including any direct, indirect, punitive, exemplary, incidental, special, or consequential damages arising out of or in any way connected with your use of the information presented.
🔒 Your information is secure and never shared. By subscribing, you agree to receive blog updates and relevant offers by email. You can unsubscribe at any time.