Key Takeaways
Key Takeaways
---
If you're trying to earn extra money, the phone in your pocket may be one of your best options. Whether you want to deliver groceries, answer surveys, or earn rewards for everyday purchases, there are plenty of apps to help you out. But what is the best app to make money on?
Here are 10 apps for earning money on your iOS or Android device.
What Is a Money-Making App?
A money-making app is an application that's designed to help you make money. Most are designed for smartphones and tablets, but some are available for PC as well. Sometimes, you get paid a small amount for making purchases through a specific site, or even leaving an app running in the background. Other apps pay you to fill out surveys, and some even let you offer your skills on a freelance basis.
As you can see, this covers a wide stretch of territory. Every app is different, with its own functions and payment structure.
---
[ Thinking about investing in real estate?
Register to attend a FREE online real estate class
and learn how to get started investing in real estate. ]
---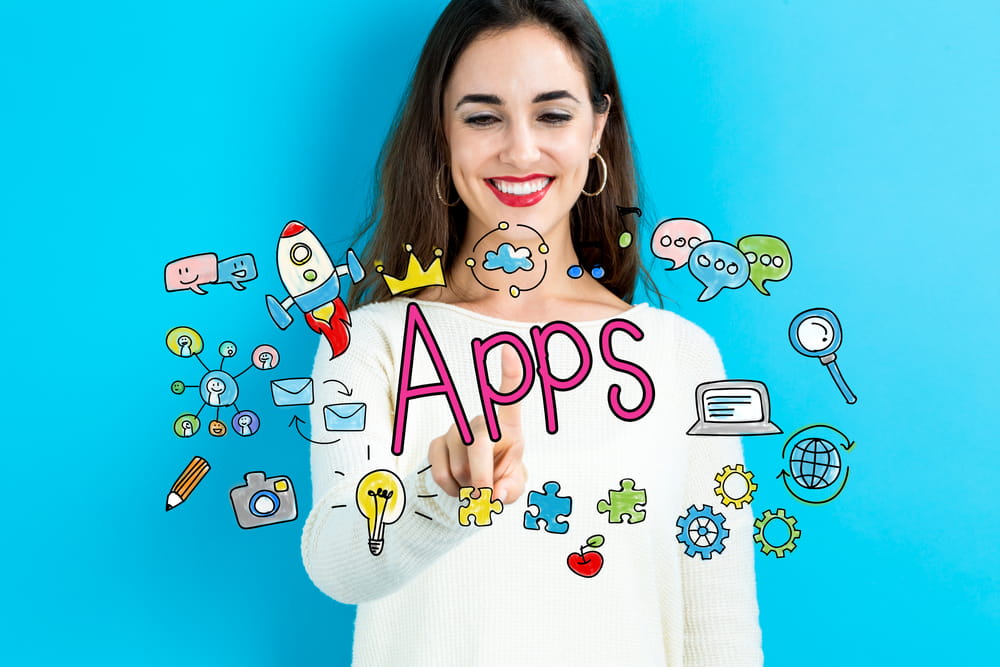 10 Best Apps To Make Money In 2022
There are any number of apps you can use to make money these days. That said, some are better than others. These are the 10 apps we'll be reviewing today:
Ibotta

Rakuten

Shopkick

Acorns

Fiverr

Upwork

Foap

OfferUp

Swagbucks

Poshmar
Let's get started!
1. Ibotta
Ibotta is a cash back rewards program that pays you for the purchases you already make. It was originally designed for groceries, but it now supports more than 1,500 brands. These can be brick-and-mortar, online, or a combination of the above. When you're done shopping at a qualifying retailer, you open the app, snap a picture of the receipt, and wait to receive your rewards.
For online purchases, you simply make your purchase through the Ibotta app. For most purchases, you'll also have to answer a short survey or watch a video to receive your reward. On the other hand, some purchases will automatically have their benefits applied.
One neat thing about the Ibotta app is that you can use it to buy gift cards. In that case, you'll also receive a reward on the gift card purchase. When you've earned your rewards, you can choose to accept them via PayPal, direct bank transfer, or a gift card. In-store purchase rewards are usually paid out within 24 hours, but online rewards can take as long as 90 days to appear on your account.
Pros:
Cash back rewards for everyday purchases

Supports more than 1,500 retailers

Most in-store rewards approved within 24 hours

Multiple payment options
Cons:
Online rewards pay out slowly

Can only cash out rewards in amounts of $20 or more
2. Rakuten
Rakuten used to be known as Ebates, but they're still the same cash back service they used to be. You earn rebates on purchases from thousands of retailers throughout the world. In fact, you're not limited to rewards on retail purchases alone. You can also get rewards on hotels, airfare, and other travel expenses.
One other neat feature of Rakuten is that you can have most of your rewards applied automatically. You can link your credit or debit card through the app, and you'll get automatic rewards for qualifying purchases. You can also use the app to make online purchases through a portal and earn your rewards that way.
Pros:
Earn rewards on travel, not just retail

Earn extra bonuses for referring your friends

Rewards are easy to claim

Earn rewards in hours to days
Cons:
You only get paid every three months.

Minimum payment balance of $5
3. Shopkick
Shopkick is another retail app, but this one works a bit differently. Yes, you can earn money for in-store and online purchases. In fact, you can earn rewards at more than 250,000 retail locations, which is a pretty impressive number. But the really cool thing about Shopkick is that you can earn rewards just for browsing. Some rewards require you to scan product barcodes on your way through the store, but in other cases, you get paid just for walking through the front entrance.
In addition to retail rewards, you can also earn additional rewards just for watching videos or filling out surveys in the app. On the downside, you don't get paid in cash; all rewards are paid in gift cards.
Pros:
Can earn rewards just for walking into a store

Earn rewards by watching videos

Most rewards are applied automatically

Works at more than 250,000 retail stores
Cons:
Rewards are only paid in gift cards

Online purchase interface is clunky
4. Acorns
Acorns is a bit different from the other apps, because you don't actually have to do anything to earn your rewards. Instead, you link Acorns with your credit or debit card, and it rounds up your purchases to the nearest dollar. The extra change is then invested in stocks, bonds, and funds of your choice.
Keep in mind that this is an investment, and like all investments, it comes with a risk. If your investment goes down instead of up, you can actually lose money. Acorns also charges a $1 monthly fee for their service. So if your investments aren't making at least $1 a month, the app isn't going to be worth it.
Pros:
Automatically invest your spare change

No minimum investment deposit

No work required on your part

Link rewards your checking or retirement account
Cons:
You're not guaranteed to make money

Charges a monthly fee
5. Fiverr
Fiverr is a gig marketplace that lets you sell your services, across more than 200 categories. Popular services include video editing, programming, graphic design work. You create a profile, which includes a description of your service and your rates. At that point, potential clients will reach out to you and make offers.
Fiverr has a 14-day waiting period for making withdrawals, and they charge a hefty 20% service fee on your earnings. That said, they let you provide "extras" to earn even more, and clients can tip you for a job well done.
Pros:
Set your own rates and hours

Can earn tips for your work

Get paid via bank transfer or debit card
Cons:
Charges a 20% fee on your earnings

14-day waiting period for all withdrawals
6. Upwork
Upwork is a freelance marketplace where gig workers can create a profile and compete for work. Clients can then invite you to work on a job, or you can submit bids for individual jobs. If you're looking for a particular niche of work, this makes it easy to find. Among other things, you can offer services like graphic design, video editing, writing, and programming.
Upwork charges between 5 and 20 percent of your pay, depending on how long you've been with the client. The more work you've done with them, the less Upwork will charge. After 10 days, you can withdraw your funds via wire transfer or PayPal, or have the money instantly sent to a debit card.
Pros:
Large freelance marketplace

Set your own rates and hours

Multiple payment options

Can bid for jobs from individual clients
Cons:
Charges 5%-20% of your earnings

7-day waiting period for all withdrawals
7. Foap
Foap is a photo and video app that connects amateur photographers and videographers with established agencies and brands. You upload your content through the app, and it goes up on their marketplace. Then, a company or individual can pay for the rights to your work.
Foap charges a hefty 50 percent fee on all your earnings. That said, you can also sell your content to multiple people, so it has the potential to earn a lot of money.
Pros:
Work at your own pace

Can withdraw as little as $5

Exposure to major brands and agencies

Can post photos regardless of experience level
Cons:
Funds are only available through PayPal

Foap takes a 50% cut of your pay
8. OfferUp
OfferUp is like a combination of eBay and Craigslist. It's an online marketplace where you can sell your old electronics, furniture, or even your car. You upload pictures through the app, and enter a title, description, and price. Users contact you and decide whether you want to meet in person or ship the item to them.
OfferUp does not charge a transaction fee for local sales. That said, they charge a 12.9% service fee on transactions involving shipping. Once a transaction is complete, the buyer and the seller can both leave a rating, so you build up a reputation over time.
Pros:
Use your smartphone to sell your junk

Can accept any form of payment

Can sell locally or nationwide

Comprehensive rating system
Cons:
Charges a fee for transactions that are not in person

In-person transactions are at your own risk
9. Swagbucks
Swagbucks is a cash back app that rewards you for performing basic tasks. In addition to offering cash back on special shopping deals, you can watch videos or fill out surveys to earn "Swag Bucks" (SB). Each SB is only worth about a penny, so it can take a while to earn money. On the other hand, you can basically get paid for clicking your mouse.
Pros:
Earn money for watching videos and completing surveys

Tasks are easy to perform

No waiting period for cash payouts

$10 sign-up bonus with qualifying $25 purchase
Cons:
Low payment rates

Can sometimes get kicked out mid-poll
10. Poshmark
Poshmark is a specialized app for selling clothes and fashion accessories. You list your items much like you would on any other online sales platform, and wait for someone to buy. When they do, Poshmark sends you an email with a shipping label for you to print off. Print off the item, mail your item, and you'll get paid within three days.
Pros:
Sell your old clothes and fashion accessories

Seasonal promotional events for certain item categories

Poshmark provides a printable shipping label

Waiting period for payments is only three days
Cons:
Charges a 20% commission on all sales

Can only get paid by check or direct deposit
How Much Does A Money-Making App Cost?
All money-making apps are different. As a result, it's impossible to say how much they cost. Most of them are free, but some of them charge a fee for you to use them. This can either be a single-time download fee, or a monthly fee. Because of the nature of these apps, fees are usually minimal.
That said, many apps are cash back apps, or provide you other benefits in exchange for making purchases. In other words, you won't be getting any money until you spend money first. But if you're getting paid for purchases you needed to make anyway, that's not a bad thing.
Summary
Every one of these money-making apps is a great choice for what it is. Ibotta is great for earning cash back on ordinary purchases, while Upwork is great for freelancing or gig work. The same is true for Fiver, and Acorn is one of the best savings apps around, with or without any added benefits. Find the best app to make money that suits you, and start earning that extra money!
---
Ready to start taking advantage of the current opportunities in the real estate market?
Click the banner below to take a 90-minute online training class and get started learning how to invest in today's real estate market!