Real estate exchange-traded funds or ETFs are great for keeping your securities when it comes to real estate. They also provide you with a way of investing in real estate for a fraction of the price. Real estate investment trusts or REITs offer investors the income and liquidity of traditional stocks.
When you are able to invest in ETFs and REITs, you can receive dividend distributions. There is less risk when investing like this, but you will usually make more money if you invest in property on your own and take all the rental income.
Buying REITs can include anything from residential real estate to commercial property. You can also tailor ETFs to own shares of real estate investment funds which is simple and can increase your real estate portfolio. Let's look at some of the top options available and determine which is the best real estate ETF for you.
Vanguard Real Estate ETF (VNQ)

Invesco KBW Premium Yield Equity REIT ETF (KBWY)

iShares Residential & Multisector Real Estate ETF (REZ)

Nuveen Short-Term REIT ETF (NURE)

Virtus Real Asset Income ETF (VRAI)
Vanguard Real Estate ETF (VNQ)
Vanguard Real Estate ETF has been around since 2004 and has over $39 billion in assets. When joining this REIT, you will have plenty of opportunities for wide-ranging real estate investment. There is also a steadier cash flow when it comes to Vanguard, as it's a trusted name in the business.
When you join Vanguard, you have access to more than 160 real estate companies, and you have access to the entire fund's portfolio. Vanguard is best for those looking for a real estate portfolio that can be passively managed.
It's best for people that want to invest but don't want to constantly monitor its performance. Their expense ratio is 0.12%, and they have a dividend yield of 2.96%.
---
[ Rental property investor, rehabber or wholesaler? Get to know which investing strategy is the best fit for YOU by attending our FREE online real estate class. ]
---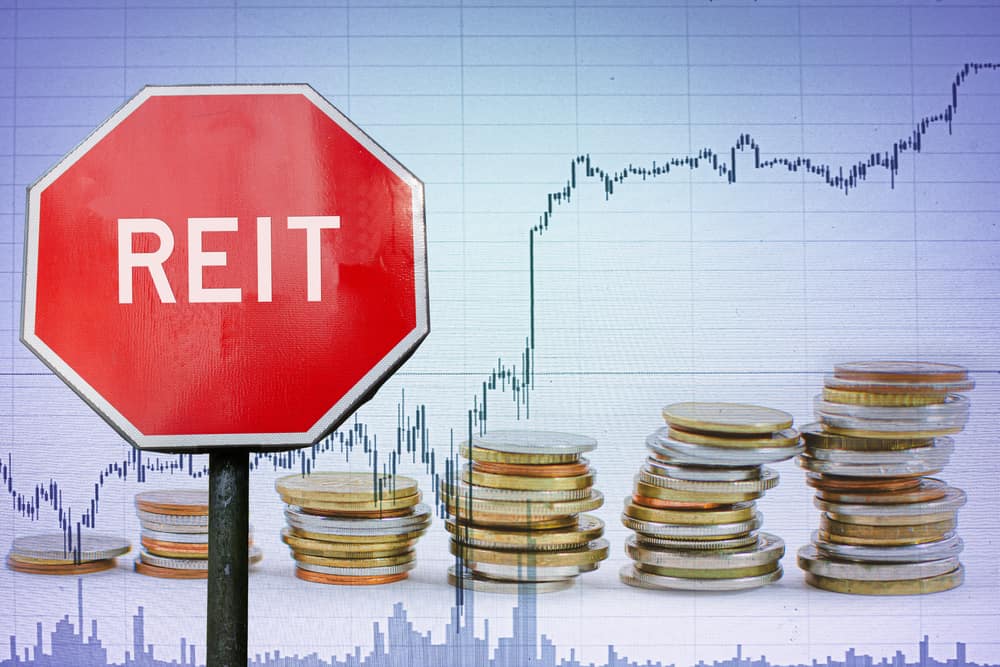 Invesco KBW Premium Yield Equity REIT ETF (KBWY)
The primary purpose of KBWY is that they want to track Invesco KBW Nasdaq Premium Yield. The fund mainly focuses on the lower end of the market spectrum since more than 80% of the market is for small-cap REITs, and the other 20% has mid-cap firms only.
There are a few top holding companies to be aware of when using KBWY, including:
Global Net Lease (GNL): Invests in commercial properties that are in the US and Europe

Class A Shares: Part of the Necessity Retail REIT that specializes in US retail properties

Omega Healthcare Investors (OHI): focuses on nursing and assisted living facilities
INVESCO has an expense ratio of 0.35% and an annual dividend yield of 5.52%. Their one-year trailing total return is 6.3%.
iShares Residential & Multisector Real Estate ETF (REZ)
This ETF was started in 2007 as only a residential real estate REIT but has since started to include many different sectors. Today you can use it as investments for apartments, manufactured homes, health care, single-family homes, and health care.
This is one of the best REITs you can take part in because there is a high housing demand but a limited supply. This means your investments will almost always make a profit.
They also cover investments of all sizes, including residential real estate and health care. They also focus on specialized REITs. They have more than 40 investments, but 10 holdings make up almost 70% of the fund.
They have an expense ratio of 0.48% and a dividend yield of 1.83%.
Nuveen Short-Term REIT ETF (NURE)
This REIT, also known as NURSE, comprises US exchange-traded REITs. Most of the holdings are centered around apartment buildings, hotels, manufactured home properties, and self-storage facilities.
You can use this ETF to get exposure to REITs that have short-term lease agreements. This can help you get your foot in the door regarding real estate investing. Keep in mind, though, that short-term lease agreements are more sensitive to interest changes than long-term lease agreements.
The top holdings for NURSE are Extra Space Storage and Public Storage. Both of these REITs operate self-storage facilities. Another main holding is AvalonBay Communities which holds ownership in apartment communities throughout the United States.
They have an average expense ratio of 0.35% and an annual dividend yield of 2.05%. They also have a total of $125.5 million in assets under management.
Nuveen has a one-year trailing total return of 5.1% and an expense ratio of 0.35%. They also have an annual dividend yield of 2.05%.
Virtus Real Asset Income ETF (VRAI)
VRAI ETF offers investors exposure to many different equities in real estate, infrastructure sectors, and natural resources. VRAI differs from other different real estate strategies because it does not make you directly invest your money into stocks or other real estate categories.
Instead, you can spread your money out into many different segments. Your income can have a higher degree of focus if you choose not to spread your money out, but the company allows you to put your money into more than one place if you choose.
The top holdings of VRAI include Steel Dynamics, which is a metal production and recycling company. They also have Delek Logistics Partners, which is a midstream oil and gas company. The last major holding is Class A shares of Sitio Royalties Corp, which mainly invests in oil and gas royalties.
Their expense ratio is 0.55%, and they have an annual dividend yield of 3.88%. Their one-year total trailing return is 3.7%.
Summary
There are many different options for real estate ETFs in 2022, and you can choose just one or select a few that you are interested in to diversify your portfolio. These investments allow you to start getting to know more about real estate without staking too much money on it.
Just make you conduct the proper research and make sure your selection is the best real estate ETF for you. If you choose one from this guide, you can be sure that it has all the aspects and holdings you need to be successful.
---
Ready to start taking advantage of the current opportunities in the real estate market?
Whether you're brand new to investing or have closed a few deals, our new online real estate class will cover everything you need to know to help you get started with real estate investing. Expert investor Than Merrill explains the best real estate strategies to help get you on the path towards a better financial future.
Register for our FREE Real Estate Webinar and get started learning how to invest in today's real estate market!