Key Takeaways
The Birmingham real estate market has seen an influx of activity, due primarily to a confluence of affordable prices and an abundance of job opportunities.
Birmingham real estate investing has flipped homes at a faster rate than most cities in the United States.
Real estate in Birmingham is incredibly attractive to today's investors, and should be for the foreseeable future.
---
The Birmingham real estate market has become the primary beneficiary of a low unemployment rate in Alabama. The construction, manufacturing and information sectors, in particular, have all done their part in attracting a larger workforce to the city. However, despite exhibiting one of the country's lowest unemployment rates, flourishing companies in Birmingham are still seeking skilled workers to fill empty positions. There is an incredible amount of jobs available, thanks to a strengthening and growing economy, which bodes incredibly well for the local real estate market. Meanwhile, real estate prices in Birmingham remain relatively affordable, making it even easier for those who are seeking to take advantage of job opportunities to make the move. Birmingham real estate investing, as a result, has taken off and shows no signs of slowing down.
Birmingham Real Estate Market Overview
Median Home Value (Birmingham-Hoover Metro): $145,400
1-Year Appreciation Rate (Birmingham-Hoover Metro): 6.6%
Median Rent Price (Birmingham-Hoover Metro): $1,050
Median Days On Market (Birmingham-Hoover Metro): 99
---
[ Thinking about investing in real estate?
Register to attend a FREE online real estate class
and learn how to get started investing in real estate. ]
---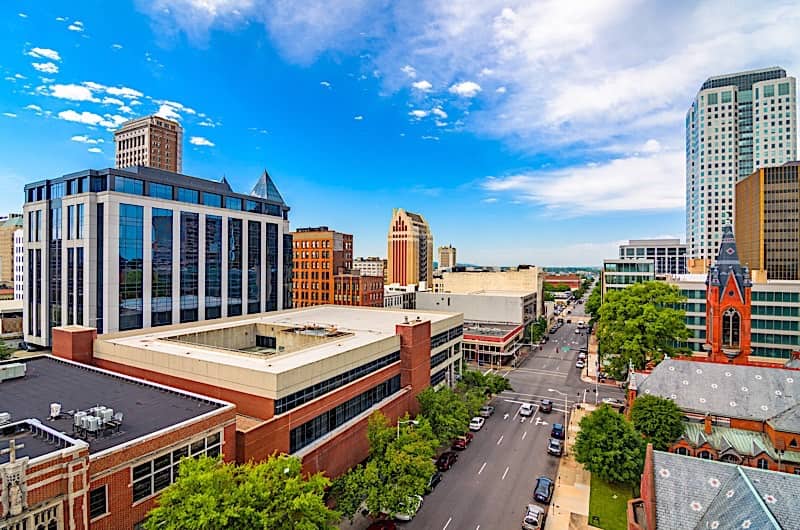 Median Home Price Birmingham
The Bermingham-Hoover metropolitan area consists of seven counties, each of which center on the city of Birmingham. Otherwise known as Greater Birmingham, this area currently boasts a median home value of $145,400, according to Zillow. On its way to today's current price point, Birmingham's median home value has increased by as much as 6.6% in the last year (January 2018 to February 2019). The price increase is largely due to demand, as more people are moving to Birmingham in lieu of more job opportunities and relatively affordable homes. That said, prices should continue to increase for the foreseeable future, albeit at a slower pace. As housing inventory starts to catch up to demand, basic economic principles suggest the ratio of available homes to buyers will slow down what have been historic appreciation rates.
Birmingham Foreclosure Statistics
There are at least 743 distressed properties in the Birmingham real estate market, according to RealtyTrac. To be perfectly clear, however, each of the distressed homes identified by the trusted real estate information company falls into one of three categories: default, auction or bank owned. Nearly 60% of the distressed properties identified by RealtyTrac have already been repossessed by their respective lenders and banks, and are expected to be placed up for auction. The remaining 40%, however, are bank owned, and are currently in the possession of the original loan originators.
Of course, it's worth noting that most of the institutional lenders who currently hold distressed properties would rather remove them from their books. In fact, there's a good chance that they would be willing to part ways with said properties at a discount, which bodes well for Birmingham investors who know where to look. Meanwhile, the following Birmingham neighborhoods have the highest foreclosure rates, and may be a good place for Birmingham real estate investors to start looking for deals:
35217: 1 in every 567 homes is currently distressed
35228: 1 in every 766 homes is currently distressed
35221: 1 in every 814 homes is currently distressed
35215: 1 in every 839 homes is currently distressed
35235: 1 in every 894 homes is currently distressed
Birmingham Real Estate Investing
Birmingham real estate investing enjoyed a particularly active 2018. According to Attom Data Solutions' Year-End 2018 U.S. Home Flipping Report, the Birmingham real estate market was amongst the most coveted by real estate investors. Among qualifying cities, in fact, Birmingham boasted the fifth highest flipping rate in the country. A higher percentage of homes are being flipped in the Birmingham real estate market than all but four other cities across the country.
The cities with the highest home flipping rate in 2018 were "Memphis, Tennessee (11.7 percent); Phoenix, Arizona (9.1 percent); Las Vegas, Nevada (8.7 percent); Tampa-St. Petersburg, Florida (8.2 percent); Birmingham, Alabama (7.6 percent)," according to the report.
As we get farther into 2019, the rate of flipping seen in the Birmingham real estate market appears to be more representative of a long-term trend than a fluke. If for nothing else, demand for housing is on the rise, as more companies appear to be posting "help wanted" ads. That, in addition to an already affordable housing market, spells great news for investors.
Birmingham Real Estate Market Summary
The Birmingham real estate market is moving at a blistering pace. For all intense and purposes, few markets are as hot as Birmingham at the moment, and investors are starting to take notice. In the last year, few cities had a higher flipping rate than Birmingham, and there's nothing to suggest the trend won't continue. In fact, the area's relative affordability and improving job market should continue to promote healthy activity for the time being.
Have you thought about investing in the Birmingham real estate market? If so, what are you waiting for? We would love to know your thoughts on real estate in Birmingham in the comments below.

---
[ Thinking about investing in real estate?
Register to attend a FREE online real estate class
and learn how to get started investing in real estate. ]
---
*The information contained herein was pulled from third party sites. Although this information was found from sources believed to be reliable, FortuneBuilders Inc. makes no representations, warranties, or guarantees, either expressed or implied, as to whether the information presented is accurate, reliable, or current. Any reliance on this information is at your own risk. All information presented should be independently verified. FortuneBuilders Inc. assumes no liability for any damages whatsoever, including any direct, indirect, punitive, exemplary, incidental, special, or consequential damages arising out of or in any way connected with your use of the information presented.