With Bitcoin and Ethereum's adoption on a global scale, blockchain real estate applications have transitioned from theory to reality. The technology behind today's most popular cryptocurrencies has the potential to revolutionize the real estate industry. By using an advanced network of computers and algorithms, blockchain real estate applications will disrupt the housing sector for the better. As a result, it may pay (literally) to learn precisely what blockchain real estate is, what it can do, and how it may be used sooner rather than later.
What Is Blockchain In Real Estate?
The relatively recently coined term "blockchain" has become synonymous with today's most popular cryptocurrencies: Bitcoin, Ethereum and Litecoin (just to name a few). However, it is worth noting that the use of blockchain in real estate isn't relegated solely to crypto assets. While each cryptocurrency takes advantage of blockchain's ability to act as a ledger across a vast network of computers, the ability to track transactions and records may be utilized by just about any and every industry, not the least of which includes real estate.
In its simplest form, blockchain real estate will utilize a network of computers and nodes to act as a more advanced and secure escrow company. Instead of simply trading closing documents for cash, however, blockchain real estate capabilities may be extended to almost every facet of the industry. Consequently, blockchain real estate may help participants in the real estate sector exchange currency, records, legal contracts, and other types of information over a safe and secure network.
More specifically, here's a step-by-step example of what the industry can expect from blockchain real estate exchanges:
A seller accepts an offer on their house and requests the money over blockchain.

The seller's request is facilitated by a vast network of advanced computers, otherwise known as nodes.

Using predetermined algorithms, the nodes process the request for cash.

In order for the exchange to take place, the nodes must verify the request.

Verifications will be determined by each party involved in the exchange.

The exchange will take place once (and only once) the exchange can be verified (much like an escrow company).

In the event of verification, the blockchain ledger is updated with a new block of data, forming an additional chain in the string of data (hence the term "blockchain).

The newly created block of data is added to the blockchain and can't be altered in any way.
---
[ Thinking about investing in real estate? Register to attend a FREE online real estate class and learn how to get started investing in real estate. ]
---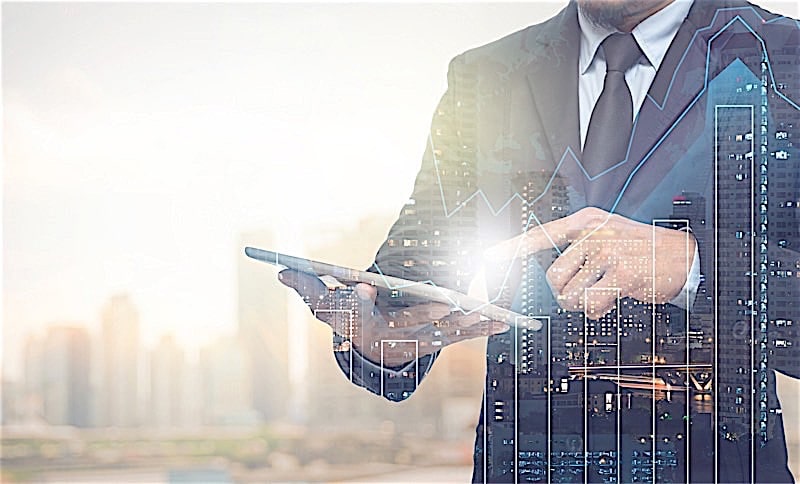 Blockchain Tokenizes Real Estate
The concept of blockchain real estate can be easier to understand when viewed through the lens of tokenization. As its name suggests, tokenization is the process of turning someone's equitable interest in a property (or other asset classes like debt or cash flow) into a token. Not unlike a store of value, the token is a digital representation of said equitable interest.
Let's say, for example, that two partners buy an apartment complex. If they tokenize their equitable interest in the asset on a blockchain, they will receive tokens equal to their ownership of the asset. If the partners split the investment evenly down the middle, they will have the same amount of tokens. However, if their equitable interest is different (one partner invested more), the tokens will reflect the difference. All of the tokens will equal the asset's value; separately, each investor's tokens represent their share of the property. Either way, the tokens are used to document, store, and verify ownership of the asset.
Once "tokenized," real estate may then be easily traded, sold, and liquidated over blockchain real estate applications. The process isn't all that different from a traditional transaction, where assets are being exchanged for capital. That said, tokenizing real estate and utilizing blockchain to facilitate transactions is quicker, more secure, and doesn't require an expensive third-party escrow company.
Blockchain Real Estate Objectives
Blockchain in real estate is important because it represents a shift in the way things are done throughout the industry. If for nothing else, the advent of this technology allows almost all components of a transaction to transition from the antiquated processes we currently have in place to online protocols with a lot more scalability, speed, optionality, and security. The advent of blockchain in real estate, therefore, seeks to achieve several objectives:
Advance Fluidity: Real estate transactions are fraught with obstacles, not the least of which may threaten to completely undermine a deal. Of course, the obstacles are intended to protect buyers and sellers from potentially devastating ramifications, but they are disruptive nonetheless. The same safety measures put in place to protect everyone can actually ruin a deal. As a result, blockchain in real estate is attempting to make the entire process more fluid by removing the most disruptive obstacles buyers and sellers face. With blockchain in real estate, security protocols will eliminate the obstacles responsible for disruption and increase fluidity, making the process more accessible to everyone.

Facilitate The Distribution Of Information: Information is just as valuable as capital, if not more so. As a result, the distribution of information has taken center stage for today's most prominent blockchains. With an emphasis on the secure distribution of information, blockchain in real estate will allow the most important information to reach its intended destination without the risk of being compromised; that means the information will not only be secure but also verified and corroborated. Blockchain in real estate will give buyers and sellers the ability to gain access to secure and correct information more than any process we have in place today.

Increase Transaction Volume: In the event each of these blockchain real estate objectives is met, more people will look away from traditional processes and towards the advent of this technology. Wider exposure and adoption will inherently lead to more volume. If for nothing else, the time blockchain protocols can save buyers and sellers will facilitate more transactions in a shorter period. The ability to drastically reduce transaction times may be enough to speed up the adoption of blockchain real estate technologies.

Secure Capital & Information: As perhaps the most important objective for introducing blockchain in real estate transactions, securing information and capital is the priority of today's biggest protocols. Thanks to the advancement of blockchain technology, information and money can transfer from party to party without exposing issuers to risk. Safety measures that prioritize authentication will make sure money and information is safer and only made available to those it is intended for.
These benefits signal a departure from the way things have traditionally been handled within the industry. As a result, investors need to keep an eye on the ways blockchain is implemented throughout the industry, and even the economy, to keep up with current practices.
How Does Blockchain Change Real Estate?
Blockchain can change the entire foundation of the real estate industry. In particular, blockchain real estate applications can democratize the entire industry, and make it available to just about anyone, all while facilitating faster and more secure exchanges. If that wasn't already enough, let's take a more in-depth look at all the ways blockchain can change the real estate industry for the better:
Trading Platforms & Online Marketplaces

No Need For Intermediaries

Real Estate Becomes A Liquid Asset

Blockchain Allows Fractional Ownership

Automated Transactions

Real Estate Smart Contracts
1. Trading Platforms & Online Marketplaces
The advent of technology has enabled online platforms and marketplaces to change how we look at real estate. Sites like Zillow and RedFin have made transactions more readily available and feasible to everyone interested in participating in the market, especially when the globe is on lockdown from a pandemic. The evolution of trading platforms and online marketplaces is just beginning. Using blockchain for real estate is just gaining mainstream exposure. Thanks to blockchain real estate applications, more people will be able to participate in the real estate industry without fear of malicious exchanges. Consequently, trading platforms will be more secure and quicker, saving everyone a lot of headaches and holding costs.
2. No Need For Intermediaries
One of the many industry experts who believe blockchain real estate will disrupt how transactions are carried out, Tal Shelef, Realtor and Co-Founder of Condo Wizard, is convinced "middlemen" will be the first to be impacted. "Blockchain is guaranteed to disrupt the real estate industry or any industry for that matter as it will solve the murky and expensive process of negotiating with a middleman in the market," says Shelef.
For years, blockchain has been touted as one of the most secure methods of exchange. Each data set's absolute nature has proven (up to this point) to be infallible and immune to tampering. As a result, blockchain technology has become a superior form of escrow; a digitized marketplace allows parties to exchange goods without fearing the other side's intentions. Blockchain real estate applications will enable people to exchange everything from legal documents to payments, all without worry. In eliminating intermediaries, buyers and sellers will get more for their money. Commission and fees will no longer be a hindrance, and exchanges will be carried out faster.
3. Real Estate Becomes A Liquid Asset
The ability to tokenize real estate inevitably makes the whole asset class more liquid. Before tokenization, and even now, real estate assets were not particularly liquid. To tap into the cash behind an asset, investors or homeowners would first need to entertain the idea of selling. Once a decision has been made, the asset would need to be marketed to buyers and endure what is typically a lengthy closing process. Selling a physical real estate asset is time-consuming and costly. Of course, that was before real estate could be tokenized. Since digital tokens on the blockchain represent ownership in a property, owners could sell their tokens and avoid the hassle that comes with selling a house using traditional methods. Instead of waiting weeks or months, it's theoretically possible for investors and owners to cash in on their tokenized real estate in moments.
4. Blockchain Allows Fractional Ownership
Not only does the tokenization of real estate grant owners and investors quicker access to capital, but it can also give prospective owners and investors a lower barrier to entry. Thanks to tokens, it's no longer necessary to spend an excessive amount of money by yourself on a single investment. Instead, tokens allow buyers to practice fractional ownership. If, for example, five tokens are representative of an apartment building's equitable interest, buying every token would transfer complete ownership of the asset. However, if a buyer were only to acquire two tokens, they would own two-fifths of the asset's equitable interest.
5. Automated Transactions
Blockchain real estate applications can act as their own escrow autonomously. Executing transactions over the blockchain could eliminate the need to hire several professional services that thrive on facilitating deals. As a result, those dealing on the blockchain won't have to pay the exorbitant fees that have become synonymous with escrow agencies. Instead, each side of a deal may trust the algorithms carried out by nodes across the advanced computer network that houses the blockchain. While the concept sounds scary, it's important to note that blockchain real estate applications would be one of the most secure ways to complete a deal.
6. Real Estate Smart Contracts
As an entirely digital platform, blockchain real estate will be able to operate through smart contracts. As their names suggest, smart contracts are better than traditional contracts in almost every way. According to Nick Clare, Head of Project Management, JLL UK, blockchain can "create, authenticate and audit contracts in real-time, across the world and without intervention from a middle man…[and] have instructions rooted in the transaction so that payment can only be taken as long as the instructions are fulfilled, providing complete transparency to all parties and reducing the likelihood of payment disputes."
Summary
Blockchain real estate applications can revolutionize the way the entire housing sector is seen. At the very least, the applications proposed by the groundbreaking technology can disrupt the entire real estate industry. From more secure transactions to shorter closing windows, blockchain real estate is the wave of the future, and one thing is for certain: We are just getting started. Now is as good of a time as any to start considering implementing your own blockchain real estate applications and strategies. Those who embrace the trend early could benefit immensely.
---
Ready to start investing in Bitcoin & other crypto assets?
Click the banner below to watch a free, online masterclass — and learn how to launch your portfolio today!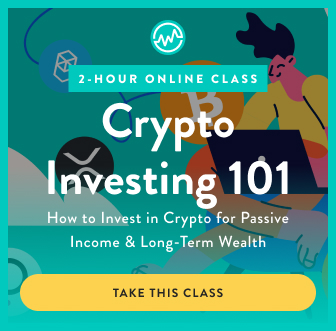 *The information contained herein was pulled from third party sites. Although this information was found from sources believed to be reliable, FortuneBuilders Inc. makes no representations, warranties, or guarantees, either express or implied, as to whether the information presented is accurate, reliable, or current. Any reliance on this information is at your own risk. All information presented should be independently verified. FortuneBuilders Inc. assumes no liability for any damages whatsoever, including any direct, indirect, punitive, exemplary, incidental, special, or consequential damages arising out of or in any way connected with your use of the information presented.