Key Takeaways
Building a buyers list should remain a constant priority for today's investors, even in the absence of a subject property.
Fostering the growth of a real estate buyers list requires persistent attention and a unique commitment to other investors.
Learning how to create a buyers list has more in common with building relationships than actually investing.
---
Regardless of the particular real estate exit strategy an investor plans to use, it's safe to assume they will need access to a buyer sooner rather than later. Other than long-term, buy-and-hold strategies, nearly every real estate investment requires an end buyer to facilitate a profit. That said, it's in the best interest of today's investors to preemptively line up buyers for both current and future deals. The more buyers an investor has, the greater their chances of selling a property are, which is why building a buyers list is so important. Building a buyers list will ensure that you have several high-quality buyers at your disposal, essentially mitigating the risk of losing profits.
What Is A Buyers List?
A buyers list is a compilation of investors that you have previously established a working rapport with. A well-devised buyers list contains the contact information of people that may serve as potential suitors for your subject properties. It is essentially a list of buyers you should contact immediately, as to carry out the final phase of your particular exit strategy — if it involves selling the property. Having an extensive buyers list at your disposal dramatically increases the prospects of a timely and profitable transaction.
It is worth pointing out, however, that a proper buyers list contains more than just a few names. In addition to the buyer's name, investors must—at the very least—collect the following information:
Buyers' first and last name
Email address
Phone number
Buying criteria
Type of funding
Other pertinent information
---
[ Do you have what it takes to run your own real estate business? Register for our FREE real estate webinar, where you can learn how to replicate successful business systems from expert real estate investors. ]
---
Now that you know what to include in your buyers list, continue reading to learn how to build one the right way.
How To Build A Buyers List
A buyers list won't build itself overnight; you need to constantly stay on top of it and contribute to it every week. Perhaps even more importantly, investors need to organize their buyers lists in a way that is conducive to efficiency.
Once you get your list together, it should be stored in a database that is easily accessible. It should contain notes on what each specific investor looks for and what their target market is. The more detailed you are with the list and its subsequent notes, the easier it will be to find a buyer quickly. Even after you have a good list, it needs constant attention and curation. It is absolutely critical to foster the growth of your buyers list. Treat it as a separate entity that must be attended to on a regular basis. By this I mean: always ensure it contains the most up to date contact information and buyer preferences.
Ultimately, investors should make an attempt to continually grow their buyers list. Even in the absence of a property, investors should focus their attention on establishing relationships that can be added to their contacts. The following info-graphic illustrates the appropriate steps that need to be taken to build a buyers list: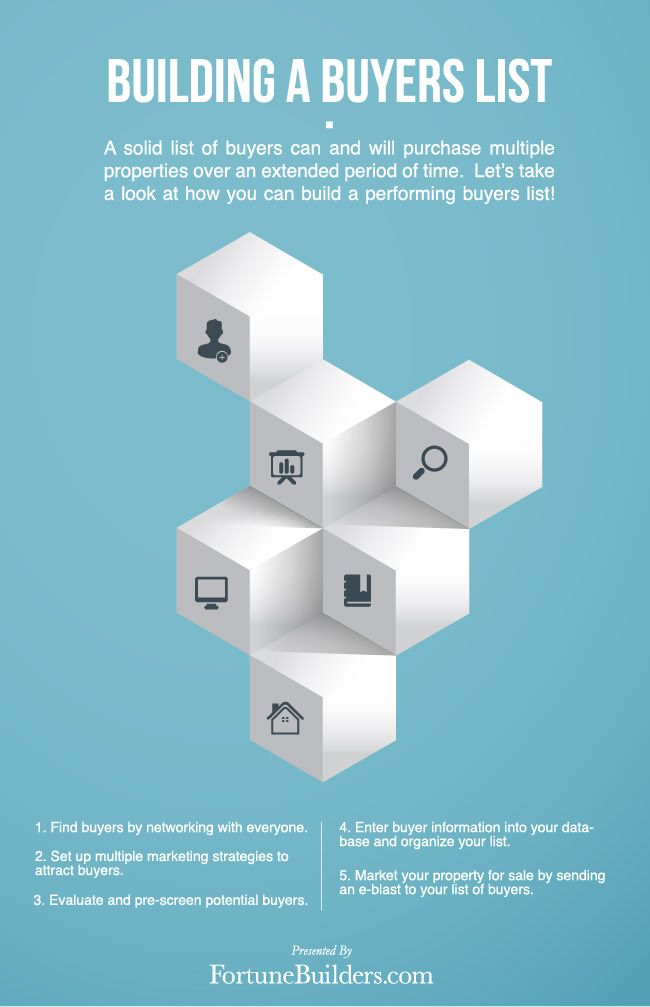 Friends & Family
When building a buyers list, start with the people that are closest to you. Which friends and family members don't even know you are an investor? Take a minute to let your own network know what it is you are trying to accomplish. If they follow up, you should ask them if they have an interest in being notified of any deals that come your way. If they responded in the first place, chances are that their answer is yes. However, you should also ask what criteria they may be looking for. The more specific you can be with your list, the greater the odds you can find a property they want. For those looking to build a wholesale buyers list, friends and family can be a great resource to begin the journey.
Classified Ads
It wasn't long ago that the classified section was the only source for those looking to buy, sell or rent a property. Most newspapers have a weekend edition that will list every home for rent or for sale. Every house for rent is owned by a landlord that may be looking to buy more property or sell an existing one. Give them a call and gauge their interest in being added to your list. For every angry call you get, you will get one that is open to getting an email on any potential deal you may have. It won't take you more than 20 minutes a week to buy a newspaper and make a few calls, but it can result in a big return.
Craigslist
Craigslist is a very popular outlet for buyers, renters, and sellers. In much the same way that you contacted classified listings, you can utilize Craigslist listings. Instead of calling, you can present an email to the listings and keep records of your communication. Many of your emails will go without a response, but those that do get back to you should be serious buyers. Take the time and prepare a short, professional looking email that answers enough questions the recipient may have.
Property Management Companies
Reaching property managers or property management companies is best done with repetition. You can walk into most property management companies and explain to them what you do and ask if you can reach out to them or the owners the next time you have a potential deal. Most of them will be open to the idea, but will have plenty of questions. Make sure you are ready to answer them.
Investment Clubs & Networking Groups
This will be the area that has the highest population of investors in your market. Out of every investment club meeting, 80-90% of them are investors. You won't be able to reach every one of them in your first meeting, but if you spend time networking before the actual meeting starts, you will be on your way. The most important thing with any new contact is to follow up with them after your initial meeting. If you get a card and don't call it for a few weeks, it will lose its impact. The next day after the meeting, you need to call or email while you are still fresh in their mind. All you are asking is if it is ok to put them on your buyer list. They have nothing to lose, so they will probably say yes. If you wait too long, they may not know who you are until the next month's meeting.
Evaluating & Pre-Screening Buyers
Having successfully collected several promising buyers is a good start to building a buyers list. However, navigating through those that may actually prove to be beneficial to your future is a skill in itself. Develop a systemized approach to evaluating and pre-screening potential buyers. Doing so may eliminate dead-ends that inevitably cause you to waste time and money.
Gather as much information about a prospective buyer as you can. This assures that you are not wasting your time on buyers who are not absolutely serious or don't have sufficient means to close on future transactions. Building a buyers list is about quality. While quantity may have its advantages, it is beneficial to have a list of buyers that you trust and know are willing to follow through.
Organizing & Automating Your List
Once you have developed a buyers list, it is equally important to organize it in a manner that further facilitates the possibility of a timely and profitable transaction. To do so, store your contacts in a database system that will help you manage each of them independently. The idea is to have the appropriate buyer readily available when you require their assistance.
An unorganized list is capable of doing more harm than good. Essentially, you do not want to waste valuable time on investors that are not likely to involve themselves with your current project. Spending all of your time preaching to the wrong buyers will ultimately lead to a loss of funds.
We advise separating your buyers list into categories (buyers, sellers and investors). Use the following categories to delineate your prospects:
Retail Buyers
Lease Option Buyers
Buyers Who are Landlords
Buyers Who Rehab
Summary
In today's competitive marketplace, it's more important than ever for investors to maintain a curated list of buyers. Building a buyers list is one of the greatest strategies an investor may implement. At the very least, a preemptive attempt to find buyers for deals will keep you one step ahead of the competition. Those that take the time to nurture their buyers list will inevitably reap the rewards of preparation and efficiency. Perhaps even more importantly, however, closing on a deal will almost be as simple as making a phone call or two.
Have you given your buyers list the attention it deserves recently? Please let us know your thoughts on a properly maintained buyers list in the comments below:
---
Want to learn more about how to start a real estate business?
With so much information out there, starting a real estate business or LLC can be a complicated process. Our new online real estate class, hosted by expert investor Than Merrill, covers the basics you need to know to get started with real estate investing. These time-tested strategies can help teach you how to profit from the current opportunities in the real estate market.
Register for our FREE 1-Day Real Estate Webinar and get started learning how to start a successful investment business today!