Key Takeaways
Key Takeaways
---
If you've recently started thinking about buying a business, know that you're in good company. According to NerdWallet, more than 500,000 businesses change ownership each year. This number is set to increase as baby boomers retire and sell their businesses in the coming years. 90 percent of startups fail, so buying a well-established business might seem like the smarter choice.
Going into the process with ample knowledge and resources is your pathway to success. By the end of this article, you should feel more knowledgeable about how to buy an existing business. We'll also go over special considerations that you should be thinking about before taking the plunge.
7 Steps To Buying A Business
One of the main reasons people won't go through with a business deal is that they get overwhelmed by the process. It's more complicated than you might think, especially when you don't know what all goes into closing a deal.
Any complex process can be made more simple by breaking it into smaller, actionable steps. Here, we've broken up the process of buying into a business into 7 steps:
Decide The Type Of Business You Want To Buy

Search For Businesses That Are For Sale

Find A Business Within Your Budget & Resources

Do Your Due Diligence

Evaluate The Price Of The Business

Acquire Capital For Buying A Business

Close The Deal
The following sections will explain each of these 7 steps in detail. If you're one of the lucky few who had a business deal offered to them, you can skip to step 4. However, it's still a good idea to review the first few steps if you wish to shop around for options.
---
[ Do you have what it takes to run your own real estate business?
Register for a FREE webinar
, where you can learn from experts how to replicate successful business systems. ]
---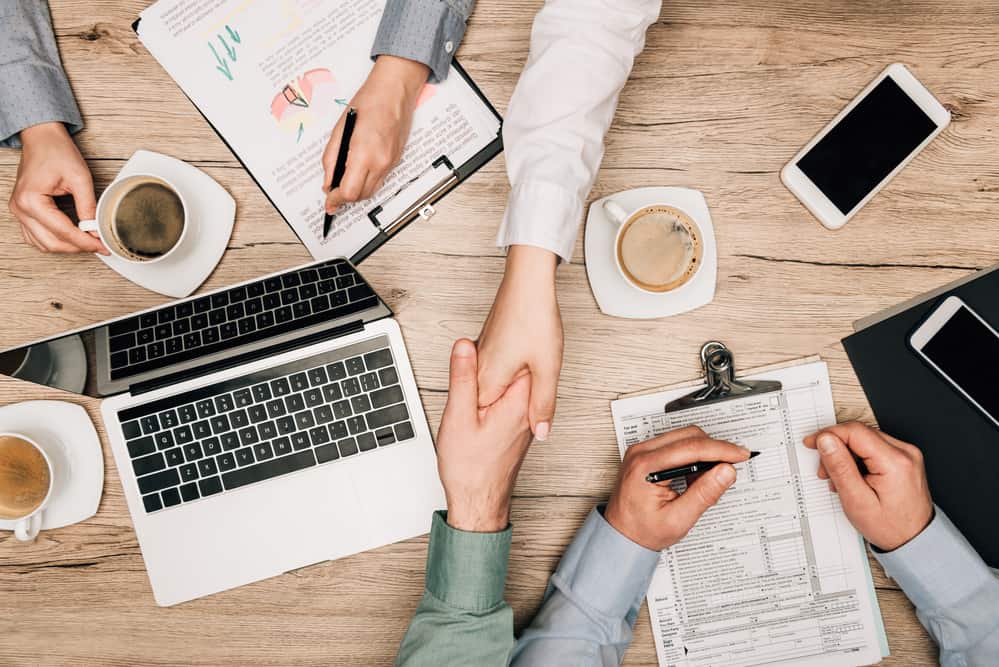 1. Decide The Type Of Business You Want To Buy
Owning and running a business will largely define your identity and how you spend the majority of your time. It should go without saying that you should align yourself with a business that matches your interests. Entrepreneurship isn't easy, and you're more likely to burn out if you don't authentically enjoy what you're doing.
Spend some time journaling to gain clarity on your skills, experience, interests, and passions. From there, create a list of potential businesses that align with the list that you've created. Ideally, you'll find something that lights you up and complements the skills and experience that you already have.
2. Search For Businesses That Are For Sale
Once you have clarity on the type of business that you want to buy, it's time to search for businesses that are for sale. Here are some ways to find them:
An online marketplace for buying and selling businesses, such as BizBuySell.com.

Advertisements on Craigslist.org.

Newspaper classifieds, under the "Businesses for Sale" section.

Network with small business owners in your community.

Conduct informational interviews with other business owners in the same industry and ask them if they know anyone who is considering retirement or relocation.

Attend industry meetups and conferences.

Work with a business broker.
3. Find A Business Within Your Budget & Resources
By the time you arrive at this step, you've likely found a few businesses that you're interested in buying. Now it's time to narrow your options down to one business. You'll have the best chances of success by selecting a business that best aligns with your budget, resources, and goals.
In terms of budget, don't just look at the price of the business.. You'll want to factor in additional costs associated with transferring business ownership, such as any desired changes, rebranding, and licensing. Also, get a clear idea of the equipment, furniture, supplies, and inventory you're acquiring. You may need to make additional investments, such as a vital piece of equipment, to get your business up and running.
The resources you'll need depend on the operation's scale, plus the industry you're in. Based on your experience level, you may need to hire a business coach or invest in additional training and education. Last but not least, don't forget to factor in your own time and energy as vital resources. Some businesses will require you to invest all of your time and energy, so make sure you're ready to commit to that.
4. Do Your Due Diligence
A common pitfall for budding entrepreneurs is when they buy a business without checking under the hood of the car. They figure out their ideal business, find the perfect company for sale, and then ride the momentum of excitement without taking the necessary precautions.
It's only human to get so excited about a business opportunity that you miss red flags that could have saved you from demise. Don't let this happen to you. To conduct your due diligence, it's recommended that you hire a business accountant and attorney. This is an investment, but adding these two professionals to your team could make the difference between making it or breaking it.
With your investigator hat on, meticulously comb through the business' financials. Even businesses that seem successful can be in the red, so work with your accountant to verify that the company is financially healthy and stable. Your attorney can help you develop a negotiation strategy and advise you on how to structure the transaction.
5. Evaluate The Price Of The Business
Evaluating the price of a business is similar to getting a home appraisal. The point of this practice is to make sure you're getting a fair price for the business that you're buying. Further, coming up with a reasonable price will help you frame negotiations.
Below are three different approaches to evaluating a business. It may make sense to use all three approaches to arrive at your final number. The final price of the business will be the number that you and the seller ultimately agree upon:
Earnings approach: This approach evaluates the past, present, and forecasted profits of a business. It's best used when a business has steadily turned a profit for several years. That way, historical data can help you accurately calculate projected earnings.

Assets approach: If the business isn't profitable yet, or is capital-intensive, try using the assets approach. You will calculate the value of the business by subtracting the business' debts and liabilities from its assets. This process also helps you evaluate what kind of return on investment (ROI) you could get from those assets in the future.

Market approach: You can also measure a fair price for a business by using the market approach. This is a comparative analysis of how much other businesses have sold for in the area. The market factors in local factors that other approaches may not account for.
6. Acquire Capital For Buying A Business
Acquiring enough capital to finance your new venture can sometimes be the biggest challenge. Those who can't purchase a business with cash can finance the transaction in other ways.
If borrowing money from family isn't an option, you can sometimes work with the seller to come up with a creative arrangement. For example, some sellers will agree to lease or finance the business. This means that you'd make payments directly to the seller until you can afford to buy them out completely. A seller may not be open to these options if they need a large upfront payment or want to completely walk away from the business.
You can also take out a loan, such as a bank loan backed by the Small Business Association (SBA). Getting a business acquisition loan is often easier than obtaining a new business loan. This is because the lender has a financial history to go off of. However, the lender will still scrutinize your financial history and the business' financial status. Be prepared to provide information such as the business' years of operation, credit score, profit and loss statements, and any outstanding debts.
In addition, most loans require that you put in your own equity. For example, SBA loans require a down payment of roughly 20 to 25 percent. If you don't have any money to secure personal equity in the business, you may not be able to obtain a loan.
Unfortunately, this is often the step in which aspiring entrepreneurs are forced to drop out and go back to the drawing board. Know that lenders ask tough questions and scrutinize the financials to determine whether or not the business deal is financially viable. Don't take a rejection as a failure; reframe it as a protective mechanism that prevented you from entering a deal that was too risky.
7. Close The Deal
The final step in buying a business is to close the deal. You'll need the following documents in place:
Bill of sale: This is the official document that proves that the business has been sold and that the ownership has been transferred to you.

Purchase price: Be sure to adjust applicable paperwork to reflect the final purchase price, including any prorated expenses.

Lease: Make sure to work with the landlord to update the lease, if applicable. You'll need to make sure that your name is on the lease, or negotiate a new lease.

DMV documentation: If you are acquiring any vehicles with the business, make sure to transfer ownership through the DMV.

Patents, trademarks, copyrights: Complete the necessary paperwork to transfer any patents, trademarks, and copyrights to you.

Non-compete agreement: Protect yourself by asking the former owner to sign a non-compete agreement. This will prevent them from setting up a new business that would come in direct competition with your business.

Asset acquisition statement: The IRS requires you to file a Form 8594, in which you report all of the assets that you've acquired.

Proposed sale notice: Last but not least, be sure to notify your local tax authority about the pending business sale. This prevents business owners from evading creditors by selling their business.
What To Consider Before Buying A Business
So far, we've discussed the steps to buying a business. Many of these steps are designed to force you to ask tough questions to ensure that the business opportunity is financially viable.
Even if everything seems to check out initially, it's also smart to take a step back and ask why the owner put their business up for sale. Some reasons are perfectly benign, such as retirement or the desire to relocate and live closer to family.
However, there may be some fundamental issues with the business. For instance, maybe the financials look great, but the owner found themselves completely burned out. Is this something you should be worried about too? It's a good idea to ask the seller why they are selling, what issues they've faced, and what they've done to address these issues.
Here are some red flags to look out for:
A poor business plan

Harsh competition

Business debts

Bad location

Branding issues

Difficulties with inventory or equipment
Of course, not all business owners are the same. If the seller experienced any of the above issues, perhaps you have the skills and acumen to fix them. On the other hand, be wary of not taking on a business that is plagued with costly problems or is designed to fail.
Documents To Review Before Buying A Business
Earlier, we mentioned the importance of doing due diligence. You'll take on the roles of investigator and forensic analyst to make sure the business doesn't have any hidden issues. Here is a helpful list of documents you should request from the seller:
Business licenses and permits

Articles of organization or incorporation

Certificate of good standing

Letter of intent

Existing contracts and leases

Organizational chart

Listing of inventory and assets

Client or customer list

Financial records, including cash flow statements and tax returns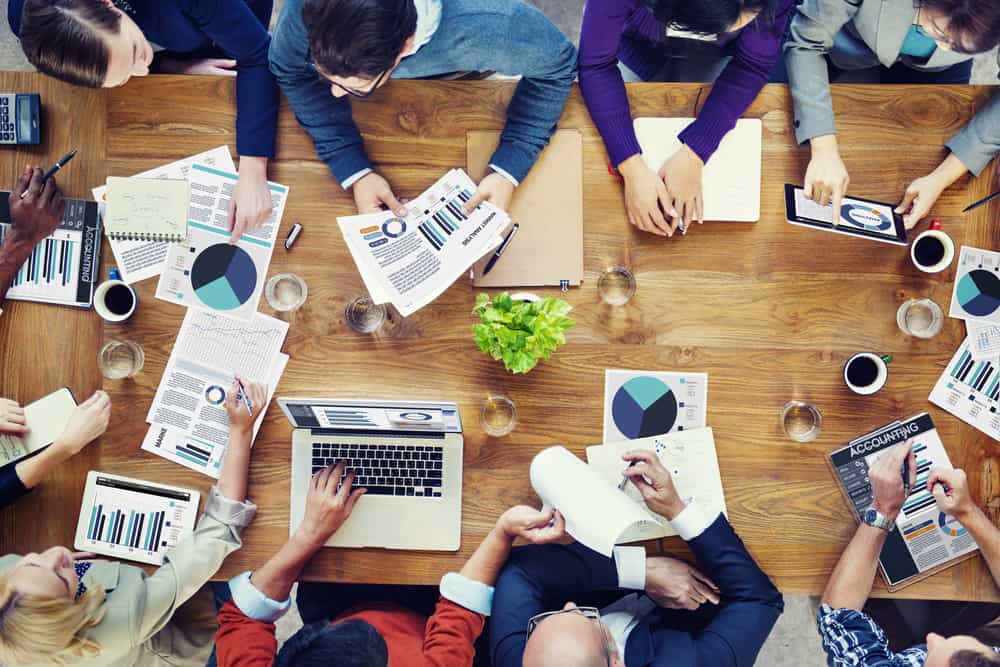 Advantages Of Buying An Existing Business
If you're considering buying a business, perhaps you intuitively know that it offers some advantages over building a business from ground zero. Perhaps there are some additional benefits that you didn't know about.
Here are the reasons why an entrepreneur might opt to buy an existing business:
Easier to finance: Whether you're borrowing money from a family member, investor, or lender, it's easier to demonstrate the profitability of an existing business over a business that doesn't exist yet.

Established brand: A well-performing business should already have an established brand, including a website, social media, and other marketing modalities. Although you may make some changes, you won't have to develop a branding strategy from scratch.

Customer base: With a smooth transition, you'll also inherit a reliable customer base that will bring you a steady cash flow.

Relationships: Owners of startups spend significant time and effort seeking out and developing business relationships, such as vendors, suppliers, and other business contacts. An established business should have an established network of relationships that you can rely on.

Internal processes: Another advantage of buying a business is that it already has existing processes. This can include systems for tracking inventory, sales, clients, and finances. Any remaining employees, if applicable, can show you how these processes work.

Quicker financial reward: Brand new business owners are often forced to reinvest any profit they make into the business. That is, if they make any profit to begin with. Because an existing business is already established in its systems, marketing, and client base, you'll likely attain financial reward and growth much faster.

Increased odds of success: If you mind your due diligence and select a well-performing business, you'll increase your chances of success. By buying an existing business, you get to avoid subjecting yourself to the high risk of failure endured by startup owners.
Drawbacks Of Buying A Business
Although buying an existing business is associated with a myriad of advantages, it doesn't automatically make it better than starting your own business. The drawbacks of buying a business surround a theme of inflexibility:
Initial investment cost: Existing businesses come with inventory, assets, and furniture, which drives up the investment cost. You also pay a premium to buy into a successful business model with established branding, processes, relationships, and clients.

Existing structures: Because business structures and systems already exist, you will deal with some inflexibility. It is often too expensive and troublesome to change up the way a business is being run. This is especially true when the business has employees. Implementing new systems, overhauling branding, and retraining staff members without glaring issues often won't feel worth the hassle.

Customers not guaranteed: Even if a business has an existing customer base and steady cash flow, there is no guarantee that the customers will remain loyal. At times, clients may be loyal to the owner and not to the business itself. A change of ownership may give them reason to switch over to a competitor who has more experience than you.

Less room for creativity: Last but not least, buying an existing business often leaves little room for creativity. When starting your own business, you get to do whatever creative direction you want. The business you build is completely your own. However, a pre-existing business comes with the vibe and essence infused into it by the previous owner. Changing things up without good reason can be impractical and risky.
Summary
Buying a business is no easy feat. Not only do you have to find a business you want to buy, but you also need to somehow acquire the capital to finance the transaction. Even if you were to successfully buy an existing business, you find yourself with the immense responsibility of not letting that business fail.
However, with the right mindset and resolve, you can be successful. It's strongly recommended that you do your due diligence before agreeing to buy a business, and make sure you have a well-informed business plan going in. If all goes according to plan, you may have just found the shortcut to owning and operating a successful business.
---
Ready to start taking advantage of the current opportunities in the real estate market?
Click the banner below to take a 90-minute online training class and get started learning how to invest in today's real estate market!