Key Takeaways
If the Cleveland real estate market isn't the most sought after by investors, it's certainly one of them.
Real estate in Cleveland proves homes can be both relatively affordable and full of potential.
Cleveland real estate investing looks to be more promising than most other markets across the country.
---
The Cleveland real estate market has rewarded patient investors with some of today's most impressive returns across the entire country. Thanks—largely in part—to affordable inventory and some of the nation's highest return rates, real estate in Cleveland offers the investor community something few markets can even come close to: according to Attom Data Solutions, Cleveland real estate investors made a 100% return on their investments as recently as the first quarter of 2019. It is worth noting, however, that the chance to participate in the Cleveland real estate market isn't over quite yet; investors who get in sooner rather than later may be able to reap the same rewards as their predecessors.
Cleveland Real Estate Market Overview
Median Home Value: $54,200
1-Year Appreciation Rate: 2.3%
Median Home Value (1-Year Forecast): -1.6%
Median Rent: $900
Average Days On Market (Zillow): 74
---
[ Thinking about investing in real estate? Learn how to get started by registering to attend a FREE real estate class offered in your area. ]
---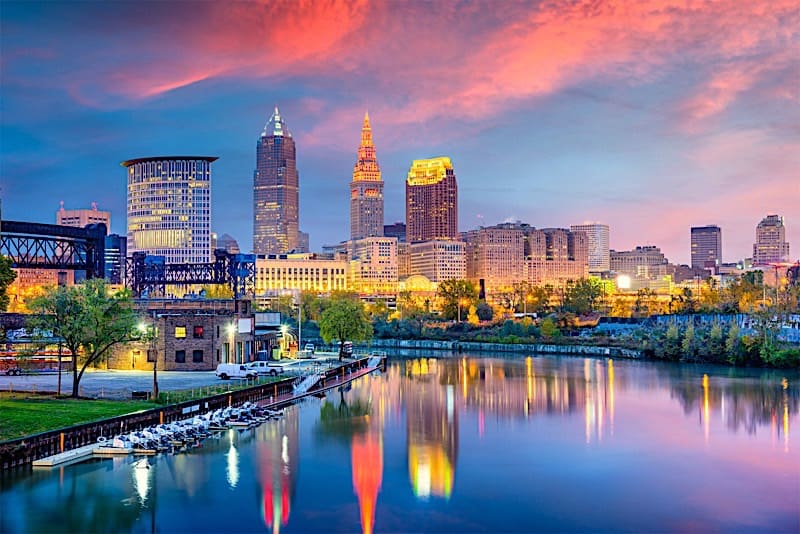 Median Home Price Cleveland
Over the course of a year (May 2018 through June 2019), median home values in Cleveland have increased 2.3%. The increase, while slightly behind the pace of the national real estate market, is likely the result of an inventory shortage. There simply aren't enough homes to satiate the demand of prospective buyers. As a result, sellers have been able to ask for more, driving up respective values in the process. Today, following the latest bought of increases, the median home price in Cleveland is $54,200, according to Zillow. The median home value across the United States, on the other hand, is $226,800 after appreciating by as much as 5.4% over the last year. While the median home value in the United States is expected to increase modestly in the next 12 months, the median home value in the Cleveland real estate markets is actually expected to decrease 1.6%.
Cleveland Foreclosure Statistics
According to RealtyTrac, a nationally recognized real estate data company that specializes in foreclosure data, the Cleveland real estate market has approximately 4,240 properties that fit the description of a distressed home (default, auction or bank owned). At that rate, the number of distressed properties in Cleveland is relatively high, but the volume seems to have dropped in one year's time. According to RealtyTrac's most recent data, the number of properties that received a foreclosure filing increased 28% month-over-month. Over the course of last year, however, the number of homes that entered into foreclosure actually dropped by as much as 35%.
The overwhelming majority of distressed properties in the Cleveland real estate market are pre-foreclosures, which means they are merely at risk of falling into foreclosure. As their names suggest, pre-foreclosures represent homeowners that have missed payments, but haven't officially been foreclosed on. Nonetheless, they still represent one of the most important things investors look for: motivated sellers.
At the very least pre-foreclosures represent a unique opportunity for Cleveland real estate investors—so long as they know where to look. That said, here's a breakdown of the neighborhoods in Cleveland with the highest distribution of distressed properties:
44127: 1 in every 418 homes is currently distressed
44119: 1 in every 457 homes is currently distressed
44128: 1 in every 524 homes is currently distressed
44105: 1 in every 581 homes is currently distressed
44112: 1 in every 698 homes is currently distressed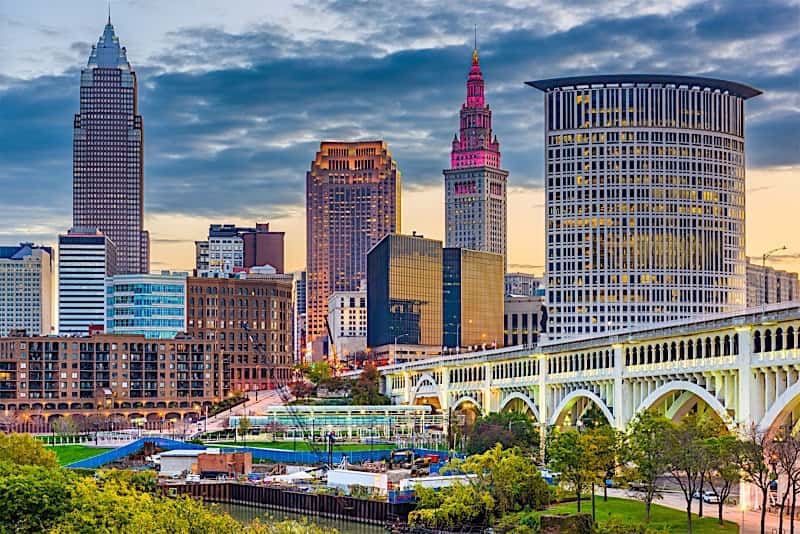 Cleveland Real Estate Investing
The Cleveland real estate market has proven itself to be a hot commodity worthy of its latest demand. If for nothing else, real estate in Cleveland has served investors better than almost every other city in the country. Few major metropolitan areas, for that matter, have exhibited better fundamentals for real estate investors than Cleveland has roughly halfway through 2019.
At approximately $54,200, the median home value in the Cleveland real estate market is incredibly affordable. To put things into perspective, the median home value in the United States is $226,800; that's more than four times the median value of real estate in Cleveland. The discrepancy in prices has served Cleveland real estate investors well, as acquisition costs are literally a fraction of the national average. That said, affordable housing isn't the only thing investors in Cleveland are excited about: investors are doubling their ROI (return on investment). In fact, Cleveland was one of only eleven markets where investors were able to double their ROI in the first quarter of 2019.
Cleveland's unique combination of affordability and potential has turned real estate into a hot commodity. Few other places in the country, for that matter, award savvy investors with the ability to turn less into more at the same rate as Cleveland. The city offers investors exactly what they are looking for, and should continue to do so for at least the foreseeable future.
Cleveland Real Estate Market Summary
The Cleveland real estate market has done everything it can to appeal to today's real estate investors. With affordable housing and plenty of potential, profit margins are about as good as they get around the country. As a result, real estate in Cleveland has garnered the attention of investors nationwide. Therefore, if you are looking for a place to start investing, you could do a lot worse than the Cleveland housing market.
Have you thought about investing in the Cleveland real estate market? If so, what are you waiting for? We would love to know your thoughts on real estate in Cleveland in the comments below.
*The information contained herein was pulled from third party sites. Although this information was found from sources believed to be reliable, FortuneBuilders Inc. makes no representations, warranties, or guarantees, either expressed or implied, as to whether the information presented is accurate, reliable, or current. Any reliance on this information is at your own risk. All information presented should be independently verified. FortuneBuilders Inc. assumes no liability for any damages whatsoever, including any direct, indirect, punitive, exemplary, incidental, special, or consequential damages arising out of or in any way connected with your use of the information presented.