Key Takeaways
Heading into summer, few places are hotter than the Columbus real estate market.
Columbus real estate investing has become the beneficiary of one primary economic principle: supply and demand.
Millennials are increasingly drawn to real estate in Columbus because of the area's local job growth.
---
The Columbus real estate market has been recognized by Realtor.com as the hottest real estate market in the country headed into the most active time of the year. Thanks, largely in part, to a unique combination of supply, demand, job growth, and pricing, real estate in Columbus already has all the momentum it needs to continue its promising 2019 campaign. As a result, Columbus real estate investors have been able to take favorable market conditions and use them to their advantage.
Columbus Real Estate Market Overview
Median Home Value:$156,200
1-Year Appreciation Rate: 9.7%
Median Home Value (1-Year Forecast): 5.8%
Median Rent Price: $1,300
Median Days On Market:40
---
[ Thinking about investing in real estate? Learn how to get started by registering to attend a FREE real estate class offered in your area. ]
---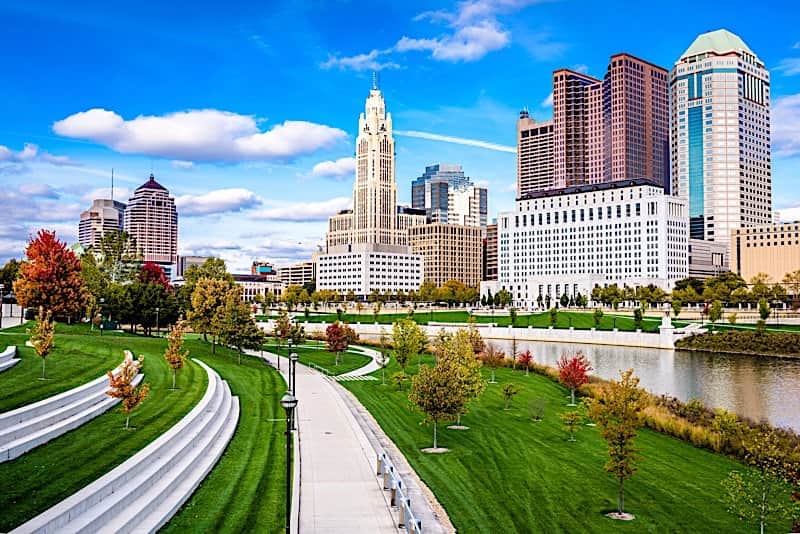 Median Home Price Columbus
The median home value in the Columbus real estate market has realized upwards momentum for the better part of a decade. Since the first quarter of 2013, in fact, the median home value has served to increase year-over-year. Over the course of the most recent year (February 2018 to March 2019), Columbus' median home value increase by as much as 9.7%, easily outpacing the national average by 3.1%. Now, according to Zillow's Home Value Index, the median home value in the Columbus real estate market sits at an encouraging $156,200.
To put things into perspective, the median home value in the United States is $226,700, thanks to a year-over-year appreciation rate of 6.6%. It is worth noting, however, that the Columbus real estate market is expected to continue outpacing the national average for the foreseeable future. More specifically, real estate in Columbus may increase by as much as 5.8% in the next year, whereas the national average is expecting a more tempered 4.1% increase.
Columbus Foreclosure Statistics
According to RealtyTrac, a nationally recognized real estate information company, the Columbus real estate market is currently home to at least 1,069 homes that are in some stage of foreclosure. While foreclosures are up slightly month-over-month, they are considerably down year-over-year. "In March, the number of properties that received a foreclosure filing in Columbus, OH was 1% higher than the previous month and 41% lower than the same time last year," said the online marketplace for foreclosed and defaulted properties.
Of the 1,069 homes identified by RealtyTrac, 43.4% of are of the pre-foreclosure variety. That means nearly half of all the distressed homes identified by RealtyTrac aren't actually in foreclosure, but at risk of going into foreclosure if respective homeowners neglect to comply with their mortgage obligations. Another 32.7% of the distressed homes in Columbus are to be sold at auction. The remaining 24% are bank owned.
For a better idea of where to find these distressed properties, RealtyTrac has identified the neighborhoods with the highest foreclosure rates in the Columbus real estate market:
43223: 1 in every 675 homes is currently distressed
43207: 1 in every 965 homes is currently distressed
43206: 1 in every 1,027 homes is currently distressed
43231: 1 in every 1,083 homes is currently distressed
43232: 1 in every 1,128 homes is currently distressed
The distribution of distressed properties in the Columbus real estate market lends itself to local real estate investors. At the very least, investors looking for distressed properties have three widely available options at their disposal: default, auction or bank owned homes.
Investors may want to pay special considerations to pre-foreclosures, as they represent the largest distribution of distressed homes in the Columbus real estate market. In doing so, investors should concentrate their efforts on local courthouses in the aforementioned neighborhoods. There, they will be able to find public information on homeowners that have failed to comply with mortgage obligations, and could become privy to motivated sellers.
Columbus Real Estate Investing
The foundation of the entire Columbus real estate investing industry is centered on two very important indicators: price and demand. Strong job growth and relatively low interest rates, in particular, have fueled an incredibly high level of demand, while a distinct lack of inventory has sent prices soaring. The combination has sent buyers scrambling, particularly millennial buyers looking to take advantage of the area's growing job market. As a result, Columbus real estate investors haven't had any issues finding buyers for their rehabbed properties. Meanwhile, buy and hold investors should take solace in the fact that media home values are expected to increase year-over-year, making nearly every exit strategy a viable option for Columbus real estate investors.
Columbus Real Estate Market Summary
As perhaps the hottest real estate market in the country, Columbus is peaking just in time for the most active portion of the annual housing cycle. The entire Columbus real estate market, for that matter, looks poised to carry over a significant amount of momentum into the spring and summer buying months of the year. Investors who are able to get in sooner rather than later may find the momentum to be well worth their while.
Have you thought about investing in the Columbus real estate market? If so, what are you waiting for? We would love to know your thoughts on real estate in Columbus in the comments below.
*The information contained herein was pulled from third party sites. Although this information was found from sources believed to be reliable, FortuneBuilders Inc. makes no representations, warranties, or guarantees, either express or implied, as to whether the information presented is accurate, reliable, or current. Any reliance on this information is at your own risk. All information presented should be independently verified. FortuneBuilders Inc. assumes no liability for any damages whatsoever, including any direct, indirect, punitive, exemplary, incidental, special, or consequential damages arising out of or in any way connected with your use of the information presented.
🔒 Your information is secure and never shared. By subscribing, you agree to receive blog updates and relevant offers by email. You can unsubscribe at any time.