The most important decision a real estate agent has to make in their career is their choice of brokerage. An agent's brokerage will determine whether their income ceiling is going to be very high or low.
There are a few different reasons why an agent might be searching for a real estate broker. Perhaps you've recently completed or are completing your real estate licensing, and you're preparing to take the next step in your real estate agent journey.
Alternatively, if you're already working as an agent, you might feel your brokerage doesn't offer you a fair commission split or that you're not generating enough leads.
If either sounds like you, eXp Realty might just be the solution you are looking for. Continue reading to learn more about eXp Realty, and why has it become so popular amongst today's most lucrative real estate agents.
What is eXp Realty & How Does it Work?
eXp Realty, LLC was founded in 2009 by Glenn Sanford, after he discovered he could close millions of dollars of properties by focusing on online lead generation. Since then, eXp Realty has become the fastest-growing realty company in history.
Many real estate agents are drawn to eXp Realty for that very same income potential. While many agents dream about opening their own brokerage, the hard reality is that a traditional real estate brokerage doesn't always make for a profitable business. Your income potential is much greater when you're working as an agent, and it can be even more significant if you're working through an online broker such as eXp Realty.
Another benefit of working through eXp Realty is that it is a cloud-based brokerage. Which means that it can operate almost entirely online and does not utilize any brick-and-mortar locations or regional structures.
The following outlines a few of the key components within the eXp model:
---
[ Interested in becoming an eXp Realty agent? Learn more about how to join the FortuneBuilders eXp team and get access to regular trainings from top investors including Than Merrill! ]
---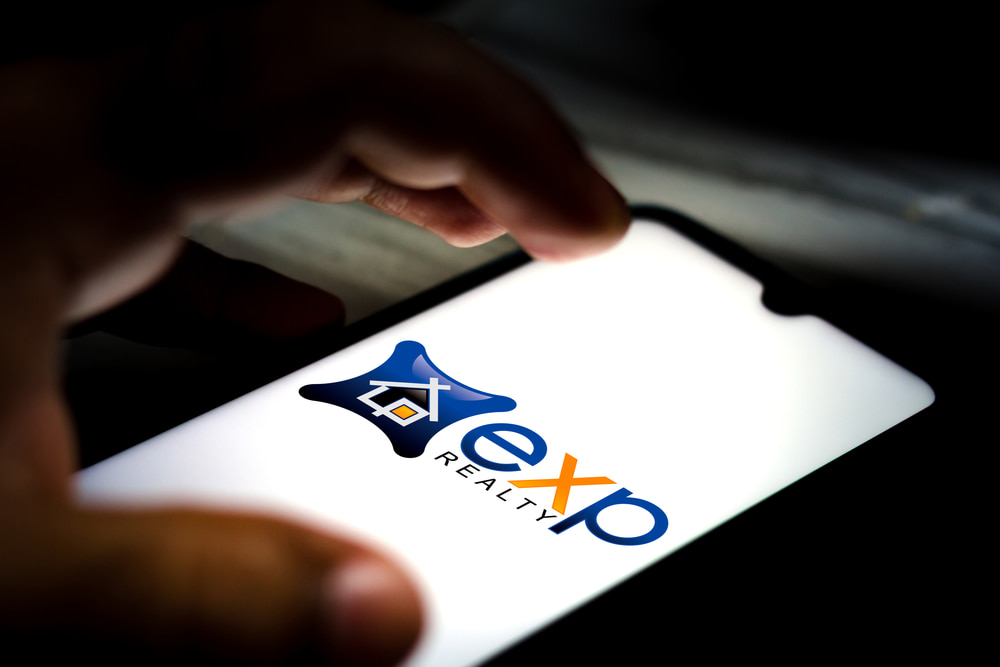 eXp Realty Agents
As an eXp agent, you'll enjoy benefits such as very competitive commission splits, stock options, and revenue sharing programs. Essentially, at eXp Realty, the agents are the owners (which we'll dive into more later).
The online nature of eXp gives it a major advantage over brick-and-mortar realty companies and in turn, allows it to share its profits with its agents.
To explain it further, brick-and-mortar operations are hamstrung by high business expenses (like the cost of office space), and most of them have the following structure:
Top of the Ladder: An international corporation.
Middle of the Ladder: The company's regional branch or franchise.
Bottom of the Ladder: Local offices and market centers.
Very Bottom of the Ladder: Office managers and team leaders.
Think about how Netflix shuttered Blockbuster through its online business model. EXp Realty, LLC is doing the same thing to the brick-and-mortar realty industry. The company uses a cloud-based business model that's far more lucrative for real estate agents and the company's bottom line.
Any licensed real estate agent can join eXp Realty, and the company has unsurprisingly attracted a considerable number of agents—thereby generating incredibly high revenues.
eXp Realty Commissions
You're essentially renting a desk when you join a brick-and-mortar real estate broker. You'll probably earn a 70/30 commission split, and there's no way to earn stock in the company unless you go and buy it on your own if the company is even publicly traded. eXp Realty takes a far different approach with their commission structure.
What are eXp Realty commission splits?
eXp agents start with an 80/20 commission split, which is better than the industry average. But eXp Realty has a commission cap of $16,000. Once you hit the $16,000 cap, you'll transfer to 100% commission for the next year until the anniversary date of when you joined. This alone is what makes it not only possible but very likely that you will earn more per year at eXp Realty than another brokerage.
Furthermore, eXp Realty offers its agents stock ownership and revenue sharing programs. Not only will you earn income from your commissions, but you'll also be able to start increasing your wealth. You can start saving for retirement, or you can create passive income.
Brick-and-mortar brokerages just aren't structured to offer those kinds of perks.
eXp Realty Fees
With all of the benefits we've discussed, you might be wondering, is there a catch? And what are the fees involved?
There are only a few additional fees at eXp Realty, and they're minimal. Especially when you consider your commission, stock ownership, and revenue share potential.
The diagram below displays the basic eXp Realty fees for an agent: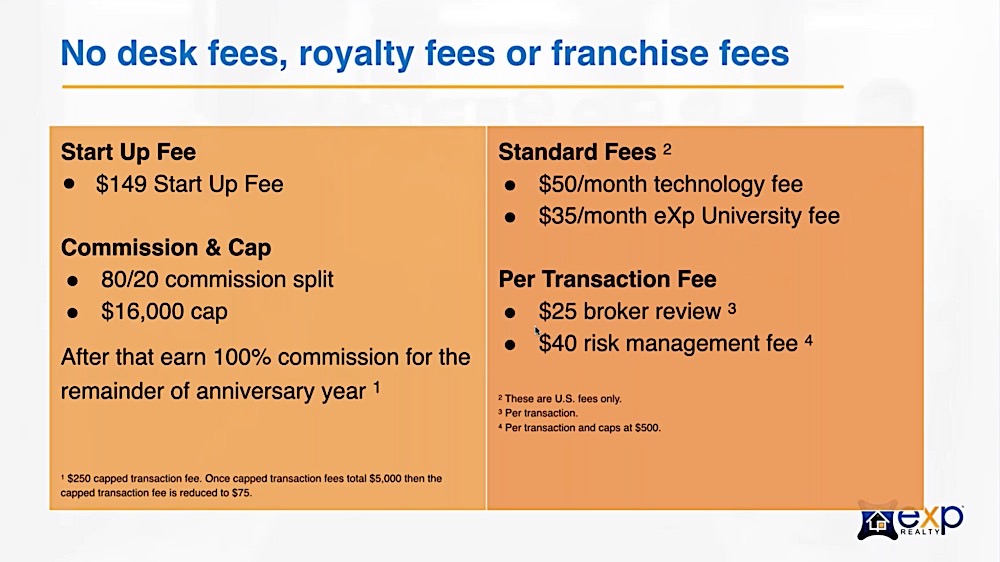 The Four Pillars of eXp Realty LLC
Now that you've learned the basics about how eXp Realty works, it is important to understand what makes it successful. Here are the Four Pillars of eXp Realty that are designed to help you succeed as an agent and as an investor.
Technology & Lead Generation
Training
eXp Realty Stock & Ownership
eXp Realty Revenue Sharing
Pillar 1: Technology & Lead Generation
You'll have access to a few great tools and platforms when you join eXp Realty:
Skyslope: A popular transaction management platform, which is free for eXp agents.
Online Marketing Center: A set of tools that can help you market your properties.
eXp Enterprise: A program that helps you manage your earnings, stocks, and revenue sharing profits.
One of the best eXp Realty tools is the lead generation program. When you're at a traditional brokerage, it's easy to fall captive to your broker because your broker can provide you with a few leads every month (this is sometimes called "lead jail"). The top-producing agents either generate their own leads or buy their leads.
At eXp Realty, you can pay $250 per month to receive leads. That's a minimal cost, especially since the program generates between 10-25 leads per month.
Pillar 2: Training
Traditional real estate brokers are notorious for having inadequate training programs for agents. Training seminars are run infrequently and are usually on random topics—there's no structured curriculum.
Furthermore, these brokerages might have some of their own agents conduct training. These agents often see you as a competitor, so they won't reveal their best practices.
eXp Realty, on the other hand, has the best educational resources in the business. The training tools will enable you to:
Interact and learn from other top professionals in the company
Build teams across states and provinces with one nationwide cap
Host and participate in daily, live gatherings
Benefit from a robust referral network
Share best practices among your peers
eXp provides more than 50 hours of live training every week, educating its agents on topics such as sales and listings, lead generation, social media, and the latest technology trends.
In other words, eXp has all the training you need to become a better agent and improve your sales.
Pillar 3: eXp Realty Stock & Ownership
Every real estate brokerage offers commission, but not every brokerage offers stock options. But eXp Realty offers several different equity opportunities.
You can earn eXp Realty stock when:
You close your first transaction
You reach the commission cap
An agent you sponsor closes their first transaction
You can also gain up to $16,000 in eXp Realty stock when you win the ICON Agent Award, which is given to agents who achieve specific production and cultural goals.
Furthermore, you can enroll in an Agent Equity Program, in which 5% of every transaction commission is paid to you in stock, and at a 10% discount.
eXp Realty, LLC might be a terrific company for you to own stock in. Given how fast the company is growing, your stock may increase significantly in value.
Pillar 4: eXp Realty Revenue Sharing
One of the best benefits that eXp Realty offers to its agents is optional revenue sharing for investors. The company uses a cascading revenue sharing system.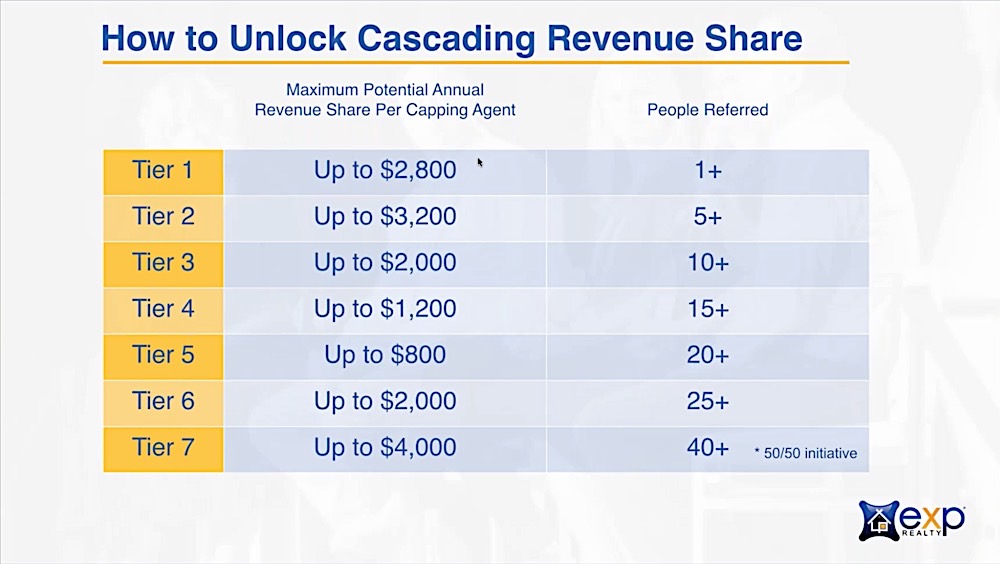 Utilizing this program, you can sign up real estate agents that you know with eXp Realty. When the agents you sponsor sell a home, you'll earn a portion of the company revenue.
Think about it like this; If you bring on just two agents per year with eXp Realty, and each of those agents attract one producing agent to eXp Realty, then after five years you could be earning up to $348,000 annually on revenue sharing alone.
By comparison, you'd have to save over $8 million, with 4% invested annually, to earn the same amount in passive income. The eXp revenue sharing system presents a terrific way to build your wealth.
And FortuneBuilders can help you develop your revenue sharing. We've developed a referral training system and process to help you attract new agents. When you join the FortuneBuilders team on eXp Realty, you'll have access to webinars and training videos that you can give to prospective referrals—we do most of the work for you.
But the revenue sharing system is optional. Even if you decide to forgo it, you can still benefit from eXp Realty's great commission split, stock options, training, and digital resources.
Summary
eXp Realty, LLC is a cloud-based real estate broker that is far cheaper and more profitable than brick-and-mortar brokerages. Unlike traditional brokerages, eXp Realty offers stock options and revenue sharing, and you're also able to earn 100% commission once you cap. The company's Four Pillars include Technology & Lead Generation, Training, Stock Options & Ownership, and eXp Realty Revenue Sharing.
Want to be a part of the fastest growing network of investor friendly realtors?
If you take the next step by joining the FortuneBuilders eXp team, you'll gain access to exclusive training and insights from Than Merrill, JD Esajian, Randy Zimnoch and other top investors and agents.
Learn how to get started and partner with Than's team today!