Key Takeaways
Learning how to sell your house in the fall comes down to implementing the right marketing tips and being flexible with potential buyers.
Follow our home selling tips to take advantage of the season and sell your home fast.
There are numerous fall decorating ideas that can help potential buyers picture spending the holidays there for years to come.
---
It may be true that more houses are on the market in the spring and summer, but that just means sellers are at a unique advantage in the fall. With less homes on the market, sellers have the perfect opportunity to stand out. Read our tips for hosting the perfect fall open house, and get ready to spice things up this season.
Pros & Cons Of Selling A Home In Fall
If you are considering selling a home in fall, do not get discouraged by the colder weather or calmer market. Instead, take a careful look at all of the pros and cons of selling during this time of year, and make an informed decision based on your property. Be sure to consider every factor as you decide whether or not to list your house this fall.
Pros of selling a home in the fall include:
Potential homebuyers are likely trying to purchase a home before the holiday season gets in full swing. This means potential buyers will be more serious and ready to make an offer as soon as they find the right fit.

It's a common misconception that all homebuyers are influenced by the school schedule. In fact, more than half of home buyers do not have children under 18. Despite school being in full swing, you should have no problem finding potential buyers during the fall months.

The colder season creates the perfect time to host a fall open house. Use the weather to your advantage and host an open house that helps potential buyers feel comfortable in your property.

Take advantage of weeknight open houses and show off your property. Fall is the perfect time to maximize showings and compete with busy weekend schedules.
These pros should serve as encouragement to homeowners preparing to sell in the fall. However, there are a few cons to this season as well. When deciding on selling a home, it will come down to your specific market. As a general rule, take the following into consideration.
Cons of selling a home in the fall include:
Spring is typically thought of as the ideal selling season. Consequently, it may seem like there are less buyers shopping around in the fall. Do not be intimidated by the off-peak season, and remember it does not mean there are no buyers.

The changing leaves may make for some excellent real estate photographs, but they can create a challenge when it comes to maintaining fall curb appeal. Come up with a regular lawn maintenance schedule and ensure your property makes a good first impression.

While the majority of homebuyers are not necessarily influenced by school being back in session, there are some who are. According to Zillow, about 44 percent of homebuyers have children in school and may prefer to buy a home before it is back in session.

The start of fall means there are more events, holidays and parties to attend. This could create scheduling conflicts for house viewings. Be flexible with your schedule and you could compensate for the quicker pace of the season.
There are going to be advantages and disadvantages to selling your home during any season. Pay attention to your specific market and make the decision that's right for you.
---
[ Thinking about investing in real estate?
Register to attend a FREE online real estate class
and learn how to get started investing in real estate. ]
---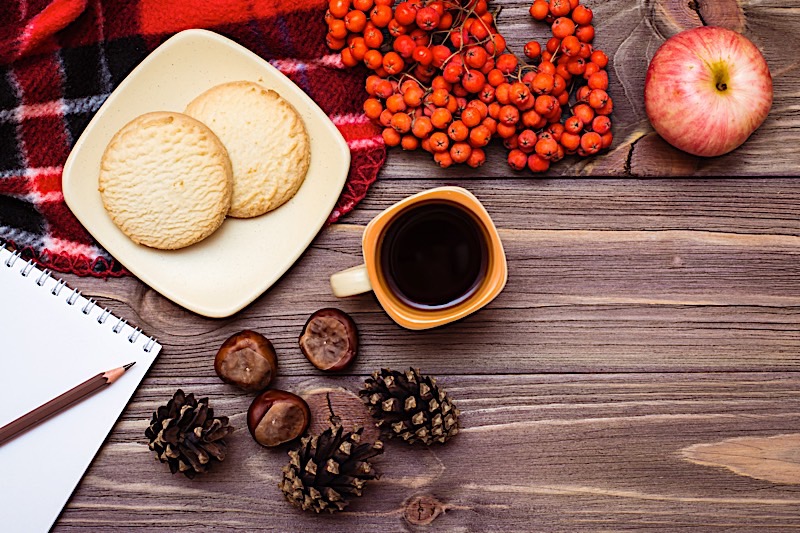 Fall Real Estate Market: Tips For Sellers
If you implement the right marketing this fall, you can find yourself surrounded by serious buyers looking to get settled in before the holidays. Follow these tips for selling your home to highlight your property:
Complete Any Maintenance Projects: Address any potential issues that could come up during the home inspection process. Remember to check your HVAC systems, roof, and any interior spaces. Check out our home inspection checklist to learn more.

Photograph Your Property: The shorter days can be a great opportunity to get some pictures of your property lit up at night. You can also rely on your new fall curb appeal to make your exterior shots stand out.

List Your Home: After you have decided to sell your property, move quickly to get it on the market at the start of the season. Scheduling viewings may get more tricky as the holidays approach, so make sure time is on your side and list the property as soon as it is ready.

Use Creative Marketing: Selling your home will come down to how you market it. Highlight your property's unique features and don't be afraid to rely on some seasonal charm during your open house.

Price To Sell: As you decide on a list price, be sure to research comparable home sales in the area. You want your home to fall within the price point of similar properties.

Hire an Agent: Find a real estate agent who you work well with. This may mean meeting with several agents until you find a fit. Check out this article for tips on finding a real estate agent that is right for you.
How To Host A Fall-Inspired Open House
The key to selling your home is to create a space that enables potential buyers to picture themselves living there for years to come. A great way to do this is by incorporating some seasonal touches into your fall open house. Here are some tips for planning a memorable fall open house:
Use social media to your advantage.
Run a contest and give away fall goodies.
Serve seasonal refreshments like apple cider and hot chocolate.
Accentuate the lighting, especially as the days get shorter.
Help viewers feel cozy and light a fire or organize some fall activities.
Boost your curb appeal by raking the leaves or planting fall colored flowers.
Be Social
With the holiday season approaching, people are likely to be sharing pictures and interacting with family online. Use this increased audience to your advantage and market your property through social media. You can start by recording a video walkthrough of the property on Facebook and Instagram. You can also share information about the open house across your pages. Do not be afraid to try new ideas when it comes to social media. When used correctly, these channels can provide you more exposure than you think.
Run A Contest
Among the most unique fall open house ideas is hosting a raffle for potential buyers. The prize does not have to be extravagant. Instead, put together a bag of fall goodies or a gift card to a local retailer. You can then use your open house sign in sheet to choose a winner. Don't forget to advertise your potential contest as you promote your open house. Include a snippet about it in your open house flyer or sign, and you may generate more buzz than you think.
Serve Seasonal Refreshments
Providing refreshments for an open house is an excellent, low cost way to incorporate fall touches into your open house. Set out treats next to information about the property to entice potential buyers to look into more information. Think about pairing warm cookies with FAQ sheets on the neighborhood or hot cocoa next to a printed floor plan. This personal touch, while small, can make a big impact. Potential buyers will feel comfortable in the space and leave with all the information they need.
Accentuate Lighting
Lighting can be just as important during an open house as it is in your real estate photographs. Make sure any exterior lighting is working properly, and look into additional indoor lighting sources as well. A great way to do this is by utilizing a mix of lamps and ceiling lights to create the perfect ambiance. Remember to not go overboard with scented candles or similar items; while they may accentuate the lighting, some viewers may be allergic to the smell. To play it safe, look into electric candles or other lighting sources that can make your property glow without upsetting potential buyers.
Get Cozy
Hosting a memorable fall open house will rely on your ability to make potential buyers feel at home in the space. Create a cozy atmosphere by relying on little fall touches or a well lit fireplace. Keep the inside of your property warm, and incorporate subtle fall decor. To make the house even cozier, you can leave out a few fall activities for kids like coloring pages or word puzzles. Between the activities, the warmer temperature, and any other fall touches, potential buyers will fall in love with your property.
Boost Fall Curb Appeal
It can be hard to keep up with lawn maintenance as the days get shorter and weather gets colder; however, it is crucial not to fall behind on your curb appeal. Your property's exterior is what should make a good first impression on potential buyers. You can try to add a few touches like exterior lighting or fall colored flowers to showcase the season. Check out our guide of fall curb appeal trends for more ideas on how to make your house shine.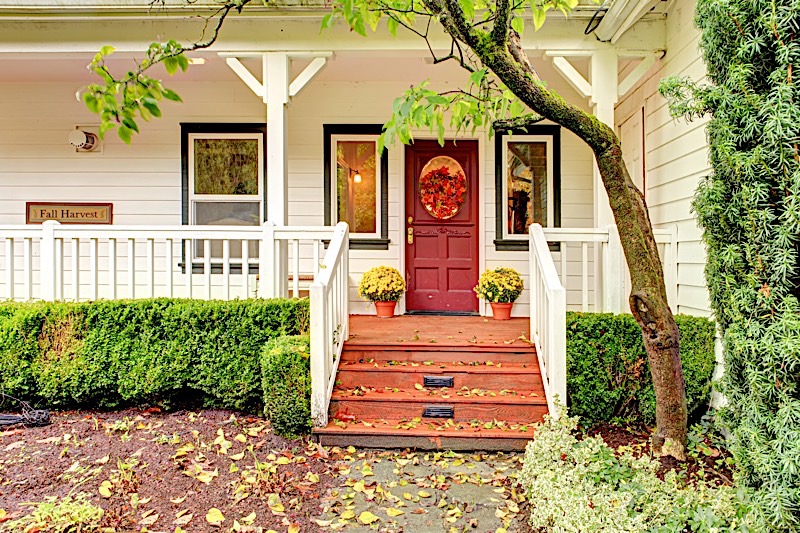 Summary
While fall may not be renowned as the most popular selling season, there is no reason you can't find success selling your home during this time of year. To make sure your listing stands out, go beyond a simple open house sign and employ some of the above fall open house tips. Take advantage of this time of year and impress your buyers with a fall open house.
Are you hosting a fall open house party this season? Let us know which tips have helped you prepare the most in the comments below:
---
Ready to start taking advantage of the current opportunities in the real estate market?
Click the banner below to take a 90-minute online training class and get started learning how to invest in today's real estate market!