Key Takeaways
Financial literacy is a unique part of the foundation of every single real estate investor's business.
The financial literacy definition has evolved alongside the real estate business, but it has never been more relevant to entrepreneurs than it is today.
Investors that take the appropriate steps to improve their financial education are going to be better positioned to succeed than those that don't.
---
Financial literacy is one of the most important cornerstones on which today's most prolific companies were founded. There is perhaps nothing more valuable to an entrepreneur than the inherent ability to identify, extrapolate and translate financial information pertaining to their personal and professional lives. It stands to reason that those who are capable of exhibiting a high level of financial competency will maximize their earnings potential, and real estate investors are certainly no exception to the rule. Alongside due diligence and a sound education, a definitive understanding of how money works may help an investor take their career farther than they ever imagined.
Financial Literacy Definition
Financial literacy refers to one's comprehension of a number of money-related topics, not the least of which include finances (both personal and professional), capital, investing, insurance, real estate, budgeting, retirement and tax planning. More specifically, however, financial literacy can be used to describe how well an individual understands the primary driving mechanism behind our economy: money.
---
[ Thinking about investing in real estate? Learn how to get started by registering to attend a FREE online real estate class from expert real estate investors. ]
---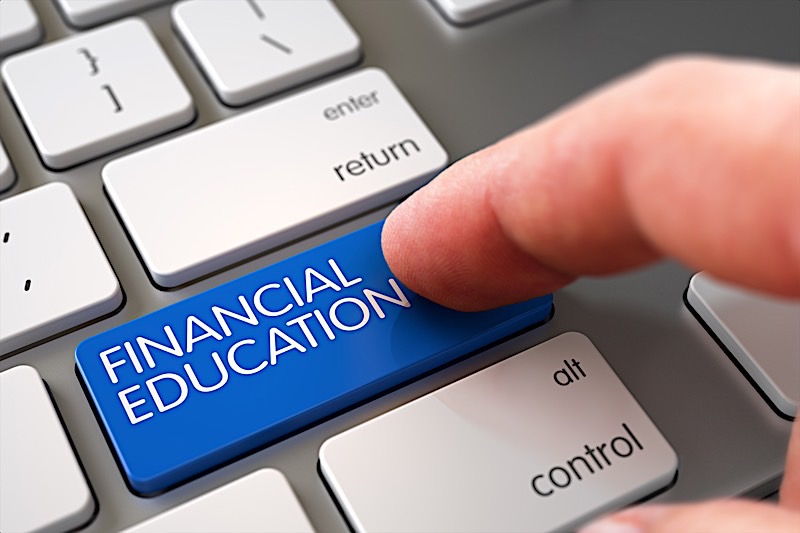 The Importance Of Financial Literacy As A Real Estate Investor
The importance of financial literacy can't be underestimated, especially for real estate investors. The comprehension of financial concepts is the foundation of a strong career, and the first step in achieving financial stability. Those that can wrap their head around the financial concepts governing the real estate industry should be able to navigate it easier than those who can't. At the very least, a simple understanding of finances should identify three of the most important indicators today's investors need to know: cash flow, expenditures and profits––the tangible pillars of every a standard real estate deal. It is the unique comprehension of these driving factors that will enable real estate investors to not only facilitate a deal, but do so with confidence.
How To Build A Stronger Financial Education
Since there isn't a financial literacy 101 class to enroll in, or even a universal answer to everyone's money questions, investors will need to get creative if they want to learn more about the world of finances. Fortunately, there are several steps investors can take to compound their own financial literacy. The following list represents some of the best ways to learn the ins and outs of money, and how it relates to the real estate world:
Proactively Seek To Educate Yourself: Financial literacy is the direct result of education. The more investors strive to learn, the higher degree of financial literacy they'll exhibit. However, it's not enough to simply take note of experiences and to read the occasional book. In order to truly build a stronger financial education, investors must become students of the craft; proactively seek out opportunities to build on your financial education. Proceed to read books, attend classes, go to seminars, learn from mentors, and anything that may further your own financial literacy. There are also a number of free resources made available to investors. It is entirely possible to glean insightful information from a blog, or even talking to fellow investors.
Focus On A Single Niche: As I have already alluded to, there are a number of concepts that belong under the financial literacy umbrella, from insurance to retirement and tax planning. It can be quite easy to get overwhelmed in your initial endeavors. Instead of overwhelming yourself, however, simply focus your attention on one particular niche. For example, instead of learning everything you can, pay special considerations to tax planning or compound savings. When you are able to focus on a single concept, it's much more likely to resonate on a higher level for you and your company. That's not to say you can't expand your financial literacy in other areas, but rather that it might be more efficient to start with a single concept.
Don't Reinvent The Wheel: The real estate industry is full of people that are well versed in the most critical aspects of the financial landscape. In fact, there's a good chance today's most prolific investors can thank their financial literacy for their success. To give yourself the best odds of replicating a similar success, seeking these individuals out as mentors could benefit your own financial education. There is absolutely no need to find a new, unproven method of learning about the most complex financial aspects of real estate. Instead, learn from those that have come before you and already know what it is you would like to learn.
Partner With Financially Literate Investors: Whether you are new to the world of real estate investing or are a seasoned professional, there's almost always something to be gained from partnering with a financially savvy investor. The industry is complex and there is always something new to be learned. The easiest way to insure you pick up new information pertaining to financial literacy may simply be working with the right people. That said, vet your next partner and make sure they bring something to the table you don't. A truly great partner is someone that compliments you––not someone that mimics your own skillset.
Practice On Paper: Experience has proven to be a useful educator, and it will certainly help investors hone their financial literacy. However, experience may concede with risk at times. Therefore, I recommend practicing any of the concepts you learn ahead of time––before you apply them. Stock market investors, for example, will often refrain from investing a penny before they are comfortable with the process. Instead of using real money, they will practice on paper with fake accounts and capital. This way, they can scrutinize their own investment strategies without risking any of their own capital. It's a relatively simple technique, but very effective, and there's no reason real estate investors can't use it to increase their own financial literacy.
Best Financial Education Books For Investors
If you are looking for a quick way to increase your own financial literacy, here are a few books that can accelerate your learning:
Summary
It is unfortunate that there are far too many investors whom are quick to write off the importance of a financial education. While a great deal of people know it's important, fewer actually place an emphasis on it, which can be a huge mistake. Consequently, real estate investors who place an emphasis on improving their own financial literacy will be better prepared on their journey towards financial freedom.
Are you confident in your own financial literacy? Are there any gaps in your knowledge of the way money works? Please feel free to let us know what else you would like to learn about financial literacy in the comments below.