Flipping houses remains one of the most well-known strategies in today's real estate industry, and for good reason: fix and flip homes can potentially offer attractive profit margins for real estate investors who know what they're doing. Unfortunately, many beginner investors make the mistake of assuming that the only important part of flipping a house is the renovation itself; in actuality, success will also depend on how good of a deal you secure when purchasing a property. Consequently, finding fix and flip deals is one of the hardest aspects of the job. All things considered, executing a sound fix and flip strategy will require a lot of hard work and due diligence, but the potential profits can be well worth the time investment. Read on for some creative ways to find houses to flip and how to ensure your techniques remain effective over time.
What Is A Fix And Flip?
A fix and flip is exactly what it sounds like: short-term investors will acquire a home with the intention of rehabbing (fixing) the property and selling (flipping) it for enough money to make a profit on the original purchase price and cover the cost of repairs. In doing so, investors will first need to locate a good candidate. More often than not, distressed homes leave more room for profit margins. That's not to say traditional, well-kept homes can't be "fixed and flipped," but rather that it's important to secure a deal below market value. Once acquired, the idea is to rehab the home enough to make it slightly more attractive than nearby comparables.
Since investors are looking to make a profit, they won't want to spend too much money on rehabs. Instead, making the home slightly more attractive than those it will be compared to will create demand without spending too much money. Generally, house flippers focus on completing the project as quickly and efficiently as possible to get the house off the market and maximize profits.
---
[ Thinking about investing in real estate?
Register to attend a FREE online real estate class
and learn how to get started investing in real estate. ]
---
Fix And Flip: Where To Start
Executing a successful fix and flip starts well before investors even set eyes on their first property. A great deal of work must be put in prior to making a single move. Consequently, there's only one place to start: education. Long before securing financing, or even learning how to rehab a home, investors must educate themselves on every aspect of the fix and flip strategy. Investors may simultaneously minimize risk and maximize profits by learning everything there is to know about the process.
One of the best places to start is an unbiased self-reflection. Regardless of their experience, every investor needs to take a look at themselves and ask one simple question: Why am I investing? With a better understanding of why they want to invest in the first place, investors will uncover the single most important catalyst for future success. Otherwise referred to as their "why," the reason investors choose to invest will serve as a compass that helps navigate any and all situations moving forward. If for nothing else, the motivation behind every fix and flip will determine just how hard an investor is willing to work.
Once investors have identified their "why" and they are sure they have a strong reason for investing, the next step is to determine the most efficient path towards realizing their goals. More often than not, the next step is to build a knowledgeable foundation. Take this time to learn everything about the fix and flip process. Leave no stone unturned, as a well-rounded knowledge of rehabbing is the surest way to mitigate risk and increase profit margins.
How To Find The Best Fix And Flip Homes
For those wondering how to find investment properties to flip, employing multiple strategies will ensure the best results. By seeking out as many opportunities as possible, you can increase your chances of finding and securing a good deal. Here are some of my best tips for finding fix and flip properties:
MLS

Networking

Build Your Own Website

Direct Mail

Search Online

Public Records

The County Courthouse

Expired Listings

Contractors And Builders

Ask Around

Location, Location, Location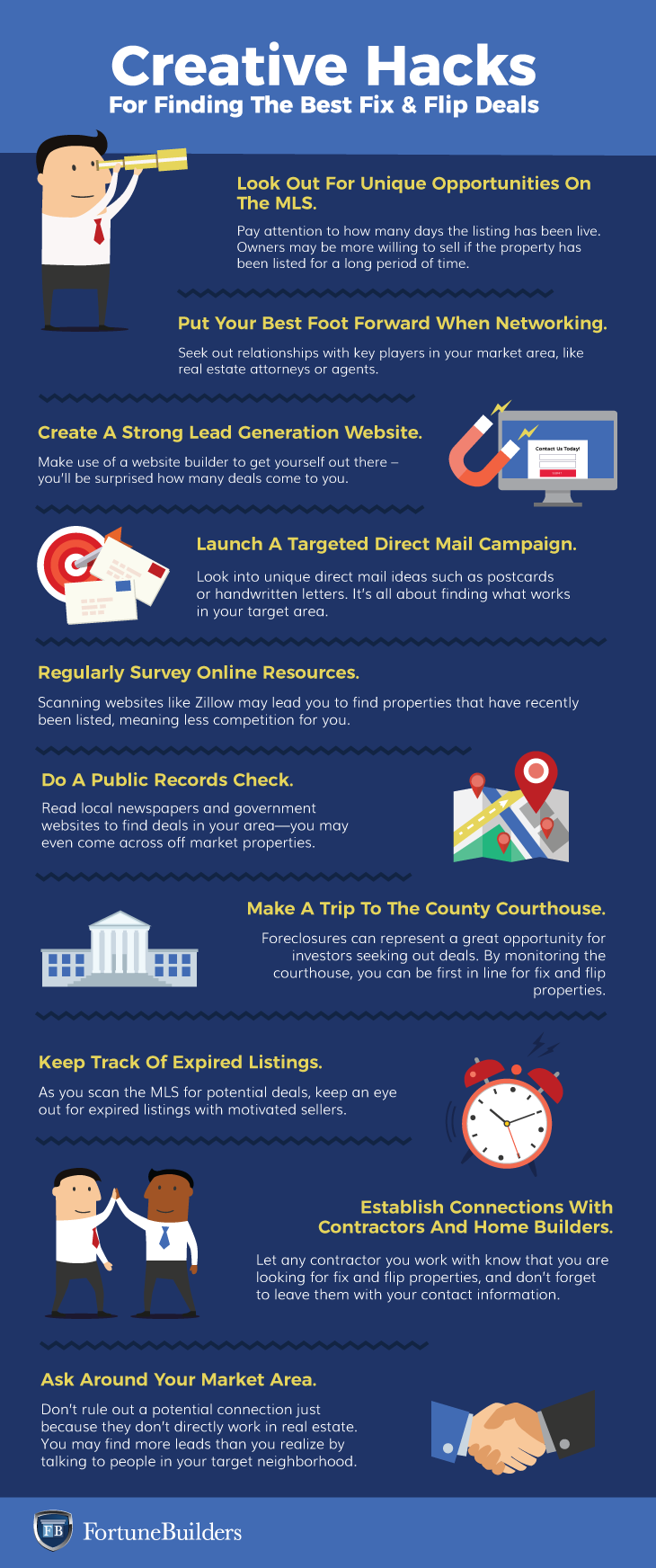 Browse The MLS
Some investors may be hesitant to turn to the MLS when searching for potential fix and flip deals, but it is a good idea to reconsider before ruling this option out. You never know when you might find a property that could provide an excellent deal. For example, you could come across a foreclosure property that you can secure for a good purchase price.
Network
Networking is crucial, no matter what your goals are in real estate. When it comes to finding fix and flip deals, focus on networking with real estate agents and attorneys who may be aware of off-market properties in your area. Ask your existing connections and attend local real estate meetings to get started.
Build Your Own Website
As a real estate investor, you should look into creating your own lead generation website. This is exactly what it sounds like: a website that leads motivated sellers to you. Creating your own website is a lot easier than it sounds––thanks to platforms like WordPress.com and Wix.com, each of which allows you to create and customize your online space.
Direct Mail
Ramp up your direct mail marketing efforts with a little research. Identify which neighborhoods to target and investigate which forms of advertising will be most effective. For example, you may want to identify absentee owners or look at expired listings. It will benefit you to do some research on who you want to target and how to do so before jumping into a direct mail campaign.
Search Online
You may already know that websites such as Zillow or Trulia feed off the MLS; however, what most investors often overlook is that sellers are allowed to list properties on these websites 30 days before putting the listing on the MLS. This means that you may be able to land some off-market deals simply by searching online.
Public Records
Monitoring local newspapers, government websites, and courthouse records can be great places if you are still asking "how to find houses to flip near me." Public records hold information on pre-foreclosures, short sales, and more. You may even come across some off-market listings by surveying public records, which could potentially represent a good fix and flip deal.
The County Courthouse
If a property is foreclosed on, it can be auctioned off at the county courthouse, making this a good place to find potential properties. Do your homework before you attempt to go to your first auction, and you might find yourself on the receiving end of a good deal.
Expired Listings
Expired listings are the result of a number of factors, but more often than not they result in the same thing: motivated sellers. This can be particularly attractive to investors in the midst of finding fix and flip deals. As you monitor the MLS for other deals, keep an eye out for expired listings.
Contractors And Builders
As you form a network in the real estate industry, pay careful attention to your relationships with contractors and home builders. You may be surprised by how much knowledge they have on current property listings. It's always a good idea to make your business goals and contact information known whenever you work with someone. That way, they know how to reach you should they learn about an off-market listing or potential deal.
Ask Around
In addition to building your real estate network, you may find some luck in simply introducing yourself around the area you are looking to buy a property in. Neighbors can be a great source of information if you are looking for a house to buy in a particular area. You don't have to go door to door per se, but when you meet people, introduce yourself as a real estate investor and make your niche known.
Location, Location, Location
The golden rule of real estate still applies. The location of a property is instrumental in facilitating a profitable flip. According to David Bitton, the co-founder of DoorLoop, "it's critical to consider the location. The primary aim of house flipping is to gain profit, and in order to make money, you must find buyers for the property you've flipped. This is when the significance of location becomes apparent. You want to buy a home in a desirable neighborhood because no matter how much work you put into the house, it will be for naught if you choose an unsafe or undeveloped location."
Fix And Flip Real Estate Mistakes To Avoid
Not unlike every other investment strategy in existence, the traditional fix and flip is not without risk. Poor execution and a lack of understanding can ultimately end in failure. That said, investors can take plenty of steps to mitigate risk and stack the odds in their favor. One of the best ways to reduce one's exposure to risk on a fix and flip is to learn from the mistakes of those that have come before, not the least of which include:
Fixing And Flipping Without Enough Money

Not Enough Time To Fix And Flip

You Haven't Acquired The Right Skills
1. Fixing And Flipping Without Enough Money
One of the surest ways to stack the odds against you is to commence fixing and flipping without enough money. Without access to enough capital, three significant problems are likely to occur: corners begin to be cut, the project takes longer than anticipated, or the necessary tasks at hand can't be completed. Either way, a lack of capital will impact projects in a negative way. As a result, it's absolutely imperative to budget accordingly. Investors will want to create a detailed scope of work that accounts for every expense. The scope of work should include "unexpected expenses," somewhere in the neighborhood of 5% to7% over the initial budget. Leaving room in the budget for unexpected expenses or mistakes will help mitigate the risk of this particular mistake.
2. Not Enough Time To Fix And Flip
Fixing and flipping strategies are time sensitive; they need to be conducted in a short enough period to cut back on holding costs, but not so short that the quality of work is jeopardized. To be clear, there isn't a strict, universal timetable to abide by. Instead, it's safer to assume that the faster a fix and flip is completed, the better off the investor will be. Therefore, investors shouldn't aim to complete the project in a week or two (or even three), but rather work with a schedule that caters to their own needs and experience. The second they bite off more than they can chew, the sooner their work will start to suffer, especially when presented with a constricting schedule.
3. You Haven't Acquired The Right Skills
It is absolutely imperative to go into a fix and flip equipped with the right skills. Investors who are ready to tackle anything that comes their way will be able to adapt and overcome just about anything, leading to a more efficient and profitable investment. However, those who can't navigate obstacles with precision will find that even a basic fix and flip strategy can be treacherous. In order to mitigate the risk associated with a distinct lack of skills, inexperienced investors should consider working with a partner that compliments their own skills. Enlisting the services of someone who can do the things you can't makes you a more well-rounded investor, and ready to take on more challenges.
---
[ Thinking about investing in real estate?
Register to attend a FREE online real estate class
and learn how to get started investing in real estate. ]
---
How To Avoid "Land Mines"
In addition to the previously discussed risks, there are at least a couple of poor choices which can also detract from fix and flip profitability. Otherwise known as "land mines," poor choices can land investors in a lot of trouble if they don't know how to navigate them. Two poor choices, in particular, can lead to serious self-imposed consequences: choosing the wrong time and place to invest.
Market Timing
Timing the market is nearly impossible. There isn't a single investor who can predict which way prices will head without an inherent degree of error. As a result, investors shouldn't even bother timing their purchases, but rather increasing their knowledge of subsequent exit strategies. If for nothing else, it is entirely possible to invest in any market—up or down.
If, for example, prices are rising and profit margins are deteriorating, investors may want to consider long-term rental properties over fix and flips. While it's entirely possible to fix and flip in an appreciating market, higher acquisition costs can detract from profit margins. Instead of executing a fix and flip, investors should look into long-term strategies that generate cash flow. Years of rental collections can help justify higher acquisition costs, making buy-and-hold rental properties the preferred strategies in markets with rapidly appreciating home values.
Timing the market isn't nearly as important as knowing what to do with current market indicators. Knowing what to do at specific market cycles is invaluable, and the key to today's most prolific investors' success.
Market Location
The golden rule of real estate still persists: location, location, location. Nothing is more integral to the success or failure of a fix and flip than its respective location. At the very least, investors can change literally everything about an investment except where it is located. As a result, it's of the utmost importance to choose the right location to invest in; it is usually better to own the worst house in a good neighborhood than the best house in a bad neighborhood.
In order to avoid this particular land mine, investors should study the location of a property just as much as the home itself. Understanding everything from the demographics of a given area to its economics will go a long way in determining the best type of investments it can accommodate.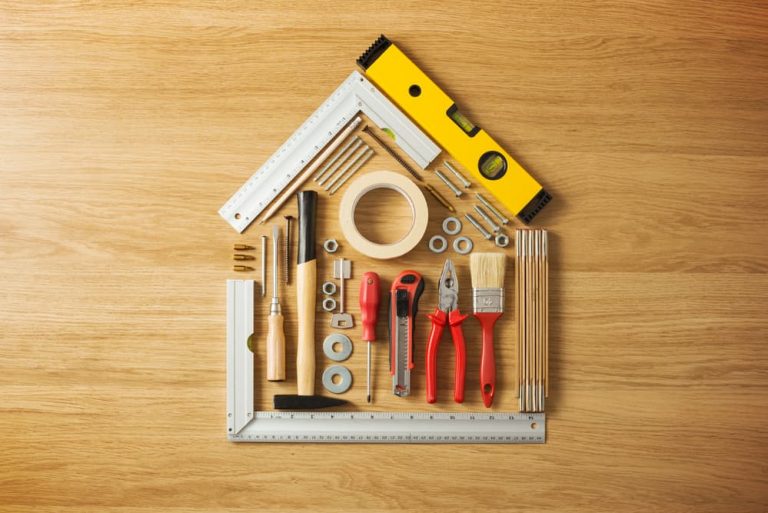 Finding Fix And Flip Deals: 3 Ways To Increase Leads
Now that you have a good idea of where to start, it will benefit you to examine how you can actually go about increasing your leads. There are a number of things you can do that will both improve your existing strategies and allow you to successfully implement new ones. No matter where you are in the process of finding fix and flip deals, here are some tips to keep in mind:
Examine Existing Process

Expand Your Network

Listen To The Market
1. Examine Existing Processes
As you establish a system for finding fix and flip deals, you should simultaneously set up an evaluation protocol. It is crucial to track the performance of any marketing campaigns or business plans. This will help you understand which tactics are most successful in generating leads. Keep track of key performance indicators and reevaluate each of them as needed. For example, if you find most of your leads from direct mail, it will benefit you to closely examine what about that campaign made it so successful. What type of audience did you target? What did your letters look like? By reviewing these processes as you go, you will understand what works for your business and what doesn't, making marketing stronger and more cost-effective in the long run.
2. Expand Your Network
When it comes to increasing your leads, seek network connections outside of your traditional market area. Identify and reach out to investors who align with your business goals in similar markets across the country. By forming a network of like-minded individuals across different real estate markets, you will expose yourself to potential new ideas that could be applied in your area. A great way to do this is to look into Facebook groups or networking with existing connections. What works for an investor in one area may not always work for you, but it is important to have people compare notes. This may allow you to build mutually beneficial relationships and increase your leads.
3. Listen To The Market
One of the key components to finding fix and flip deals is to make sure you have a strong understanding of your specific market. A market analysis is an excellent way to ensure your investment strategy stays focused. Periodically evaluate your market using historical and current data to get a feel for comparable properties. Some factors you should consider include property prices, sale prices, recent improvements, property characteristics, and the overall neighborhood. By examining each of these factors, you will get a better idea of what you should be looking for in the area, what kind of improvements you should aim to make, and how much properties are selling for. You can rely on real estate websites like Zillow or Redfin to find this information. Conducting a market analysis is something you will get better at over time. Still, by regularly researching your target area, you can help keep marketing tactics on track and increase leads.
Pros Of Fix And Flip Homes
Fix and flips homes did not become one of the most famous real estate investment strategies for no reason. There are numerous advantages associated with this strategy when done right:
Beginner Friendly: Take this with a grain of salt: fix and flip homes can be a great way to ease into the real estate industry. I'm not saying the 100 year old abandoned property up the street is the place to start, but a property in need of a few cosmetic repairs can be a good opportunity to learn the ropes and make a profit on your first go round. Obviously good market research is crucial for this to work, but if you are ready to jump in this can be a great place to start.

Flexibility: Every fix and flip property you invest in is going to be different from the next. While you may have your preferred paint colors, appliances, and other details in mind when you get a few properties under your belt, this is an extremely flexible strategy. Some investors only look for bigger, long-term projects while others deal exclusively with cosmetic repairs. There are so many properties in need of a new look that this strategy can provide you with a little bit of everything.

Short Deal Timeline: When compared to buy-and-hold properties, fix and flips have a very quick turnaround. This means your money is only held up for a short time, and you can move on to the next investment much faster. While fix and flip deals still take longer than, say wholesaling the timeline is generally pretty favorable for those looking to get in and out.
Cons Of Fix And Flip Homes
As always, with any pros there have to be a few cons to consider. Think through the potential disadvantages listed below so you can strategize potential solutions before you even get started:
Hot and Cold Markets: The biggest thing to look out for when buying a potential fix and flip is the market performance. Does the area tend to go hot and cold? Look at comparable properties and home sales over a few years to get a better idea of the market performance. These prices will have a big impact on your potential profits so always, always, always research the market thoroughly.

Budget Risks: We've all seen an episode on HGTV where someone needs. foundation repair or other costly fix in the middle of a renovation. While shows are dramatized to make them more interesting, surprises can come up in fix and flips. There are two main solutions to this issue: a home inspection and solid cash reserves. You certainly can't plan for everything, but you can do you best to avoid potential risks and budget breaks.

Where are the Tax Perks: When investing in fix and flip properties, almost all of your timelines are going to be under a year. This cuts out numerous tax benefits associated with real estate investing. However, as you get more experience in the industry you may consider using one of your fix and flips as a rental property.
Summary
Finding fix and flip deals does not have to be complicated. Real estate investors need to know where to look and what to do once they identify a potential property. Search for both on and off-market homes, and implement multiple marketing strategies to ensure you find leads. You never know what will work in your area, so establishing a system for evaluating your business is a great idea. By implementing creative hacks and regularly evaluating your techniques, you can ensure your business brings in consistent, reliable leads for fix and flip deals.
What is your best advice for finding fix and flip deals? I'd love to hear from you in the comments below.
---
Ready to start taking advantage of the current opportunities in the real estate market?
Click the banner below to take a 90-minute online training class and get started learning how to invest in today's real estate market!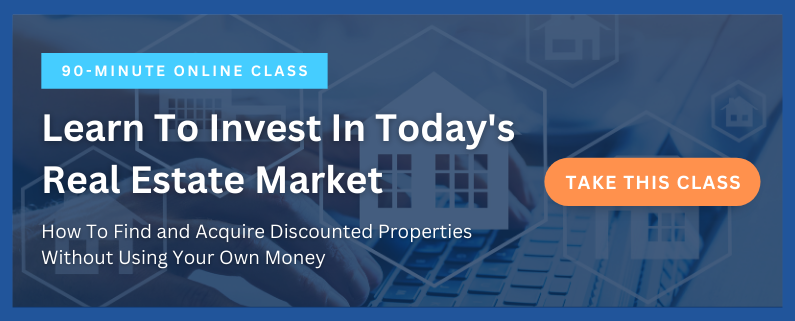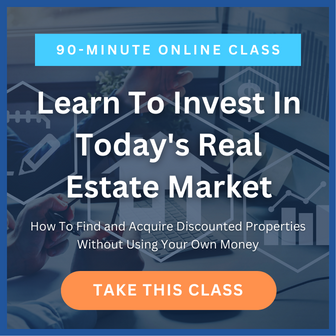 *The information contained herein was pulled from third party sites. Although this information was found from sources believed to be reliable, FortuneBuilders Inc. makes no representations, warranties, or guarantees, either expressed or implied, as to whether the information presented is accurate, reliable, or current. Any reliance on this information is at your own risk. All information presented should be independently verified. FortuneBuilders Inc. assumes no liability for any damages whatsoever, including any direct, indirect, punitive, exemplary, incidental, special, or consequential damages arising out of or in any way connected with your use of the information presented.