Key Takeaways
---
Flipping houses remains one of the most well-known strategies in today's real estate industry, and for good reason: fix and flip properties can potentially offer attractive profit margins for real estate investors who know what they're doing. Unfortunately, many beginner investors make the mistake of assuming that the only important part of flipping a house is the renovation itself; in actuality, the success of your flip will also depend on how good of a deal you secure when purchasing a property. Consequently, finding fix and flip deals is one of the hardest aspects of the job.
Investors interested in flipping properties should establish a strong system for identifying and acquiring leads to ensure successful deals. Read on for some creative ways to find houses to flip and how to ensure your techniques remain effective over time.
How Does House Flipping Work?</h2
The real estate investing strategy of flipping houses is purchasing a property to sell it for a profit. To do so, investors make repairs to the property that raise the value of the property. Generally, house flippers focus on completing the project as quickly and efficiently as possible to get the house off the market and maximize profits. The profits made from flipping a house generate income that investors can then use to fund their next real estate deals.
On-Market Vs Off-Market Real Estate
In the real estate world, you will often hear about on and off-market real estate properties. On-market properties are listed on the MLS, and typically attract buyers through public advertising. These properties are usually what come to mind when you begin searching for a house. However, there are also off-market properties real estate investors should be aware of. These aren't listed on the MLS and are not advertised in the same ways that on-market properties are. Off-market properties are typically found through word of mouth or public records.
While off-market properties are not the only form of real estate you should focus on, there are several benefits to properties not listed on the MLS. Investors may find that off-market properties allow for more flexible negotiations and have less competition overall. This is because sellers who list properties off-market are often not in a rush and are more willing to work with buyers on a given agreement. Investors wondering how to find houses to flip should be prepared to pursue both on and off-market real estate deals, as they typically offer attractive profit margins.

---
[ Do you control your finances or are your finances controlling you? Register to attend our FREE online real estate class and find out how real estate investing can put you on the path toward financial independence. ]
---
Creative Hacks For Finding The Best Fix And Flip Deals
For those wondering how to find investment properties to flip, employing multiple strategies will ensure the best results. By seeking out as many opportunities as possible, you can increase your chances of finding and securing a good deal. Here are some of my best tips for finding fix and flip properties:
MLS: Some investors may be hesitant to turn to the MLS when searching for potential fix and flip deals, but it is a good idea to reconsider before ruling this option out. You never know when you might find a property that could provide an excellent deal. For example, you could come across a foreclosure property that you can secure for a good purchase price.
Networking: Networking is crucial, no matter what your goals are in real estate. When it comes to finding fix and flip deals, focus on networking with real estate agents and attorneys who may be aware of off-market properties in your area. To get started, ask your existing connections and attend local real estate meetings.
Build Your Own Website: As a real estate investor, you should look into creating your own lead generation website. This is exactly what it sounds like: a website that leads motivated sellers to you. Creating your own website is a lot easier than it sounds––thanks to platforms like WordPress.com and Wix.com, each of which allows you to create and customize your online space.
Direct Mail: Ramp up your direct mail marketing efforts with a little research. Identify which neighborhoods to target and investigate which forms of advertising will be most effective. For example, you may want to identify absentee owners or look at expired listings. It will benefit you to do some research on who you want to target and how to do so before jumping into a direct mail campaign.
Search Online: You may already know that websites such as Zillow or Trulia feed off the MLS; however, what most investors often overlook is that sellers are allowed to list properties on these websites 30 days before putting the listing on the MLS. This means that you may be able to land some off-market deals simply by searching online.
Public Records: Monitoring local newspapers, government websites, and courthouse records can be great places if you are still asking "how to find houses to flip near me." Public records hold information on pre-foreclosures, short sales, and more. You may even come across some off-market listings by surveying public records, which could potentially represent a good fix and flip deal.
The County Courthouse: In the event a property is foreclosed on, it can be auctioned off at the county courthouse, making this a good place to find potential properties. Do your homework before you attempt to go to your first auction, and you might find yourself on the receiving end of a good deal.
Expired Listings: Expired listings are the result of a number of factors, but more often than not they result in the same thing: motivated sellers. This can be particularly attractive to investors in the midst of finding fix and flip deals. As you monitor the MLS for other deals, keep an eye out for expired listings.
Contractors And Builders: As you form a network in the real estate industry, pay careful attention to your relationships with contractors and home builders. You may be surprised by how much knowledge they have on current property listings. It's always a good idea to make your business goals and contact information known whenever you work with someone. That way, they know how to reach you should they learn about an off-market listing or potential deal.
Ask Around: In addition to building your real estate network, you may find some luck in simply introducing yourself around the area you are looking to buy a property in. Neighbors can be a great source of information if you are looking for a house to buy in a particular area. You don't have to go door to door per se, but when you meet people, introduce yourself as a real estate investor and make your niche known.
Location, Location, Location: The golden rule of real estate still applies. The location of a property is instrumental in facilitating a profitable flip. According to David Bitton, the co-founder of DoorLoop, "it's critical to consider the location. The primary aim of house flipping is to gain profit, and in order to make money, you must find buyers for the property you've flipped. This is when the significance of location becomes apparent. You want to buy a home in a desirable neighborhood because no matter how much work you put into the house, it will be for naught if you choose an unsafe or undeveloped location."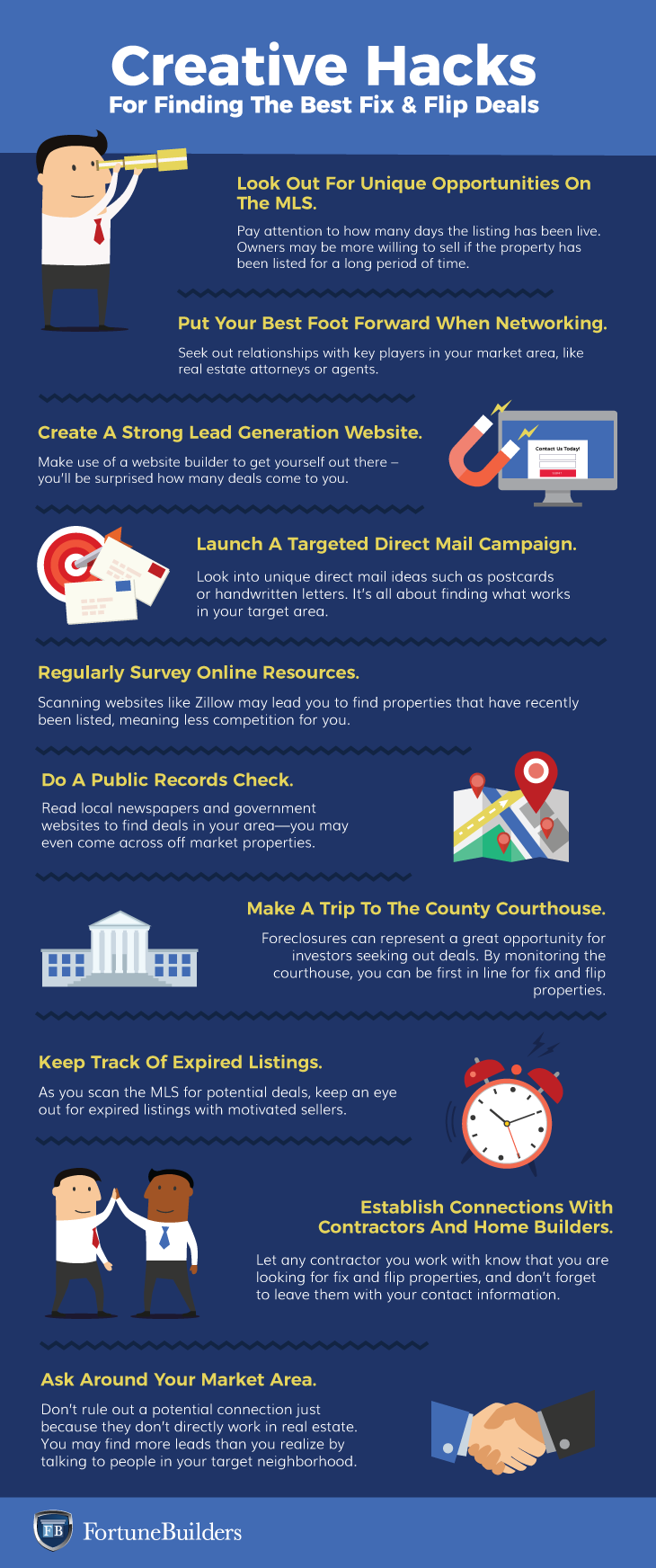 Flipping Houses 101: 3 Ways To Increase Leads
Now that you have a good idea of where to start, it will benefit you to examine how you can actually go about increasing your leads. There are a number of things you can do that will both improve your existing strategies and allow you to successfully implement new ones. No matter where you are in the process of finding fix and flip deals, here are some tips to keep in mind:
Examine Existing Process
Expand Your Network
Listen To The Market
1. Examine Existing Processes
As you establish a system for finding fix and flip deals, you should simultaneously set up an evaluation protocol. It is crucial to track the performance of any marketing campaigns or business plans. This will help you understand which tactics are most successful in generating leads. Keep track of key performance indicators and reevaluate each of them as needed. For example, if you find most of your leads from direct mail, it will benefit you to closely examine what about that campaign made it so successful. What type of audience did you target? What did your letters look like? By reviewing these processes as you go, you will understand what works for your business and what doesn't, making your marketing stronger and more cost-effective in the long run.
2. Expand Your Network
When it comes to increasing your leads, seek network connections outside of your traditional market area. Identify and reach out to investors who align with your business goals in similar markets across the country. By forming a network of like-minded individuals across different real estate markets, you will expose yourself to potential new ideas that could be applied in your area. A great way to do this is to look into Facebook groups or network with your existing connections. What works for an investor in one area may not always work for you, but it is important to have people compare notes. This may allow you to build mutually beneficial relationships and increase your leads.
3. Listen To The Market
One of the key components to finding fix and flip deals is to make sure you have a strong understanding of your specific market. A market analysis is an excellent way to ensure your investment strategy stays focused. Periodically evaluate your market using historical and current data to get a feel for comparable properties. Some factors you should consider include property prices, sale prices, recent improvements, property characteristics, and the overall neighborhood. By examining each of these factors, you will get a better idea of what you should be looking for in the area, what kind of improvements you should aim to make, and how much properties are selling for. You can rely on real estate websites like Zillow or Redfin to find this information. Conducting a market analysis is something you will get better at over time. Still, by regularly researching your target area, you can help keep your marketing tactics on track and increase your leads.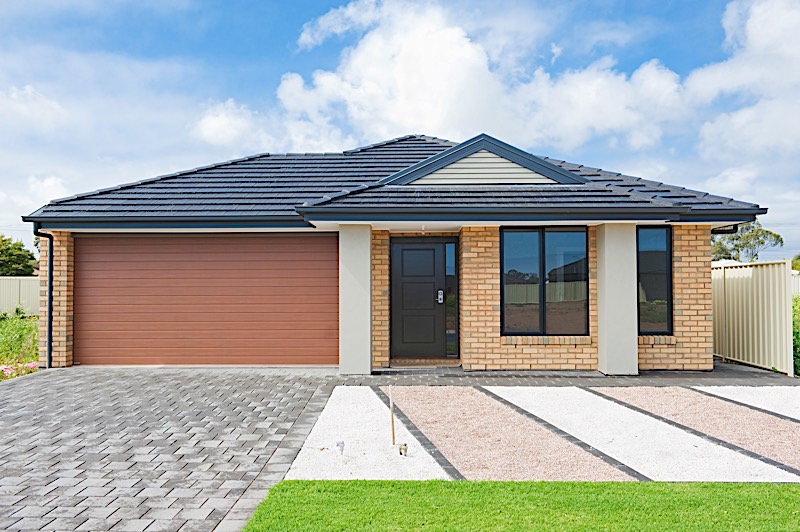 Summary
Finding fix and flip deals does not have to be complicated. Real estate investors need to know where to look and what to do once they identify a potential property. Search for both on and off-market homes, and implement multiple marketing strategies to ensure you find leads. You never know what will work in your area, so establishing a system for evaluating your business is a great idea. By implementing creative hacks and regularly evaluating your techniques, you can ensure your business brings in consistent, reliable leads for fix and flip deals.
What is your best advice for finding fix and flip deals? I'd love to hear from you in the comments below.
---
Are you interested in learning more about today's most lucrative real estate strategies?
Whether you're brand new to investing, have closed a few deals, or are a seasoned investor— our new online real estate class reveals the best real estate strategies to get started with real estate investing in today's market. Hosted by expert investor Than Merrill, you'll learn how these time-tested strategies can help you to find success in real estate.
Register for our FREE 1-Day Real Estate Webinar and get started learning how to strategically invest in today's real estate market!