Key Takeaways
Understanding the foreclosure process from the lens of the homeowner can help you improve your investing strategy.
Be sure to know what to expect before attending your first foreclosure auction.
Some homeowners may elect to pursue a short sale or deed in lieu of foreclosure, so be sure to familiarize yourself with these alternative processes as well.
---
Understanding the foreclosure process is a must for investors who hope to pursue this profitable yet tricky investing niche. Read on to get an overview of the home foreclosure process, including the foreclosure auction process, so that you can develop an investor strategy that works best for you.
The Foreclosure Process Explained
For investors wanting to gain a better understanding of the foreclosure buying process, it is helpful to first and foremost look at the home foreclosure process through the lens of a homeowner. A foreclosure typically takes place when the owner of a property defaults on their mortgage payments, and have been served a Notice of Default (NOD) by their lender. At this point, the owner enters the pre-foreclosure process, also referred to as the reinstatement period, during which they have an opportunity to straighten out their finances. However, if they fail to correct their loan default, they will receive a Notice of Sale and officially enter the process of foreclosure. Once the property has been foreclosed upon, it is often sold through auction, to be discussed in the following section.
---
[ Thinking about investing in real estate? Learn how to get started by registering to attend a FREE real estate class offered in your area. ]
---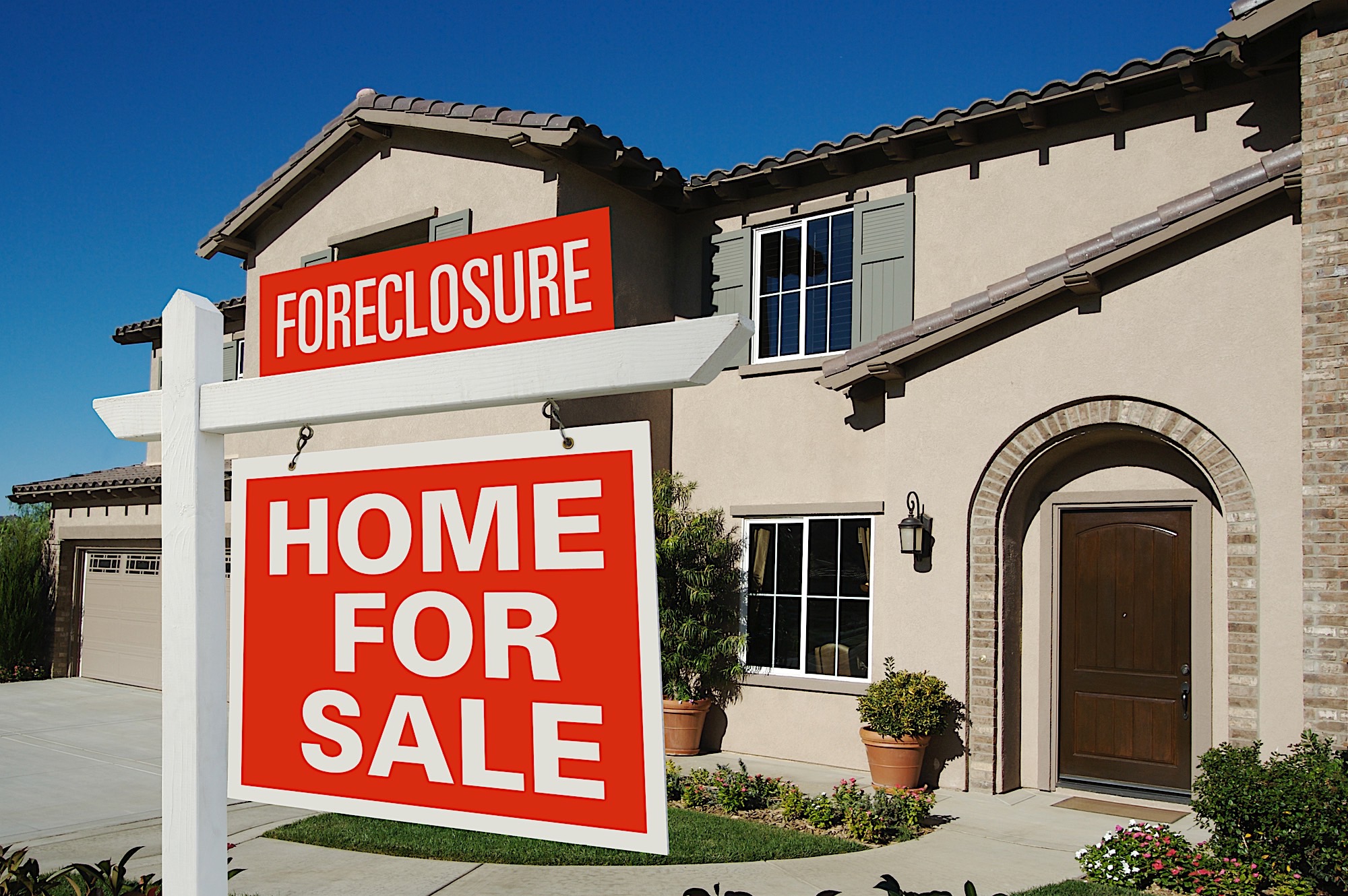 The Foreclosure Auction Process Explained
The property owner will receive a Notice of Sale when they fail to correct their loan default. This Notice of Sale will note the time and location of the Trustee Sale, more commonly known as the foreclosure auction. Luckily for investors, the foreclosure auction process is quite straightforward. Notices of sale are typically published in the classified sections of local publications, as well as through the local county records office. The auction itself is usually held publicly on the county courthouse steps, where the property is auctioned off to the highest bid.
The auction commences with an opening bid, which is set by the foreclosing entity. The bid price is typically based upon the outstanding mortgage balance, accrued interest, and applicable fees. Oftentimes, the opening bid is not met because it exceeds the current value of the property. When this occurs, the foreclosed upon property becomes an REO (Real Estate Owned) property and is sold to the attorney. At this juncture, all property taxes and junior liens, prioritized by the date of recording, are removed. This allows for investors to start making bids while resting assured that they will acquire the property with a clean title. It should be noted that usually, the buyer must pay in cash, so it is recommended for investors to come prepared with a few cashier's checks in different amounts in order to anticipate competing bids.
How Long Does The Foreclosure Process Take?
The foreclosure process takes roughly four months, depending on the parameters. In order to answer the question "how long is the foreclosure process," the beginning and end points of the process must first be defined. Including part of the pre-foreclosure process, let us say that the process of foreclosure begins when the Notice of Default (NOD) is issued. Let us also say that the foreclosure process ends when the investor acquires the foreclosed-upon property. Typically speaking, there is a 3 month window between the issuance of the NOD and the Notice of Sale. During this time known as the reinstatement period, the homeowner is in pre-foreclosure and has not actually entered foreclosure yet and has an opportunity to correct their default. After the Notice of Sale is received, the property auction is typically marketed for about 3 weeks before the auction takes place. Assuming that a foreclosure eviction process from the previous owner can be avoided, the foreclosure process takes close to four months in total. Of course, as in any type of real estate transaction, complications may extend the timeline.
What Is A Deed In Lieu Of Foreclosure?
A deed in lieu of foreclosure process, also called a mortgage release, allows the homeowner to give up ownership of their property in exchange for being released from their mortgage loans. A mortgage release provides a viable exit strategy for a homeowner when they are underwater, are facing long-term hardship, and know that they will not be able to make mortgage payments. This releases them from most of their liabilities, and helps them avoid the foreclosure process, thus lessening the impact on their credit. The ownership is voluntarily transferred to the lender, whose best interest is also to avoid foreclosure. This way, the lender can avoid spending the time and money required in a repossession, and they can also reduce the risk of revenge from the previous owners, often in the form of vandalism and theft from the property.
Deed In Lieu Of Foreclosure Vs Short Sale
Both the deed in lieu of foreclosure and the short sale are viable options that can help homeowners avoid foreclosure, but there are key differences between the two that should be noted. As explained above, the deed in lieu of foreclosure helps to absolve the homeowner from their mortgage obligation by voluntarily transferring ownership of their property to their lender. IN the short sale process, however, the homeowner must obtain permission from their lender to sell the property to a third party for less than the outstanding debt on the mortgage loan. Any proceeds from the sale will go to the lender, and not to the homeowner. In exchange, the owner is released from the property lien. In both cases, the homeowner must have the exit strategy approved by the lender, and will be required to provide financial information and an affidavit of their hardship.
The Foreclosure Buying Process Explained
Make sure buying foreclosures is the right strategy for you.
Study neighborhood comps.
Get pre-approved for a mortgage.
Search foreclosure listings.
Attend foreclosure auctions.
Submit bids online.
Obtain updated deed and title information.
Schedule a home inspection.
Secure financing as needed.
Sign closing paperwork.

5 Tips To Keep In Mind During The Process Of Buying A Foreclosure
Know the expenses: Before jumping into a foreclosure deal, be sure you've asked yourself the right questions, such as how much repairs and renovations will cost, how much will it cost to relist and market the property, and whether you have enough in your budget to pay your rehab crew. In addition, be sure you can afford the holding costs in case you cannot sell the property right away.
Look at the property and the neighborhood: A smart investor will never purchase a property sight unseen. Drive by the property and inspect the local neighborhood to verify that the property will have a good after repair value based on neighborhood comps.
Inspect the condition: Look for signs of winterization, how long the property has been vacated, as well as the condition of the exterior and landscaping. You can in the very least gather some visual evidence that will help you start estimating the cost of repairs.
Schedule an inspection: Regardless of your financing method, the pros always recommend hiring a professional inspection of the property. Inspectors can help you estimate the cost of repairs, including those that are not easily detected such as plumbing or electrical issues.
Don't rely on a quick sale: Investors who plan to purchase a property and merely hold it until the market improves should not expect an easy profit. Some locales are even penalizing homeowners who neglect their properties. Conversely, many municipalities welcome investors who are willing to invest and rehab properties, helping to provide more rentable property and help improve neighborhoods.
5 Mistakes To Avoid During A Foreclosure Auction
Focusing solely on foreclosures: Although investing in foreclosures can seem like a winning strategy for many, focusing only on foreclosure properties can be a grave mistake. Investors should remain open to other types of properties, such as short sales or probate sales, during their property search.
Refusing to rely on others: Behind every successful investor stands some sort of team, and refusing to rely on other professionals can be a grave mistake. Real estate agents can help you get to know the ins and outs of a real estate market, while helping you find specific types of listings. In addition adding a real estate attorney to your list of advisors can provide you access to invaluable legal information.
Failing to study your local market: No matter how well a flip project is executed, no investor can expect to make a profit if they don't know their real estate market well enough. Investing in a great property when market conditions are not right, or in the wrong neighborhood, can lead to a complete flop.
Foregoing a professional inspection: Scheduling a professional property inspection should be on the checklist in any type of potential real estate transaction. An inspector could potentially discover grave problems with the property that are not easily detected, and could save you thousands of dollars. Thoroughly educating yourself on the condition of the property before entering a deal is a step that should never be skipped.
Lacking a contingency plan: No matter how confident an investors feels regarding a foreclosure deal, they would be foolish not to have a back-up plan in case things do not go as expected. Every once in a while, a rehabbed property will sit on the market for too long, even if all the conditions seem to align. In this case, investors should have a contingency plan to implement, such as renting out the property until it can be sold in more favorable conditions.
If you have gleaned anything from this detailed overview of the foreclosure process, it is that research and preparation are just as important, if not more, than the actual execution of the investment. If you are prepared to rely on your social networks and your own ability to gather information, then you will position yourself to find the best deals possible.
Do you have any pro tips when it comes to investing in foreclosure properties? Feel free to share below:
🔒 Your information is secure and never shared. By subscribing, you agree to receive blog updates and relevant offers by email. You can unsubscribe at any time.