FortuneBuilders Mastery Coaching students: it's time to get excited. We are launching the new online platform that was strictly built with you, the student, in mind. The new interface is awesome! From its more streamlined and cutting edge feel to its back-end functionality, the students in the Mastery Coaching program have a lot to be excited about. Here are just a few of the major platform enhancements we have created to enhance the student learning environment:
1. User Tracking – Knowing Where You Left Off
The first and most substantial improvement to the new platform is the ability to track what videos and classes the student has viewed and completed. Coupled with this technology is ability to see where you are in regards to your Core Trainings and the site overall with the visual progress bars. As you view each video, a check mark will appear to indicate you have already viewed the video so you always know where you leave off. When you have viewed all the videos that make up a specific class, that class will then have a check mark next to it indicating completion of that training.
2. User Dashboard – Your Personal Hub to Mastery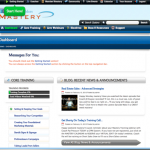 The user dashboard within the mastery site is specific for each user in Mastery. It includes all of your core class trainings (marked finished or not finished), you progress bars, and all the other news you need to know to stay connected to the mastery coaches and faculty. The Blog and Announcements section will allow you to view the latest details about upcoming events and webinars, student successes, and anything related to real estate that Mastery students will find useful.
Miss a live webinar? No problem. You can always access the latest webinar replays right from your dashboard.
Want to view content in FortuneBuilders University or Set up a 1-on-1 coaching appointment? The new Mastery platform makes that an easy task. Click 1 link and you are there.
3. Live Webinars – Staying on Top of the Latest Real Estate News


We created a specific live webinars section on the new platform to make sure that you can:
Easily sign up for upcoming webinars (with the click of 1 button)
View specific replays, whether they are the Weekly Question & Answer, Bi Weekly Advanced Trainings, or the weekly Business Building calls…all these replays are just a click away.
Looking for a specific topic that was discussed on a live webinar? Check out the keyword based topic finder. By clicking on the desired topic, automatically, you will see all the webinars that contained that keyword in the discussion.
Of course, we save every webinar done in the Mastery Coaching program. With that comes that Mastery Webinar Archive Library, broken down by month and year.
4. Downloadable Formats
Everyone in the real estate industry is "on the go". So we made it easy for you to take the Mastery Trainings with you. We have each training in 3 downloadable formats: A desktop version video, a mobile version video, and an audio only version. With just a click of a link, download entire trainings right to your local computer.
The new Mastery Coaching site has so much more to offer our students. As always, the expert knowledge and special attention from our real estate coaches is what makes the Mastery program the leading coaching product in the industry. As the project manager for the new Mastery Coaching site development, the goal was to make your experience, as the user, easier to access that real estate expertise that is pumped into the site on a constant basis and to make sure that you stay on track with your real estate learning progress to ensure your success in your business ventures.
Not a Mastery Coaching Student and Want To Learn More?
Go to this page and fill out the Mastery Coaching Program Application: FortuneBuilders Mastery
Not everyone is accepted into the Mastery program. It's a small group (less than 1% of our customers) of our most motivated students that are looking for financial freedom and time ownership through real estate.