In recent years, the phrase "going green" has become as common as "They've got an app for that."
You're probably thinking, "How does this relate to me as a real estate investor? How can becoming a green real estate investor help me?" Well, if you want to sell your properties faster, for a higher price, all while reducing your expenses (through rebates and incentives), green building most definitely relates to you as a real estate investor.
The American people have spoken and they are demanding eco friendly homes. Whether homeowners want to reduce their energy bill, improve their carbon footprint, or simply do their part in creating a more sustainable world, the appetite for green homes is skyrocketing. In fact, eco-friendly home sales increased drastically from 2005 to 2013 (2 to 23 percent) and are now at an all-time high of 32 percent according to Builder Magazine.
So if you want to keep your investing business relevant among ever-growing competition, follow these steps to become a green real estate investor in seven days.
Sustainability For The Win: How To Become A Green Real Estate Investor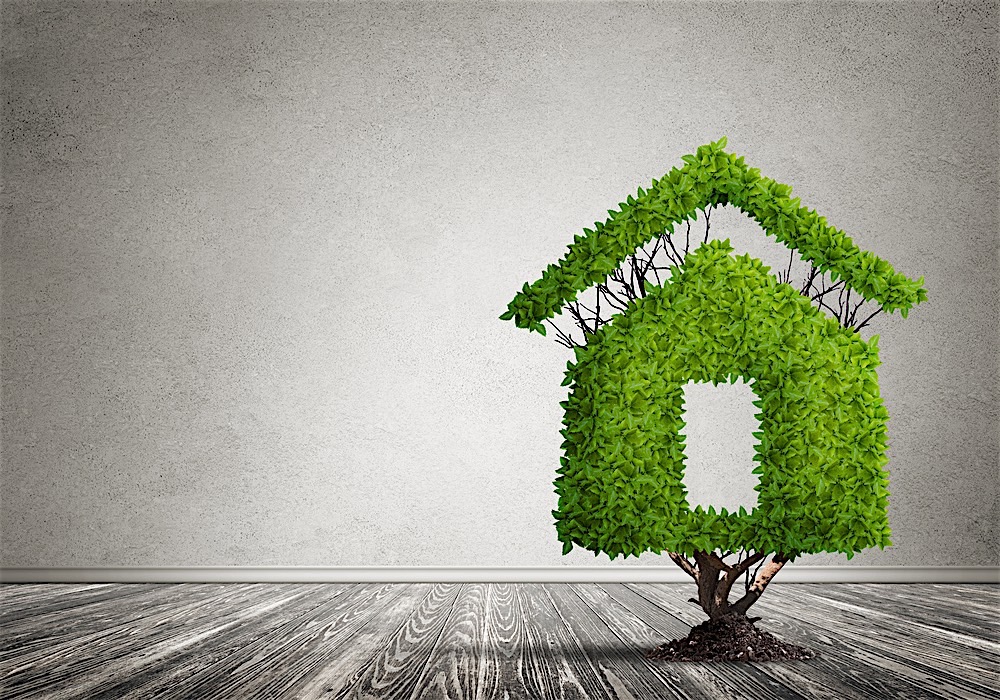 Residential homes account for a substantial portion of our global energy use. If your investing business has a role in reducing this energy consumption, clients will thank you with free word-of-mouth marketing and bigger profit checks.
Sound nice? I thought so.
Fortunately, taking your business in an eco-friendly direction so that you can become a green real estate investor is not as hard as it sounds. You don't have to commit to selling smart homes exclusively or relying solely on solar water heaters and ENERGY STAR appliances. You just have to start small and follow our week-long guide:
Monday: Start Small
Don't expect to do a "180" on your business in a few days. Not only will this leave you feeling incompetent and overwhelmed, it will also negatively affect your business. So instead of giving your next property a head-to-toe "greenhab", take baby steps and "greenify" one or two projects at a time. Start by using No-VOC (volatile organic compounds) paint or installing energy efficient windows. These upgrades are easy enough for any contractor to undertake and will also not break the bank. Buyers will notice these simple improvements and will thus perceive you as trustworthy and "green."
Tuesday: Do Your Research
Minding your due diligence is arguably the most important duty to carry out before tackling a new real estate venture. Whether you're closing your first wholesale, selling your first rehab, renting out your first buy and hold, or purchasing your first green home, performing the necessary research will keep you from failing before getting started. Start by analyzing other green investors in your local market. What sustainable products do they use? Do they favor recycled steel over plant-based polyurethane rigid foam (a natural foam used as insulation, wind turbine blades, and more) or is solar powering their number one priority? Once you've assessed the competition, move on to homeowner preferences. Which energy efficient appliances offer the biggest bang for their buck? Are tankless water heaters or "cool" roofing materials more appealing to buyers? Attend a local REI meeting to consult with other green real estate investors about their best practices. The more you inform yourself, the more you will be able to inform (and therefore impress) potential buyers.
Wednesday: Target Your Audience (Healthy Living Is In!)
Once you commit to becoming a green real estate investor, you're likely going to see a shift in your target audience. Eco-friendly features will attract a specific kind of buyer. For this reason, you must learn more about your archetype client. Because green homes typically sell for a higher price, you're going to have to "wow" your new target audience with additional benefits. More often than not, "green" clients are also relatively health-conscious. So in addition to pointing out the high-quality, double-insulated windows and smart refrigerator, also remember to talk about how the hypo-allergenic flooring and extensive home sealing will significantly improve the property's air quality and thus the homeowner's respiratory health. Transforming into a green real estate investor is more than simply utilizing sustainable materials, it is also about establishing a genuine relationship with a new set of clients.
Thursday: Get Your Team On Board
Perhaps you've decided that sustainability is the way of the future and that you have no other choice but to convert your business green. As wonderful as that sounds, you must ensure that the rest of your team is on board. Is your business partner ready to take on additional expenses? Do you have the funds to take your marketing strategies in a new direction? Do your contractors know how to work with and where to find sustainable materials? Does your legal team know how to get the best rebates and tax deductions that are available to green real estate investors? These important questions must be answered before transitioning to a green business lifestyle.
Friday: Know The Numbers
As great as it would be to "greenhab" every property you own, you still must make all judgement calls based on the numbers over intuition. Sustainable materials, energy efficient appliances and solar energy are always environmentally beneficial, but may not always benefit your business' bottom line; after all, you are still running a business. One property might benefit more from No-VOC paint while another might benefit more from installing "low-e" windows. Just be sure to analyze each new deal under its own set of criteria and always remember that the calculator is your best friend.
Saturday: "Greenify" Your Marketing
By now you've probably noticed that marketing plays a substantial role in the green real estate industry. Marketing a green home will be far different from marketing a traditional home because a green home's sustainable features will be its key selling point. If you want prospective clients to buy into your green real estate investor front, you've got to put your money where your mouth is (walk the walk and talk the talk, if you will). This means no false (or exaggerated) claims about a product or material's energy efficiency. You want to establish a trusting foundation for new green clients to stand on. So learn the buzzwords, print your business cards on recycled paper, and watch your next green property fly off the market.
Sunday: Ramp Up Your Green SEO Efforts
You are nearly a certifiable green real estate investor. You've done the research, run the numbers, tweaked your marketing and brought your team on board; now it's time to dominate the internet. If you're unfamiliar with the term SEO (search engine optimization) think of it as a tool that helps get your business recognized by Google and other search engines. Utilizing green real estate SEO will help to increase your real estate website's visibility in a search engine's organic – or unpaid – search results. This means that if you optimize your website properly, you will have an increase in prospective clients viewing your site. Because more than 60 percent of homebuyers begin their search for a new home online, building your online reputation will help get the word out about your business. So start a blog, stay active on social media, include green real estate keywords to your business' homepage and commit to learning more about ways to improve your SEO.
Becoming a green real estate investor won't be as hard as it seems as long as you stay focused, perseverant, and follow our seven-step guide.