Home improvement projects for summer can run the gamut from minimalist and simplistic to elaborate and expensive. I, however, prefer to take the middle ground when I can. Or at least implement those home improvement projects for summer that will result in the most "bang for my buck." And, as it turns out, I have three great backyard home improvement projects for summer guaranteed to make your house the envy of all your friends.
Home Improvement Projects For Summer
I strongly believe that the best home improvement projects for summer are better left to the outdoors. Not only does the weather promote more outdoor activities, but homeowners are a lot more inclined to spend quality time in the comforts of their own backyard. And why wouldn't they when it's not that hard to turn your own backyard into your own personal oasis? Here are three simple home improvement projects for summer that will have your backyard looking the way it deserves: like your own piece of heaven.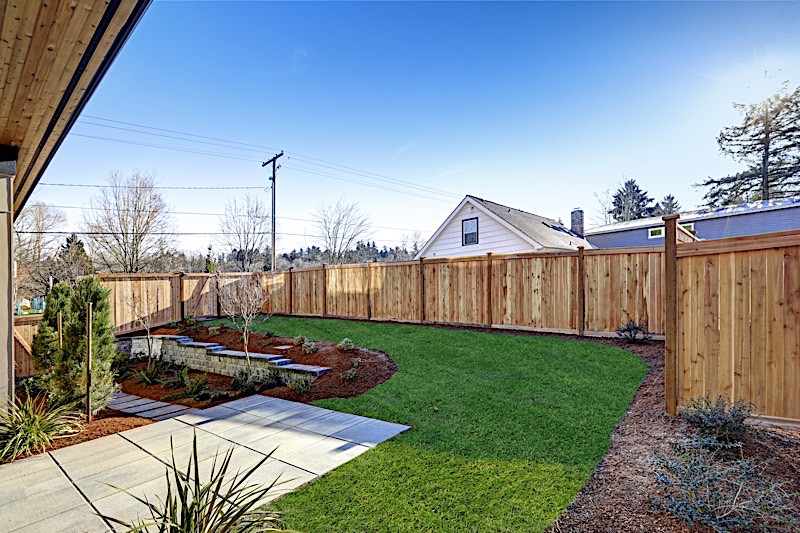 1. Sustainability Is The Name Of The Game
There is no doubt about it: water usage is becoming a concern all across the country. And whether you are trying to sell your house or are simply trying to make it more efficient, any backyard home improvement projects for summer that emphasize water sustainability are a no-brainer.
Unless you have been living under a rock, there is a good chance you have already realized it: utility bills are increasing by the year, and water is no exception. Data examined by Renovo Water suggests "the average American is spending, on the low end, $50 per month just on their house water bill." And that's on the low end; your own home could be upwards of three times that much — not a small bill, to say the least.
According to the Department of Public Health (DPH), the average American "uses over 100 gallons of water per day; the average residence uses over 100,000 gallons during a year." If that wasn't enough, more than half of that water is dedicated to things outside of the home. On average, "50-70% of household water is used outdoors," reaffirmed the DPH.
If you are interested in taking on some backyard home improvement projects for summer, few will be more valuable than replacing your current plants and lawn with those of a more sustainable variety. Instead of catering to an ecosystem that requires a great deal of water to keep alive, try replacing it with native alternatives that can survive in the local climate without too much attention. That way, you can maintain a picturesque backyard space without consuming too much water. If you want to take it a step further, consider replacing the grass you currently have with turf.
While it may coincide with a big upfront cost — upwards of $20 per square foot — it's essentially free for the next 15 to 20 years, and it doesn't add to our current water usage dilemma. What's more, it can cost upwards of $840 a year to properly maintain natural sod. So if you don't mind the idea of artificial turf, the math really sides against natural sod.
2. Bring The Indoors Out
Home improvement projects for summer don't end in the backyard; they can very easily extend into the house. Conversely, it's entirely possible to bring the indoors out and turn your patio into an extension of your interior. In fact, I maintain that turning your patio into a transitional, indoor/outdoor living space is one of the best home improvement projects for summer.
Provided the budget permits, you must eliminate any overwhelmingly noticeable partitions. And yes, that includes the actual wall separating the interior from the exterior. But don't worry, the next step is to replace the gaping hole in the side of your home with "collapsible" doors that don windows from ceiling to floor. That way, the living space will feel open whether or not the doors are ajar. Otherwise known as folding doors, these modern marvels essentially create a weather tight doorway that extends far beyond the length of the average threshold when closed, but open up your entire living space to the outdoors when, well, open. These unique doors help to merge spaces for a greater indoor outdoor experience.
It's worth noting, however, that the doors aren't enough. To make it a true home improvement project for summer, you must attempt to make the outdoor area feel like an extension of the home by bringing the property's interior design elements to said outdoor area. You should now see your patio as an extension of your interior, and implement similar design aspects. Be sure to account for exposure to weather, as everything on the exterior side will be susceptible to local conditions, but that shouldn't stop you from bringing the indoors out. Try selecting weather proof furniture that resembles what you already have inside and don't hesitate to add some "host" elements. Perhaps a fire pit or a bar; anything that will make people want to get outside on a nice summer day or night.
3. Don't Skimp On The Lighting
With summer just around the corner, it's safe to assume homeowners across the country are gearing up to spend more time outside. In fact, as the temperature rises, you had better believe backyards will start to get a lot more use. It's worth noting, however, that those backyards equipped to host both day and night "get-togethers" will see the most use. And what is a great backyard, if not for the perfect place for friends and family to gather?
With that in mind, now is the perfect time to make sure your backyard party can make the transition from day to night. And the simplest way to do so is to implement a number of light features — no, one is not enough. I maintain that no list of the best home improvement projects for summer is complete without properly lighting the backyard.
First and foremost, make sure the overhead lighting is adequate. Sconces attached to the home, hanging lamps, and any other form of overhead lighting should be prominent and on display; make sure it matches the ambiance you are trying to go for, too.
In addition to overhead lighting, consider the addition of a fire pit. As I already hinted at before, an appropriate fire pit can really make people want to move their party outside, but it's also worth noting that the light and heat it can give off will keep them there. If for nothing else, fire pits have a way of creating an ambiance that makes people want to gather together. Why not try it out for yourself?
And finally — last, but not least — you have the accent lighting. As its name suggests, accent lighting accents any number of outdoor features. I personally like to accent walkways with rope lightning, or even the tops of patio coverings with white Christmas lights. You would be surprised at how well the right accent lighting can make a backyard pop, and for minimal expense, too.
Home improvement projects for summer can turn even the most mundane landscapes into a desirable, functional living space. It's up to you, however, to make sure it not only gets done, but gets done right. If you can implement these three simple projects, there is no reason your backyard shouldn't be the envy of all your neighbors.