A severely depleted inventory within the housing sector has facilitated a myriad of market conditions on a national level. At the beginning of this year, a distinct lack of available housing made it increasingly difficult for anyone actively participating in the housing market to acquire a property. More importantly, those houses that managed to make it to the market were viewed as a rare commodity. Everyone, from investors to prospective first-time owners, was competing over the little that was made available.
Bereft of supply, the housing market was the beneficiary of bidding wars on a national level. Respective properties began to receive more attention and higher offers than originally anticipated.
However, the inventory problem that has plagued several regions across the country appears to be easing. Signs of improvement have been witnessed in cities from L.A. to Orlando. While the number of homes listed for sale nationwide fell slightly in September, many markets also saw an increase in inventory levels as rising home prices gave sellers more incentives to list.
Following the first three quarters of 2013, inventory levels are now the highest they have been in a year. Nine of the top 30 metros saw year-over-year increases in their inventory levels. Some housing markets that experienced the largest drops in homes for sale in the past year are starting to see an increase. The following illustrates the metros that have experienced the largest increases in year-over-year inventory, as well as those that remain below year ago levels: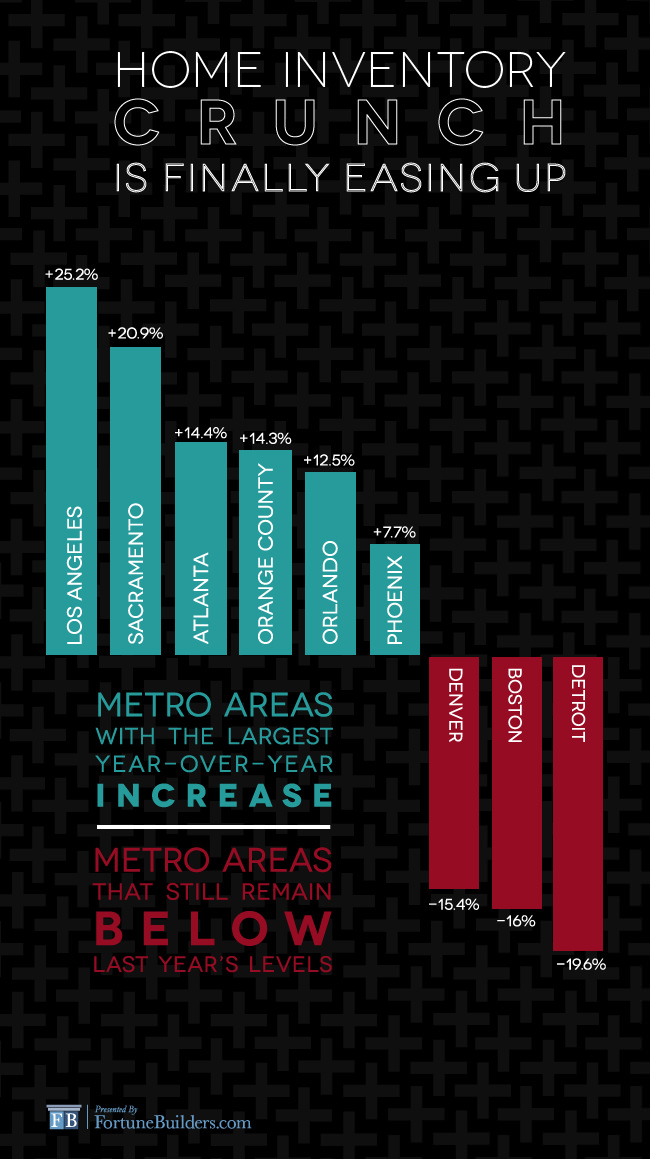 🔒 Your information is secure and never shared. By subscribing, you agree to receive blog updates and relevant offers by email. You can unsubscribe at any time.