With larger screens, increased resolution, and higher processing speeds, smartphone capabilities are greater than ever before. They are increasingly taking precedence over other gadgets, such as laptops and tablets. If you're a busy go-getter, you likely already use a number of smartphone applications to conduct many of your day-to-day tasks. If you can do most things from your phone these days, why not make some money while you're on it? Here are five ideas on how to make money from your phone so that you don't ever have to sit at a desk if you don't want to:
Buy and sell real estate

Rent out properties

Invest in stocks

Invest in cryptocurrency

Buy and sell NFTs
1. Buy & Sell Real Estate
According to the National Association of Realtors, 76 percent of prospective home buyers use their smartphones to search through listings. This presents a significant market opportunity if you're interested in buying and selling real estate.
The section below discusses the best real estate apps to make money from your phone, followed by an introduction to virtual wholesaling.
The Best Real Estate Apps To Make Money From Your Phone
The rapid increase in smartphone-based real estate activity is largely due to the availability of sophisticated real estate applications. They make it easier than ever to buy and sell real estate on the go, streamlining a process that used to feel daunting and time-consuming.
We reviewed the leading real estate apps and selected our favorites:
Zillow

Zillow is a fan-favorite known for its massive inventory and scope of services. If you're interested in flipping houses, know that the app provides free foreclosure data, making it easier for you to identify undervalued properties.

The app is free for buyers and sellers and features a large community of users involved in over 135 million U.S. listings. The app can also be used to unlock select homes that you can tour without scheduling an appointment.

Xome

Another great place to find below-market value properties is Xome, an app dedicated to auction homes. Users can find detailed information on properties, including neighborhood statistics. Push notifications let you know when another user submits a competitive bid, helping you stay on top of your game. Last but not least, Xome provides a convenient e-signing capability for contracts.

Redfin

Redfin is a real estate brokerage that created an app, allowing them to grow on a national scale. Users love Redfin because you can easily connect with a real Redfin agent throughout your buying or selling process.

The app is touted for its cutting-edge technology while maintaining a human element. If you value customer service over anything else, this may be the app for you.

Trulia

Trulia is touted as the best app for accurate home values. This is because it takes into account more data points than any other app on the market. Users also love that you can draw your finger on the map to customize searches. Listings provide detailed information about the neighborhood, including schools and shopping. This is helpful for real estate professionals who are estimating how their investment may grow in value over time.

Realtor

Affiliated with the National Association of Realtors, the Realtor.com app is known as a favorite if you own rental properties. This is because Realtors can update their listings every day for free. As a landlord, this means that your agent can provide the most up-to-date information, helping attract qualified tenants quickly.
Virtual Wholesaling
Buying and selling real estate admittedly requires some capital to get started. If you do not have the money right now, don't worry. Wholesaling real estate is a great option that allows you to start your real estate investing career without using your own funds. Further, technology has allowed transactions to take place remotely.
To wholesale real estate, you would search for distressed properties that are being sold under market value. Typically, the owner is experiencing financial trouble and is facing foreclosure. Once you find a motivated seller, you would put the property under contract and then reassign it to an end buyer for a higher price. You would make roughly 5 to 10 percent of the property value.
Although wholesaling can be hard work that requires a lot of research, it's a known way to get into real estate that doesn't require capital.
This work can be done from anywhere, including from your phone. Platforms such as DocuSign enable investors to sign contracts electronically.

---
[ Thinking about investing in real estate?
Register to attend a FREE online real estate class
and learn how to get started investing in real estate. ]
---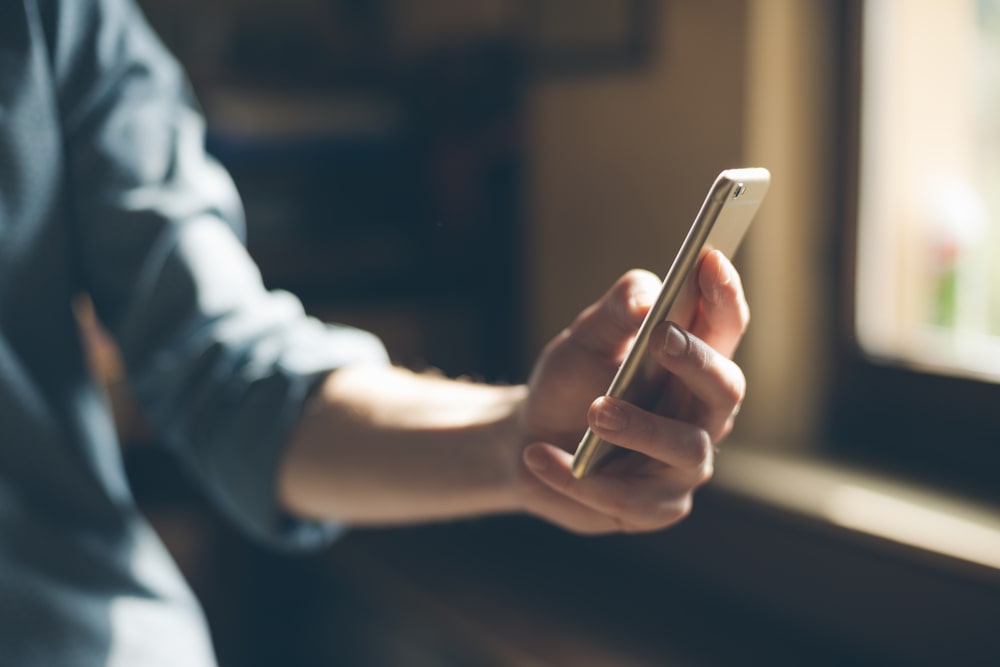 2. Rent Out Your Properties
Have a spare bedroom in your house? Own a vacation property?
You can list, manage, and rent out your properties directly from your phone. The vacation rental market is dominated by two apps in particular: Airbnb and VRBO.
Keep reading to find out which of the two apps might be a better fit for your rental business.
Make Money From Your Phone With AirBnb
Airbnb is the world's leading rental property service. With over 6 million property listings in over 220 countries across the globe, it is the most popular when it comes to booking a rental for your upcoming vacation or business trip.
Users can find a wide variety of offerings to fit their budget, style, and purpose of travel. Airbnb is also known for providing quirky and unique listings ranging from igloos to treehouses. This means that you're sure to get some good business no matter what your room or rental might look like.
Make Money From Your Phone With Vrbo
If you own an upper-scale vacation property, consider listing it on VRBO. Host to over 2 million rentals, it tends to cater to families, vacationers, and large groups. If you only have a room or shared space to rent, you will not be able to list on this app.
3. Invest In The Stock Market
Before the advent of beginner-friendly investment apps, investing in the stock market presented several obstacles. It required extensive research and management, even for seasoned investors, and the resulting time constraint posed a barrier-to-entry.
Luckily, apps have made stock investing accessible to everyone. You can be sure to find an app that is made with you in mind, no matter your investing niche or skill level. Make money on your phone by using one of the investment apps we recommend below.
Make Money On Your Phone With Investment Apps
The best investment apps make stock investing more accessible to users. They typically offer a user-friendly interface, plus plenty of advice on mitigating risk.
When you first sign up, these apps often provide a quick survey to assess your investment goals. From there, they introduce investing options that fit your profile. Of course, you can select your own investments as well. Ongoing educational information, articles, and resources are a plus.
Acorns

Acorns is a beginner-friendly app that allows you to automate your investments. You can set savings and investment goals, enroll to automatically add funds on a recurring basis, and watch your savings grow. The app offers an automatic round-up feature for purchases.

Stash

Stash is an excellent choice for beginners who are eager to educate themselves on stock investing. The app offers content and games to make their financial education easy and fun. Use its visualization tools to customize your goals and track your progress.

Ally

Are you interested in trading stocks, bonds, mutual funds, and ETFs? Ally is a great place to start. There is no minimum investment, and you don't have to download any additional tools to access its trading platform. You also won't have to pay any fees on eligible stocks and options trades.

Invstr

If you like to play games, check out Invstr. It's known as one of the best beginner-friendly stock investing apps that have gamified the entire experience. Users can play with $1 million in fake cash to learn how to trade stocks and manage a portfolio. If you play successfully, you could earn real cash prizes. This is a safe environment to test your pilot wings before entering the real world.

Robinhood

Robinhood is loved by beginner and experienced investors alike. It first gained traction as one of the first apps to offer free stock trading, and it maintains its popularity by allowing users to trade cryptocurrency for free. As a user, you will never have to pay a minimum account balance, inactivity fees, or commissions.


4. Invest In Cryptocurrency

The concept of cryptocurrency can be confusing, but investing patterns for the past decade tell us that it's a trend that is here to stay. It's a digital asset that is held and distributed online, and is secured by a technology called blockchain. It can be traded much like stocks and bonds but is decentralized, meaning that no government entity watches over this currency. Some claim that it will be the currency of the future. We go over how to invest in cryptocurrency here.

Cryptocurrency Apps To Make Money On Your Phone

If you're interested in investing in cryptocurrency but don't know where to begin, you're in luck. Here, we've compiled a list of the best cryptocurrency apps that you can download onto your smartphone. These apps are exchanges that facilitate cryptocurrency trading, and they are user-friendly, allowing beginners to dive in.
5. Buy & Sell NFTs
Last but not least, consider buying and selling NFTs from your phone to earn money. NFT stands for "non-fungible token," and it is blockchain technology's latest prodigy. An NFT is a digital asset that is one-of-a-kind and cannot be exchanged for another asset of equal value. Video games, a tweet, a meme or even a GIF can be represented by an NFT.
Digital creations can be reproduced and shared, but NFTs designate a digital creation as "original." The value of these assets is highly subjective. Similar to cryptocurrency, you can buy and sell NFTs on an NFT marketplace such as Open Sea and Rarible.
If you choose to buy or sell NFTs, it's recommended that you stay on top of the latest research and news. This is a new type of investment, and the rules and regulations around it are still developing. We provide an in-depth guide on how to invest in and sell NFTs here.
Summary
If you were wondering how to make money from your phone, you should now have no shortage of ideas. If you don't have much capital or property, wholesaling real estate and investing in stocks are great places to start. As you begin to amass some wealth, you could consider buying real estate and work toward the goal of running a rental property business. Finally, if you're feeling adventurous, why not dabble in some cryptocurrency and NFT investing? Remember, risk is always involved regardless of the type of investing you choose. However, you can mitigate that risk by educating yourself, conducting research, and choosing wisely.
---
Ready to start taking advantage of the current opportunities in the real estate market?
Click the banner below to take a 90-minute online training class and get started learning how to invest in today's real estate market!