Have you ever wondered how to sell a house fast?
When it comes to "how to sell a house fast", there are a variety of home selling strategies investors utilize to get the job done. Use our infographic to pick your favorite.
Every exit strategy requires the acquisition of a home, or contract, that can later be sold for an additional profit. While the nature of a deal is relatively complex, it can be broken down into three rudimentary phases: acquisition, fabrication and the sale. Unfortunately, those new to the real estate industry focus the majority of their attention on the acquisition and fabrication aspects; that is to say the purchase and rehab portions of a deal. However, your home selling strategy, whether it is traditional or a bit unorthodox, is equally – if not more – important.  After all, payday is not realized until the transaction is closed.
Here Is How To Sell A House Fast
The process of selling a house is complex and time consuming. Done correctly, and the prospective seller may incur profits that were higher than anticipated. However, done incorrectly, a seller will ultimately lose profits. The key to a successful real estate transaction involves selling a home as fast as possible. This helps to avoid any unwarranted fees and holding costs.
It is never easy to relinquish control of a subject property, particularly when it's your personal residence and money. But if the goal is to sell, and to sell fast, then you better be prepared to take even the most counter intuitive steps – like undercutting the price.
When you choose to sell will also have an affect on how fast you sell.  Real estate selling season typically occurs in months March through June.  Investors tend to flourish in spring because of the increase in prices due to repressed buyer demand.
There are several strategies that must be taken into consideration if you wish to sell your home as fast as possible. Regardless if they seem trivial, knowing them will ultimately bring you closer to your profit goal. The following info-graphic illustrates five tips that will enable you to sell your home faster: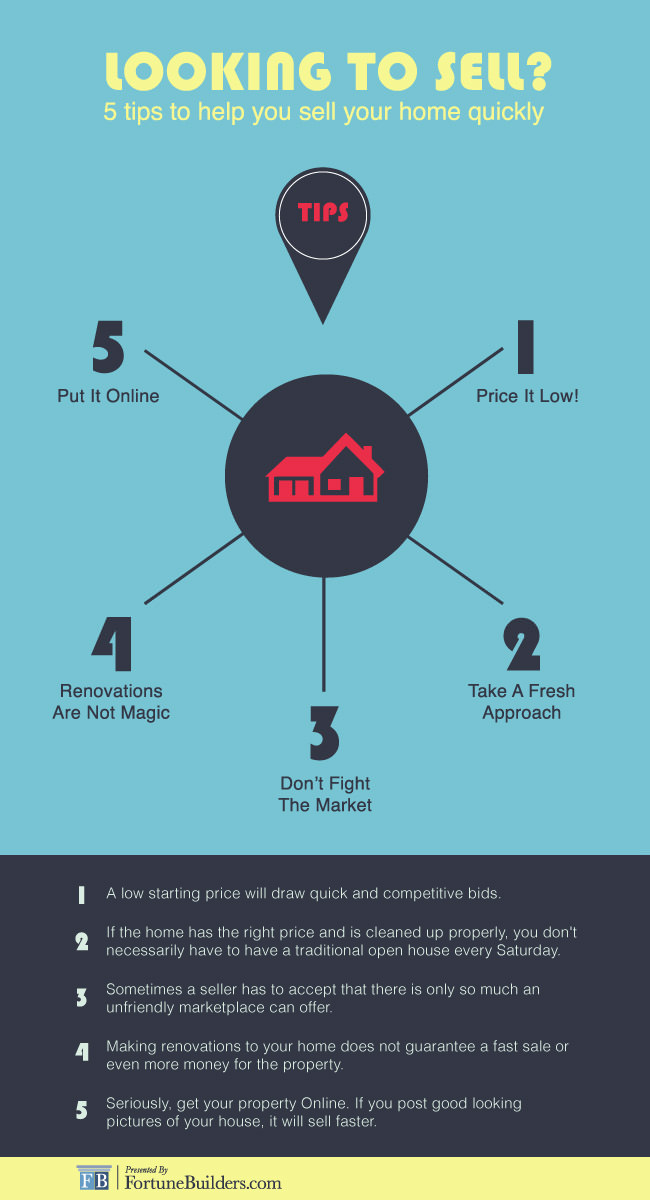 Do you have any tips on how to sell a house fast? Share your stories below: