Key Takeaways
The Huntsville real estate market is expected to experience an influx in its population, which should simultaneously increase local demand and home values.
Real estate in Huntsville looks as if it'll become a hot commodity sooner rather than later.
Huntsville real estate investors should appreciate the uptick in demand brought on by thousands of new job opportunities in the area.
---
Known primarily as the home of the U.S. Space & Rocket Center, the Huntsville real estate market has something new and exciting to brag about: Mazda Toyota Manufacturing, U.S.A., Inc. has broken ground on a high-tech plant in the area. Not only will the new manufacturing plant help Alabama remain one of the country's top five auto-producing states, but Huntsville is now positioned to be the recipient of approximately 4,000 new jobs. More importantly, however, the new plant appears as if it will serve as the catalyst for an influx of real estate demand in the area. Already the second fastest growing city in Alabama, Huntsville's expected surge in population should buoy an already healthy real estate market, and help it thrive for the foreseeable future.
Huntsville Real Estate Market Overview
Median Home Value: $149,300
1-Year Appreciation Rate: 9.6%
Number Of Foreclosures:146
Homes Sold: 612
Inventory:1,598
Average Days On Market: 50
---
[ Thinking about investing in real estate?
Register to attend a FREE online real estate class
and learn how to get started investing in real estate. ]
---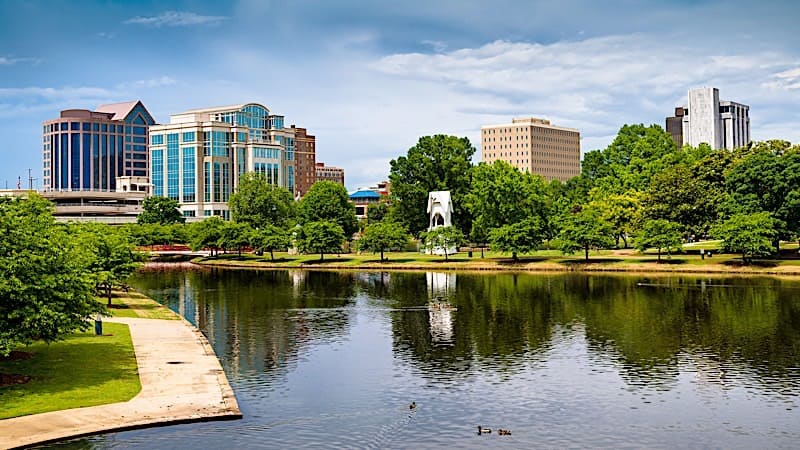 Median Home Price Huntsville
The Huntsville real estate market was the beneficiary of an appreciation rate that outpaced the national average. In just over one year's time (October 2017 to November 018), the median home value in Huntsville jumped 9.6%, whereas the national value increased a more modest 7.7%. Following the nearly double digit appreciation rate, the median home value in Huntsville is now $149,300, according to Zillow. That said, real estate in Huntsville looks like it will continue its current upwards trajectory, as the city has already announced several major projects expected to bring thousands of jobs to the area; among them is a high-tech automotive manufacturing plant. Mazda Toyota Manufacturing, U.S.A., Inc. has already broken ground on a new facility that should be responsible for adding approximately 4,000 jobs. As a result, the demand for housing should drive up both the price of buying and renting.
Huntsville Foreclosure Statistics
According to the latest information released by RealtyTrac, a leading real estate information company and an online marketplace for foreclosed and defaulted properties in the United States, the Huntsville real estate market has approximately 146 distressed properties. The properties identified by RealtyTrac fall into one of three distinct categories: default, auction or bank owned. That said, the majority of distressed properties in the Huntsville real estate market are either up for auction, or are going to be at some point in the near future. As recently as November, 61.9% of the homes identified by RealtyTrac to be in some state of distress are going to be auctioned off by the entities that have already repossessed them. It is worth pointing out that savvy Huntsville real estate investors who know where to look could benefit from attending some local auctions.
If you are more interested in seeing what the rest of the distressed market has to offer, it would help if you knew where to look. Fortunately, RealtyTrac has already done the heavy lifting. According to the online marketplace, the following neighborhoods represent the areas in Huntsville with the highest foreclosure rates:
35810: 1 in every 1,436 homes is currently distressed
35811: 1 in every 2,235 homes is currently distressed
35806: 1 in every 2,374 homes is currently distressed
35802: 1 in every 5,522 homes is currently distressed
35803: 1 in every 11,356 homes is currently distressed
Huntsville Real Estate Investing
The Huntsville real estate market is currently benefiting from several important metrics, not the least of which include a population boom, increase in available jobs, high appreciation rate and housing demand. When all is said and done, the state of the local housing market tips heavily in favor of investors, and people are starting to take notice. In fact, real estate in Huntsville is a bit of a commodity at the moment. According to Attom Data Solutions' latest Home Flipping Report, Huntsville is among the cities with the nation's highest flipping rates.
"Among 133 metropolitan statistical areas with at least 50 flips in Q3 2018 and a population of at least 200,000, those with the highest home flipping rate for the quarter were Memphis, Tennessee (10.4 percent); Atlantic City, New Jersey (9.1 percent); Phoenix, Arizona (8.6 percent); Las Vegas, Nevada (7.8 percent) and Huntsville, Alabama (7.5 percent)," said the latest Home Flipping Report.
Huntsville Real Estate Market Summary
Once known primarily for its nationally recognized space program, the Huntsville real estate market is starting to attract major players in subsequent industries, the most recent of which saw Mazda Toyota Manufacturing, U.S.A., Inc. break ground on a new manufacturing plant promising to add somewhere in the neighborhood of 4,000 jobs to the area. As a result, Huntsville is in the midst of a population boom that should support a healthy housing market. Combined with the area's relatively affordable housing and promising future prospects, it shouldn't surprise anyone to learn that Huntsville looks to be a great place to invest in for the foreseeable future.
Have you thought about investing in the Huntsville real estate market? If so, what are you waiting for? We would love to know your thoughts on real estate in Huntsville in the comments below.
*The information contained herein was pulled from third party sites. Although this information was found from sources believed to be reliable, FortuneBuilders Inc. makes no representations, warranties, or guarantees, either express or implied, as to whether the information presented is accurate, reliable, or current. Any reliance on this information is at your own risk. All information presented should be independently verified. FortuneBuilders Inc. assumes no liability for any damages whatsoever, including any direct, indirect, punitive, exemplary, incidental, special, or consequential damages arising out of or in any way connected with your use of the information presented.