Traditionally, physical real estate has been a tangible asset class prized by investors who appreciate the ability to be more "hands-on" with their portfolios. Physical properties give investors a more intimate relationship with their assets and allow a deeper understanding of the investments themselves. It is worth noting, however, that the advent of technology has taken all of the benefits of investing in physical real estate and translated them into online platforms. It is now possible to invest in real estate online while maintaining many of the benefits of tangible assets.
In particular, real estate crowdfunding platforms and real estate investment trusts (REITs) are giving investors a chance to own real estate without owning a physical property. Let's take a look at each and how they encourage investment in real estate online in their own unique ways.
Real Estate Crowdfunding Online
If you want to invest in real estate online without having to own a physical property on your own, you may want to consider a real estate crowdfunding platform. As their names suggest, crowdfunding platforms allow investors to pool their money together to invest in real estate. More specifically, the crowdfunding platform will present investors with an opportunity and allow individuals to contribute their own capital to fund the development or purchase of the asset. When the investment is complete or reaches a predetermined level of maturity, individuals who partook in the crowdfunding of the investment will receive a payout relative to their initial investment. To be clear, participants do not own the property themselves but instead help fund the deal and collect profits upon completion.
---
[ Thinking about investing in real estate?
Register to attend a FREE online real estate class
and learn how to get started investing in real estate. ]
---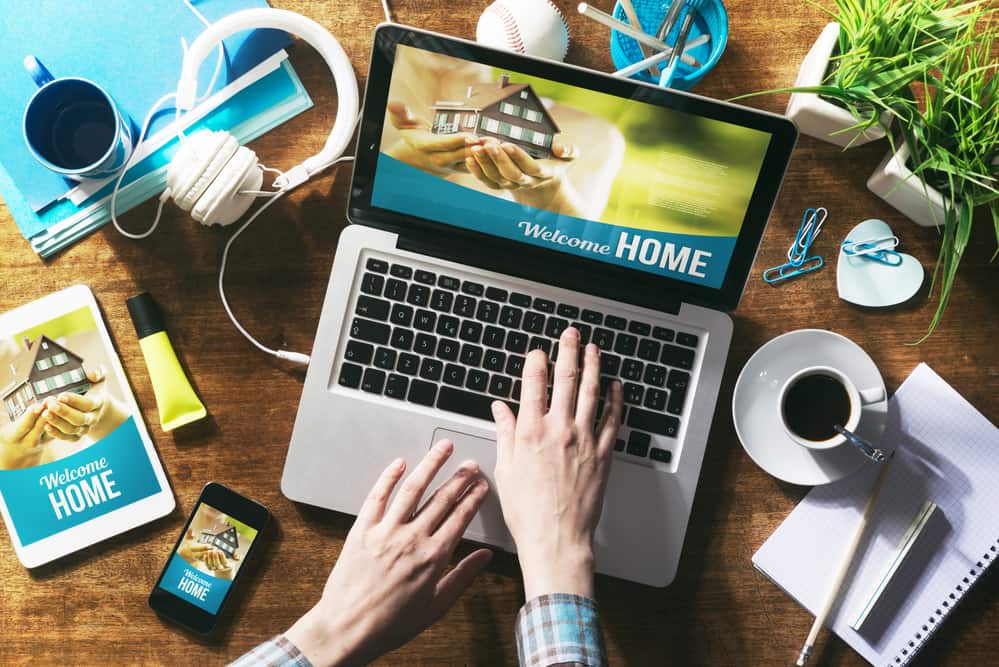 Investing In REITs Online
One of the best ways to invest in real estate online is through real estate investment trusts. Otherwise known as REITs, real estate investment trusts are companies that own, finance, or operate income-producing real estate assets. Simply put, REITs are businesses that make money from physical real estate. That said, many REITs are publicly traded companies that investors can purchase shares of on the stock market. In a roundabout way, REITs allow investors to invest in real estate online without owning a physical property. By adding an REIT to a portfolio of stocks, investors will gain exposure to the real estate sector and the individual industry the REIT serves. Perhaps even more importantly, investors can realize capital gains through appreciation and receive income in the form of dividends.
How To Invest In Real Estate Online & Make Money
Investing in real estate online is not unlike any other investment strategy: there are no guarantees. Due diligence, patience, and a keen eye for quality assets must be exercised to increase one's chances of making money online with real estate investing. Outside of the traditional qualities that make up a good investor, however, there are a few more things online real estate investors need to be aware of if they want to increase their chances of realizing profits:
Prioritize Growth Industries: REIT investors with long-term investing horizons should prioritize growth industries over high-yield dividends. That's not to say high-yield dividends should be avoided, but rather that compounding in growth induces will result in greater returns over decades of investing. For example, oil and gas stocks tend to have high dividends because they produce so much cash, but up-and-coming renewable energy stocks may have a longer runway to grow their dividends over the years. If investors reinvest their dividends into REITs with growing dividends, compounding returns will eventually beat out high-yield dividends.

Transparency Is Invaluable: Investing in real estate online removes the tangible aspect of owning a home. As a result, investors do not have first-hand information to work off of. Instead, online real estate investors who use crowdfunding platforms are at the mercy of the platforms themselves. Without access to the property, investors will need to make sure they prioritize transparency. Most notably, every aspect of the investment must be available to investors. Any attempt to invest in real estate online through a crowdfunding platform must be accompanied by due diligence. Make sure the investment details are ironed out and transparent for everyone involved. Looking at an investment should not result in more questions than answers.

Beware Of Dividend Traps: While it may sound counterintuitive to dividend investors looking to increase income, investors who want to add REITs to their portfolios should not prioritize the highest dividend-yielding companies. On the surface, excessively high dividend yields look like the fastest way to add income to a portfolio. However, dividend yields that are too high are usually unsustainable. There is no universal percentage to suggest a dividend is unsustainable. Still, the more of the company's funds from operations that are spent on dividends, the more sound the balance sheet will need to be. Investors may want to avoid dividend yields that are too high or unsustainable, as they may represent a significant red flag. Instead, investors should prioritize sustainable dividend yields that are easily covered by the stock's funds from operation.
Getting Started in Online Real Estate Investing
Prior to investing in real estate online, investors will need to set a few ground rules for themselves. For starters, no investor should buy assets without having at least some idea of why they are investing. A clear vision of what you hope to accomplish is instrumental in realizing success and even assessing progress.
Let's take a look at some of the most common reasons someone should consider investing in online real estate:
Diversification: Anyone looking to diversify their portfolio should consider investing in real estate online. Crowdfunding platforms and REITs offer investors the ability to invest in almost every industry. From data centers in the tech sector to office REITs and industrial warehouses, investors with a broad exposure to REITs and crowdfunded properties can pick and choose which industries their holdings represent. As a result, online real estate investing is a simple and efficient way to diversify a portfolio with too much concentration.

Minimal Access To Capital: For better or for worse, years of appreciation has made physical real estate expensive. Most people can't afford to buy a property on their own. However, Crowdfunding and REITs allow investors to buy real estate assets without having to purchase a whole property. Instead, investors can pool money with others to buy a home or silly invest in an REIT which owns and operates real estate assets. As a result, investors can invest in real estate with as little as a few dollars.

Hedge Against Inflation: Those who invest in real estate online will quickly find that it can act as a hedge against inflation. As the consumer price index increases and rates inch higher in today's inflationary economy, REITs can pass on costs to consumers by increasing rents. Therefore, when the cost of goods and services increases, REITs tend to outperform the market because of their unique pricing power.
If investing in real estate online will help you realize your goals, proceed to establish a budget for yourself. How much capital you are able to allocate to individual online investments will dictate how you move forward. Accredited investors, for example, with more access to capital, will have a wider range of investments to choose from. It is not uncommon for capital to serve as a barrier to entry, with some crowdfunding platforms requiring a minimum investment. Those with limited funds, however, can invest in REITs for as little as a few dollars.
With a budget and a reason for investing lined up, investors should choose their preferred platform. For REITs, investors can sign up with today's most popular brokerages: TD Ameritrade, Fidelity, E-Trade, Interactive Brokers and a number of others. Once a member, investing in REITs is as simple as depositing funds and buying shares.
Anyone who wants to invest in real estate online through a crowdfunding platform will need to do some research of their own. If you are looking for a good place to start, consider the filling crowdfunding sites:
Summary
Investors who want to gain exposure to the real estate industry without owning a physical property should consider investing in real estate online. Both REITs and crowdfunding platforms allow investors to partake in some of the benefits of owning real estate without the work that has become synonymous with home ownership. Despite the unique advantages offered to those who invest in real estate online, however, it is important to remember that online real estate investing is still investing. Both new and seasoned investors must mind due diligence in order to increase their odds of realizing a profit. That said, investing in real estate online can serve as a great addition to any portfolio.
---
Ready to start taking advantage of the current opportunities in the real estate market?
Click the banner below to take a 90-minute online training class and get started learning how to invest in today's real estate market!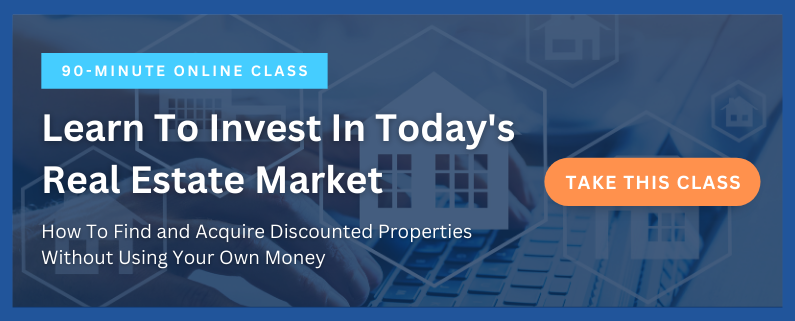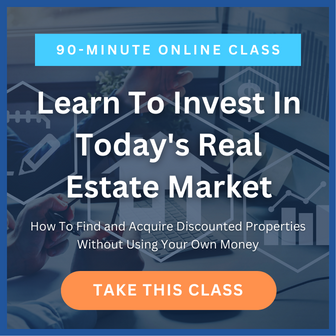 *The information contained herein was pulled from third party sites. Although this information was found from sources believed to be reliable, FortuneBuilders Inc. makes no representations, warranties, or guarantees, either express or implied, as to whether the information presented is accurate, reliable, or current. Any reliance on this information is at your own risk. All information presented should be independently verified. FortuneBuilders Inc. assumes no liability for any damages whatsoever, including any direct, indirect, punitive, exemplary, incidental, special, or consequential damages arising out of or in any way connected with your use of the information presented.