After years of flat performance, the Janesville, Wisconsin real estate market may finally be ready to take off. A quiet city in the southern part of Wisconsin, Janesville felt the impacts of the market collapse like most other areas of the country. A reduction of inventory, increased unemployment and lower home values all hampered the Janesville housing market. In recent years, there are encouraging signs that the market has not only bottomed out, but is slowly on the rise. Average and median sales price numbers are up, coupled with reduced unemployment and a growing local economy. This doesn't appear to be a fading trend, but a positive sign of things to come.
According to Realtor.com, the average sales price in the Janesville housing market is $147,468. This number is below the statewide average for Wisconsin ($185,876) and below the national number $307,364). The local sales price average has been remarkably flat over the last twelve months, with very little movement either way. Over the last twenty-four months, the average sales price figure is up marginally. The average home price in the Janesville housing market, however, is $99,128. This is well below the statewide and national figures; $139,989 and $205,378 respectively. The fact that these numbers are below statewide and national averages should not be a cause for concern. The local market never grew to the heights of others when the market exploded between 2004-2006. Because of this, it did not have as far to drop or as high to climb.
Data provided by Zillow indicates that the median home value in Janesville is up 5.3 percent from the previous year. This figure is in line with the national appreciation rate (5.8%). What is equally as important is that Zillow predicts this rise will continue at clip of 3.2 percent over the next 12 months. While 3 percent is not earth shattering, it is a steady jump from where values were just three years ago. In early 2012, the market fell all the way to a median home value of just over $100,000. Since that time, it is up over 15 percent in a little over 40 months. It also is a sign that the market is growing at a steady, sustainable clip without the aid of artificial influences.
One of the reasons the Janesville real estate market is getting stronger is based on the growth of the local economy. Janesville's economy was hit hard in late 2008, largely in part by the closing of the Janesville GM assembly plant. This plant was the oldest GM plant in North America before it closed its doors. Today's recovery is due to an increase in health care jobs and local business growth. The cost of business and living in the area is well below statewide numbers. The current cost of living is $48,000, which is 7 percent lower than the rest of the state. The local unemployment rate is 5.4 percent, which is higher than the Wisconsin figure of 4.7 percent, and slightly below the national average of 5.5 percent. This local unemployment number is just off the pre-recession lows. With a low cost of business and growing health care and education industries the Janesville economy has finally turned a corner.
Since 2009, the number of new housing permits has been flat. Except for a slight dip in the number of new housing permits in 2011, there has been consistently between 90 and 60 new permits annually. Out of the 270 new permits issued between 2009-2013, all but 22 of them were for single-family properties. This is important to note when evaluating the market; partially due to the lack of multifamily inventory. Rental rates have decreased some 2 percent over the past three months, and buying is currently a preferred option over renting. In the coming months, this will push buyer demand and home prices higher.
According to RealtyTrac, the Janesville housing market has about 493 homes in some state of foreclosure. That means there are more homes in default, up for auction or bank-owned than there are currently for sale (439). That said, foreclosures have certainly lessened. Over the last month, distressed property listings have dropped 27 percent. Ironically, they have dropped the same amount in the last year. Foreclosure trends suggest a pretty even split between pre-foreclosures, auction homes and bank-owned homes, with each hovering around 30 percent of the market share. Of course, Janesville real estate investing should continue to see these homes supply a fair amount of deals. Savvy investors should be able to capitalize on the deals they offer.
The Janesville housing market is headed in the right direction. After suffering through job loss and stagnant job growth, the economy has turned the corner. This has led to decreased unemployment and a reduction in foreclosures. This has increased buyer confidence that has pushed home values and sales price numbers higher. With higher list prices in the area, the market is poised to continue this growth over the rest of the year and beyond. Now is a great time to consider Janesville real estate investing.
Janesville Housing Market Summary:
Current Median Home Price: $99,128
Current Median Sales Price: $147,468
1-Year Appreciation Rate: 5.3%
Unemployment Rate: 5.4%
Population: 63,820
Median Household Income: $47,118
Janesville County Map: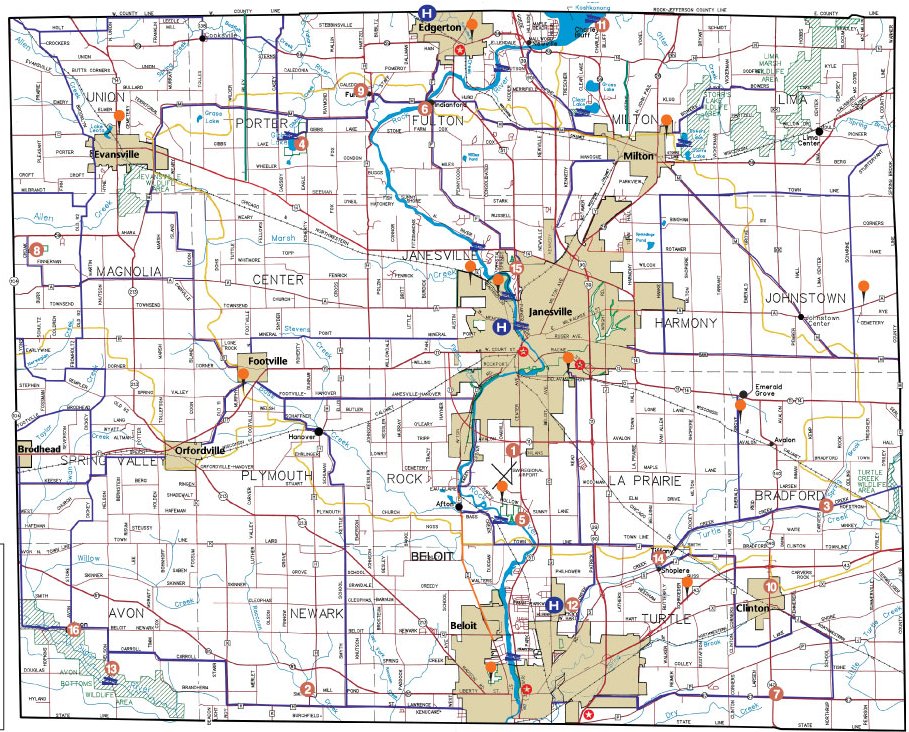 🔒 Your information is secure and never shared. By subscribing, you agree to receive blog updates and relevant offers by email. You can unsubscribe at any time.