The "Crusher of the Month" is a peer-voted award given to team members who excel and inspire others to step out of their zone and perform at a higher level.
What Joe's peers say about how he embodies the CORE values:
""Joe has always been there to support me with any questions or help I needed, for any reason. He's always 100% positive and has Super Ninja skills and experience. Plus he is a fun guy to hang out with"
"Joe displays all of the Core Values at every event"
"Joe goes into every event just looking to make it great for the students. He keeps his team members accountable by sharing their strengths with them as well as areas for improvement and suggestions for how to accomplish it"
"Joe is a great teacher to all advisors"
"Joe is a Leader. He is a team leader who always wants to help other team members. He inspires me to achieve my goals at a higher level"
Joe would like you to know that…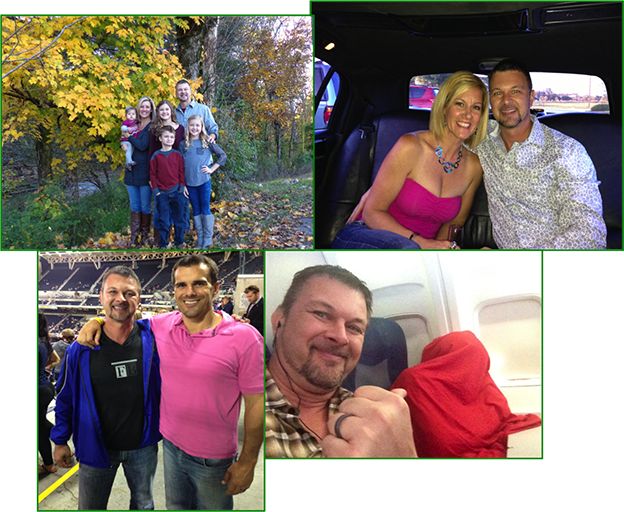 "I'm very humbled and honored to be named Crusher OTM here at FortuneBuilders. Being surrounded by so many talented and successful people is a huge inspiration everyday.
I love being on the travel team here at FortuneBuilders. Traveling around the country, representing this amazing company and thousands of successful students in a high energy, low drag, positive environment is more fun than I've ever imagined. This is like summer camp on steroids.
I've been married to my beautiful wife Stacy for close to 14 years now. We have four children that are the light of our lives. Stacy and I were both school teachers when I began real estate investing. Like any big decision, it was a little nerve-racking, but worth it. We put school teaching in our rear view mirror in 2005 and went full steam ahead as entrepreneurs. Yep, we've had some speed bumps but always managed to stay on course.
My favorite sport hands down is wrestling. I coached the Florida National Team to its first National Title (NHSCA) in 2001 and coached High School team for 11 years (1994-2005) Now after being away from the sport for 10 years, I'm excited to be working with the local high school here in Hendersonville, TN.
Stacy and I have been working on a project called "Champion Of Autism." We have a passion to help other parents of autistic and disabled children. Our 8 year old son Jack is our inspiration for this venture and we are so thrilled to see where this leads us.
I enjoy the country lifestyle. Campfires, home cookin' and outdoors fun, that's how i grew up. I took an 18 year sabbatical from the country life and enjoyed the beaches of Southwest Florida. Loved the sunshine state but didn't want to raise our kids there. Now we enjoy the country livin' of Tennessee.
My "special talent" is reading people, and that's too bad for my daughters future boyfriends.
I started my journey with Fortune Builders in October, 2011. I knew on that weekend that I wanted to be a part of this winning culture. I will say I had no idea how awesome it was going to be. I'm still blown away.
I grew up in the small farm town of Millerton, PA.
BUCKET LIST ITEMS:
See the Northern Lights
Learn to salsa… because it's spicy. 🙂
Take my wife to Fiji
Hang glide
Save a life
I CRUSH it every day by seeing my day through a lens of gratitude, so much to be thankful for. As long as I wake up on this side of the dirt, I'm inspired to make the most of every moment.
One of my favorite quotes:
"May I find myself so busy improving myself that I have no time to criticize others"
Ethics & Integrity * Inspire * Lead * Educate * Crush it