Key Takeaways
What is a landlord walk through checklist?

Sample walk through checklist
---
Surprisingly enough, the challenge of operating a rental property is not limited to finding tenants and filling vacancies. Instead, landlords should be prepared for a number of responsibilities that revolve around keeping a property in good condition.
Luckily, with the right walk through checklist, landlords can monitor all of their units and be proactive about any problem areas. Not only will this make day to day operations run more smoothly, it also will help keep the tenants and property owners happy. Read through the guide below to learn when and how to conduct a rental walk through.
What Is a Landlord Walk Through Checklist?
A landlord walk through checklist is a guide that covers what to look for when surveying a rental unit. It should include information on the rental unit, ask questions regarding the condition of each room and appliance, and lastly, leave space for additional comments. The right checklist can help even the most organized landlords streamline the walk through process and catch all of the details in a rental unit.
Walk throughs are typically done before a tenant moves in and after they move out. In properties with leases longer than about six months, it is not uncommon to complete a walk through once or twice a year. This process ensures landlords are aware of any potential repairs, damage done to the unit, or lease violations on behalf of the tenant. While it is not necessary to frequently check on tenants, an annual or semi annual walk through helps landlords maintain the condition of their properties.
---
[ Thinking about investing in real estate?
Register to attend a FREE online real estate class
and learn how to get started investing in real estate. ]
---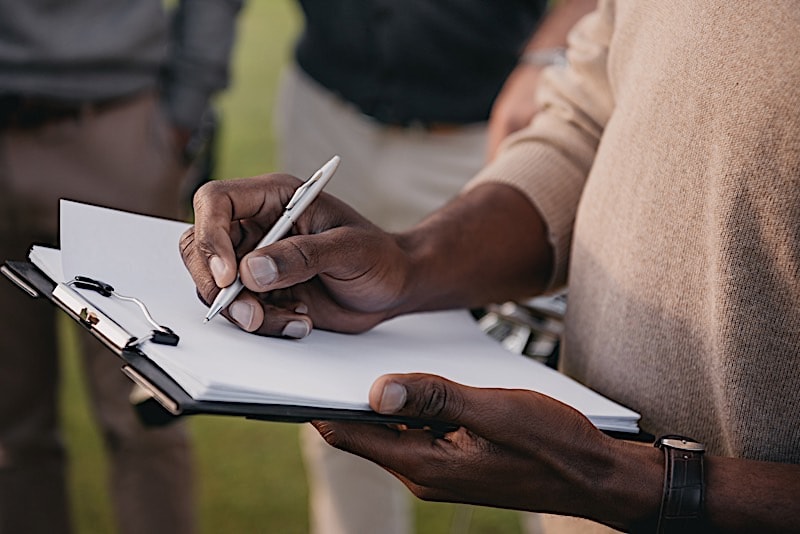 What Should You Include on Your Landlord Walk Through Checklist?
The ideal walk through checklist for rental property owners and landlords should survey the entire unit, without leaving room for any guess work. A thorough checklist is crucial, particularly during move in and move out, because it allows you to note the existing property condition and any changes that have been made during tenancy. Further, a checklist may reveal the potential for upgrades or modifications that should be made to unit. That being said, here are a few items you should include in every walkthrough checklist:
Flooring: As you walk through the property, keep in mind the flooring in each room. Make sure there are no missing tiles, peeled up corners or broken floorboards in the unit. Each of these issues should be repaired right away to prevent further damage to the rental property.
Walls: Many property owners or landlords will repaint rental units between tenants; this not only fixes any scratches made by the last owner but it keeps units looking fresh and clean. Keep tabs on the status of walls before, during and after tenants occupy your property to make sure you know the right frequency to paint.
Smoke Detectors: No rental checklist for walk through is complete without checking the smoke and carbon monoxide detectors. Look for them placed throughout the unit, and test the alarms to ensure they are working.
Heating & Air Systems: This is the first thing you are likely to get a maintenance request for, if they aren't in good condition that is. Review the heating and air units throughout the rental property and make sure they work as they should. Double check with a professional if you are unsure about anything.
Entry Way: Are there stairs leading up to the unit? What about a long path? Depending on the layout of your rental property, it could require certain safety features. Double check that all stairs have properly installed railings, and that all paths or outdoor areas are well lit when needed. This helps make sure your property is accessible to all tenants, and it's a good chance to double check the curb appeal as well.
Kitchen Appliances: Always check the stove, oven, dishwasher, refrigerator and other appliances when doing a walkthrough. Make sure all appliances are working as they should, and be sure to check any vents and lights. It is crucial to catch and potential issues before they develop into more costly problems.
Doors & Locks: Some landlords will change out the locks between tenants, while others will only distribute "do not duplicate" keys to ensure they are given everything back. No matter which route you choose, double check all doors and locks with your tenants to see if everything is working as it should.
Light Fixtures: Turn all of the lights on and off as you walk through the unit to determine if each fixture is working as it should. While you may not be responsible for changing old bulbs while a tenant occupies the unit, it is a good touch to make sure each light is fresh when completing a move in walk through.
[Do you know what it takes to be a successful landlord? Check out this infographic to see if you measure up.]
Example Landlord Walk Through Checklist
It is a good idea to add a renter walk through checklist to your files, that way you have one available whenever you need it. By creating a system for the process, you can make sure property maintenance and tenant issues are handled efficiently and consistently.
Keep each completed checklist organized with the rest of your tenant paperwork, especially when it comes to move in walk throughs. This will help you cross reference old notes, should any issues arise with the property.
If you are preparing for your next walk through, download our checklist today: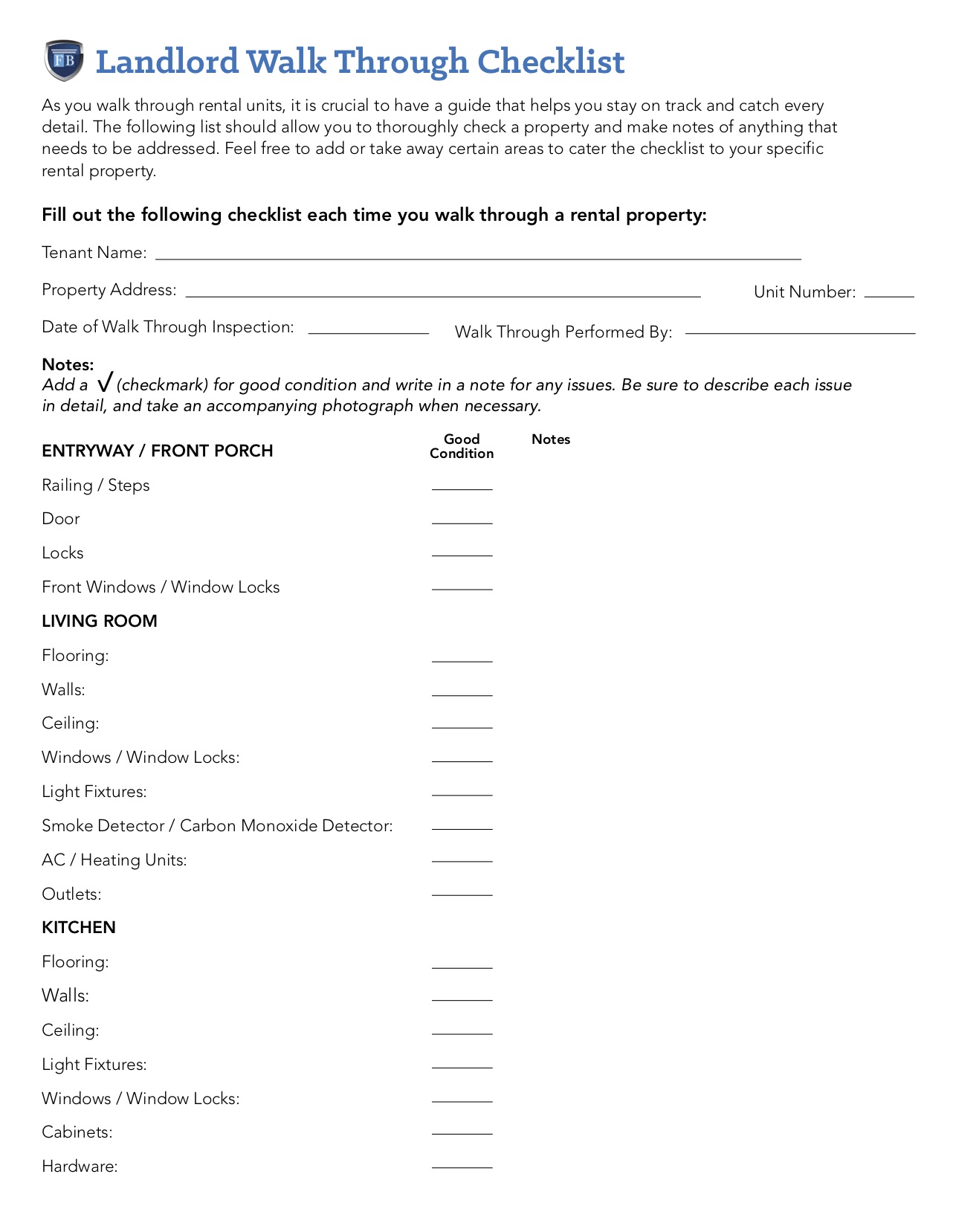 Summary
Landlords have a number of responsibilities: from marketing properties and finding tenants to maintaining units and keeping everything in good condition. Fortunately, there are a few tools out there that can help landlords boost overall efficiency without sacrificing their effectiveness. For example, the right walk through checklist will streamline a critical part of property maintenance. Thorough walk throughs can help you catch problems before they develop. Set yourself up for success and try utilizing the above walk through checklist for renters today.
Do you rely on a rental house walk through checklist for your properties? Share what works best for you in the comments below.