The "Crusher of the Month" is a peer-voted award given to team members who excel and inspire others to step out of their zone and perform at a higher level.
What Lauren's peers say about how she embodies the CORE values:
"I believe that Lauren has really demonstrated the core value of Inspire in the last quarter, dominating the company Health Challenges and inspiring those around her to do the same.
Working with our highest paying customers, Lauren always has a smile on her face and she's amazing with our students. She's willing to take on new duties as the team's needs have evolved and has made a big difference on the team. Thanks for your service, Lauren!"
"Lauren is always willing to go above and beyond to make sure things are right for our students. She is committed to making sure they have everything they need to be successful with Realeflow by the time their appointment is over"
Lauren would like you to know that…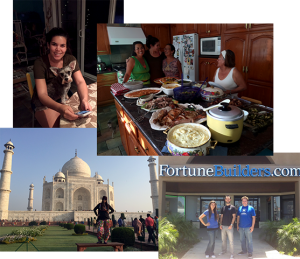 I was lucky enough to be born and raised in beautiful San Diego. Often times I am told that I am one of few people in San Diego that was actually born here and didn't relocate in to this beautiful city. I always explain that I never had a reason to leave. The city itself is beautiful, the people that live in the city are amazing, and everything that you would want to do – from Sand to Snow – is just a short distance away.
While I couldn't ask for more in the city that I call home, travel has always played a big part in my life. I traveled with my family a lot as a child, touring through Europe and most of Asia. And I traveled with friends as a teen and young adult. I love to experience new cultures, different ways of life, and to see what the world has to offer. I would love to complete "The seven wonders of the World" list, 2 down 5 to go. I most recently took a Three week trip to India in March of this year. The Taj Mahal was magnificent and photos really do not do it justice, it was also very eye opening to see the way that some people survive in impoverished countries. It makes you truly grateful for the lifestyle that most of us enjoy. I am looking forward to my travels to the Middle East this summer and hopefully I can squeeze in a trip to a beach resort somewhere 😉
I'm part of a really big family and they are always keeping me busy. Being one of eight children there is always something going on. Something to celebrate; Birthdays to Anniversaries, graduations, holidays and everything in between. I love spending time with my family and the all the craziness that comes with it. My little family is just my dog and I, she is like my little daughter, I am admittedly, slightly obsessed with her. She will be five this year and it has been such a blessing having her in my life.
I've been fortunate enough to be working with Realeflow for just short of two years now. I've had the opportunity to learn and grow with so many different people. I've worked with people in FortuneBuilders, the Inner Circle team, the Mastery coaches, with Mind Protein and of course with the awesome Realeflow team in Ohio. I have picked up so much good advice and gotten to see the truly amazing talent of so many of the people that work with in these Companies. We are all lucky to work with such an amazing team and to be able to learn from each other every day.
Ethics & Integrity * Inspire * Lead * Educate * Crush it