The "Crusher of the Month" is a peer-voted award given to team members who excel and inspire others to step out of their zone and perform at a higher level.
What Leslie's peers say about how she embodies the CORE values:
"Leslie displays Ethics and Integrity every day when supporting the team. She goes out of her way to add value to those around her by taking the time to teach when it is needed. She exceeds expectations on a daily basis and she absolutely CRUSHES everything she sets out to accomplish."
"Leslie facilitates growth on the floor by making sure everything runs smoothly and gets
the team the necessary resources to help sales. She always has a smile on her face and has a great positive attitude."
"Leslie is the 'GSD', get stuff done! Her Masters in Organization Management pays off daily, helping us keep it together on this floor. Leslie is always ready to solve for any problem you bring to her and things seem to just get done and done. Love her attitude as well."
Leslie would like you to know that…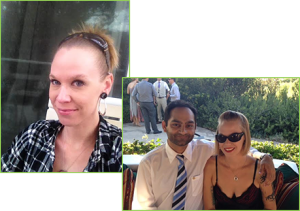 I have been with FortuneBuilders just under 1 year. I started with the company in August of 2014.
I was born and raised in San Diego, CA. I lived in the east county area through my freshman year of high school then relocated to Ocean Beach where I have lived off and on since.
I enjoy traveling whenever I have the opportunity, though I have yet to acquire any stamps in my passport. I often get out of town to nearby places on weekends. I get up to Big Bear, out to Palm Springs or Vegas fairly often. If it is within driving distance, I am always up for a trip.
I do have long term plans to travel across the United States and see the sites that most may laugh at (such as the world's largest ball of twine). I enjoy the little things and having a chance to see our country one mile at a time is something that greatly appeals to me. I work hard but I also enjoy slowing down and taking in all of what life has to offer.
I CRUSH it in everyday life by believing that you can never really be great at anything until you understand the roles of those around you and the effects they have on you. By being open to learning things from those around me, I am able to expand my knowledge base, grow as an individual and strengthen as a teammate.
Ethics & Integrity * Inspire * Lead * Educate * Crush it