Key Takeaways
---
The Macon real estate market, much like the rest of the country, has experienced a spike in activity in recent history. Most notably, home values have trended upwards for the better part of a decade. In fact, appreciation rates in Macon have easily outpaced the national average for the better part of a year. Despite increases in home values, however, Macon is still home to some of the nation's most affordable neighborhoods, which bodes well for investors on a budget.
Macon City Real Estate Market Overview
Median Home Value: $78,200
1-Year Appreciation Rate: 8.2%
Median Home Value (1-Year Forecast): 1.4%
Median Rent: $800
Average Days On Market (Zillow): 78
---
[ Thinking about investing in real estate? Learn how to get started by registering to attend a FREE real estate class offered in your area. ]
---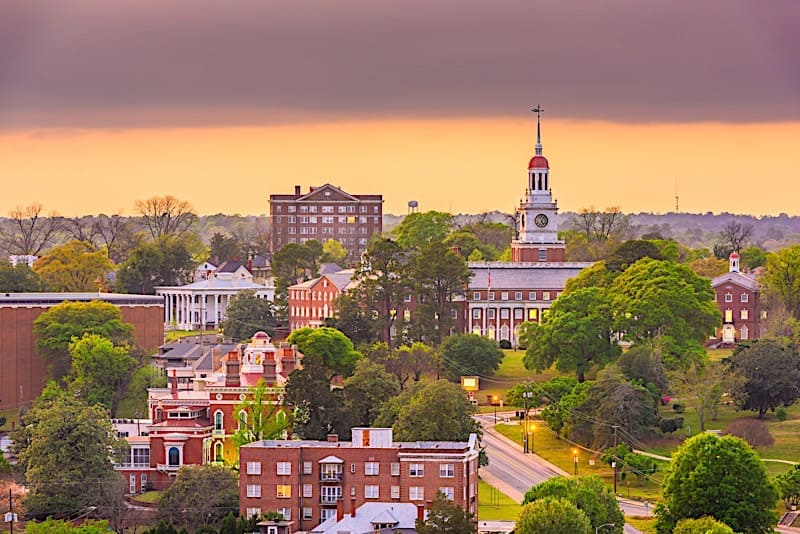 Median Home Price Macon
The Macon real estate market has done its best to pace the national appreciation rate in recent history. In the last year alone, the median home value in Macon has increased 8.2%, whereas the median home value across the entire country has increased 5.4% over the same time (May 2018 to June 2019). Despite the higher rate of appreciation, however, real estate in Macon currently possess a median home value that is considerably less than the national average, $78,200 and $226,800 respectively. Not only that, but it looks as if the momentum behind Macon's latest bout of appreciation is starting to lose some steam. In the next year, home values are only expected to increase at a modest rate of 1.4%, compared to the 2.5% most industry experts are predicting. As a result, real estate in Macon may continue to be some of the most affordable across the country.
In Attom Data Solutions' most recent Home Affordability Report, a Macon neighborhood (Bibb County) was the most affordable place to buy a home in the country, as prospective buyers only needed 12.9% of their annualized weekly wages to buy a home. To put things into perspective, 67% of qualifying markets across the country require more than 30% of wages to buy a home.
Macon Foreclosure Statistics
According to RealtyTrac, a nationally recognized real estate data company that specializes in foreclosure data, the Macon real estate market has approximately 166 properties that fit the description of a distressed home (default, auction or bank owned). At that rate, the number of distressed properties in Macon is relatively low, and continuing to drop year-over-year. According to RealtyTrac's most recent data, the number of properties that received a foreclosure filing increased 3% month-over-month, but managed a 40% from this time last year.
Macon's distressed property market is evenly split, with both auction homes and bank-owned homes making up about half of the market. It is worth noting, however, that bank-owned homes have decreased pretty significantly in the last year (down about 62.5%). Auction homes, on the other hand, have increased about 50% over the same time, which would suggest Macon real estate investors looking for distressed properties should focus on homes that are either up for auction or will be in the near future.
Regardless of the type of property (auction or bank owned), distressed homes in Macon represent a great opportunity to acquire a home at a discount—as long as they know where to look. Here's a breakdown of the neighborhoods in Macon with the highest distribution of distressed properties:
31216: 1 in every 890 homes is currently distressed
31210: 1 in every 1,487 homes is currently distressed
31211: 1 in every 1,547 homes is currently distressed
31220: 1 in every 2,079 homes is currently distressed
31201: 1 in every 2,216 homes is currently distressed
Macon Real Estate Investing
The Macon real estate market is currently home to some of the country's most affordable neighborhoods, and local real estate investors are starting to take notice. If for nothing else, affordable real estate in Macon is starting to move faster than just about anywhere else. According to Attom Data Solutions, few U.S. cities have a higher rate of distressed home sales than the Macon real estate market.
"Among 149 metropolitan statistical areas with a population of at least 200,000 and at least 100 total distressed sales in Q2 2019, those with the highest share of total distressed sales were Atlantic City, New Jersey (27.6 percent); Trenton, New Jersey (25.3 percent); Norwich-New London, Connecticut (22.2 percent); Erie, Pennsylvania (22.1 percent); and Macon, Georgia (20.7 percent)," said Attom Data Solutions' Q2 2019 U.S. Home Sales Report.
Macon Real Estate Market Summary
Despite exercising one of the country's fastest appreciation rates over the last 12 months, the Macon real estate market remains incredibly affordable. Influencing median home values in the Macon housing market, however, are the sales of distressed properties. As it turns out, Macon has one of the country's highest rates of distressed sales, which bodes incredibly well for investors. That, combined with a relatively active market, suggests Macon may be a good place for investors with smaller budgets to focus their attention.
Have you thought about investing in the Macon real estate market? If so, what are you waiting for? We would love to know your thoughts on real estate in Macon in the comments below.
*The information contained herein was pulled from third party sites. Although this information was found from sources believed to be reliable, FortuneBuilders Inc. makes no representations, warranties, or guarantees, either expressed or implied, as to whether the information presented is accurate, reliable, or current. Any reliance on this information is at your own risk. All information presented should be independently verified. FortuneBuilders Inc. assumes no liability for any damages whatsoever, including any direct, indirect, punitive, exemplary, incidental, special, or consequential damages arising out of or in any way connected with your use of the information presented.