The "Crusher of the Month" is a peer-voted award given to team members who excel and inspire others to step out of their zone and perform at a higher level.
What Mike's peers say about how he embodies the CORE values:
"Ever since I came to Mind Protein, Mike has set the standard for awesome coaching. He comes into the office early and leaves late. He goes above and beyond by scheduling calls on the weekends to accommodate his students' schedules.
He is persistent and whenever a road block comes his way, he finds a way around it"
"Mike has only been with us a few short months, but from Day 1 has put in 110% and has gone above and beyond with the number of coaching calls he is doing each day. He has great energy even on his 10th call of the day – and motivates and educates his students on such a high level on each and every call!"
"Mike has shown an outstanding ability to connect with students, leads by example, and train other team members while continuing to grow his own coaching skills. I'm continuously impressed with his work ethic and ability to grasp, retain, and convey complex ideas and marketing systems. Mike embodies all of our core values!"
Mike would like you to know that…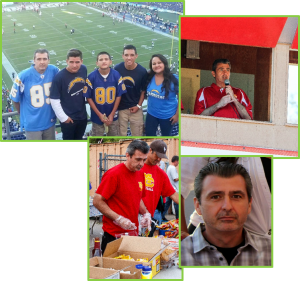 I have been with Mind Protein since May of this year. I am very happy to now be part of the FortuneBuilders family in an environment that encourages community, personal growth, and innovation. I know that what we do every day has a positive impact on the lives of our students.
I was born and raised here in San Diego. I graduated from Madison High School. I am currently enrolled in the Business Management program at University of Phoenix. My wife and I have three sons ages 19, 17, and 15. We keep busy by supporting the athletic programs at Mt. Carmel High School.
I CRUSH it every day by helping students reach their goals. I do this by giving them an understanding of the tools and strategies provided to them with the Fortune Builders program. I feel privileged to be part of a team that has such a high level of commitment and expertise."
Ethics & Integrity * Inspire * Lead * Educate * Crush it