The "Crusher of the Month" is a peer-voted award given to team members who excel and inspire others to step out of their zone and perform at a higher level.
What Mike's peers say about how he embodies the CORE values:
"I love working with Mike because he inspires me more by his example than by his words."
"He always lets people know how well they are doing, and then follows up by teaching us how we can become even better."
"He understands the business that we are teaching."
"He's an awesome leader who I really respect"
Mike would like you to know that…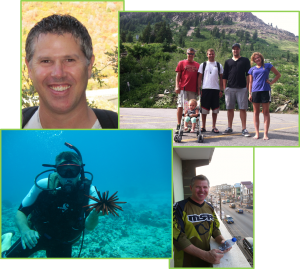 I've been working with FortuneBuilders for the past 2 years. Having been in this business for the past 10 years and knowing many people in our line of work, I feel fortunate to have found such a great company that practices what we preach. It's no mystery as to why the top talent in the industry all works with an organization that has such a commitment to excellence.
I grew up in Provo, UT. I have two boys and one girl ages 27, 25, and 15. It's fun to watch my kids grow and mature. I enjoy spending time with family and have many memories of trips we used to take, especially to Lake Powell, which is one of my favorite places in the world.
I have a passion for motorcycles, scuba and aviation. One item I can check off my bucket list is earning my commercial pilot's license.
Items on my bucket list:
1. Diving the Taj Mahal Cenote.
2. Rafting on the Rio Chili in Arequipa Peru
3. Completing a housing project in Africa
I CRUSH it every day by knowing that actions I take today can help leave a legacy for my children and help leave their worlds just a little bit better
Ethics & Integrity * Inspire * Lead * Educate * Crush it