Key Takeaways
The Mobile real estate market has captured the attention of investors with two fundamental indicators: flip rate and gross flipping returns.
Real estate in Mobile is maintaining a similar appreciation rate as the national average, but home values are considerably cheaper.
Mobile real estate investors are flipping homes at a much faster rate than the national average.
---
The Mobile real estate market has captured the attention of investors with several attractive indicators. Not only is real estate in Mobile more affordable than the national average, but it is also expected to boast a similar appreciation rate without detracting from demand. Investors in Mobile have already enjoyed fast flipping rates and high gross flipping profits over the course of 2018, and there is currently nothing to suggest the trend won't continue.
Mobile Real Estate Market Overview
Median Home Value: $116,800
1-Year Appreciation Rate: 6.7%
Median Home Value (1-Year Forecast): 5.7%
Median Rent Price: $900
Number Of Foreclosures: 330
Homes For Sale: 697
---
[ Thinking about investing in real estate?
Register to attend a FREE online real estate class
and learn how to get started investing in real estate. ]
---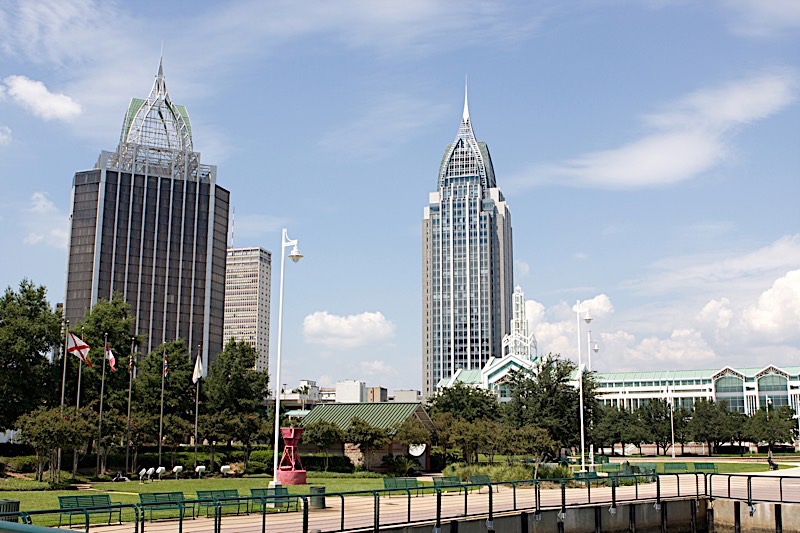 Median Home Price Mobile
After a year that saw real estate in Mobile appreciate at a rate of 6.7% (between August 2017 and August 2018), the median home value in the area is now $116,800. After appreciating 7.6% over the same timespan, the median home value in the United States currently sits at $220,100. The Mobile real estate market is, more or less, keeping pace with the country as a whole.
Looking forward, home values should maintain their upward momentum heading into next year, albeit at a slower pace. Over the next 12 months, real estate in Mobile is expected to increase another 5.7%, which is projected to bring prices somewhere in the neighborhood of $123,000 by September 2019. While those figures aren't quite on par with the national average, they are nothing less than impressive, at least considering where prices were just four short years ago. As recently as November 2014, the Mobile real estate market had a median home value of $90,300.
Mobile Foreclosure Statistics
According to RealtyTrac, a nationally trusted real estate information company and an online marketplace, the latest data suggests there are approximately 330 foreclosures in the Mobile real estate market. Of the foreclosures accounted for by RealtyTrac, the overwhelming majority are either currently up for auction or soon will be. In fact, 70.7% of the foreclosed homes in the Mobile housing market are going to be placed up for auction. The remaining 29.3% of the homes are bank-owned.
Mobile real estate investors looking to work with distressed properties may find themselves with more opportunities if they visit local auctions and talk with banks that have foreclosures on their books. If that's not enough, RealtyTrac has identified the neighborhoods in the Mobile real estate market that have higher rates of distressed properties. According to their research, foreclosures are most prevalent in the following neighborhoods:
36611: 1 in every 464 homes is currently distressed
36617: 1 in every 577 homes is currently distressed
36695: 1 in every 1,479 homes is currently distressed
36606: 1 in every 1,886 homes is currently distressed
36619: 1 in every 2,028 homes is currently distressed
Mobile Real Estate Investing
Investing in Mobile real estate has turned a corner in 2018. For all intents and purposes, the local market appears to have become an exciting place to invest.
In the first quarter of 2018, Mobile boasted the shortest average days to flip a house among qualifying cities. On average, it took investors 117 days to flip a house in the first quarter, easily beating out Memphis, Tennessee—its closest competitor—by about three weeks. The second quarter of 2018 saw Mobile's average increase nearly three weeks to 140 days, but the jump was still enough to keep it well below the national average (182), and help it maintain a spot on the list of cities with the shortest average time to flip. In the second quarter, Mobile ranked third, just days behind Memphis, Tennessee (137 days) and Manchester-Nashua, New Hampshire (138 days).
The speed in which homes are being flipped in the Mobile real estate market suggests the investing industry is firing on all cylinders. However, there's one more metric prospective real estate investors may be more excited to hear: gross flipping returns. If for nothing else, Mobile real estate investing proved relatively lucrative as recently in the second quarter of 2018, according to Attom Data Solutions' latest Home Flipping Report. In fact, Mobile made the report's list of cities with the highest gross flipping returns.
According to the report, of the "140 metropolitan statistical areas with at least 50 flips in Q2 2018 and a population of at least 200,000, those with the highest average gross flipping ROI in Q2 2018 were Pittsburgh, Pennsylvania (162.7 percent); Hickory-Lenoir-Morganton, North Carolina (129.0 percent); Mobile, Alabama (126.6 percent); Buffalo, New York (107.5 percent); and Baton Rouge, Louisiana (107.1 percent)."
Mobile Real Estate Market Summary
The Mobile real estate market has become the beneficiary of several attractive indicators over the course of 2018. Not only has real estate in Mobile maintained a similar appreciation rate as the national average, but demand has remained intact despite the latest increases. As a result, Mobile real estate investors have enjoyed the run. Gross flipping profits have increased while the average amount of time it takes to flip a home still ranks among the lowest in the country. Perhaps even more importantly, there's nothing to suggest the recent trends won't continue for the foreseeable future.
Have you thought about investing in the Mobile real estate market? If so, what are you waiting for? We would love to know your thoughts on real estate in Mobile in the comments below.
---
Interested in learning more about today's most lucrative real estate strategies?
Whether you're brand new to investing, have closed a few deals, or are a seasoned investor— our new online real estate class reveals the best real estate strategies to get started with real estate investing in today's market. Expert investor Than Merrill explains how these time-tested strategies can help you to profit from the current opportunities in real estate.
Register for our FREE Real Estate Webinar and get started learning how to start a successful investment business today!
*The information contained herein was pulled from third party sites. Although this information was found from sources believed to be reliable, FortuneBuilders Inc. makes no representations, warranties, or guarantees, either express or implied, as to whether the information presented is accurate, reliable, or current. Any reliance on this information is at your own risk. All information presented should be independently verified. FortuneBuilders Inc. assumes no liability for any damages whatsoever, including any direct, indirect, punitive, exemplary, incidental, special, or consequential damages arising out of or in any way connected with your use of the information presented.