The "Crusher of the Month" is a peer-voted award given to team members who excel and inspire others to step out of their zone and perform at a higher level.
What Nick's peers say about how he embodies the CORE values:
""Nick is always working hard and doing the right thing. He shows up every day ready to work and is often in the zone immediately after he makes his cup of coffee. He communicated with the team frequently to offer help in any way possible, and even gives you fantasy football tips if it means that his team is taking the loss."
"I am choosing Nick as the CRUSHER of the Month due to his great attitude that he approaches everything with. No matter what the project or situation Nick always has a smile on his face and the determination to get the job done without complaint. His ability to work unphased and with such positivity is definitely an inspiration for those working with and around him."
Nick would like you to know that…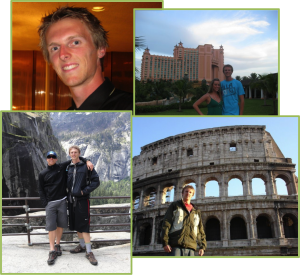 "I have worked as a part of the Communications Team for almost two years.
I was born in Tulsa, but I moved to San Diego when I was less than one year old.
I am really into the outdoors. Whenever I am not "crushing it" at FortuneBuilders, I can be found camping, hiking and now climbing.
As ambitious as it may seem, I really want to write a book. While I am writing my best seller, I would also like to become fluent in Japanese.
I CRUSH it in every day life by making a point to be the best husband, son and brother I can be, as family is everything. They motivate me to work as hard as I can without having any regrets."
Ethics & Integrity * Inspire * Lead * Educate * Crush it