Key Takeaways
The Orlando real estate market continues to shine as one of the country's best cities to invest in.
Real estate in Orlando has appreciated at a faster rate than the national average.
Orlando real estate investors should find the city's combination of affordability and demand to their liking.
---
The Orlando real estate market is as attractive as it has ever been, which is saying a lot for a city that constantly garners the attention of investors from around the country. In addition to population growth, real estate in Orlando is perfectly positioned to benefit from a unique combination of affordability and demand. For all intents and purposes, the Orlando real estate market is firing on all cylinders, and real estate investors who play their cards right could be glad they chose to invest in Orlando when they did.
Orlando Real Estate Market Overview
Median Home Value: $237,900
1-Year Appreciation Rate: 9.7%
Median Home Value (1-Year Forecast): 6.2%
Median Rent Price: $1,550
Median Days On Market: 77
---
[ Do you control your finances or are your finances controlling you? Find out how real estate investing can put you on the path toward financial independence. Register to attend a FREE real estate class, upcoming in your area. ]
---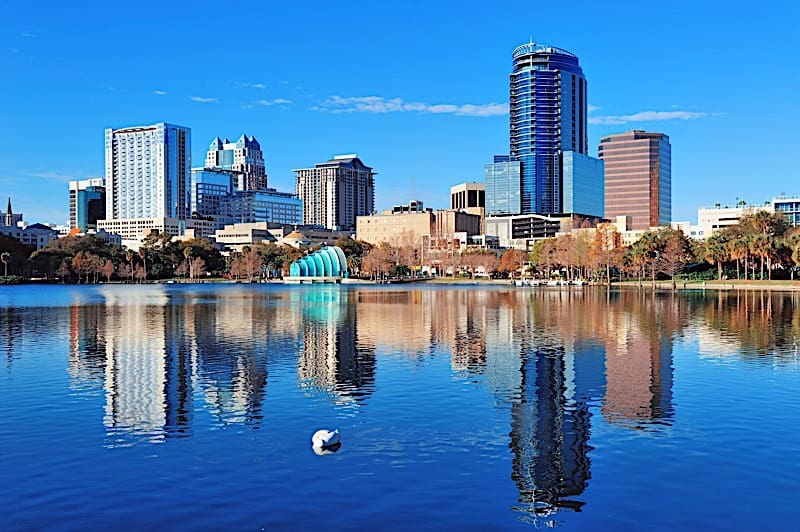 Median Home Price Orlando
Few markets across the country have appreciated as well as the Orlando real estate market. In the last year alone (December 2017 to December 2018), real estate in Orlando has appreciated by as much as 9.7%. To put things into perspective, the national average saw homes across the entire country jump 7.6% over the same period. Thanks to an appreciation rate that eclipsed the national average, the median home value in Orlando is $237,900, according to Zillow. The median home value in the United States, on the other hand, is $223,900.
Moving forward, the Orlando real estate market should appreciate at a rate that's more in line with the national average. Orlando home values are expected to increase 6.2% in the coming year, whereas the national average should see an increase somewhere in the neighborhood of 6.3%.
Orlando Foreclosure Statistics
According to RealtyTrac, a popular real estate information company and online marketplace for foreclosed and defaulted properties, there are currently 1,687 "distressed" properties in and around the Orlando real estate market. More specifically, there are 1,687 homes that fit at least one of three descriptions: default, auction or bank owned. The highest distribution of these properties can be found in the following neighborhoods:
32824: 1 in every 708 homes is currently distressed
32818: 1 in every 979 homes is currently distressed
32832: 1 in every 1,189 homes is currently distressed
32819: 1 in every 1,220 homes is currently distressed
32837: 1 in every 1,247 homes is currently distressed
Of the distressed properties identified by RealtyTrac, the overwhelming majority (52.5%) are merely at risk of falling into default. Otherwise known as pre-foreclosures, homes at risk of default are in the exact position many would assume: the owners have missed at least one payment and are at risk of falling into foreclosure. As such, these homes represent a great opportunity for Orlando real estate investors, or anyone looking to acquire a property at a discount. If for nothing else, motivated sellers are more likely to part ways with a home for a cheaper price. Therefore, those looking to acquire deals below market value may want to take a trip to the local courthouse in the Orlando real estate market, as pre-foreclosures are public record.
Orlando Real Estate Investing
Florida continues to serve as the epicenter of a healthy real estate investing industry. Thanks, in large part, to strong home prices, appreciation rates and demand, the entire Sunshine State has garnered the attention of investors from across the country. It is worth noting, however, that Florida's real estate investing prowess is the sum of several attractive markets, not the least of which is Orlando. For what it's worth, the Orlando real estate market is one of the hottest housing markets in the state—let alone the country. For years, Orlando has ranked amongst the nation's best places to invest, and 2019 does not look to be the exception. Even in the first quarter, it's apparent that owning real estate in Orlando is a profitable, wise decision.
There is, however, one indicator Orlando real estate investors find particularly appealing at the moment: population growth. Not surprisingly, Orlando real estate remains in relatively high demand. Thanks to its tropical climate, improving quality of life and close proximity to the famed Walt Disney World Resort, Orlando has seen its population increase at a rate of 7.2%. Meanwhile, annual job growth has reached as high as 4.4%, as Orlando is quickly becoming a coveted destination for young business professionals.
Perhaps even more importantly, the Orlando real estate market remains relatively affordable, compared to cities that offer similar amenities: San Diego, Los Angeles and Miami—just to name a few. That affordability, in addition to growing demand, bodes incredibly well for the investing community.
Orlando Real Estate Market Summary
The Orlando real estate market has consistently delivered for savvy investors in recent years, and the future looks just as bright—if not more so. If for nothing else, Orlando's unique combination of population growth, demand and affordability will keep it at the forefront of investors' minds. Those that get in sooner rather than later may be in for a windfall of positive trends, not the least of which are expected to see savvy investors benefit from appreciation, cash flow and demand.
Have you thought about investing in the Orlando real estate market? If so, what are you waiting for? We would love to know your thoughts on real estate in Orlando in the comments below.
*The information contained herein was pulled from third party sites. Although this information was found from sources believed to be reliable, FortuneBuilders Inc. makes no representations, warranties, or guarantees, either express or implied, as to whether the information presented is accurate, reliable, or current. Any reliance on this information is at your own risk. All information presented should be independently verified. FortuneBuilders Inc. assumes no liability for any damages whatsoever, including any direct, indirect, punitive, exemplary, incidental, special, or consequential damages arising out of or in any way connected with your use of the information presented.
🔒 Your information is secure and never shared. By subscribing, you agree to receive blog updates and relevant offers by email. You can unsubscribe at any time.