The Orlando housing market, and much of Florida for that matter, is the beneficiary of both long-term economic and demographic trends. The housing sector, in particular, stands to benefit from the influx of people that continue to make Florida their home. The growing population should serve as the catalyst for subsequent economic development, stimulating the housing sector and promoting a strong recovery. Nonetheless, 2014 marked the best year of recovery for Florida since the recession, and experts expect 2015 to be even better. Of those cities likely to benefit most from this trend, Orlando looks positioned to take advantage of the favorable conditions and shine for the foreseeable future.
Over the course of a year, Orlando has kept on pace with the nation's appreciation rate. In the last 12 months, both Orlando and the national average have seen houses appreciate at a rate of 4.7 percent. Of particular interest, however, is how much homes have appreciated in Orlando over the last three years. Whereas the national average was 28%, Orlando homes appreciated more than 40 percent. In fact, those three years of appreciation are largely responsible for removing Orlando from the recession. Homes in the Orlando housing market boast a median price of $180,000. Conversely, the average home in the United States currently sits just above $216,000.
Orlando Real Estate Market Statistics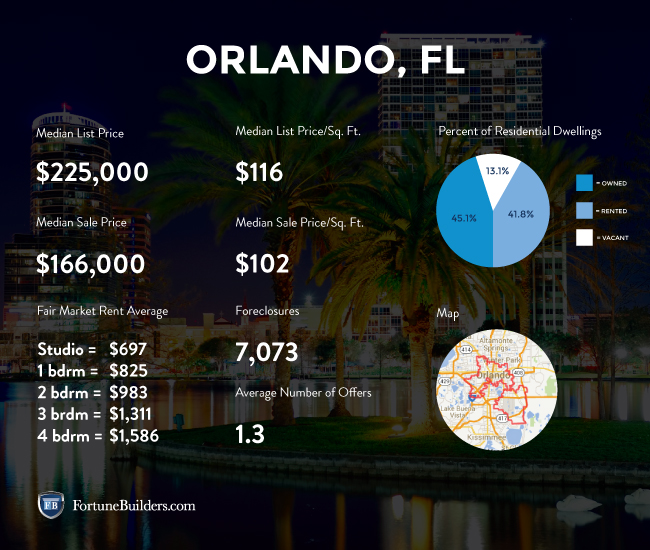 Having appreciated by more than 40% in the last three years, homes in the Orlando area have seen a lot of equity return. A large population that was once under water now has a little breathing room. Perhaps even more importantly, the injection of more equity into the Orlando real estate market promotes more activity. The following highlights how much equity has been gained relative to the year of the home's purchase:
Homes purchased in the Orlando housing market one year ago have appreciated, on average, by $10,563. The national average was $12,783 over the same period.
Homes purchased in the Orlando housing market three years ago have appreciated, on average, by $57,820. The national average was $55,406 over the same period.
Homes purchased in the Orlando housing market five years ago have appreciated, on average, by $33,641. The national average was $49,675 over the same period.
The entire state of Florida continues to demonstrate an increased propensity for job growth. Over the past four years, Florida added 728,500 private-sector jobs. Cities like Orlando, Jacksonville and Miami have played a large role in adding new jobs. Over the course of the last two years, Florida's annual job growth rate as exceeded that of the entire country. Perhaps even more importantly, Orlando outpaced all Florida markets in terms of job growth over the last year. For all intents and purposes, Orlando's job sector is very healthy, and will continue to remain the driver of supply and demand for real estate in the area.
Again, Orlando's employment growth is better than that of most markets in the country. In fact, over the last year, Orlando has added twice as many jobs to its respective market than the entire country persisted to do so. That said; Orlando's 1-year job growth rate is 3.7%, whereas the national average was under 2 percent. Orlando's unemployment rate is even less than the national average at 5.7% and 5.9% respectively.
As if the job sector wasn't encouraging enough, the Orlando housing market remains more affordable than most markets across the country. Recent data suggests that homeowners in the Orlando area typically allocate 10.9% of their monthly earnings to the mortgage. Comparatively, the average U.S. homeowners typically use more than 16% of their monthly income to pay off their mortgage.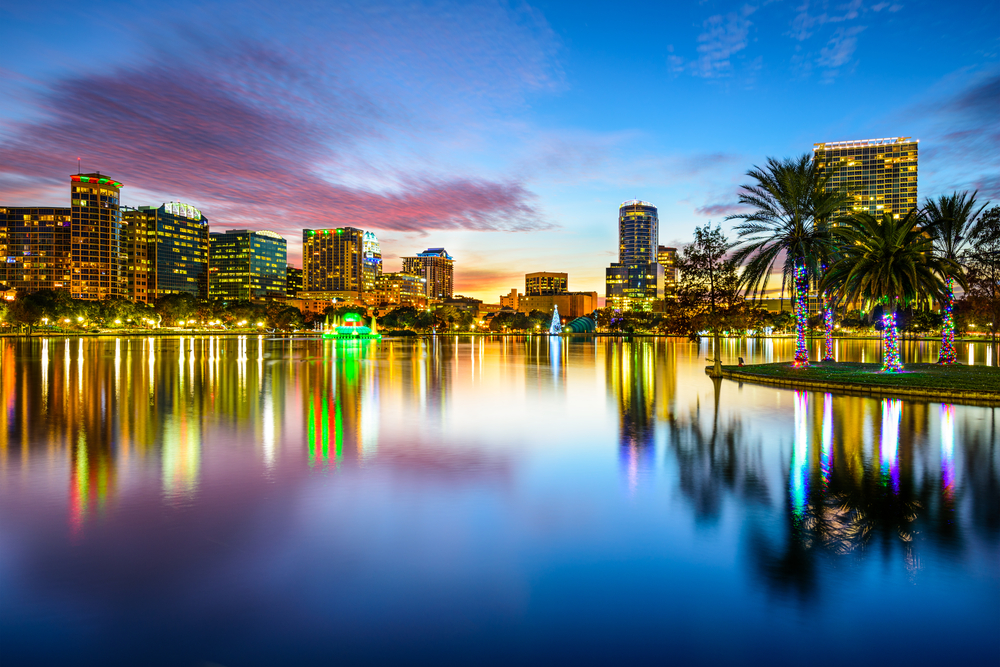 Despite an encouraging job sector and affordable inventory, Orlando has had a problem with delinquent mortgages and foreclosures. More than 11% of Orlando homeowners are behind on the mortgage payments, making them at risk of entering into the foreclosure process. At 11.4 %, the amount of Orlando homeowners that are late on payments is nearly twice the amount of the national average. Perhaps even more concerning, 23% of the homeowners in Orlando owe more on the their home than it is actually worth. The number of homeowners underwater is expected to decrease, however. After a thorough market analysis conducted by Zillow, experts believe Orlando homes will increase by more than 4% in the next year.
"We saw several significant trends in 2014, most notably relief from the razor-thin inventory of previous years with the addition of more 'normal' homes and significantly more foreclosures onto the market," said Sharon Voss of Watson Corp. "Those same foreclosures also changed up the sales landscape. For example, the number of transactions on foreclosed properties increased by 26 percent in 2014 and nudged the number of short sales closings down 59 percent."
While Orlando appears to be on the right side of the current housing recovery, the independent neighborhoods have begun to rebound at a local level. That said; some neighborhoods are doing better than others. As per Trulia, the most popular neighborhoods in Orlando are:
Meadow Woods
Metro West
Vista East
Lake Nona
Pine Hills
Each of these neighborhoods have made weekly price growth a trend. However, while not quite as popular yet, one neighborhood in particular demands the attention of both buyers and sellers: Rosemont North. Early in the New Year, Rosemont North saw a 164.6% increase in its average asking price over the period of a week. The next closest neighborhood was Lake Mann Estates, at 99.2 percent.
The Orlando housing market, much like the rest of the state of Florida, has taken the recovery and run with it. For all intents and purposes, Orlando is in a position to succeed in the coming years, as a number of factors are coming together to boost the housing sector. Continued job growth, a low rate of unemployment, high affordability, low mortgage rates and the potential for millennial buyers to participate are just a few of the factors support a strong 2015 for Orlando.
Orlando Housing Market Summary:
Current Median Home Price: $180,000
1-Year Appreciation Rate: 4.7%
3-Year Appreciation Rate: 40.3%%
Unemployment Rate: 5.7%
1-Year Job Growth Rate: 3.7%
Population: 255,483
Median Household Income: $46,962
Orlando Housing Market Q1 Update
Almost every major market in Florida has taken the recovery and run with it. The Orlando housing market is no exception. Orlando real estate is firing on all cylinders, and the future is looking bright. While home values have dipped slightly, just like the national average, appreciation rates are still at an encouraging level: 4.5 percent. That said, the median home price has increased to $186,000.
Consumer confidence is also growing in the Orlando real estate market, as unemployment continues to get better. Orlando's unemployment rate is now 5.1 percent. Of particular importance, however, is the area's job growth rate. Last we checked, the Orlando job growth rate was 3.7 percent. Now, as the recovery takes hold, it has increased to 4.6 percent, which is significantly better than the national average.
RealtyTrac data suggests that the Orlando housing market currently boasts approximately 2,708 homes for sale. An additional 6,942 are considered to be of a distressed nature, meaning they are one of three things: in a sate of pre-foreclosure, bank-owned, or scheduled to be placed up for auction. Each of these three scenarios should provide the Orlando real estate investing community with ample opportunities to find deals. Perhaps even more importantly, this pool of distressed properties comes with an attractive price tag. The median sales price of a non-distressed home was $143,200. The median sales price of a foreclosure home was $110,100, or 23 percent lower than non-distressed home sales. According to RealtyTrac, that is a savings of more than $30,000. The spreads offered by these properties should fuel Orlando real estate investing for some time.
Orlando County Map: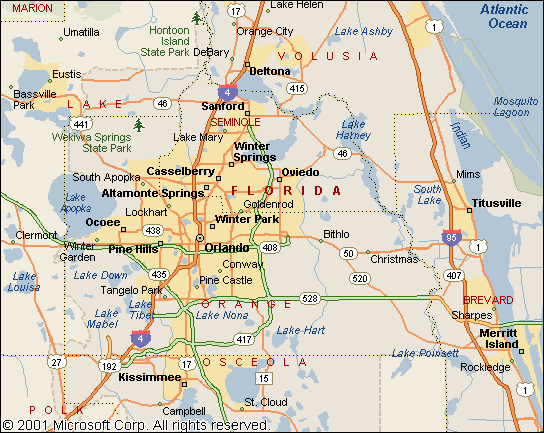 *The information contained herein was pulled from third party sites. Although this information was found from sources believed to be reliable, FortuneBuilders Inc. makes no representations, warranties, or guarantees, either express or implied, as to whether the information presented is accurate, reliable, or current. Any reliance on this information is at your own risk. All information presented should be independently verified. FortuneBuilders Inc. assumes no liability for any damages whatsoever, including any direct, indirect, punitive, exemplary, incidental, special, or consequential damages arising out of or in any way connected with your use of the information presented.