Key Takeaways
The Philadelphia real estate market has made impressive strides since the last recession, not the least of which are appreciated by both investors and homeowners.
Real estate in Philadelphia has appreciated at a faster clip than the national average, and should continue to do so for the foreseeable future.
Philadelphia real estate investing has become the beneficiary of some impressive indicators.
---
The Philadelphia real estate market has made great strides since the latest recession, and now sits at the forefront of the national real estate market. While not quite as hot as its West Coast counterparts, Philadelphia has seen appreciation rates eclipse the national average, all while managing to maintain a healthy level of demand (no simple feat by any stretch of the imagination). The resulting activity has benefited both homeowners and investors alike, as few cities look to be a better place to buy in. Investors, in particular, have seen increases in both their return on investment (ROI) and the rate in which homes are being flipped. When all is said and done, Philadelphia is becoming a real estate market worth nothing.
Philadelphia Real Estate Market Overview
Median Home Value: $149,000
1-Year Appreciation Rate: 9.1%
Median Home Value (1-Year Forecast): 11.1%
Median Rent Price: $1,478
Number Of Foreclosures: 6,150
Homes For Sale: 3,102
---
[ Thinking about investing in real estate? Learn how to get started by registering to attend a FREE real estate class offered in your area. ]
---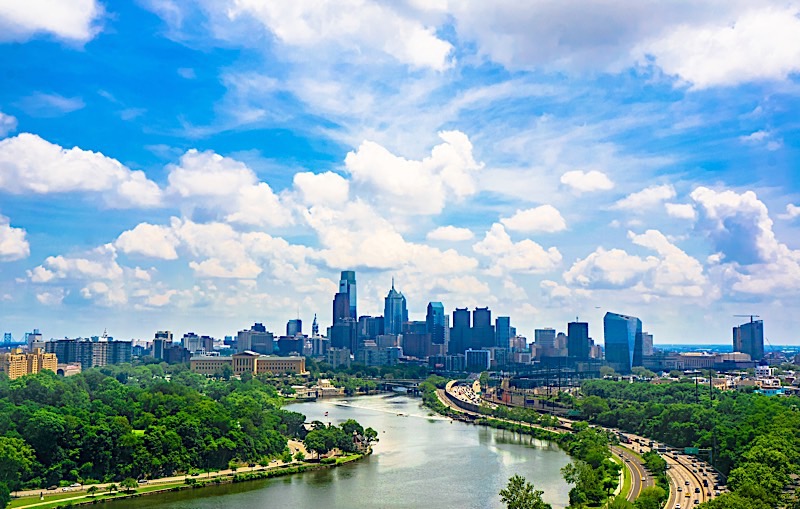 Median Home Price Philadelphia
Thanks to a 9.1% appreciation rate over the course of a year (August 2017 to August 2018), the Philadelphia real estate market boasts a median home value of approximately $149,000. Comparatively, the national average rests somewhere in the neighborhood of $216,700, and only exhibited a 6.5% appreciation rate over the same period. Perhaps even more importantly, general consensus suggests Philadelphia real estate will continue to appreciate at a faster rate over the next year than the national average, 11.1% and 6.4% respectively. If things keep going the way they are, there's no reason to think the median home value in Philadelphia couldn't reach upwards of $165,000 by the third quarter of 2019.
Philadelphia Foreclosure Statistics
RealtyTrac, a nationally trusted real estate information company and online marketplace, has identified upwards of 6,205 properties in at least some stage of the foreclosure process. To clarify, each of the distressed homes are placed in one of three distinct categories: pre-foreclosure, auction and bank-owned.
As it turns out, the majority of distressed homes in the Philadelphia real estate market are in a state of default, otherwise known as pre-foreclosure. According to RealtyTrac's findings, 54.2% of the distress properties in Philadelphia are pre-foreclosures. More importantly, however, each pre-foreclosure represents the opportunity for resourceful investors to locate and work with motivated sellers. Those interested in Philadelphia real estate investing need only take a trip to their local courthouse to identify the distressed properties in a given municipality, as pre-foreclosure are public record.
Investors intent on locating distressed properties may have better luck narrowing their search down to select neighborhoods. Consequently, some zip codes in the Philadelphia real estate market have more foreclosures than others. RealtyTrac has already identified the neighborhoods in which foreclosures are more likely to occur. According to the online real estate database, foreclosures are more prevalent in the following neighborhoods:
19151: 1 in every 464 homes is currently distressed
19142: 1 in every 522 homes is currently distressed
19150: 1 in every 538 homes is currently distressed
19126: 1 in every 585 homes is currently distressed
19138: 1 in every 617 homes is currently distressed
Philadelphia Real Estate Investing
Distressed properties in the Philadelphia real estate market have opened the door for investors to make their mark on the area. As I already said, there are more than 6,000 distressed homes in the city of Philadelphia, not the least of which have made The City Of Brotherly Love one of the best places to invest in the country. According to Attom Data Solutions, a subsidiary of RealtyTrac, few cities across the country saw more of an increase in their home flipping rate than Philadelphia saw in the first quarter of 2018.
"Among markets with at least 1,000 home flips in the first quarter, those posting a year-over-year increase in their home flipping rate in Q1 2018 were Phoenix, Arizona (up 15 percent); New York, New York (up 20 percent); Atlanta, Georgia (up 4 percent); Philadelphia, Pennsylvania (up 6 percent); Chicago, Illinois (up 7 percent); Dallas-Fort Worth, Texas (up 2 percent); and Detroit, Michigan (up 17 percent)," said the report.
In addition to the increased rate of real estate investing in Philadelphia, investors also become the beneficiaries of higher profits. In fact, Philadelphia has become synonymous with some of the country's highest ROIs (return on investment). According to the same Attom Data Solutions report, "Among the 136 metropolitan statistical areas analyzed in the report with at least 50 home flips completed in Q1 2018, those with the highest average gross flipping ROI were East Stroudsburg, Pennsylvania (164.1 percent); Pittsburgh, Pennsylvania (146.6 percent); Atlantic City, New Jersey (133.3 percent); Reading, Pennsylvania (120.8 percent); and Philadelphia, Pennsylvania (110.2 percent)."
Philadelphia Real Estate Market Summary
Real estate in Philadelphia has become the beneficiary of a perfect storm. The local housing market has made up some impressive ground since the last recession. While it took longer than most cities to build momentum, nearly every major indicator is in a better place today than it was even just a few short years ago. Median home values continue to rise year-over-year, demand remains intact, and investors are finding the area to be well worth their time.
Have you thought about investing in the Philadelphia real estate market? If so, what are you waiting for? We would love to know your thoughts on real estate in Philadelphia in the comments below.
*The information contained herein was pulled from third party sites. Although this information was found from sources believed to be reliable, FortuneBuilders Inc. makes no representations, warranties, or guarantees, either express or implied, as to whether the information presented is accurate, reliable, or current. Any reliance on this information is at your own risk. All information presented should be independently verified. FortuneBuilders Inc. assumes no liability for any damages whatsoever, including any direct, indirect, punitive, exemplary, incidental, special, or consequential damages arising out of or in any way connected with your use of the information presented.