Piscataway, New Jersey is a real estate market that is on the long road to recovery. Hit hard by foreclosures and a soft economy, local real estate suffered through a period of uncertainty. This period lasted several years, as homeowners saw reduced equity and declining real estate sales for longer than they would like to admit. Over the past few years, it appears that the market may have hit a bottom and is beginning the climb upward. Sales prices are up 15 percent from the floor in 2012, and home values are climbing. Foreclosures are still hampering the market, but the local economy has stabilized and is currently growing. Unemployment has improved dramatically and the market finally appears stable. After years of decline the Piscataway real estate market looks poised for a big rebound.
According to Realtor.com, the average sales price in the Piscataway real estate market is $282,490. This figure is lower than both the average sales price in New Jersey ($329,909) and the national figure ($308,153). The average home price, however, is $337,662. At today's price point, homes are valued roughly 19.5 percent more than their actual sales price in the Piscataway real estate market. That puts local homes at about $184 per square foot. According to Zillow, prices have depreciated by as much as 3.9 percent in the last year. On a more positive note, Zillow indicates prices are up 5 percent from two years ago, and almost 10 percent from three years ago.
While the Piscataway real estate market has not grown in leaps and bounds over the past ten years, some growth has been realized. Over the past ten years, the market has realized total appreciation of 7.23 percent. More recently, over the past five years there has been a 5.75 percent appreciation increase. The highlight of the market has been the appreciation gained over the past two years. During that time, home values have appreciated over 8 percent. These numbers are certainly not staggering, but they are – in many cases – on par with the growth experienced by the rest of the country. If the current trends continue in the future, this will be a very appealing market to live or invest in. Piscataway real estate investing could see a lot of activity as a result.
The current unemployment rate in Piscataway is 5.7 percent. This number is below the average for New Jersey (6.2%), but higher than the national average (5.4%). Piscataway unemployment peaked in 2008, and again in 2010 when the number almost hit 10 percent on both occasions. Over the past few years, it is has declined greatly. Reduced unemployment has had a direct impact on the local economy. The current recent job growth number for Piscataway is .39 percent, which is far below the national average of 1.18 percent. The future job growth figure appears much more promising at a level only slightly below the national forecast. Piscataway's labor force has grown 1 percent over the last month. This is greater than the average growth in most cities. Another positive sign is that the population has increased in the last year and the labor force population increased with it. The local economy is not out of the woods yet, but it is making small strides to get there; another great sign for Piscataway real estate investing.
Although the economy appears to be on the right track, there are still some concerns with the market. The area's cost of living is relatively high for the state. The average cost of living is just over $77,000; which is 11.6 percent higher than the statewide average. This is supported by an above average median income level. The median household income average of $106,515 is twice as high as the national average ($52,000) and significantly above the New Jersey average ($71,000). The average net worth of Piscataway residence is also much higher than the surrounding area. At $822,000; it is much higher that the New Jersey area. The high cost of living is keeping potential homeowners away from the market. With many first time homebuyers strapped for down payment money, they are forced to look at other areas for housing.
According to RealtyTrac, there are about 342 foreclosures in the Piscataway real estate market. For as small as the area is, this number is quite concerning. While the amount of distressed properties in the area have decreased by 29 percent in the last month, they are still up 71 percent on the year. Of course, those interested in Piscataway real estate investing are encouraged by these numbers. Foreclosures are even more enticing when you realize the discount they offer. According to RealtyTrac, foreclosures in the Piscataway housing market sell for an average of 16.3 percent less than non-distressed homes. At the local price point, that is a savings of nearly $44,000 per home.
The Piscataway real estate market has some troubling areas, but they are nothing that can't be corrected. Short term foreclosures are a major concern, but unemployment numbers are headed in the right direction and the economy appears to be getting stronger. Sales prices have taken a dip, but they are up from just a few years ago. Local equity appreciation is on par with national averages and home values are strong. Like most every real estate market, there are periods of decline and fluctuation. Piscataway, NJ is no different. The only difference is that it has a long track record of strength that should be enough to pull it through.
Piscataway Housing Market Summary:
Current Median Home Price: $337,662
Current Median Sales Price: $282,490
Unemployment Rate: 5.7%
Population: 56,330
Median Household Income: $106,515
Piscataway County Map: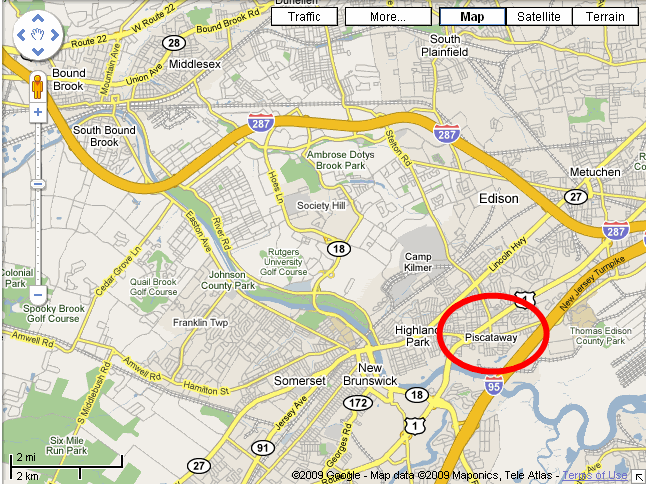 🔒 Your information is secure and never shared. By subscribing, you agree to receive blog updates and relevant offers by email. You can unsubscribe at any time.