There are some aspects of homebuying that most people are familiar with, even if they've never bought or sold a home. For example, most people know that a closing is when the deal is actually transacted, even if they don't know the nitty-gritty details. On the other hand, some aspects of homebuying are a little less well-understood. A proof of funds letter is one of those things.
In most cases, when you make an offer for a home, the seller will require a proof of funds letter before they will accept it. Assuming you've already done your homework and gotten a pre-approval, obtaining a proof of funds letter should be quick and easy – provided you still have the necessary funds.
Here's everything you need to know about proof of funds letters, and the role they have to play in the homebuying process. By the time you're done reading, you'll know everything you need to know about this short, but important document.
What Is A Proof Of Funds Letter In Real Estate?
A proof of funds letter is a letter that certifies that a buyer has enough money to complete a transaction. The buyer can be an individual homebuyer or a larger entity such as a corporation or real estate investment trust.
The purpose of the proof of funds letter is that the buyer has enough liquid funds to cover the down payment, closing costs, and other expenses. If the buyer is paying cash to purchase the property outright, they'll need to show that they have enough money to pay for the entire purchase, including taxes and any other attendant costs.
In most cases, sellers will refuse to accept an offer or de-list the property without proof of funds. The only exception might be a transaction between close friends or family, where good faith is assumed.
---
[ Thinking about investing in real estate?
Register to attend a FREE online real estate class
and learn how to get started investing in real estate. ]
---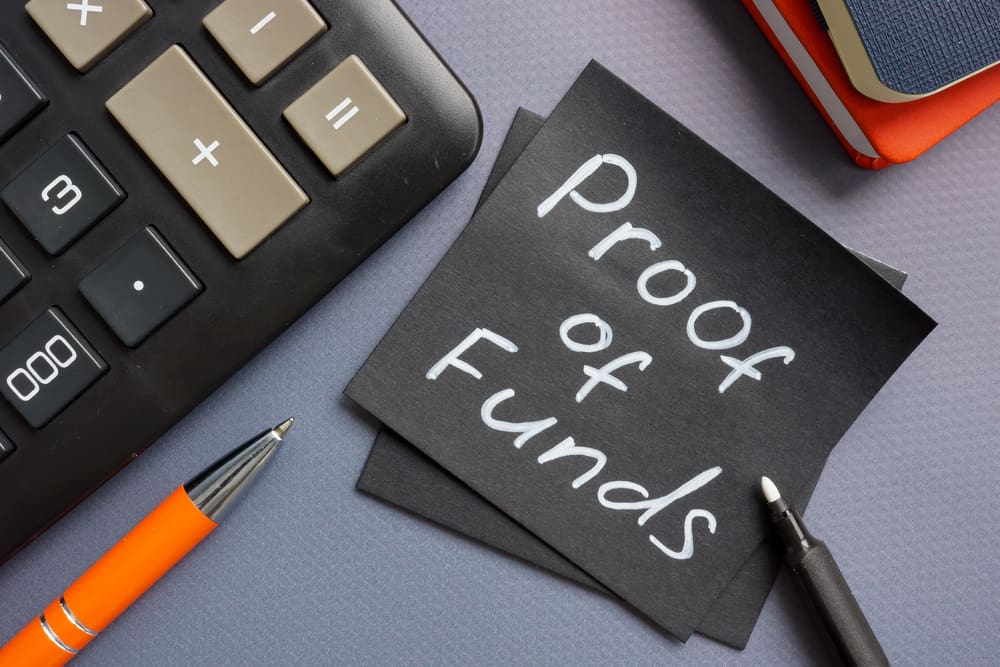 Preapproval Vs. Proof Of Funds Letter
A mortgage preapproval and a proof of funds letter are not the same thing. While proof of funds means that you have enough cash, a mortgage preapproval demonstrates that a lender has conditionally approved you for a loan. Assuming you were able to obtain pre-approval, you'll normally be able to obtain a proof of funds letter.
Preapprovals and proof of fund letters have one important thing in common; sellers will typically want to see both before they take a property off the market.
Preapproval Letter
A mortgage preapproval letter is an official letter from a lender stating that a buyer has been preapproved for a loan. This isn't a guarantee that the loan will be issued, but it demonstrates that the buyer is more likely than not to get final approval.
To obtain a preapproval letter, you'll first need to get preapproved. You'll need to go to a lender and provide them with your personal information so they can run a credit check. You may also have to provide other information, such as pay stubs or tax returns, to demonstrate that you have a reliable source of income. The lender will then give you a rough estimate of the amount of the loan you could be approved for. When you're preapproved, your lender will notify you, and you'll be able to ask for a preapproval letter. Preapproval is only valid for a certain time period, most frequently 90 days.
Keep in mind that this is an estimate and can go up or down before you obtain final approval. Final approval comes after additional steps, such as an appraisal of the property and a home inspection. The bank will consider your most recent financial information, to ensure that you're still in a position to make your mortgage payments. Assuming nothing negative has shown up on your credit report and you haven't had a loss of income, you should then obtain final approval.
Proof Of Funds Letter
Along with a preapproval letter, sellers will ask for the buyer's proof of funds letter at some point in the purchase process. Most often, this will come when the buyer submits an official offer. The seller will typically require both of these letters before they will accept an offer. After all, it makes no sense to accept an offer from someone who can't afford the property.
For this reason, it makes sense to include a copy of your preapproval letter and proof of funds letter along with any offers. It speeds up the process, and gets you to closing that much faster.
What Qualifies As Proof Of Funds?
Proof of funds doesn't necessarily require a formal proof of funds letter. In some cases, it's enough just to have a bank statement showing a sufficient balance. Similarly, you could obtain a certified financial statement, or provide your money market account statement. A lot depends on where the funds are kept, and how all of your accounts are structured.
If your seller will accept these forms of proof, they're relatively easy to provide. These days, most people can print off their bank statement in five minutes via the bank's website. The same is true for trusts, and for any other institution that might be holding your money.
In the event that you need a letter, this letter can come from your bank or other institution. It will provide detailed information on your current sources of funding, so sellers will know that you're qualified to make the purchase. You'll have to call your bank to find out how to obtain this letter.
When you're going over your funding sources, keep mind that only liquid funds can be counted. Stocks, bonds, mutual funds, and life insurance don't count. Similarly, if someone else is paying for part of the purchase, that money must be in your account. If it's in the other person's account, it can't be counted for proof of funds purposes.
Why Do You Need A Proof Of Funds Letter?
In most cases, providing proof of funds is a mandatory part of the homebuying process. If you don't have a proof of funds letter, you might not be able to proceed with the purchase.
That said, there are other good reasons to be proactive and obtain a proof of funds letter. Let's say you're making an offer on a house with multiple bidders. The seller is motivated, and you're making a solid offer. Instead, they sell to someone who offered $305,000 instead of the $311,000 you had offered. Why?
As it turns out, the other buyer submitted a proof of funds letter with their offer. Because the seller is in a hurry, they're not going to go back and forth to find out if your offer is legitimate. They're going to take the lower offer, because the buyer has already shown that they have the money to close on the property.
There are some rare scenarios where a seller doesn't require proof of funds. This tends to happen when someone is handling their own sale without an agent, and doesn't know the ins and outs of the selling process.
In almost all other cases, sellers will demand a proof of funds letter. Assuming you're getting a mortgage, you'll have to show that you have funding for the down payment, which is normally 10%-20% of the selling price. You'll also have to be able to pay for closing costs, which will be around 3%-4% of the selling price. In these cases, don't forget that you'll also have to provide your mortgage preapproval letter from your lender.
You won't need to show a preapproval letter if you're buying the house outright, because you're paying cash. But that doesn't mean you won't need a proof of funds letter. In fact, you'll have to show the seller that you have enough money to pay for 100% of the selling price, along with any other expenses.
Proof Of Funds Letter Template
So, what does a proof of funds letter look like? The exact format will vary from one bank to another. That said, there are certain things you should expect to see in any of these letters. These include:
The name and address of the financial institution

An official bank statement

Statements for money market and other liquid accounts

Current savings and checking account balances

A certified financial statement

A signature from an authorized bank employee
Here's an example of what a typical proof of funds letter looks like:
[DATE]
[BANK NAME]
[BANK ADDRESS]
[EMAIL AND PHONE NUMBER]
Dear [SELLER NAME],
This letter and the attached documents are to certify that [BUYER NAME OR COMPANY NAME] has been a customer of our institution since [YEAR], and remains in good standing.
[BUYER NAME OR COMPANY NAME] has a total combined cash balance of [DOLLAR AMOUNT] in accounts at our bank. We have attached copies of statements for each account belonging to [BUYER OR COMPANY NAME].
If you have any further inquiries or need any more information, please feel free to contact us at [EMAIL AND PHONE NUMBER].
Sincerely,
[SIGNATURE]
[NAME AND TITLE OF AUTHORIZED BANK EMPLOYEE]
How To Get A Proof Of Funds Letter
So, we've established that a proof of funds letter is important, and we've talked about why it's so important. We've even talked about what one should look like. But how do you actually get one?
Obtaining a proof of funds letter is actually pretty easy. All you have to do is ask your bank or other financial institution to provide you with one. In some cases, you might not even have to go that far. Some sellers are willing to accept other forms of proof. You can often get an offer accepted on the basis of a bank statement alone.
If you have multiple sources of funding, make sure you have a way to prove each of them. Acceptable sources include any liquid money source that's readily available. In other words, checking and savings accounts, lines of credit, and money market accounts. Stocks, bonds, mutual funds, and other non-cash assets don't count. In the event that you plan to sell non-cash assets to finance the sale, you'll need to do that before getting your letter.
Here's how to get a proof of funds letter in three easy steps:
Move Funds If Necessary

Request The POF Letter From Your Bank

Keep Your POF Secure
1. Move Funds If Necessary
If you have money at multiple institutions, it can be helpful to transfer all the funds for the purchase to a single account. This isn't strictly required, but it can make it much easier for the seller to see where the money is coming from. In many cases, you'll be able to perform all of the necessary transfers online. However, you may have to write some checks to transfer money from one account to another.
2. Request The POF Letter From Your Bank
If all of your accounts are with the same bank, you should be able to get everything done in one day. If you're transferring funds from different institutions, you may have to wait a few days to get your letter.
Before making an actual request, ensure all your contact information is correct in the bank's records. The last thing you want is for some of your information to be printed out wrong. At that point, call your bank, and ask them for a proof of funds letter. They'll normally mail it to your home, and it will take a few days to receive it.
3. Keep Your POF Secure
Your proof of funds letter has personal financial information printed on it. Aside from the letter itself, there are bank statements, including your account number and address. This is a gold mine for identity thieves, since it's everything they'd need to steal your money.
Make sure to keep these documents secure, and treat them as you would your social security number or your credit card information. The only person you should be giving them to is the prospective seller, or to their real estate agent or attorney.
Summary
Providing a proof of funds letter is part and parcel of buying a home, and it's easy to see why. Sellers don't want to waste time going through inspections and negotiations with someone who doesn't have enough money to pay for the property. By showing them a letter, you're showing them that you're a legitimate buyer, making a serious offer. Along with your preapproval letter, this goes a long way towards getting your offer accepted, putting you one step closer to owning your new home.
---
Ready to start taking advantage of the current opportunities in the real estate market?
Click the banner below to take a 90-minute online training class and get started learning how to invest in today's real estate market!