The Raleigh real estate market is facing the same headwinds as the rest of the country. The landscape left behind in the wake of the pandemic has created a market with insufficient inventory levels and historic competition. Prices have marched higher for the better part of a decade, yet buyers remain persistent. The unique convergence of today's indicators leans heavily in favor of sellers. Still, the latest increase in mortgage rates and the looming threat of a recession may reign in both prices and competition.
However, it is worth noting that the Raleigh housing market may be slightly more insulated than its metropolitan counterparts. If for nothing else, Raleigh's unemployment rate is well below the national average. With a healthy job sector, real estate in Raleigh should continue its current trends while buyers remain active.
Raleigh Real Estate Market Overview 2022
Median Home Value: $448,197

Median List Price: $455,300

1-Year Appreciation Rate: +34.8%

Median Home Value (1-Year Forecast): +18.0%

Weeks Of Supply: 6.3 (-0.9 year over year)

New Listings: 743 (+17.0% year over year)

Active Listings: 3,358 (-25.8% year over year)

Homes Sold: 573 (-10.3% year over year)

Median Days On Market: 20.1 (-13.9 year over year)

Median Rent: $1,500 (+15.6% year over year)

Price-To-Rent Ratio: 24.89

Unemployment Rate: 2.9% (latest estimate by the Bureau Of Labor Statistics)

Population: 469,124 (latest estimate by the U.S. Census Bureau)

Median Household Income: $69,720 (latest estimate by the U.S. Census Bureau)

Total Active Foreclosures: 322
---
[ Thinking about investing in real estate?
Register to attend a FREE online real estate class
and learn how to get started investing in real estate. ]
---
Raleigh Housing Market Trends 2022
There's no doubt about it; the pandemic has altered the Raleigh real estate market landscape in a significant way. Real estate in Raleigh appears to have weathered the COVID-19 storm more than many other cities. With strong employment numbers and a budding technology sector, demand can persist in the face of historical appreciation. As a result, the following Raleigh housing market trends have taken shape throughout 2022:
Supply Trends: With about 3,358 active listings on the Raleigh real estate market, inventory will last somewhere in the neighborhood of 6.3 weeks if it keeps selling at its current pace. While it may not sound like much, Raleigh is actually on the higher end of national trends. Still, 6.3 weeks of inventory leaves a lot to be desired and represents a primary reason competition is so high. Inventory will remain tight for the foreseeable future, at least until new builds are brought to the market.

Home Price Trends: Few metros across the country have seen home price trends keep pace with the Raleigh real estate market. Over the last year, as supply and demand have dictated buying trends, the median home value in Raleigh increased 34.8%, which is much higher than the national average. Subsequently, prices look like they will keep rising in 2022 as long as inventory remains tight and demand persists.

Interest Rate Trends: Interest rates are shaping most markets across the country, and the Raleigh real estate market is no exception. On a national level, the average commitment rate on a 30-year fixed-rate mortgage has jumped from 3.45% in January to 5.23%. The increase has resulted in fewer mortgage applications, but demand is still strong enough to push prices up because of a lack of inventory. That said, if rates keep heading higher, activity will most likely cool off and perhaps even drop home prices a little.

Investor Trends: Mortgage rates are impacting the way Raleigh real estate investors approach local assets. If for nothing else, looming rate hikes will persuade many investors to act sooner rather than later. Investors who can take advantage of relatively low rates may be able to help offset some of today's high prices.
Raleigh Foreclosures In 2022
The national foreclosure rate is on the rise. While down 8% month over month, nationwide foreclosures are up 160% year over year. As recently as April, there were 30,674 U.S. properties with foreclosure filings, according to ATTOM Data Solutions' latest U.S. Foreclosure Market Report.
At the same time, North Carolina took 12th place for highest foreclosure rate. Of the Tar Heel state's 4,708,710 homes, 967 went into foreclosure; at that rate, one in every 4,869 homes is distressed.
The latest tally of foreclosures in the Raleigh real estate market suggests there are as many as 322 distressed homes. Of the 322 distressed homes in Raleigh, 304 are merely at risk of foreclosure. Otherwise known as pre-foreclosures, at-risk homeowners are behind on payments. As a result, pre-foreclosures aren't technically in foreclosure, but they are at risk. Another 18 homes are expected to be placed up for auction, and there are currently no bank-owned homes in Raleigh.
Unfortunately, many distressed homeowners won't be able to make payments. When that time comes, those who can't comply may find themselves distressed, and well-positioned investors in Raleigh may be able to offer a helping hand.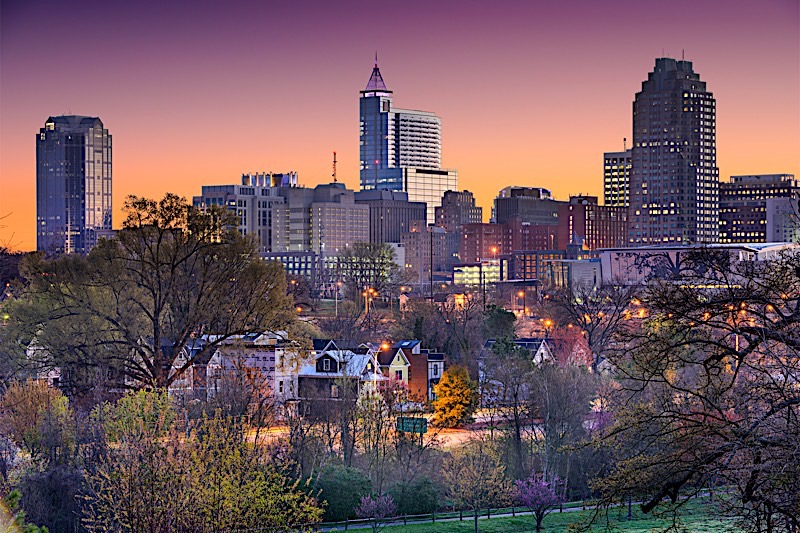 Raleigh Median Home Prices 2022
The median home value in the Raleigh housing market has experienced a lot of movement in a relatively short period, particularly to the upside. Approximately ten years ago, when the national housing market was starting to recover from The Great Recession, the median home value in Raleigh bottomed out at around $200,000. Today, the median home value in Raleigh is $448,197, representing an increase of about 124%.
Local home values have increased for ten consecutive years, but the fastest appreciation rates have taken place in the last two years. Since the beginning of the pandemic, the median home value in Raleigh has increased by 53.4%. In the last year alone, home values have increased 34.8%.
Few metros have seen home prices appreciate on the same level as the Raleigh real estate market. If for nothing else, Raleigh has more positive factors working in its favor than most of its counterparts. In particular, Raleigh's relatively low unemployment rate sparked more competition in a market with insufficient inventory. Pent-up demand and a thriving economy drove more buyers to participate in the market. The resulting demand was the primary reason local home values have increased so much.
Moving forward, supply and demand constraints will continue to increase home values. In fact, forecasts call for homes to increase an additional 18% over the next 12 months.
Raleigh Real Estate Market Forecast 2022
While the Raleigh real estate market appears to have been slightly more insulated from the impact of COVID-19, it has followed the same path as many national counterparts. Most notably, there's far too many buyers for the city's inventory to keep up with. Supply and demand constraints have effectively shaped many of today's Raleigh real estate market trends. As we start to learn more about this market, however, it becomes clearer which trends can be forecasted out into the future.
Here is a look at a Raleigh real estate market forecast which is most likely going to come true:
Home Values Will Rise: Home values in the Raleigh real estate market have risen for ten consecutive years, and there's nothing to suggest they won't keep going up. With a mere 6.3 weeks of inventory and a healthy job sector, demand greatly outweighs supply. As a result, home prices are expected to rise as much as 18% over the next 12 months.

Rents Will Rise: Rents are up 15.6% in the last year because demand from the housing sector was too great, forcing many would-be buyers to resort to renting. Having said that, demand for rentals is expected to grow for the foreseeable future. The added competition will ultimately drive up rentals, not unlike their home value counterparts.

Interest Rates Will Rise: The Fed has already increased the benchmark interest rate to fight inflation, and more increases are on the way. The exact amount isn't yet known, but it is safe to assume higher rates will increase the cost of homeownership in the Raleigh housing market sooner rather than later. The mere threat of rising costs will also increase demand, further boosting home values.
Should You Invest In The Raleigh Real Estate Market?
Not unlike every other major metropolitan city, the Raleigh housing market has seen its investors lean in favor of distressed homes. Distressed properties traditionally award investors with more attractive profit margins. Additionally, as their names suggest, distressed homes are typically possessed by owners who may be better off without them. In the past, foreclosures were a great way to work with motivated sellers and receive deals below market value.
However, it is worth noting that while foreclosures are on the rise, they are still historically low. Distressed inventory will continue to allow investors to rehab and flip homes in Raleigh, but the opportunities are growing fewer and further between. In addition to fewer foreclosures, appreciation has made profit margins shrink. Again, there are plenty of opportunities to flip homes in the Raleigh housing market, but the pandemic has shifted what looks to be the most optimal exit strategy.
Rental investments offer investors the ability to offset today's high prices with equally impressive rental rates. Given the right property with a proper cash flow, there's no reason to avoid homes that cost considerably more than they did one year ago. Rent checks could easily make the acquisition well worth the price in a relatively short period.
Additionally, borrowing costs are doing their best to offset today's high acquisition costs. While up year to date, interest rates are still relatively low. Lower interest rates will inherently lower monthly mortgage obligations and allow investors to increase cash flow.
Summary
Raleigh is currently the beneficiary of a perfect storm. The city's economy is practically booming, nearly every economic indicator is better off today than it was in years past, more tech companies are setting up shop in the city limits. As a result, prices have increased at a rapid rate without concerning residents too much about an impending bubble. If for nothing else, there are several indicators justifying appreciation rates in the Raleigh real estate market.
---
Interested in learning more about today's most lucrative real estate strategies?
Whether you're brand new to investing, have closed a few deals, or are a seasoned investor— our new online real estate class reveals the best real estate strategies to get started with real estate investing in today's market. Expert investor Than Merrill explains how these time-tested strategies can help you to profit from the current opportunities in real estate.
Register for our FREE Real Estate Webinar and get started learning how to start a successful investment business today!
Sources
https://www.zillow.com/raleigh-nc/home-values/
https://www.zillow.com/research/data/
https://www.freddiemac.com/pmms/pmms30
https://www.redfin.com/news/data-center/
https://www.bls.gov/eag/eag.nc_raleigh_msa.htm
https://www.sofi.com/learn/content/foreclosure-rates-for-50-states/
https://www.apartmentlist.com/research/category/data-rent-estimates
https://www.census.gov/quickfacts/fact/table/raleighcitynorthcarolina/POP060210
https://www.attomdata.com/news/market-trends/foreclosures/attom-april-2022-u-s-foreclosure-market-report/
https://www.realtytrac.com/homes/nc/wake/raleigh/?preForeclosure
*The information contained herein was pulled from third party sites. Although this information was found from sources believed to be reliable, FortuneBuilders Inc. makes no representations, warranties, or guarantees, either express or implied, as to whether the information presented is accurate, reliable, or current. Any reliance on this information is at your own risk. All information presented should be independently verified. FortuneBuilders Inc. assumes no liability for any damages whatsoever, including any direct, indirect, punitive, exemplary, incidental, special, or consequential damages arising out of or in any way connected with your use of the information presented.