Key Takeaways
Pursuing what may initially seem like the most cost-effective option to rehab a home, without considering every outcome, could do more harm than good.
When flipping a property yourself, it's best to not put important activities that create value for your real estate business on hold.
When deciding whether or not to hire a real estate contractor, be realistic regarding your level of experience.
---
Whether hiring a seasoned real estate contractor or electing to take the do-it-yourself (DIY) route, there are various approaches to flipping an investment property. However, if you are considering working on a property yourself, and decide to forego the services of a licensed real estate contractor, let this serve as cautionary advice to consider an oft-forgotten – yet critical – factor: opportunity cost. Whether it be pursuing new leads or launching marketing campaigns, important activities that create value for your real estate business will most likely be put on hold while working on a rehab project.
First things first, investors need to consider construction costs for each house-flipping option prior to making any hasty decisions. According to HomeAdvisor, the average cost of a kitchen remodel in the U.S. is $21,925, while an average bathroom remodel costs $9,597. With these hefty construction costs in mind, you may be tempted to make your own repairs and forego having to hire professionals. Although hiring a real estate contractor may seem like the costlier option at first, pursuing what may initially seem like the most cost-effective option without giving careful consideration to potential alternatives could do more harm than good.
When all is said and done, the best method for choosing how to flip an investment property is to make the choice that makes the most sense for you financially, as well as your experience with home construction and renovation. Here are the possible options for rehabbing your investment property, with potential outcomes for each.
Should You Hire A Real Estate Contractor?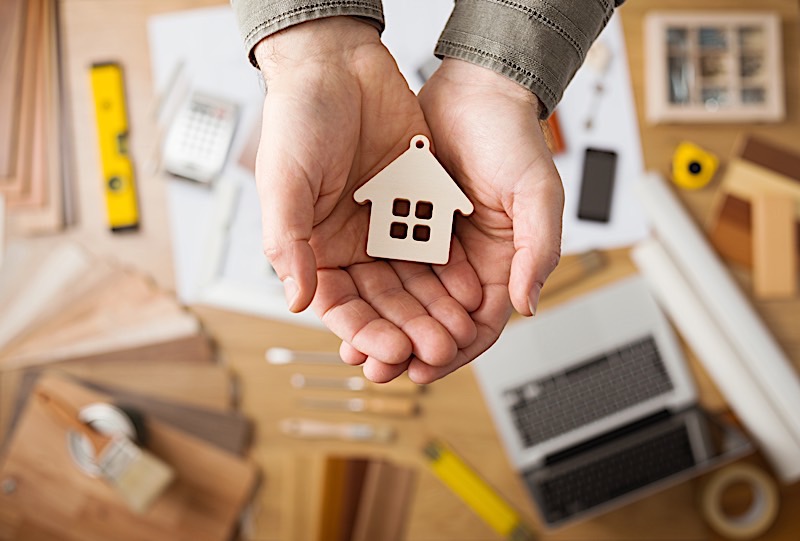 There are no hard and fast rules when it comes to deciding who will manage your rehab project. Before committing to a DIY project to save a couple of dollars, it is imperative that you assess your skill level and opportunity costs, and go with the most financially feasible option. It's worth noting that there is more at stake than the construction costs themselves, so choose wisely.
1. Do It Yourself
Opting to work on your own investment property may be the clear answer if you have extensive experience in construction or home remodeling. Rehabbing a property on your own allows for complete control over a project while saving significantly on labor costs. However, this option may prove to be the most costly in the long-run for inexperienced investors. Not only will you waste time and money correcting errors, you'll most likely need to procure tools and materials that contractors already own.
Another important consideration is the issue of safety. Serious rehab work often includes jobs such as roofing and electrical work, which can pose dangerous threats to yourself and others if you do not know what you are doing.
If you have some rehabbing experience and are having trouble making a decision from a financial standpoint, a helpful approach is to know your own worth. If you were hired by someone else for your services, how much would you charge per hour? A good rule of thumb is to hire sub-contractors to carry out tasks if it would cost less to pay them than the hourly rate you determined above.
Another important aspect of knowing your own worth relates to the concept of opportunity cost discussed earlier. By executing jobs and tasks, a temporary hold will be placed on activities that create value for your business. By hiring others, you can devote your time to finding new deals and leads, not to mention cultivating momentum on existing leads.
2. Be Your Own General Contractor
Electing to act as your own general contractor is a common option exercised by investors. The role of the general contractor requires finding and hiring tradespeople for the various jobs. An advantage of this option includes maintaining control over the execution of the rehab project, including the close monitoring of progress made by workers. This option lends to flexibility and may be the best fit for investors who would like to closely manage the construction process, yet still have some time to pursue other investment activities.
Serving as a general contractor comes with important responsibilities, with scheduling and coordination at the forefront. First, sub-contractors must be scheduled in such a way that avoids both time and work-flow conflicts. There is nothing worse than workers stepping all over each other, or scheduling a worker for a task that required something else to be done first. Even worse, because contractors' schedules are often so busy, a scheduling error could result in having to wait until they can fit you back in their schedule. Between managing, coordinating and scheduling, serving as your own general contractor can almost be written off as a human resources management position. Again, the rule of thumb for selecting this option is determining whether your time could be better spent elsewhere.
3. Hire a Real Estate Contractor
Instead of making your own repairs or managing a house flipping team, consider a third option: hiring a real estate contractor to manage the project on your behalf. This option is especially preferable for investors who do not have a solid foundation in construction or rehab work, or those that know their time is better spent elsewhere.
When hiring a professional, look for someone who will understand your exact expectations and who will ensure that jobs are completed consistently. An experienced contractor comes with the advantage of creating cost-savings in the long-run. For instance, when projecting the costs of a renovation project, it is nearly impossible to account for unforeseeable hits to the budget. A good contractor, however, should know the types of building materials that will stand the test of time, and prevent failure and the need to call back the crew for fixing mistakes. By hiring an experienced professional who you can trust to execute your vision, you will minimize costs associated with errors, scheduling mishaps, and anything that arises in between. More importantly, you will have the freedom to pursue other profit-growing activities for your business.
When deciding whether to hire a real estate contractor or manage your own house flipping team, be realistic regarding your level of experience and the opportunity costs you might incur. Ask yourself which option makes the most sense in terms of creating value for your real estate investing business. If you are particularly experienced and passionate about home renovation – go for it. With that said, be wary of the other activities that you will most likely have to put on hold for the duration of the rehab project.
How do you go about deciding whether or not to hire a real estate contractor? Please feel free to share your thoughts in the comments below.