Whether hiring a seasoned real estate contractor or electing to take the do-it-yourself (DIY) route, there are various approaches to flipping an investment property. However, if you are considering working on a property yourself, and decide to forego the services of a licensed real estate contractor, let this serve as cautionary advice to consider an oft-forgotten – yet critical – factor: opportunity cost. Whether it be pursuing new leads or launching marketing campaigns, important activities that create value for your real estate business will most likely be put on hold while working on a rehab project.
First things first, investors need to consider construction costs for each house-flipping option prior to making any hasty decisions. According to HomeAdvisor, the average cost of a kitchen remodel in the U.S. is $25,300, while an average bathroom remodel costs $10,600 in 2022.
With these hefty construction costs in mind, you may be tempted to make your own repairs and forego having to hire professionals. Although hiring a real estate contractor may seem like the costlier option at first, pursuing what may initially seem like the most cost-effective option without giving careful consideration to potential alternatives could do more harm than good. Read on and find out if you should hire a contractor.
---
[ Thinking about investing in real estate?
Register to attend a FREE online real estate class
and learn how to get started investing in real estate. ]
---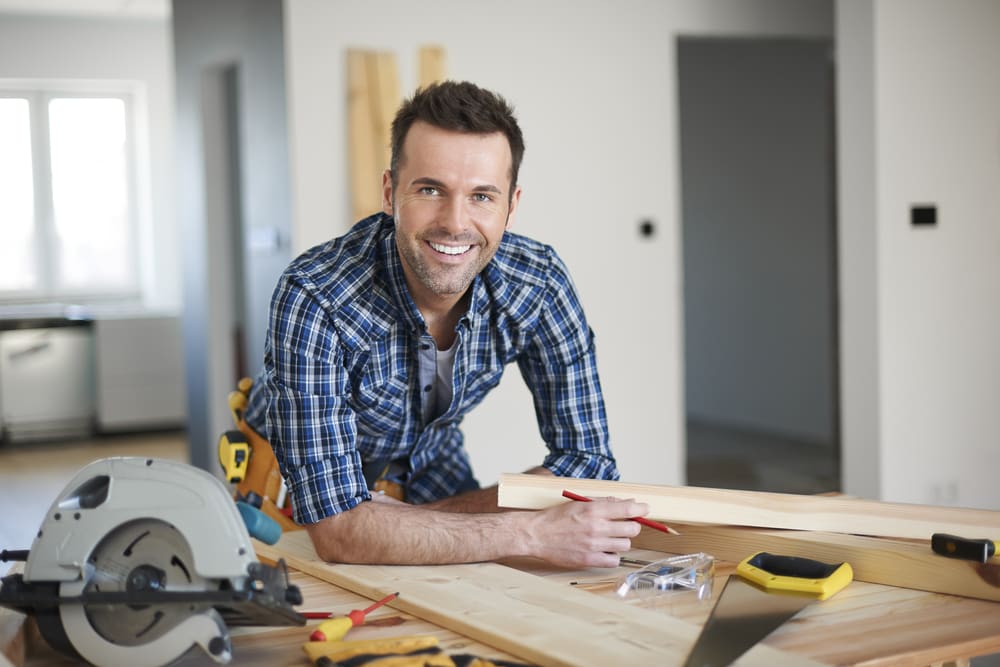 Hiring A Real Estate Contractor: Options To Consider
There are no hard and fast rules when it comes to deciding who will manage your rehab project. Before committing to a DIY project to save a couple of dollars, it is imperative that you assess your skill level and opportunity costs, and go with the most financially feasible option. It's worth noting that there is more at stake than the construction costs themselves, so choose wisely.
When all is said and done, the best method for choosing how to flip an investment property is to make the choice that makes the most sense for you financially, as well as your experience with home construction and renovation. Here are the possible options for rehabbing your investment property, with potential outcomes for each.
1. Do It Yourself
Opting to work on your own investment property may be the clear answer if you have extensive experience in construction or home remodeling. Rehabbing a property on your own allows for complete control over a project while saving significantly on labor costs. However, this option may prove to be the most costly in the long run for inexperienced investors. Not only will you waste time and money correcting errors, but you'll also most likely need to procure tools and materials that contractors already own.
Another important consideration is the issue of safety. Serious rehab work often includes jobs such as roofing and electrical work, which can pose dangerous threats to yourself and others if you do not know what you are doing.
If you have some rehabbing experience and are having trouble making a decision from a financial standpoint, a helpful approach is to know your own worth. If you were hired by someone else for your services, how much would you charge per hour? A good rule of thumb is to hire sub-contractors to carry out tasks if it would cost less to pay them than the hourly rate you determined above.
Another important aspect of knowing your own worth relates to the concept of opportunity cost discussed earlier. By executing jobs and tasks, a temporary hold will be placed on activities that create value for your business. By hiring others, you can devote your time to finding new deals and leads, not to mention cultivating momentum on existing leads.
2. Be Your Own General Contractor
Electing to act as your own general contractor is a common option exercised by investors. The role of the general contractor requires finding and hiring tradespeople for various jobs. An advantage of this option includes maintaining control over the execution of the rehab project, including the close monitoring of progress made by workers. This option lends to flexibility and maybe the best fit for investors who would like to closely manage the construction process, yet still have some time to pursue other investment activities.
Serving as a general contractor comes with important responsibilities, with scheduling and coordination at the forefront. First, sub-contractors must be scheduled in such a way that avoids both time and workflow conflicts. There is nothing worse than workers stepping all over each other, or scheduling a worker for a task that required something else to be done first. Even worse, because contractors' schedules are often so busy, a scheduling error could result in having to wait until they can fit you back in their schedule. Between managing, coordinating, and scheduling, serving as your own general contractor can almost be written off as a human resources management position. Again, the rule of thumb for selecting this option is determining whether your time could be better spent elsewhere.
3. Hire a Real Estate Contractor
Instead of making your own repairs or managing a real estate team, consider a third option: hiring a real estate contractor to manage the project on your behalf. This option is especially preferable for investors who do not have a solid foundation in construction or rehab work or those that know their time is better spent elsewhere.
When hiring a professional, look for someone who will understand your exact expectations and who will ensure that jobs are completed consistently. An experienced contractor comes with the advantage of creating cost savings in the long run. For instance, when projecting the costs of a renovation project, it is nearly impossible to account for unforeseeable hits to the budget. A good contractor, however, should know the types of building materials that will stand the test of time, and prevent failure and the need to call back the crew for fixing mistakes. By hiring an experienced professional who you can trust to execute your vision, you will minimize costs associated with errors, scheduling mishaps, and anything that arises in between. More importantly, you will have the freedom to pursue other profit-growing activities for your business.
When You Should Hire A Real Estate Contractor
Before Googling search terms such as "how to hire a contractor" or "how much do contractors cost," perhaps it is helpful to first and foremost understand when it is best to hire a contractor. Investors who are handy, and already have experience renovating properties, may feel that they do not need to hire a contractor at all. This may be especially tempting when there is a perceived cost saving associated with opting not to hire a professional. However, renovators should be aware when the cost of making mistakes outweigh the cost of outsourcing. There are several types of projects that arguably require the help of an experienced contractor, including some of the examples below:
Replacing Gutters: Although installing new gutters may sound like a relatively simple task, there is a multitude of things that could go wrong. This includes ordering the correct materials, figuring out sizing, and riveting materials together, not to mention the installation. A professional company can install new gutters in just a few minutes, which can otherwise be a painful and grueling process.

Installing Roofing: Safety is a top concern when it comes to roofing installation. Materials can be extremely heavy, and hoisting them up onto the rooftop can prove to be difficult and dangerous. Working to rip up old materials and replace them with new ones, all the while balancing on the roof, can be dangerous as well, especially for novices and during extreme weather conditions.

Putting Up Drywall: Requiring a lot of skill and strength, putting up drywall is a job not suited for novices. Not only is the drywall itself extremely heavy and challenging to install, but the finishing process also requires skill. This is perhaps a job best left to the professionals.

Addressing The Sewer: When dealing with any system in your property, such as electrical or in this case plumbing, it is usually best to call in a contractor. A sewer line can run under the property and into the street, and often breaks or becomes clogged due to roots and debris. These issues can present odors and health hazards that should be addressed immediately.
Choosing The Right Real Estate Contractor
Anyone who has worked in the construction industry knows that not all contractors are made equal. Anyone who has had a terrible experience with a contractor knows how difficult even the simplest assignment can become when working with a lousy contractor.  However, by properly vetting your contractors, you can reduce the danger of working with someone who can harm your company.
Spend some time studying your future contractor to ensure that you are happy with your choice. There are excellent contractors out there who can provide your company with the competitive edge it needs to prosper. Finding them, on the other hand, is a challenge. There are a few things to keep in mind if you have a project in mind and are looking for a contractor to work with.
1. References
You should approach employing a contractor in the same way that you would any other member of your business. If you're working on a rehab project, it's safe to assume that your contractor is the key to your success. The speed, efficiency, and cost-effectiveness with which they do tasks has a significant impact on the success or failure of your transaction. You can't simply hire the first individual that approaches you. Even if they were recommended to you by a friend, you should still check to see if they are a good fit for your objectives.
There's no need to feel self-conscious about asking a contractor for a list of references or previous projects. If they become enraged or ashamed, it's time to go on. The majority of reputable contractors are proud of their work and will gladly show you what they've done. Make the time to call all of the references on the list and follow up until you're satisfied. You should be hesitant to proceed without a list of references.
2. Project Management
You may have identified the ideal contractor, but you must ensure that they are available when you require their services. You may have to search elsewhere if they are booked for the next two months. Most good contractors are always working on something. These projects vary in size and dedication, but many are willing to take on new assignments. You need to know that they will be available to work when you need them before you commit. They may tell you what you want to hear, but you must hold them accountable for the dates on which you need their help. You don't need a detailed list of everything they're working on, but you do need assurance that they'll be there when you need them.
3. Licensed & Insured
When it comes to running a real estate business, the cost is always a consideration. There are moments, though, when you must look beyond the bottom line. Working with the cheapest contractor could cost you a lot more if they aren't licensed and insured. In the event of an unanticipated disaster on the property, a contractor without a license could come back to bite you. To avoid this, simply get a copy of their current driver's license. A contractor who has nothing to conceal will almost always have a copy in his van. You must verify their insurance in addition to their license.
In the event that an injury occurs on your property, you must have liability insurance from your contractor. Even if you don't think anything will go wrong, chances are something will go wrong when you least expect it. If and when this happens, the last thing you want to do is deal with legal issues. You should go on if your contractor isn't licensed or insured. They shouldn't even be considered if they don't have the required documents.
4. Payment Schedule
To save time and irritation, you should understand how your contractor expects to be paid and how you intend to pay him. If your contractor requests payment in advance, you may want to think twice about proceeding. When a contractor requests payment in advance, this should raise a red signal. You can expect to be reimbursed for materials, but never pay for work that hasn't been completed. If you're on the same page, you should work out a payment schedule together.
Set a goal for the contractor to achieve and pay them when they meet it. Pay them after they accomplish the required milestone. I can't emphasize enough how crucial it is to stay on top of your payments. Nothing bothers a contractor more than not being paid for work that has already been completed. The more you and your contractor are on the same page, the better off the task will be.
5. Work Ethic
You should never pay for the same work to be done again. You need to know that anybody you hire will deliver on their promises and match your expectations. Obviously, you must agree on what you are searching for, but you must also understand what you can anticipate from their work ethic. If a contractor is unable to stand behind their work, they may simply accomplish the bare minimum and move on to the next project.
There are a lot of competent contractors out there. Before you hire anyone, ask the correct questions. It will save you time, money, and headaches.
5 Tips For Working With Real Estate Contractors
A contractor's relationship with a real estate investor is not to be treated lightly. Each is nearly completely reliant on the other and gains significantly from a positive working relationship. Developing a working relationship with a contractor, on the other hand, does not happen overnight: it takes time and effort.
There are a few small things you can do to make a big impact in whether or not your contractor is a good fit for your company. Of course, you want to make sure you hire the best contractor possible, but there are a few different approaches you may use. You never know when your efforts to build a positive connection with your contractor will pay off in the future.
You must first learn to work with your contractor in order to improve your relationship with them. Here are five tips to make dealing with a contractor go more smoothly:
There are more options out there

The work will most likely be done by subcontractors

Large deposits are unnecessary

Materials and labor will come at a premium

Design may not be their specialty

How To Develop A Working Relationship With Your Contractor
The relationship you have with your real estate contractor has a direct impact on your investing business. Subsequently, there are way too many horror stories of investors working with bad contractors or even contractors that aren't right for the job. There are little things that you can do that will make a huge difference in whether or not your contractor works out well for your business. Of course, you want to make sure you hire the right real estate contractor, but there are certain ways to go about it. If you work at maintaining a good relationship with your contractor, you never know when it will pay off in the future.
1. Create A Pleasant Environment
Even though you are paying your real estate contractor to work, you should put some time in to make their job as easy as possible. Instead of having the attitude that you are paying good money and you can find someone else to do the job, you should take the approach that you want to work with one contractor for a long time. This means creating a work environment that is pleasant and easily understood.
Some of the biggest confusion and disagreements between investors and contractors come from not having the same vision or being on the same page with the work that needs to be done. Before anything else, you should spell out what your goals are, what your budget is, and in what time frame you want everything completed. This sounds easy enough, but the more you can get out of the way before the first tool is lifted, the smoother the process will be.
2. Show Them Courtesy
It is also a good idea to get as much non-contractor work out of the way as possible. Many investors are lazy and think that your real estate contractor can take care of everything. Even if this is the case, it doesn't mean they necessarily want to. If you have demo work, call a separate team to come in and clean the place out before you get there. If there is going to be multiple people on the property at once, ask your contractor first what their priority is and what people they can workaround. This doesn't mean you can't get your point across and get the work you need done, but if you show simple courtesy you will start to establish a relationship.
3. Don't Micromanage
Once the work has begun, you should try your best to just stay out of the way. No contractor likes to be micromanaged or told how to do something. If you trust your contractor enough to hire them for a job, you should back off and let them work. You have every right to visit your projects as you see fit, but you don't need to critique every area of everything that is being done. Spend the time before the work is started and go through the time frame for payments and the rest of the work schedule. The more you can get out of the way before you start, the smoother things will be.
4. Establish Payment Early
The single most important item for anyone doing work is how they are going to get paid. This is the source of most disagreement between contractors and investors. If you have to make your contractor wait to get paid; do you really think they are going to work with you again? A good idea is to set up a payment schedule for when work is completed. This can be the first Friday after it is done or a set date assuming things are completed. You need to be firm with your payments and not nickel and dime your contractors. You can ruin or enhance your reputation solely based on how efficiently you pay your contractors.
5. Don't Forget The Little Things
There are also little things that you can do to make yourself stand out to your real estate contractor. If you know you are going to be at the property in the morning, grab coffee and breakfast for everyone on the job. If you are coming around lunch you can grab a couple of sandwiches or offer to pay for lunch. You don't need to do these things and some would argue that you are slowing down their efficiency, but an argument can be made that this will serve to make your contractor happy and want to work harder for you. There are many investors in your area. Doing little things like this will keep you in mind the next time you need a favor.
You never know when you will need your contractor to meet you at a new property in a few hours or rush a job for you. If you don't do the little things throughout the year, you can bet you will have a difficult time. A loyal and productive contractor can go a long way in helping grow your investing business.
Summary
When deciding whether to hire a real estate contractor or manage your own house flipping team, be realistic regarding your level of experience and the opportunity costs you might incur. Ask yourself which option makes the most sense in terms of creating value for your real estate investing business. If you are particularly experienced and passionate about home renovation – go for it.
---
Ready to start taking advantage of the current opportunities in the real estate market?
Click the banner below to take a 90-minute online training class and get started learning how to invest in today's real estate market!