Key Takeaways
Direct mail remains one of the most important mediums in marketing.
Experts recommend focusing on personalization and offering clear solutions to recipients' problems.
Be sure to brush up on the included marketing ideas from last year to develop a comprehensive marketing strategy for 2018.
---
Social media, video technology and automated email marketing topped the list of the hottest real estate marketing strategies in 2017. This year, the best real estate marketing strategies involve reconnecting with a marketing tool that may seem old school, but proves to remain highly effective in the real estate industry: direct mail.
Real Estate Marketing Ideas: Direct Mail
According to the Data & Marketing Association, direct mail remains one of the most important mediums for marketers across industries. When designing your next direct mail campaign, experts recommend focusing on personalization, offering the recipient a clear solution to any issues they may face, and following up vigilantly. When launching your campaigns, keep in mind that it takes just one lead to respond in order for your campaign to be a success. Below, you will find unique direct mail marketing strategies for the following types of leads:
Pre-Foreclosures
Short sales
Probate real estate
Direct Mail Marketing For Pre-Foreclosure Leads
Although timetables vary by state, homeowners risk getting foreclosed upon as soon as they fail to make any mortgage payments. There are various ways for investors to build pre-foreclosure lead lists, who then can help distressed homeowners avoid foreclosure by purchasing their property. Use the following guide for direct mail marketing tips for pre-foreclosure leads: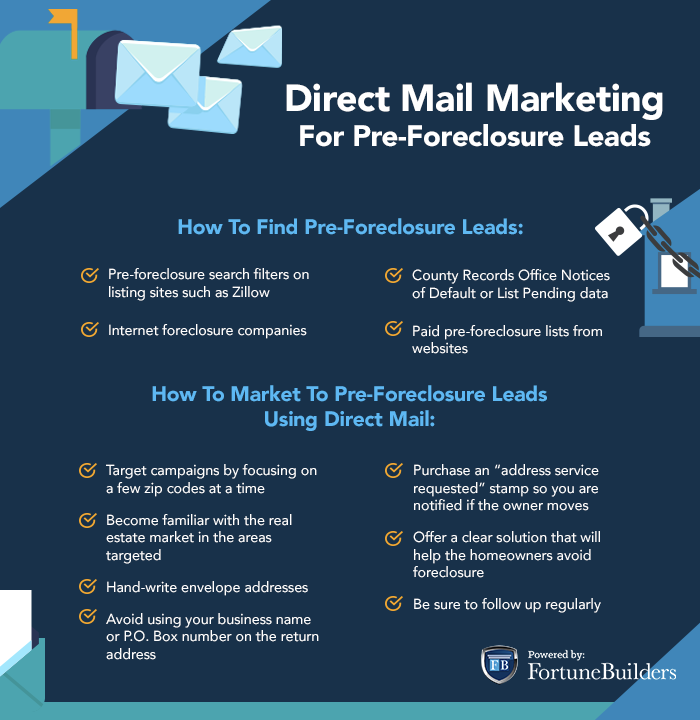 Direct Mail Marketing For Short Sale Leads
Short sales are similar to pre-foreclosures in the sense that the target homeowner is usually in a state of financial distress. Short sales occur most often when the homeowner can no longer make mortgage payments, and in addition, the current value of the home is less than the amount owed on the mortgage. Short sales are only possible if the mortgage lender agrees to absorb the outstanding debt so that the foreclosure process can be avoided. Use the guide below for ideas on how to target short sale leads through direct mail: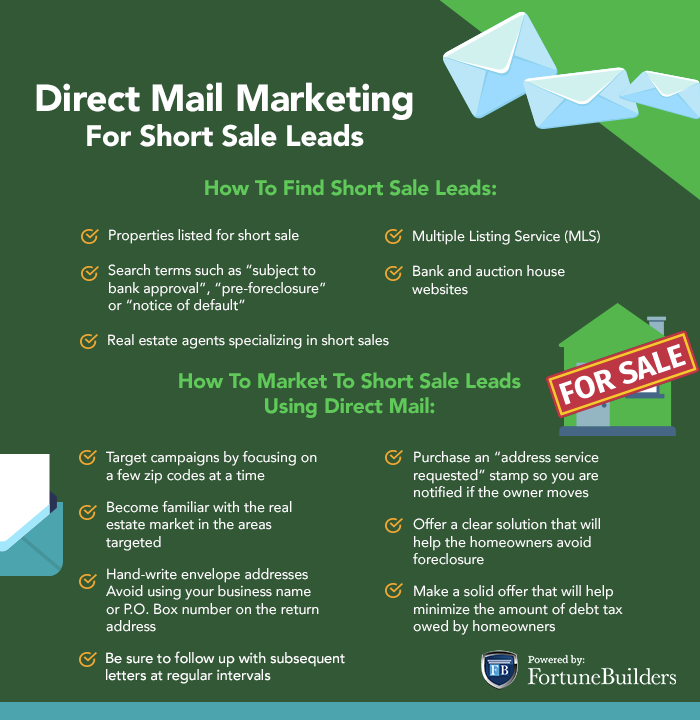 Direct Mail Marketing For Probate Leads
In probate real estate, a court determines how a property is distributed after the homeowner passes away. Homes subject to probate will often be handled by an heir or an executor, who may decide to sell the property. Investors can obtain great deals from probate real estate if they understand how to navigate the process. When using the tips from the guide below, investors should keep in mind that the recipient may be going through the grieving process, and should act accordingly: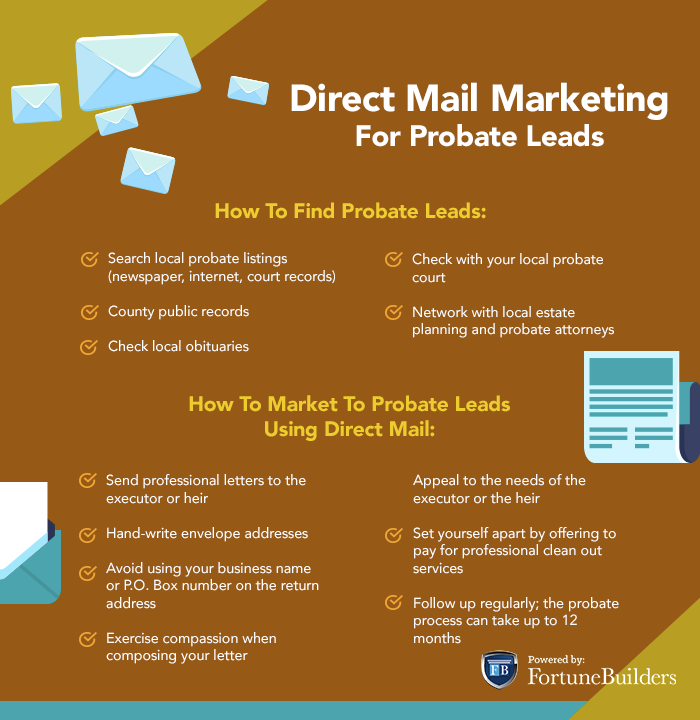 Now that you've read up on direct mail marketing strategies for several types of leads, continue on to brush up on the year's top real estate marketing strategies. 
As any football coach will tell you, sometimes the "best defense is a good offense." Getting a jump on your marketing plan for the new year, and determining how you'll implement your real estate marketing ideas in 2018 for maximum impact (at minimum cost) is the key to having a successful real estate investing year.
But how will you know which real estate marketing trends to follow, and which to leave by the side of the marketing road? Which trending real estate marketing strategies are an ideal fit for your business? And which marketing trends will do far more than pad your Facebook page popularity?
None of us can "predict" the future, no matter how many real estate fortune tellers we visit, but here are five real estate marketing ideas for 2018 worth your consideration, and could possibly move the needle in your business this year.
Which Real Estate Marketing Ideas In 2018 Will Make A Difference?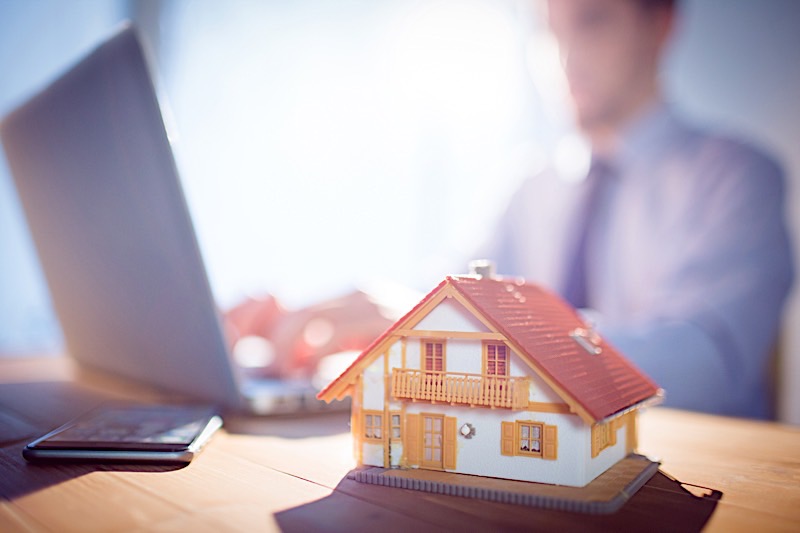 1. When It Comes to Social, Pay to Play: There was a time, years ago, when you could post an update on your Facebook page or Twitter feed and reasonably assume a significant share, if not a majority, of followers and fans would see your content. Those days, unfortunately, have gone the way of the eight-track and VCR.
The current reality is for your followers and fans to see your social media content — such as YouTube videos, Instagram posts, Facebook updates — you'll need to expend "some" amount of ad budget boosting the visibility of your social media content.
This "boosting budget" doesn't have to be extraordinary; you can see effective results with modestly-funded campaigns. But by keeping your content as "native" as possible — social media content should "look" like content; not ads — and by tracking your results, you can easily reach a majority of your followers (and their friends) with just a couple dollars a day.
2. It's All About Personalization: The "one size fits all" solution may work for baseball caps, but it won't work for your real estate marketing. That's because consumers crave (and in some cases demand) more personalization and more customization in every aspect of marketing and business they encounter. Instead of creating one landing page, one piece of direct mail, one email follow-up sequence, create customized marketing elements based on which audience segment you're speaking to.
For example, most emerging trends in real estate marketing tell us baby boomers and millennials will dominate the homebuyer market next year. So, instead of marketing your properties with one message, that doesn't appeal to either segment particularly well, customize your marketing to fit the demographic and psycho-graphic needs of your prospect pool, which can not only personalize your marketing materials, but your brand as a whole.
3. The Follow-Up Call 2.0: You have no doubt heard the expression: "The fortune is in the follow-up." And in 2018, this fortune-building follow-up is easier than ever, with the power of "retargeting." (One of the most unique real estate marketing ideas around.)
Retargeting is a marketing strategy in which visitors to a particular web page of yours have a tracking cookie placed on their computer. (Don't worry, it's not as  nefarious as it sounds.) This tracking cookie lets the visitor be "retargeted" throughout the Internet — on sites you don't even own — to opt-in to your marketing funnel (even if they didn't opt-in the first time). This is how after checking out a power drill on Home Depot, images of that same drill seem to "follow" you around. That's retargeting in action!
Even though we're not selling power tools as real estate investors, we can use this powerful strategy to "retarget" folks who visit any of our web properties — especially landing pages — who don't initially convert and (for little cost) add them to our marketing funnel at a later date. (We can even use this on web properties we don't own, such as YouTube videos or Facebook page.)
All in all, there may be no more bigger bang for your real estate marketing buck than being able to follow up with a lead (all without having to pick up the phone or send out another piece of direct mail).
4. Get on the Video Train: No doubt you've heard the mandates about how important online video is to a modern marketing strategy. But video marketing trends in 2018 point to something far more modern and dynamic than your usual YouTube video. (Not that there's anything wrong with YouTube.)
From live-video platforms (such as Periscope, MeerKat, and Facebook Live) to augmented reality apps (such as the phenomenon that was Pokemon Go) to immersive 360-degree videos, dynamic video content is poised to be a huge game-changer in 2018.
This doesn't mean you have to a create a Virtual Reality smartphone app or conduct live-video chats ten hours a day or else your real estate marketing for 2018 will fall short. It just means that consumers (and leads) want to do far more than "watch" video — they want to see, touch, taste and smell (at least virtually) the brands and companies they do business with.
Maybe you could use an immersive 360-degree video to sell your pre-habs and wholesales to other investors. Or conduct a weekly Facebook Live video chat where you walk marketing leads through the process of how they sell a home while in probate. Or maybe you just provide small, bite-sized chunks of video content — through platforms such as Periscope, Instagram, and Meerkat.
Along with these real estate apps, there are few emerging trends in real estate marketing we're more excited about than dynamic (and sometimes live) video. Not because it will help you find more leads, which it will, but because it's how your prospects want to communicate (and how great rapport can be established in record-time).
As investors we're always looking for trending real estate marketing strategies — as well as the most up to date real estate finance and investments strategies — that will help us out-pace the competition and reach our bottom line objectives. And while we've gone over four real estate marketing ideas to target this year, it's important to remember some of the best marketing strategies, such as direct mail marketing, are timeless.
Do you have experience launching your own real estate marketing strategies? If so, do you utilize direct mail? Let us know some of your personal experiences in the comments below: