The old expression, "By the yard it's hard, by the inch it's a cinch," applies to many areas of life, not the least of which include that often-overwhelming concept known as the rehab real estate deal.
While rehabbing real estate can be a profitable and exciting form of wealth-building, it can also be a confusing venture that seems to have more moving parts than a car engine. However, by understanding the process of how house flipping works—and what a real estate rehabber does from beginning to end—you'll not only gain more knowledge, but your rehab investor IQ will skyrocket.
Here's a quick primer to the seven stages of rehab real estate deal to help your fix and flip investor game and make your investing journey more manageable and realistic.
Rehab Real Estate Definition
A real estate rehab is when investors purchase a property, complete renovations, and then sell it for a profit. These projects can take anywhere from a few weeks to a few months, depending on the amount of work needed. This is one of the most popular exit strategies in the industry, and rightfully so. Rehab properties can offer wide profit margins while simultaneously helping investors expand their portfolio and network. Nate Tsang, founder & CEO of WallStreetZen, gives this overview of what rehabbing real estate entails: "Rehabbers make their money on the backend, but a lower price on the front end is like a coupon. Rest assured, however—just because a rehabber acquires property at a discount doesn't mean they aren't squeezing all the value out of that property".
---
[ Thinking about investing in real estate?
Register to attend a FREE online real estate class
and learn how to get started investing in real estate. ]
---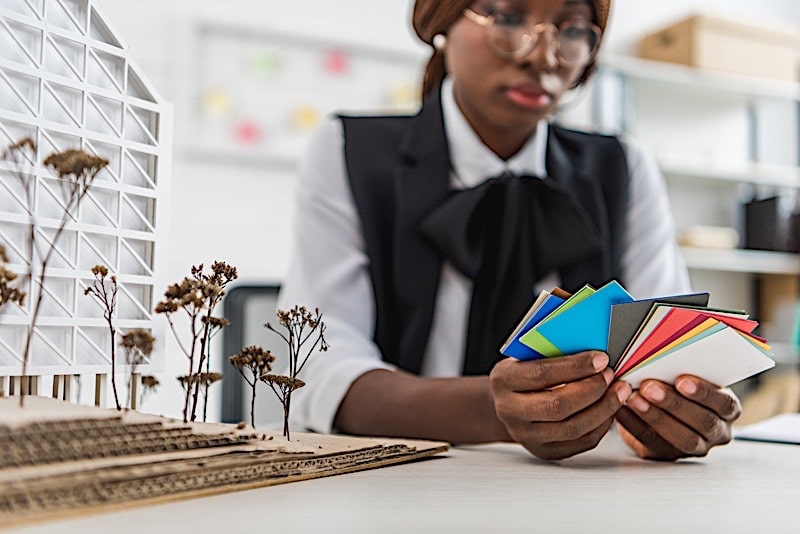 How To Rehab Real Estate Properties in 8 Steps
Luckily, learning how to complete a real estate rehab is not as complicated as it may seem. It will require preparation and hard work, but by following these steps you can help ensure your rehab property is a success:
Walk through the property to get a better idea of the work that will need to be done.

Create a scope of work outlining the specifics of the rehab project.

Find the right contractor for the job.

Organize your critical documents and prepare for the rehab process.

Get started by applying for the necessary permits.

Manage all aspects of the rehab project.

Complete another walk through and make the final payments for the job.

Stage the property and host an open house.
1. Preparing/Creating A Plan
Kicking off your rehabbing project entails more than a cursory look at the renovations needed and hiring a contractor. You first need to carefully assess the property to ensure all aspects of the real estate construction process are on course. When creating a plan, there are two things you need to determine:
Repairs needed: During your on-site visit, take with you a camera, graph paper, and measuring tools. These will help you gather a more detailed assessment of the property. Take photos of problematic areas and accurately measure the repairs needed. Your photos can also give you before-and-after shots of the house to show your clients. Take a flashlight with you for those dark corners and rooms.

The improvements that help sell the house: Is there a particular room that needs more sunlight? Maybe installing a bigger window, or perhaps a skylight, would help. Should you install carpets or flooring? How about the color and style? Take note of improvements that up the value of the property.
When done, create a sketch of the property. This time, itemize the repairs and improvements you would like to see, down to the last square meter. This will help share your vision with your contractors.
Bonus tip: It's never a bad idea for a fix and flip investor to have a lockbox and spare key on the property for whenever contractors visit. This will save you time since you won't have to meet them each time they need to access the property.
2. Creating The Scope Of Work
Your scope of work relies heavily on your pre-rehab planning. This is where you detail the extent of the project for your contractors to see every major or minor renovation. To do this successfully:
Go through your planning notes and list all renovations needed (e.g demolitions, removals, floor installations, etc).

To budget more efficiently, prioritize each renovation as Need, Want, or Optional.

Estimate the cost of each project. Remember, you can do away with optional ones, in case it goes beyond your budget.

Detail everything that needs to be done for every single repair or renovation, down to the last fixture, faucet, or furniture. Also, look at possible material you can reuse instead of buying new.

Finalize your scope of work based on the cost estimation of each project. Remember to always budget for unanticipated problems.
Your final scope of work is what you will present to prospective contractors that will, in turn, bid on.
Do not forget to compare your home value after renovations with those available in the neighborhood. If you sell higher than the going rate, buyers will shy away from your property.
3. Hire The Contractor
Your contractor will either make your rehab project easy or hard. You must take your time in picking the contractor you'll share your real estate rehab deal with.
You can find contractors via your investor network, websites, job boards, your local building department, supply houses, or local real estate associations.
The first step is to create a professional document that helps market yourself to potential contractors. This includes background about yourself, your goals (would they be able to work with you in the future again?), the kind of relationship they can expect from working with you, and what you're looking for in a contractor. If possible, include how you handled previous projects (e.g., pay schedules, scope of work, etc.).
These details help build trust and establish your reputation as a trusted real estate rehabber. Make sure your pitch makes you appear as a viable business partner, not just for this project but for future ones as well.
Pre-screening interviews can help you gauge a contractor's suitability. A few questions to ask include:
Years of experience

Equipment they own

Workers in the team

Licenses and permits

Insurances

Any subcontractors

Any bankruptcies

Willingness to provide future referrals
After pre-screening, invite them to send in bids for your project. Then, evaluate each bid you receive. (And pick a winner!)
4. Critical Documents
Once you've evaluated and picked the contractor that best suits your rehabbing project, you can move on to signing the contracts. Keep in mind, no project should start before all parties involved have agreed and signed the contracts. (This is a must.)
Be sure your paperwork has the following:
Independent Contractor Agreement: Details everything about a project, including the price.

Scope of Work: Details the extent and limitations of the project, including every single material to be used.

Payment Details: When payment will be delivered.

Insurance Indemnification Form: Insurance requirements of the contractor for their workers and any liability throughout the duration of the project.

W-9 Tax Form: This is a form required by the IRS for independent contractors.

Final Lien Waiver: This is for the end of the project, but it's best you show the contractor the stipulations at the beginning.
Once forms are prepared, schedule a meeting and walk through with all parties involved (contractors, subcontractors). This will give you the peace of mind that everyone involved is on the same page, especially with project details, time frame, and the budget. Entertain suggestions and address disputes immediately.

---
[ Learning how to invest in real estate doesn't have to be hard!
Our online real estate investing class
has everything you need to shorten the learning curve and start investing in real estate in your area. ]
---
5. Getting Started
Finding the right contractor is an essential part of the rehab process, but the prep work doesn't stop there. After selecting who you want to work with, you need to obtain the necessary permits for the project at hand. The exact number of permits will depend on the scale of your project and specific locality; however, the basic permits required for a project will be similar no matter where you are. For example, permits are generally necessary for altering load-bearing walls, working on or modifying public utility lines, re-roofing the property, adding windows and doors, or even putting a dumpster near the property for easy material disposal.
Permitting is a crucial part of getting started and should not be overlooked. The penalties for ignoring local authorities could be fines or even liens added to the property, both of which will undermine your potential profits on the deal. In some cases, investors could even be required to undo certain renovations that have been completed. Always make sure to review local regulations with your contractor and prepare to start your rehab.
6. Managing The Rehab
When in the trenches of the actual rehab, you will encounter five different (but important) stages:
Demolition and trash cleanup: Removal of damaged items (walls, floors, toilets, piping, etc). Outside cleanup would include dead trees, bushes, fences, decks, etc.

Foundation and framing issues: This stage takes care of the skeleton of the house.

HVAC, plumbing, electricity: Building inspectors come in after this stage to check if installations are done right.

Insulation: Remember to start insulation only after the electricity and plumbing inspection is done. Depending on where you are, another inspection is due to see if you have properly obscured any wiring, piping, and ducting.

Trimming and painting: trim work followed by painting are part of the last stages in your rehabbing. You will now begin to see your vision come to life.
7. Walk-Through Inspection & Final Payment
No matter how meticulous you are, or how much you trust your contractor, there will be a few things that go unnoticed. To provide for this, it's necessary to conduct a second walkthrough of the property, after all initial inspections have been completed.
Make sure the contractor delivered everything listed on the contracts. Also, don't forget that final inspections need to be done to finalize your building permits. (Budget time for this.)
When you find the project satisfactory, draw up the Final Waiver of Lien to be signed by the contractor. Promptly deliver the final payment for a job well done (and lay the groundwork for a future working relationship).
8. Staging (Open House)
You've come a long way, but now it's time to sell your house. This means cleaning the house and prepping it for staging. Staging gives potential buyers an idea of how they can efficiently use the available space of a property.
Stage the bathroom, master bedroom, kitchen, and living room. Give them an idea of how it would feel to live inside this house. Also, make sure the exterior is equally presentable (e.g., lawn, fences). It also goes without saying that professional photographs help sell a house faster than those taken from smartphones or properties with no photos.
You want to think about how you can leave a good and lasting impression on potential buyers. Where should you spread the word to attract more leads? What are the things you can do to help close the deal?
Let potential homebuyers picture themselves in your rehab property, and you've done most of the heavy lifting already.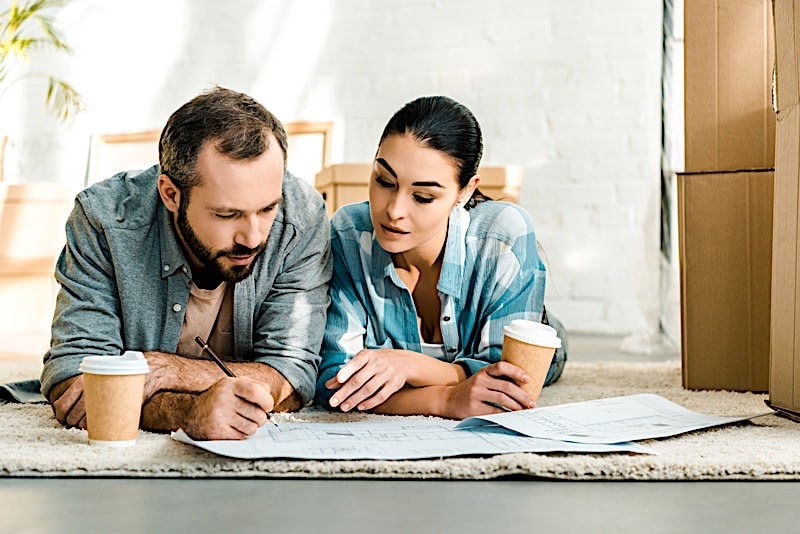 Average Rehab Costs
Rehabbing a house can vary in cost depending on the size of the house, the location, the age, and how much work you want to put into it. In general, a house rehab project will cost about $15 – $60 per square foot. This range can go up or down depending on many factors, but this is generally where you will find yourself. A smaller rehab project could include painting, refinishing cabinets, and updating the landscaping of the property. A medium project could involve all of those items as well as remodeling of a kitchen and a basic bathroom remodel.
Finally, a large rehab project would include all of those items plus fixing or updating the structural parts of the house. These could be issues with the roof, foundation, electricity, and other factors unique to each property.
Projects With The Best ROI
There are certain projects that have a higher return on investment (ROI) when completing a standard rehab. While specific trends can vary from market to market, it is safe to say buyers are looking for a few key features. Here are some of the projects with the best ROI to consider as you map out a potential rehab:
New Front Door

Backyard Deck

Converted Attic

Garage Door Replacement

Fiber Cement Siding

New Windows
Summary
The journey of a rehab investor can seem daunting, especially if you don't have a ton of rehab real estate deals already under your belt. It's worth noting, however, that by breaking down the house flipping process into seven key stages, you'll start to see that the successful fix and flip investor doesn't try to do everything at once.
They have a vision of the big picture. At the same time, they keep a close eye on the day-to-day progress of a rehab. They know one thing for certain: by doing their due diligence and arming themselves with information, there's nothing they can't handle.
---
Ready to start taking advantage of the current opportunities in the real estate market?
Click the banner below to take a 90-minute online training class and get started learning how to invest in today's real estate market!