Key Takeaways
Marketing automation describes the software and technology used to automate repetitive marketing-related tasks.
This fall, try implementing at least one idea for automating your marketing, such as scheduling your social media posts ahead of time.
Real estate software can help speed up multiple areas of your marketing efforts.
---
As we quickly approach the holidays, you might be wondering how to prevent your business from losing any momentum while you take time off. Real estate software for marketing can be just the solution you need to engage with your leads and contacts, even while you're "off the clock." Now is the perfect time to audit your marketing processes and identify what can be automated, so that you can get your new systems up and running just before you head into the holiday rush. Below you will find ideas on how to put your marketing on autopilot, as well as some of today's best software products for real estate.
What Is Marketing Automation?
Marketing automation is comprised of software and technology designed to automate repetitive marketing-related tasks. These tasks can include anything from lead capture, emails and social media. Automated marketing has become a popular tool amongst business owners and marketing teams, as it allows more time to focus on business-building activities. It also helps to ensure that clients and leads are engaged with on a consistent basis.
9 Ways To Put Your Marketing On Autopilot
Today's real estate marketing automation landscape caters to nearly every type of need imaginable. Whether you need help publishing social media posts more consistently or responding to organic leads through your website, chances are there is a solution tailored to your needs. Try incorporating one of the nine creative ways to put your marketing on autopilot in time for Thanksgiving:
Plan ahead and schedule your social media posts: As a busy entrepreneur, keeping your social media accounts updated with engaging posts in a timely, consist manner can be a great challenge. Luckily, social media posting can be automated, allowing you to plan and schedule posts across platforms ahead of time, as well as streamline responding to comments and messages from users. You can use in-app tools or third party programs, like Sprout Social, to schedule your content.

Nurture your leads and contacts by sending newsletters: Sending email newsletters to your database of contacts on a regular basis can be a great way to share valuable information, and—more importantly—remind them of your status as an expert. You can use software, such as Mailchimp, to set up a visually-appealing template at the beginning will make it easy to plug in new content thereafter.

Take advantage of text message marketing: Developments in artificial intelligence have allowed for innovative marketing tactics, including the use of chatbots.
According to Medium, eight out of ten businesses are using a text messaging service for marketing because customers are much more likely to open and respond to a message received via text than email. You can use this resource to compare text message automation tools.

Follow up with existing clients on a consistent basis: Any real estate entrepreneur can speak to the value of referrals and repeated business from existing clients. Real estate email marketing software can enable you to follow up with your contacts on a regular, consistent basis by setting up pre-scheduled messages. For example, now could be the perfect time to craft a message offering timely tips such as how to buy a house in the fall or fall curb appeal trends.

Send highly targeted direct mail campaigns: While direct mail is a traditional marketing method that can't be completely automated, there are many tools that can be used to refine the process. You can utilize real estate software and automation tools to assist with everything from pulling mailing lists to segmenting your database of contacts.

Provide customer service 24/7: A best practice for capturing leads is to make it convenient for potential clients to receive responses to their comments and questions in a timely manner. An integrative approach can allow you to provide customer service through your website, social media, text messaging, email and the phone around the clock. Many entrepreneurs make use of chatbots and automatic responses.

Generate organic inbound leads: Your website can be a valuable source of leads, but only if you've already integrated a way to capture them. Real estate lead generation software will enable you to capture, organize, and maintain leads through your website—typically by embedding contact information forms. Visit this resource on how to acquire high quality real estate leads for your business.

Appointment calendar: If you are an entrepreneur who spends a lot of time scheduling meetings throughout the work week, it may be a good idea to take advantage of an automated scheduling system. Many marketers will include an appointment-setting link in their emails and social media posts so that prospective clients can schedule a time that works best for them, which can help cut down on the back-and-forth that occurs when scheduling meetings.

Consider smartphone users: When coordinating your marketing across different channels, don't forget to take smartphone users into consideration. A large proportion of internet users will access email, social media and websites on their phones throughout the day. Make sure that your website and email campaign templates are optimized for smartphones.
---
[ Do you have what it takes to run your own real estate business?
Register for a FREE webinar
, where you can learn from experts how to replicate successful business systems. ]
---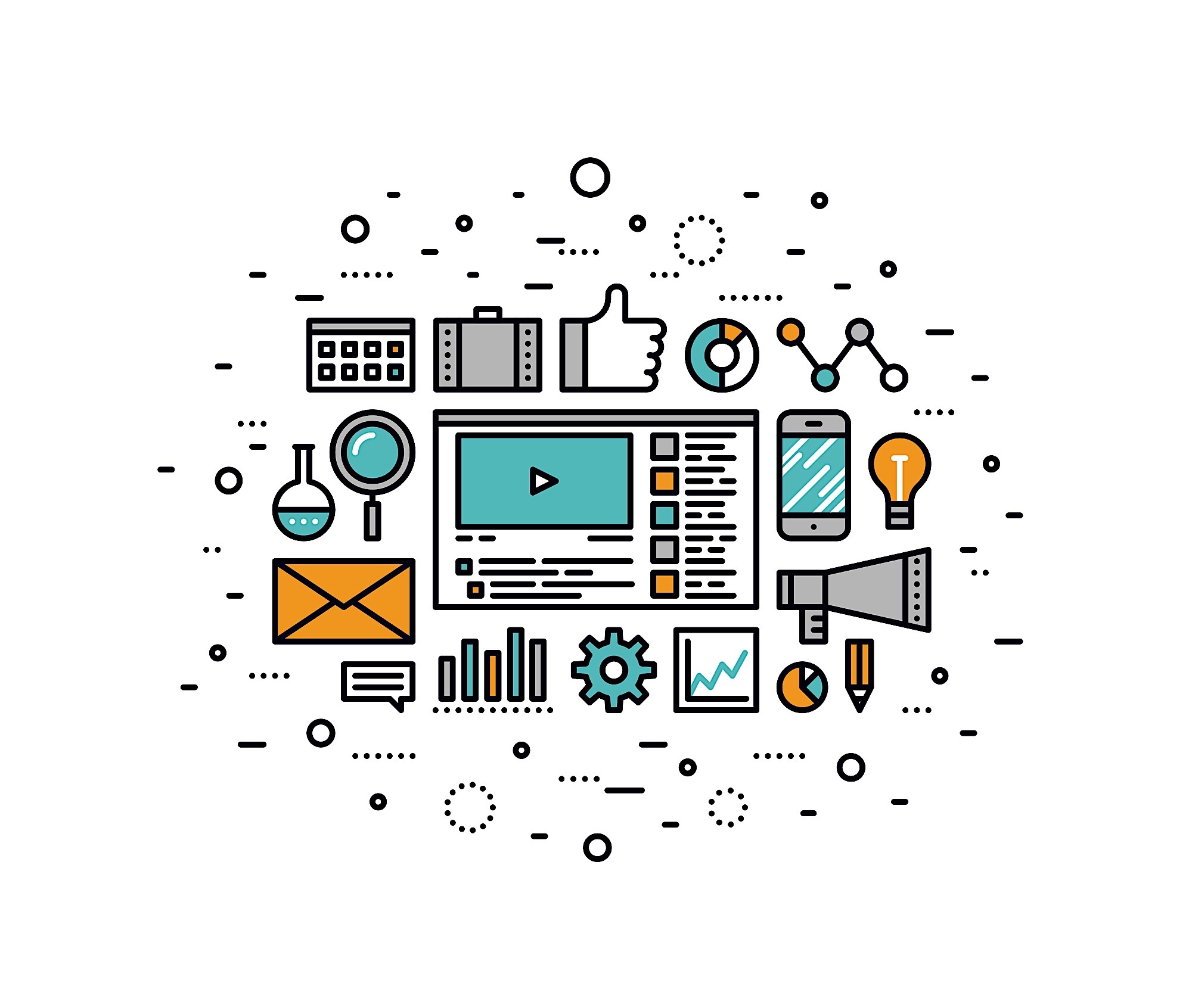 Best Lead Generation Software
Real estate investors are in a continuous juggling act between generating and cultivating leads. The best real estate software will allow entrepreneurs to manage and engage with large lists of contacts throughout the marketing cycle. Explore the following list to see which software options might be the best fit for you:
Realeflow: Investors can search and download thousands of buyer, seller, and private lender leads in local areas. With Realeflow, investors can obtain thousands of real estate leads from motivated sellers, buyers, and private lenders. Realeflow also includes leads from absentee owners, bankruptcies, cash buyers, free and clear, renters, tax liens, underwater homeowners, and high and/or low equity leads.

Infusionsoft: A web-based lead generation software, Infusionsoft offers marketing, social media, email and lead generation functionalities that can be great for a small- to medium-sized real estate businesses. The platform offers training to help business owners set up and personalise their systems to best fit their business models and marketing needs.

Contactually: A platform designed with relationships in mind, Contactually allows users to tag leads and send out drip campaigns. In addition, its artificial intelligence feature will provide suggestions on when it's best to reach out to different segments.

Marketo: Marketo is a great fit for entrepreneurs who would like to manage their website, leads, marketing, budgeting and analytics, all in one place. Flexible to adapt to any kind of workflow, this platform can provide data-driven insights to help develop client relationships.

Zurple: Zurple is a lead management software designed specifically for the real estate sector. The tool offers listing data and street view listings, and automatically sorts leads by behavior. Users also enjoy lead follow-up optimisation.
Best Direct Mail Marketing Software
Despite it being the digital age, direct mail continues to prove itself as a steadfast marketing tool. Although it may be analog in form, business owners can use cutting edge technology to design effective direct mail campaigns and boost their response rates.
Boingnet: Providing a crossover between direct mail and digital marketing, Boingnet allows users to easily personalize templates. The platform offers direct mail tracking and analytics, QR code generation, and drip marketing solutions.

Postalytics: Postalytics is a direct mail tool that places a heavy emphasis on automation and analytics. Users also enjoy a direct mail editor, as well as automated printing and mailing.

Who's Mailing What!: If you could use some inspiration coming up with your direct mail copy and design, perhaps Who's Mailing What! can help. This platform provides subscribers with successful marketing examples, so that they can design winning campaigns of their own.

Melissa: Avoid throwing money down the drain by mailing out a campaign to a poor quality list. Melissa focuses on ensuring the accuracy of your contact details. The tool will scrub data to verify and correct your contact lists, which will help lower your average cost and boost your bottom line.

Touchnote: Not everyone has room in their budget to hire a graphic designer, and user-friendly tools like Touchnote can be a great compromise. Users can easily put together great-looking postcards which will be printed and mailed on your behalf.
Best Social Media Marketing Tools
Social marketing has become so complex that entire jobs and teams can be dedicated to it. Not only do you need to optimize your posting schedule, but you would also ideally tailor your content to the audiences on each individual platform. Luckily, there are many social media marketing tools that will make your life much easier.
Buffer: Buffer offers a solution for marketers who wish to manage all aspects of their social media in one place. Users can schedule posts across social media platforms at the desired dates and times, and analyze the performance of posts.

Sprout Social: Sprout Social is another all-in-one marketing solution that allows multi-level access for teams. In addition to post scheduling and analytics, users can respond to social media follower questions and comments directly through the platform.

MeetEdgar: MeetEdgar is unique in that it will crawl through and recycle old posts in specific categories. This is a perfect solution for busy entrepreneurs, helping them to post consistently, even on days they don't have time to create new content.

Hootsuite: In addition to post scheduling and analytics, Hootsuite allows managers to pre-approve content for teams, measure social conversions, and filter through conversations occurring on social media about your brand, industry and competitors.

IFTTT: Standing for "if this, then that," IFTTT is a unique tool that enables users to create social "recipes" across platforms. For example, a user can specify instructions for your instagram posts to automatically turn into native Twitter photo posts.
Best Email Marketing Software
The category of email marketing comes last, but definitely not least. Not only is email marketing cost-effective, it's also a method that allows you to maintain direct contact with your leads and clients. Here are some of today's most popular email marketing solutions:
Constant Contact: User-friendly even for beginners, Constant Contact provides contact list management, email templates, tracking and reporting, and social media tools for those in need of them. The platform is well-known for its customer support, which includes local training events.

Drip: Drip allows users to easily implement add-ons, such as signup forms, to your website. As you effectively capture leads, you can use the platform to automate your campaigns while incorporating numerous segmentation tools.

ConvertKit: ConvertKit is another tool that assists with incorporating signup forms into your marketing, create drip campaigns through auto-responders, and segment your contacts.

MailChimp: Mailchimp is well known for its user-friendly interface that allows users to create email templates and newsletters in a visual manner. In addition to basic segmenting and analytics, it also provides a sophisticated option sending campaigns based on each contact's geolocation.

ActiveCampaign: If you prefer to use a platform that integrates your email marketing with your sales, ActiveCampaign is a great candidate. Along with email templates and signup forms that are mobile friendly, it also allows users to send text messages to contacts.
Best Overall Real Estate Investing Software
Realeflow, which has helped over 30,000 real estate investors close nearly 10 billion dollars in transactions, focuses on providing investors the necessary tools to accelerate their real estate business. As the largest real estate investing software company in the U.S., Realeflow works to help investors generate leads, assess deals, and manage their investment transactions. In essence, this real estate program offers powerful tools to not only generate leads, but assist investors in managing contacts, comps, deals, properties, rehab projects, marketing campaigns, websites, sale activities, and everything else real estate investors need on a daily basis.
For potential investors looking to jumpstart their business, Realeflow provides an array of features and benefits other apps can't hold a candle to. In terms of managing your business, Realeflow's system provides investors with the following tools:
Repair/Rehab Estimator: Evaluate accurate repair estimates with the click of a button, including assessing labor and material costs. The Hammerpoint Rehab Planner tool helps investors map out all the work associated with a rehab project, including generating a full report that includes every detail of the job.

Deal Analyzer: Take the guesswork out of making smart real estate deals with Realeflow's Deal Analyzer. This tool helps to examine potential deals and estimate repairs, as well as create scopes of work to save investors time and money. With pre-loaded formulas, the app provides users the convenience of calculating estimated net profits of a deal by simply plugging in the purchase price and letting the software generate the results for you. Before meeting the seller, investors can generate accurate comps on a property and analyze the deal.

Virtual Filing Cabinet: Managing contacts and properties has never been easier. Realeflow allows users to track deals at every stage, including the ability to collaborate with business partnerships in a centralized location. Leads from websites are automatically deposited, stored and organized, helping investors to easily retrieve and follow up. This CRM system was designed by real estate investors for real estate investors.

Instant Access To Leads: Investors can search and download thousands of buyer, seller and private lender leads in local areas. With Realeflow, investors can obtain thousands of real estate leads from motivated sellers, buyers, and private lenders. Realeflow also includes leads from absentee owners, bankruptcies, cash buyers, free and clear, renters, tax liens, underwater homeowners, and high equity/low equity leads.

Custom Website: No web design and copywriting experience? No problem! Realeflow's custom website tool allows users to choose from over 500 custom templates, which are both eye-catching and SEO-friendly, to build brand recognition. In addition to creating a business website that is visually appealing, Realeflow offers professionally written content packs that are tested and proven to engage with your target audience, as well as SEO and mobile optimized to increase both traffic to your site and conversions.

Direct Mail Campaign/Automated Email Marketing: Realeflow provides single and multi-touch direct mail campaigns that will not only increase traffic to your business, but boost conversion rates in the process. With a full marketing library, this powerful tool provides personally penned letters, including professionally designed real estate postcards and letters, to connect with more buyers and sellers — helping to increase contact response rates for each target audience. In addition, the automated email marketing allows investors to streamline email follow-up campaigns with new and old leads with the click of a button.
Summary
The amount of real estate software available in today's market makes it incredibly easy for entrepreneurs to automate their marketing systems. Perhaps the hardest part is choosing the right systems or tools for your business. Most importantly, investing the time to select and integrate automation systems now will allow you to manage your time effectively. After that, your next choice will be on how you spend your newly acquired free time.
Do you have a favorite real estate marketing software? Feel free to share in the comments below:
---
Ready to start taking advantage of the current opportunities in the real estate market?
Click the banner below to take a 90-minute online training class and get started learning how to invest in today's real estate market!