Key Takeaways
---
Tax deductions are among the many perks homeownership has to offer. However, these deductions will not automatically be applied when you file your taxes; you need to know exactly what to claim. If you are a homeowner, real estate investor, or someone even slightly interested in purchasing a property, take time to learn about the tax benefits that could be available to you. Most notably, homeowners should review the property tax deduction. Keep reading to learn more about how this deduction could apply to you and lower your tax bill this year.
What Is A Property Tax Deduction?
The property tax deduction is a portion of the tax code that allows homeowners to deduct state and local property taxes from their federal income tax bill. Starting in 2018, the property tax deduction limit was set at $10,000 for married couples filing together or $5,000 for single or married individuals filing separately. The cap on property tax deductions resulted from the Tax Cuts and Jobs Act, which was passed in 2017.
Generally speaking, this deduction can be applied to any state or local property tax that goes towards public welfare. Taxes charged for services, such as repairs to public spaces or trash collection, may not be applicable. Additionally, property tax deductions can only be claimed on your primary residence and do not apply with taxes paid on rental or commercial real estate properties.
---
[ Want to create a roadmap to a financially secure retirement? Register for our FREE online real estate class to learn the powerful wealth building strategies real estate investing has to offer. ]
---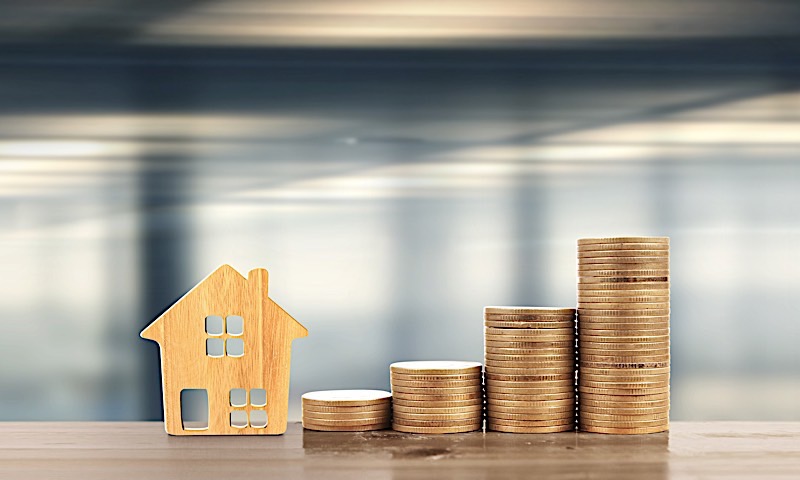 How Does A Property Tax Deduction Work?
Property taxes are regulated on a state and local level and are determined based on property value. When you pay your annual property taxes, you can then claim the amount as an itemized deduction on your federal taxes. This is typically done by submitting a Schedule A form when you file your taxes. Consult a tax professional during this process, as they will be able to guide you through the exact protocol.
It is important to note that the Tax Cuts and Jobs Act also changed the limit for standard tax deductions. Essentially, homeowners should look at which deduction could result in more savings before claiming the property tax deduction. Again, the best way to maximize your deductions is to work with a trusted tax professional.
How Much Of Your Property Taxes Are Deductible?
There are a few different types of property taxes that are deductible. These include property taxes paid on your primary residence, and in some cases, your vacation home. Taxes paid on land, cars, boats, RVs, and other vehicles may also be eligible. Remember that you can deduct up to $5,000 if filing individually or $10,000 if married and filing jointly.
What Property Tax Is Not Deductible?
Property tax deductions cannot be applied to all areas of your tax bill. For example, you cannot claim taxes that are charged by the city for neighborhood improvements, homeowners association assessments, or payments as part of property renovations. It may go without saying, but homeowners cannot deduct unpaid property taxes or taxes on properties they do not yet own.
Pros & Cons Of Property Tax Deduction
The main reason homeowners might find the property tax deduction beneficial is the potential savings. After paying property taxes to the state or local government, homeowners can use this deduction to reduce the amount owed on their federal taxes. While homeowners do need to itemize their deductions to receive the benefit, in some cases, the property tax deduction can result in more savings when compared to the standard deduction. Lawmakers argue this benefit can help encourage homeownership across the country.
The biggest drawback to the property tax deduction is thought to be the new limit set in 2018. Before this, there was no cap on the amount of property taxes that homeowners could deduct. For this reason, the standard deduction is becoming more popular as a way to save when filing (though the standard deduction does not always result in more savings). Further, it can be argued that the property tax deduction encourages individuals to buy property — thus leaving many with more debt than they can handle or ever pay off. There is occasionally talk of removing the property tax deduction altogether.
Real Estate Tax Deductions for Homeowners
Tax deductions are often one of the first things people bring up when debating renting vs. owning a home. While the Tax Cuts and Jobs Act may have capped some of the perks of homeownership, the property tax deduction is only one of several tax benefits available. Homeowners will be happy to know that they may be eligible for several state and local deductions. These can be deducted on sales or income taxes. Homeowners can also take advantage of capital appreciation, as this is not taxed at a federal level.
For example, homeowners can also deduct a portion of mortgage interest. The cap on this deduction is set at $750,000 and applies to homes purchased after 2017 (the limit is $1 million for homes purchased before 2017). Homeowners can also claim mortgage credit certificates (MCC) as a percentage of mortgage interest paid. These credits can then be applied to outstanding tax amounts. Below you will find a guide to real estate tax deductions for homeowners today, under the new regulations.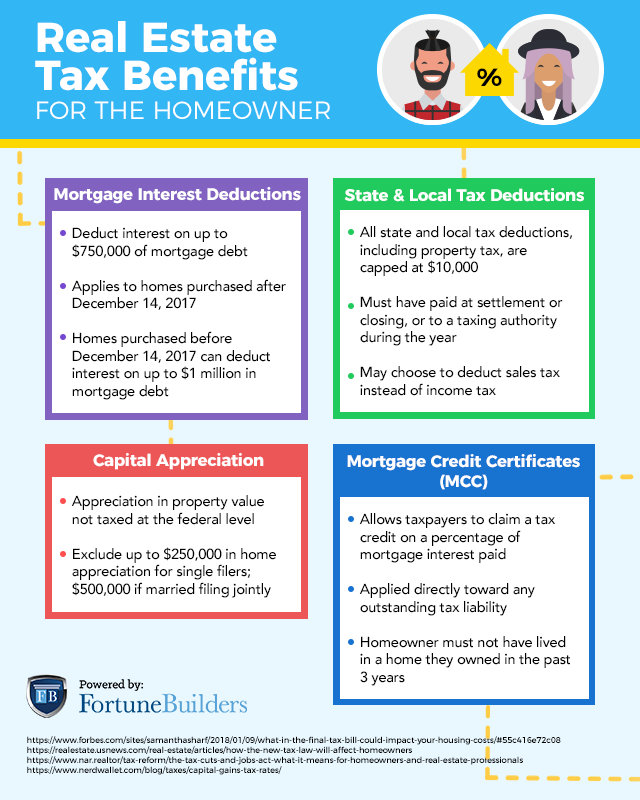 Real Estate Investing Tax Deductions
The tax benefits associated with homeownership are not always limited to primary residences. In fact, there are several real estate investment tax benefits available that go beyond the property tax deduction. With the right tax strategy, these can lead to crucial savings for your real estate investing business. One of the most significant tax benefits available to real estate investors is the pass-through deduction. This allows LLC owners to deduct up to 20 percent of their pass-through income and reduce overall income taxes.
Real estate investors can also benefit from rental property depreciation, which can result in even more deductions. Rental property owners can deduct repairs, management expenses, and even appliance depreciation when filing their taxes. A 1031 exchange is another tax benefit available when real estate investors buy a like-kind investment property with the profits made from selling another. Below you will find a guide to real estate tax deductions, just for investors: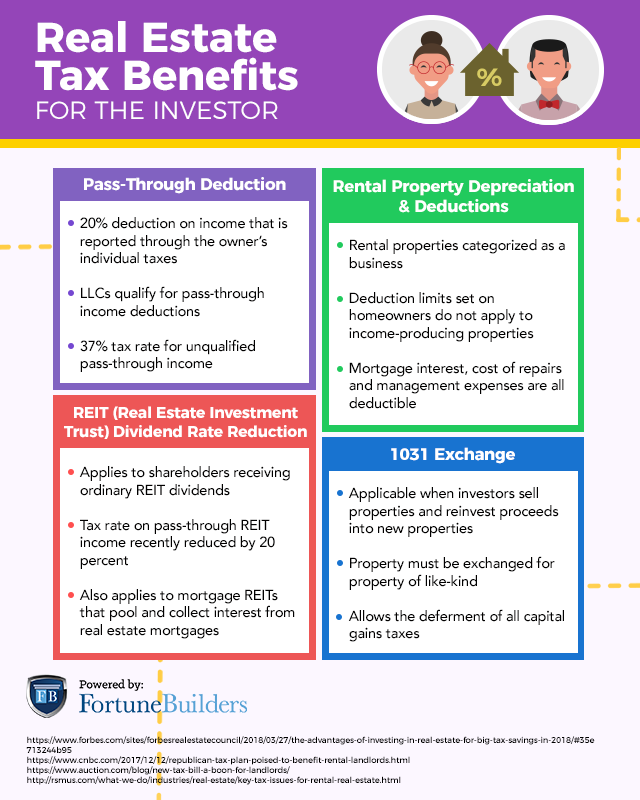 How To Take The Property Tax Deduction
Unfortunately, tax deductions will not magically apply themselves. Homeowners need to know how to include these deductions when filing their annual taxes. Here are a few steps to follow when taking the property tax deduction:
Gather Your Paid Tax Records: Make sure you have a copy of your property tax bill for your home. It is also a good idea to get any tax paperwork on high-value personal assets, such as cars or boats.

Remove Extra Expenses: Keep in mind that you can only deduct property taxes that go towards general public welfare. This means you will need to exclude property taxes paid towards services or public improvements.

Fill Out The Schedule A Form: You typically need to file a Schedule A form to receive the property tax deduction. Use this form to itemize your property taxes, and include it when filing.

Review Your Paperwork With A Professional: The best way to maximize your tax savings is to review your paperwork with a tax professional. They will be able to review your paperwork before filing and help you identify any more potential savings.
How To Get A Larger Property Tax Deduction
There are a few tips and tricks for maximizing your property tax deductions. Review the following and see what applies to you this year:
Keep Your Receipts: Save your car, RV, or boat registration paperwork as you may be able to add these to your itemized deductions.

Review Closing Paperwork: If you plan on buying or selling a house, always review your closing costs for property taxes. These could be eligible for deductions.

Prepay Property Taxes: Property taxes are deductible within the year that you pay them. Consider submitting them early if they allow you to maximize your deductions.
Summary
Take time to familiarize yourself with the various tax benefits available to homeowners and real estate investors. By learning about deductions, such as the property tax deduction, you can save yourself money when filing each year. While you will not be able to write off every cost associated with property ownership, there are several areas where you could benefit. Always remember to consult a tax professional about any questions you may have when filing your taxes. If you take time to prepare yourself for this process, you could open up some big savings for yourself or your business.
What is your number one tip when it comes to real estate tax deductions? Share in the comments below.
---
Want to learn how to take advantage of the current opportunities in the real estate market?
Whether you're brand new to real estate or have closed a few deals, our new online real estate class covers everything you need to know to help you get started. Expert investor Than Merrill explains the best real estate strategies for today's real estate market to help get you on the path towards a better financial future.
Register for our FREE 1-Day Real Estate Webinar and get started educating yourself on how to invest in today's real estate market!