Key Takeaways
Homeowner and investors alike should be wondering how the new Tax Cuts and Jobs Act might affect their existing real estate tax deductions.
Real estate tax deductions for homeowners have changed significantly, and it is in your best interest to keep up with what benefits can be claimed in the future.
Similarly, it is in the best interest of investors to stay informed on current real estate investing tax deductions.
---
The Tax Cuts and Jobs Act (TCJA), which was signed into effect on December 22, 2017, has been surrounded by uncertainty and speculation. One of the many controversial topics remains on how changes to existing real estate tax deductions might affect both homeowners and real estate investors. Although 2017 laws are applied during the current tax season, homeowners and investors should be scrutinizing how the new set of tax benefits of investing in real estate will affect them moving forward. As a reminder, always consult a tax professional.
Real Estate Tax Deductions for Homeowners
There is an ongoing debate surrounding the benefits of homeownership, versus renting a property. Part of the argument made by those in the homeownership camp are some of the tax benefits associated with owning a home. However, some homeowners may be worried about how the Tax Cuts and Jobs Act (TCJA) will affect the tax benefits they are used to enjoying, and rightfully so. Below you will find a guide to real estate tax deductions for homeowners today, under the new regulations: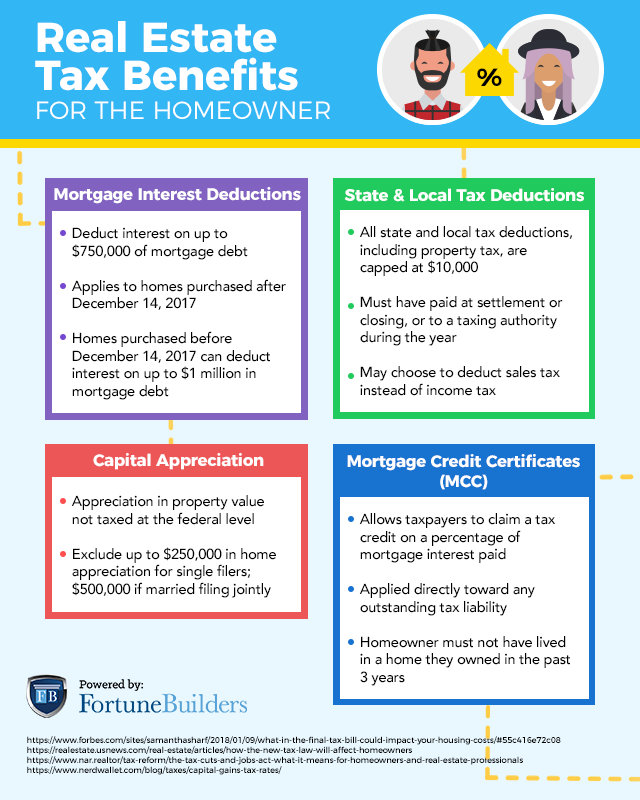 Real Estate Investing Tax Deductions
Taxes and tax benefits are important to running any business, and real estate investing is no different. As the dust from the new TCJA settles, you may be looking for a good overview of what real estate investment tax benefits still exist, as well as if there are any new ones to be enjoyed. Below you will find a guide to real estate tax deductions, just for investors: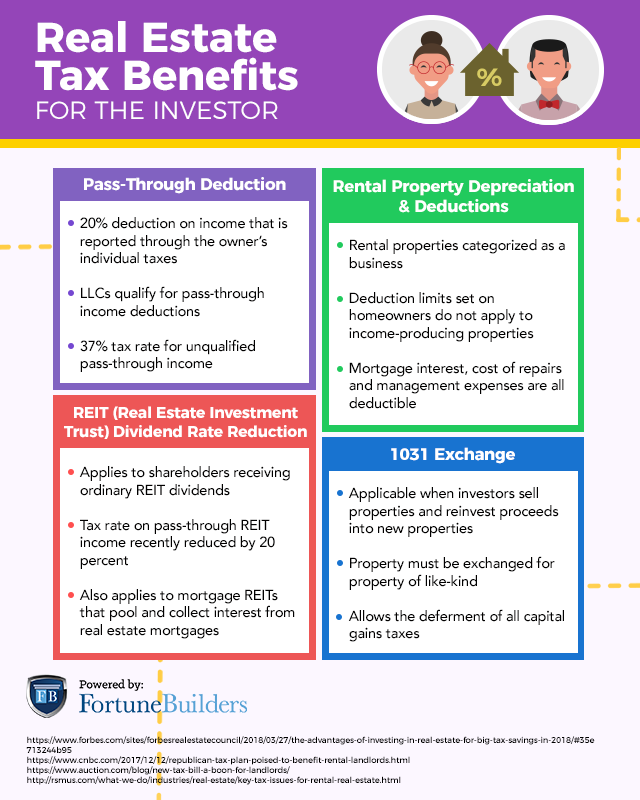 *The information contained herein was pulled from third party sites. Although this information was found from sources believed to be reliable, FortuneBuilders Inc. makes no representations, warranties, or guarantees, either express or implied, as to whether the information presented is accurate, reliable, or current. Any reliance on this information is at your own risk. All information presented should be independently verified. FortuneBuilders Inc. assumes no liability for any damages whatsoever, including any direct, indirect, punitive, exemplary, incidental, special, or consequential damages arising out of or in any way connected with your use of the information presented.
🔒 Your information is secure and never shared. By subscribing, you agree to receive blog updates and relevant offers by email. You can unsubscribe at any time.