After years of decline, the Redding real estate market in California is on the rise. Home prices and home values are both up significantly over the last three years, and there are positive signs these trends will continue for the foreseeable future. Pending home sales are up, in addition to rising local foot traffic. Sales volume will remain robust in the coming months, as a result. If this wasn't enough, local foreclosure inventory is declining and the economy is getting stronger. With the strides the Redding real estate market has taken over the past five years, in addition to the positive factors it has in place, the sky is the limit for this California city. Redding real estate investing should take off too.
According to Zillow, the current median sales price for the Redding real estate market is $230,650. This represents a slight increase from the previous month, but a strong 10 percent bump from the same time last year. The local market hit a bottom on two occasions in the second half of 2011, with sales price averages dropping to $168,000. Since that time, sales price averages are up a whopping 27 percent and do not appear to be slowing down any time soon. Pending sales are higher than the same time last year, and new construction has also increased. The average price for these properties is in the high $200,000 range, which will push sales prices even higher.
Zillow points to a strengthening Redding real estate market. The current average home value is just under $227,000. This represents a 5.6 percent increase over the last twelve months. Equally as impressive is that Zillow predicts this number will continue to rise at a 4.4 percent clip over the next year. Over the last five years, Redding boasts impressive annual appreciation numbers. Home values have appreciated 29 percent over the past five years, and 25 percent over the past two. These yields average annual appreciation figures of 5 and 12 percent respectively. With higher amounts of appreciation, more homebuyers are seeing growth in equity. This increase has played a part in making the area an attractive option to buy or invest.
As strong as the Redding real estate data is, there are some concerns regarding unemployment numbers. The current unemployment rate for Redding is 8 percent. This greatly exceeds both the California average (6.4%) and national figure (5.5%). Unemployment in Redding hit a 24 year high just after the national market collapse. Since that time, it has hovered between 8-10 percent. While the number is high, it is actually down a modest 1.8 percent from the same time last year, signaling that the worst may be over. In recent years, Shasta County has taken a proactive approach to generating new business and economic development. The region boasts a 90 day no hassle permit process, compelling tax credits and economic incentives, inexpensive electricity and water and a pro-business political climate. Redding is also the center of trade and commerce for the upstate region of Northern California. By focusing on the local business community, the economy is gaining steam and is poised for growth in the future.
A big positive for the Redding real estate market is in the high level of affordability. The current average cost of living ($50,000) is 22 percent lower than the statewide average. The cost of living index for Redding is higher than the national average, but 9 percent lower than the statewide figure. Much of this has to do with Redding being in Northern California as opposed to the heart of Los Angeles, but it is still a far more affordable option over other area locations. Redding also places a premium on developing and maintaining affordable local housing. This is also one of the reasons that the Redding rental market is as strong as it is.
Redding is not unlike most real estate markets, in that it peaked in 2005-2006. During that time, over 1,300 new housing permits were issued for the region. After the market dropped, the number of new housing permits dropped with it. This drop was not nearly as steep as it was in other local markets, but it was substantial. Since 2009, there has been an average of 115 permits issued every year. Almost all of these are for single-family properties. Last year was the lowest number of permits in recent memory, with only 37 issued. This could just be a correction of the market and viewed as typical market fluctuation. Fortunately, new construction is on the rise and numerous projects are set to hit the market by the end of the year.
According to RealtyTrac, the Redding real estate market has about 92 homes in some state of foreclosure. For as big as a market that it is, Redding has very few foreclosures compared to other major metros. The number of foreclosures in the Redding real estate market are actually 35 percent lower than last month, and 60 percent lower than the previous year. Redding real estate investing, however, will benefit from these properties. Investors will appreciate the spreads they offer. According to RealtyTrac, distressed properties in Redding sell for about 32.3 percent less than non-distressed homes. That is a savings of nearly $73,000 per homes.
Redding is the county seat of Shasta, California. It is the largest city is the Shasta cascade region, and the fourth largest in the Sacramento Valley. With a population around 90,000 and close to 60 square miles, plenty can change from one area to the next.
The Redding, California real estate market is headed in the right direction. With three year's worth of strong sales price and home value numbers, the worst should be in the past. Foreclosures are declining and the economy is only getting stronger. All of these factors lead to a positive real estate market now and in the future.
Redding Real Estate Market Summary:
Current Median Home Price: $226,600
Current Median Sales Price: $230,650
Unemployment Rate: 8%
Population: 90,000
Median Household Income: $40,332
Redding County Map: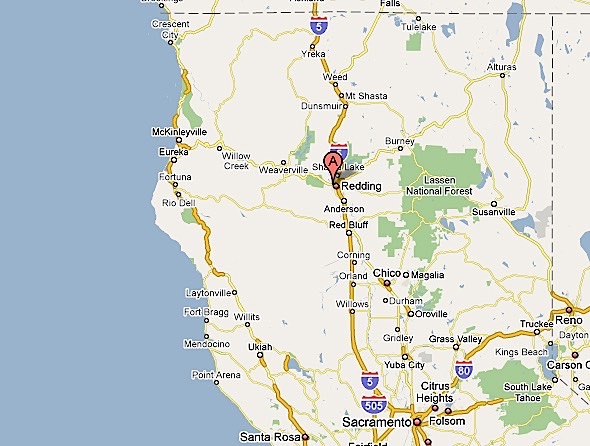 🔒 Your information is secure and never shared. By subscribing, you agree to receive blog updates and relevant offers by email. You can unsubscribe at any time.