This article has been updated to reflect recent changes in the local housing market. For more current information on the San Diego real estate market, click here.
As one of America's most desirable cities to live in, San Diego will always captivate potential buyers. Perhaps more importantly, the San Diego housing market has a healthy demand, meaning investors will find conditions encouraging. As it stands, Zillow has already projected a 1.7% increase in housing prices over the next 12 months. Everything points to San Diego having an extremely healthy market that favors neither buyers nor sellers. Despite rapid appreciation, San Diego is heading in the right direction. The good news for buyers: Interest rates remain low and prices appear to be stabilizing.
Due to the low average amount of days San Diego homes remain on the market, those looking to sell are in a great position. Despite increases in inventory, highly desirable propertes continue to sell quickly, forcing buyers to act fast. That said; now is not the time for investors to sit on the sidelines. The San Diego housing market is incredibly hot. Perhaps even more encouragingly, the local real estate market is becoming more balanced.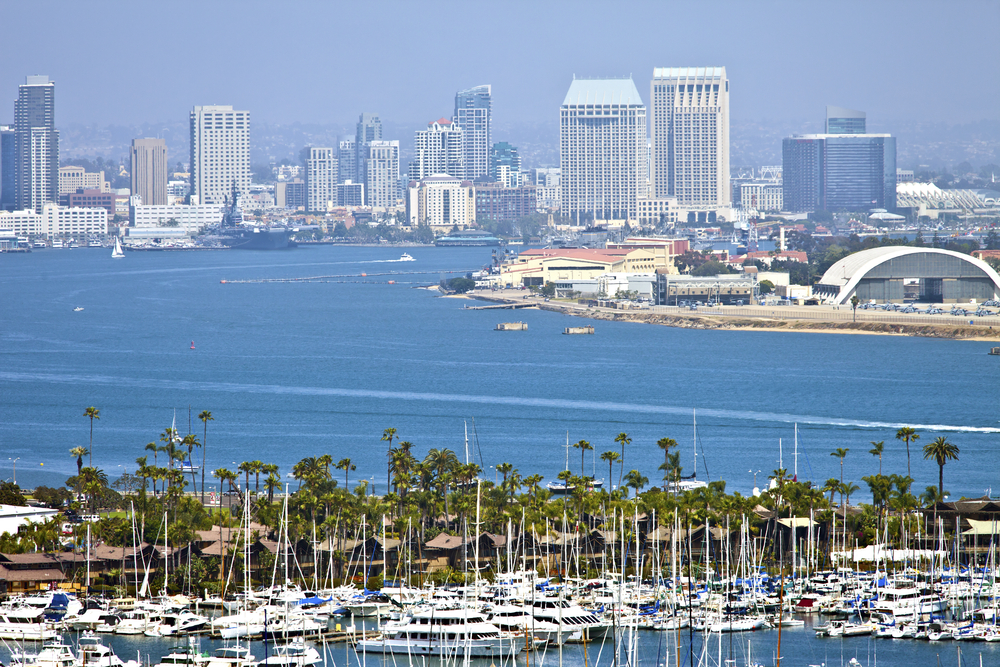 San Diego currently boasts a median home price of $504,200, more than twice the national average of $212,267. While the difference in price may be attributed to recent appreciation rates, price growth in the San Diego market is easing. Over the last three years, prices have increased a staggering 32.9%, essentially removing the market from post-recession price weaknesses. However, the last 12 months witnessed a more modest 7.5% increase. Homes in other parts of the country were not the beneficiary of such rapid appreciation rates.
Appreciation rates in San Diego have benefited homeowners in the, as they now have more equity. The following highlights how much equity has been gained relative to the year of purchase:
Homes purchased in the San Diego housing market one year ago have appreciated by an average of $43,129, whereas the national average was $12,731 over the same period.
Homes purchased in the San Diego housing market three years ago have appreciated by an average of $142,001, whereas the national average was $51,204 over the same period.
Homes purchased in the San Diego housing market five years ago have appreciated by an average of $182,963, whereas the national average was $48,225 over the same period.
Homes purchased in the San Diego housing market seven years ago have depreciated by an average of $54,283, whereas the national average increased $1,750 over the same period.
Homes purchased in the San Diego housing market nine years ago have depreciated by an average of $19,146, whereas the national average increased $5,043 over the same period.
It is important to note that the equity gain reflects price and principle payments since the time of purchase, the mortgage rate at the time of purchase and a10% down payment.
San Diego is not the only city on the west coast that has experienced significant gains in recent years. Just two hours north, Los Angeles is in a similar situation. Of the top five most expensive housing markets, four are in California. Not surprisingly, California has remained at the epicenter of the latest residential boom. The most expensive housing market is San Jose, where the median home price was $899,500, followed by San Francisco ($769,600) and Anaheim-Santa Ana ($691,900).
San Diego's unemployment rate is currently the same as the national average (6.1%). However, for all intents and purposes, San Diego's job market is in a better situation than markets like Las Vegas. Despite sharing the same unemployment rate, San Diego has improved more in the previous year and is expected to continue to outpace the national job growth average. In the last year, San Diego's job growth rate reached 2.6%, whereas the rest of the country was at 1.7%. Government positions, education and health services continue to drive the areas job market. The strong presence of these sectors will also provide a boon for local supply and demand. In fact, the entire economy in California has provided subsequent markets with an equally encouraging outlook.
New housing construction continues to decline in the San Diego housing market, as single-family building permits have dropped 2.7% since 2013. Conversely, the national average saw new construction increase by as much as 6.4% A distinct lack of construction will limit the inventory. Accordingly, demand will finally be allowed to catch up with inventory levels. Accordingly, foreclosures and short sales continue to have a larger impact on inventory levels. With more foreclosures and short sales on the market, San Diego homes will face downward pressure on median home prices.
Due largely, in part, to the significant appreciation in the area, San Diego is less affordable than most markets across the United States. Similar to that of the Texas markets like Houston, Dallas and San Antonio, San Diego has seen record breaking price appreciation rates. While the average American will allocate 16.1% of their income to monthly mortgage payments, San Diegans spend an average of 22.4%.
According to Trulia, both Pacific Beach and Carmel Valley are the most popular neighborhoods in San Diego, with average listing prices of $847,209 and $1,251,140 respectively.
Foreclosures will continue to influence San Diego inventory and home values for the foreseeable future. That said; more than one home out of every 10,000 will enter into the foreclosure process. Mortgage delinquency represents the first step in the foreclosure process and the percent of delinquent mortgages in San Diego is almost 5 percent.  Approximately 9 percent of San Diego homeowners are servicers consider to be underwater on their mortgage.
San Diego Housing Market Summary:
Current Median Home Price: $504,200
1-Year Appreciation Rate: 7.5%
3-Year Appreciation Rate: 32.9%
Unemployment Rate: 6.1%
1-Year Job Growth Rate: 2.6%
Population: 1.4 Million
Percent Of Underwater Homes:10%
Median Income: $50,900
Average Days On Market: 45 days
San Diego Housing Market Q1 Update:
Nearly a quarter of the way through the year, the San Diego housing market looks to be in a better position than it was at this time last year. Price appreciation has tempered a little bit, allowing more hosing activity. For all intents and purposes, San Diego should continue to lead the entire country in recovery.
San Diego real estate investing has really taken the recovery and run with it. Foreclosures, in particular still remain a very prominent piece of the investor industry. In the midst of a very healthy market, foreclosures are actually down 12 percent on the year. However, the discount on distressed properties continues to encourage San Diego real estate investing. Non-distressed homes in San Diego – those that are not at the risk of foreclosure – have sold for an average of $432,000.  Subsequently, distressed properties have an average sales price of $350,000, or 19 percent lower than their non-distressed counterparts. That is a savings of nearly $82,000. Again, San Diego real estate investing has seen the foreclosure market play a very important role.
Most of the foreclosures in the San Diego housing market are considered to be pre-foreclosure, or at risk of being repossessed because of the owner's failure to pay a mortgage debt.  At 44.3 percent, preforeclosures make of the majority of the foreclosure market. However, they are only slightly higher than the 40.4 percent of foreclosures that are to be put up for auction. The remaining foreclosures in the San Diego housing market are bank-owned (15.3 percent).  What does all of this mean for San Diego real estate investing? At the very least, savvy investors will have plenty of opportunities to scoop up great deals that offer a good return on investment.
San Diego Statistics: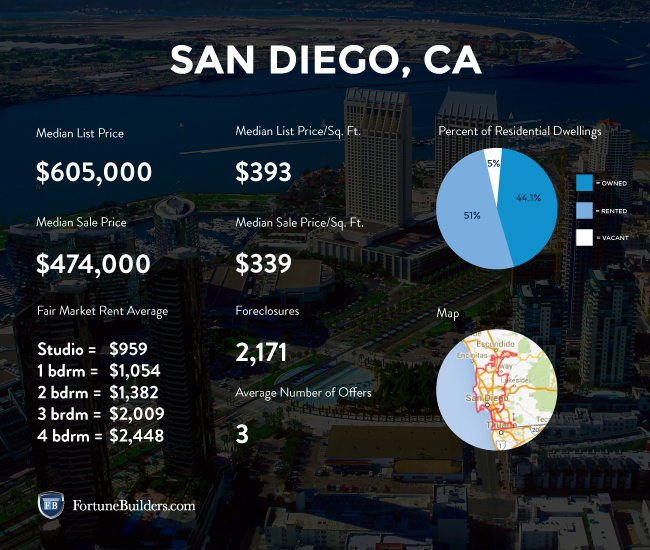 San Diego County Map: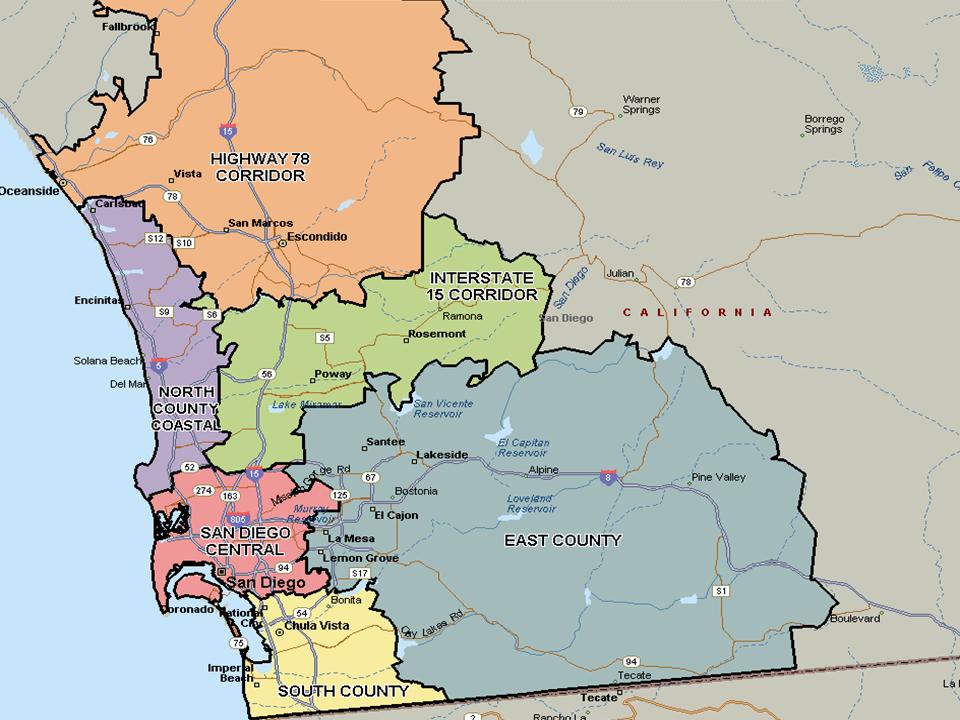 *The information contained herein was pulled from third party sites. Although this information was found from sources believed to be reliable, FortuneBuilders Inc. makes no representations, warranties, or guarantees, either express or implied, as to whether the information presented is accurate, reliable, or current. Any reliance on this information is at your own risk. All information presented should be independently verified. FortuneBuilders Inc. assumes no liability for any damages whatsoever, including any direct, indirect, punitive, exemplary, incidental, special, or consequential damages arising out of or in any way connected with your use of the information presented.
🔒 Your information is secure and never shared. By subscribing, you agree to receive blog updates and relevant offers by email. You can unsubscribe at any time.